Documentary : Environment

Bringing Life Back to the Lakes
DC229607

水草が語り始めた 諏訪湖・野尻湖からの報告 [NBS]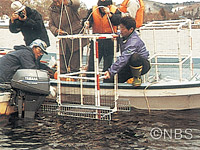 |Length : 29min. |Year : 1996 |
Science Aids Nature's Renewal

Aquatic plants are being reintroduced to two lakes in Japan's Nagano Prefecture in an attempt to rebuild their damaged ecosystems. At Lake Suwa, an artificial reed plain has been planted. At Lake Nojiri, an aquatic plant that is extinct in the wild has been grown in a laboratory in the hopes that it will serve as a building block for new life.
The Cries of Kumatakas
DC229608

届け!クマタカの叫び [YBC]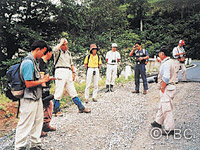 |Length : 33min. |Year : 1996 |
Birds Vs. Bureaucrats

What happens when bureaucracy and Nature clash? Find out as we examine the case of the "kumatakas," or Japanese Hawk-Eagles, of Yamagata Prefecture. The endangered birds are threatened by construction of a large-scale forest road which is, to many people's thinking, an unwelcome government project. Environmentalists battle to save the birds.
The Dragonflies Come Home – Four Years in the Life of an Eco-improvement Project –
DC229609

トンボを街に呼びもどせ エコアップに挑戦した4年間 [NHK]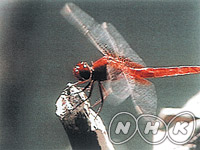 |Length : 44min. |Year : 1996 |
Back to Nature

Nature has amazing powers of regeneration. This was the lesson learned when an elementary school in a densely populated residential area of Yokohama tried its hand at eco-improvement by building a small dragonfly pond. The pond, which recreated the former wetland environment of the area, soon attracted both dragonflies and other life, which within three years had spread to a nearby river. The project's success is encouraging for battered ecosystems everywhere.
In Pursuit of Deleted Legislation – The Devotion of a Bureaucrat to a Lost Cause –
DC229710

幻のゴミ法案を追う ある厚生官僚の遺言 [CX]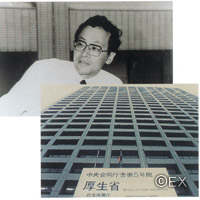 |Length : 48min. |Year : 1997 |
A bureaucrat's struggle with the Kasumigaseki bureaucracy

Research on the revision of a proposed bill to assign responsibility for waste disposal and clean-up takes this show into the bowels of a bureaucracy which is answerable only unto itself. Former Health and Welfare Ministry official Kunio Ogishima sets out to draft a piece of legislation he thinks will benefit Japan, making industry responsible for the waste it generates. But from the beginning, he runs into obstacles at every turn, and the bill is eventually diluted of its original intent. Exhausted after his long battle, Ogishima is stricken by cancer and died one year later.
Once Again, My Blue Ocean – A Skin-Diver's Battle –
DC229711

もう一度青い海が見たい 重油漂着・海女120日の記録 [FTB]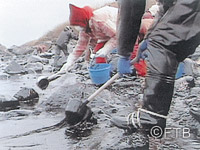 |Length : 58min. |Year : 1997 |
One woman's fight to save the ocean

When the Russian tanker Nakhodka sinks in the Japan Sea in early 1997 spilling tons of oil off the coast of a fishing village in Fukui Prefecture, a 74-year-old "ama-san" (woman skindiver) fought for three months to save the sea, which had become an inseparable part of her life. Ms. Konishi's struggle, documented in this program, begins with only ladles and buckets, and ends when she lost consciousness due to a brain hemorrhage.