Documentary : Environment

Awash in Unwanted Computers
DC229813

廃棄パソコンがあふれ出す [NHK]


|Length : 49min. |Year : 1998 |
Virtual reality threatens the real world's environment

As faster, more sophisticated computers inundate the consumer market, the question of how to dispose of old, unwanted PCs has become an environmental headache which threatens to overwhelm both ecologists and scientists. Computer makers have set up environmental control departments to collaborate with engineers who control production and design so that discarded computers can be broken down into components for recycling. However, demand and the diversity of models makes massive recycling ineffective.
The Legacy of Ibis – Half Century of Conservation Efforts –
DC229912

トキが遺したもの 佐渡・保護活動の半世紀 [NHK]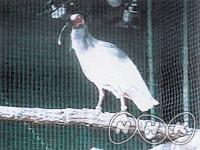 |Length : 49min. |Year : 1999 |
This documentary records the activities of the ibis on Sado Island from the end of WWII to 1999. "Toki", or the Japanese crested ibis, had become extinct, and by 1999 there was only one surviving ibis that could no longer reproduction. With cooperation from China, a pair of ibis arrived in Sado, and the chick Yu-Yu was born in 1999. Combining interviews with NHK's footage, this program shows how the activities to save the ibis have led to a national movement that later became an international project.
Small Town, Big Challenge – Six Years Face to Face with Dioxins –
DC220515

小さな町の大きな挑戦 [MBC]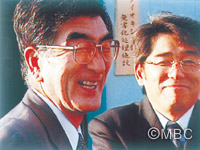 |Length : 51min. |Year : 2005 |
The Kawanabe Township, in Kagoshima Prefecture, had been throwing dioxin-contaminated ash in a valley behind the waste treatment facility for some 23 years. The town decided to dig up all the ash that had been dumped, to fully disclose information about their situation, and - in an effort shared by the local government and local residents-to re-evaluate their approach to environmental matters. The township's decision not to hide anything led to a convergence of people of the same mindset, people in Japan and abroad who then contributed their wisdom to an effort that culminated in the birth of an entirely new dehalogenation technology and all this in a town of only 15,000. Although this documentary looks at six years in the history of one small town in Japan, environmental problems have no borders.
What the Sea Turtles Teach Us
DC220916

ウミガメが教えてくれること [MBC]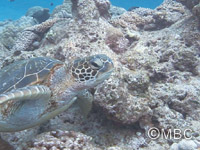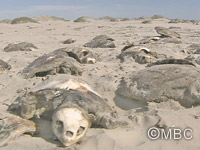 |Length : 72min. |Year : 2009 |
Sea turtles have lived on this planet for some 200 million years. A symbol of longevity and fertility, in Japan they appear in traditional folktales and are worshipped and admired. Research regarding sea turtles has revealed surprising results. Loggerhead sea turtles, born on Japan's beaches, travel to Mexico and after growing to maturity there, they return to Japan to lay their eggs. In the course of a lifetime, they travel roundtrip across the vastPacific Ocean.
In recent years, the number of sea turtles has declined to the point that they now near extinction, and on many beaches where they once laid their eggs, they can no longer be seen.
Making use of underwater, aerial and other footage of the abundant natural environment, this program documents the current status of the environment in which sea turtles live, and shows people who are making every effort to live side by side with sea turtles.
The Niyodo River – The Symphony in Blue –
DC221117

仁淀川 ~知られざる青の世界~ [NHK]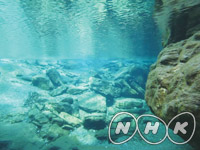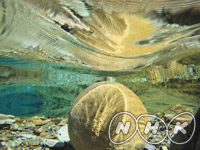 |Length : 43min. |Year : 2011 |
The 124-kilometer Niyodo River is the purest in all of Japan. It possesses a striking hue of blue known as Niyodo Blue that is a testament to the cleanliness of its waters, which have remained pristine despite serving the needs of 100,000 locals. The program vividly portrays the Niyodo through gorgeous photography captured with the latest technology and Masakatsu Takagi's evocative piano score.
The Niyodo remains blue from the forests that give it birth to its mouth. Along the way, its waters nurture the colorful wildlife that live in and around the river while also displaying a surprising expressiveness themselves. These aspects are filmed in meticulous detail with the help of guide Nobuyuki Takahashi, a photographer with intimate knowledge of the river. His camera captures a number of beautiful moments, from the glittering rime that serves as the Niyodo's source to the blue sheen that shrouds a plain brown dipper as it dives into the river.
This symphony in blue was composed to remind viewers that Japan is home to some of the most beautiful waters in the world, and that it is our duty to protect them even as the nation's rivers continue to be spoiled through industrial development.