Documentary

Japan : The Inside Story | The Unsung Experts of Japan | Japan in Focus | Japan Sketches | Discover Asia | New Job! New Freedom! | Young People at Work | Hello Nippon - We Are Cosmopolitans | Special Lessons | We're the Professionals! | 2000 and Beyond : Visualizing a New Century - The Earth and Our Environment : The Boundaries of Plenty - |
Tsunami Disaster Heartache and Hope Through the Viewfinder – 49 days of Life and Death –
DC371103

津波を撮ったカメラマン [KHB]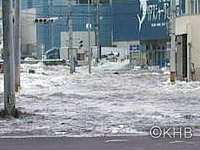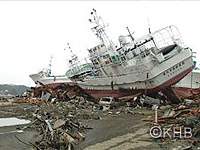 |Length : 24min. |Year : 2011 |
A local news cameraman shoots the huge tsunami engulfing Kesennuma, a city in Miyagi Prefecture and one of the major fishing ports of the Tohoku region. He seeks footing near the port with camera in hand and finger pressed to shutter as he backs his way up a flight of stairs to higher ground. The viewfinder, framed at the residents' eye level, fills with the terrifying sight of gushing black water. As the tsunami starts to recede, the cameraman hears calls for help from all over town. After a moment's hesitation, he sets his camera down and walks towards the voices.
The program follows the work of the news cameraman living in the fishing port devastated by the monstrous wave and, through his camera, presents the fury of the tsunami and the daily lives of the people in the afflicted area.
March 11, 2011 Tohoku Earthquake and Tsunami – No Matter How Many Years Go By…Do Not Forget –
DC371102

幾歳経るとも要心あれ [IBC]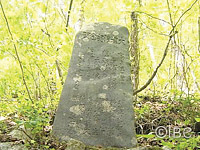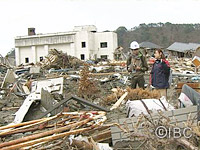 |Length : 54min. |Year : 2011 |
Residents of the Sanriku coast had supposedly had the world's highest level of awareness regarding tsunamis. So what exactly happened on the coast of Iwate Prefecture that day, and how did the people react?
At Kamaishi, a city of Iwate Prefecture in the Tohoku region, a cameraman rushed to the television station's coastal branch office and recorded images of his hometown being swallowed up by the tsunami. Many people in Iwate Prefecture lost their lives to the giant wave. The wall of water even reached the farthest inland areas where the ocean was out of sight. Some died despite evacuating just as they had been instructed in drills.
Meanwhile, a number of districts sustained relatively small damage though hit by the tsunami head-on. These were places where forerunners who had suffered countless losses from the frequent tsunamis had learned from their experience and moved communities to higher ground. Damage was kept to a minimum in these districts, where people followed their ancestors'warnings carved in stone.
Disaster Area Record of Recovery Kamaishi : Indomitable People
DC371101

釜石 不屈の人々 [NHK]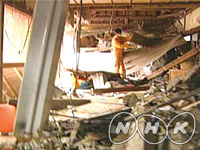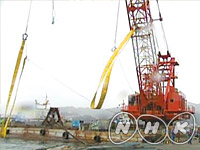 |Length : 34min. |Year : 2011 |
The city of Kamaishi is utterly devastated by the tsunami. Yet the head of an iron works factory is trying to rebuild his demolished factory and resume fixing ship engines to get the Kamaishi fishery business back on its feet as soon as possible. The owner of a ruined liquor shop is pinning his hopes on a temporary setup built in the park to reopen his business. An elderly couple have declined their son's invitation to live with him in the unharmed metropolitan area to try to revive their hometown sundries shop. The program follows the tough path to recovery for the people in Kamaishi's shopping street and factories over a period of nearly two months since the crew first met them at an evacuation center three days after the tsunami.
Science Zero The Underground Secrets of Oze
DC292042

サイエンスゼロ  大調査!尾瀬 知られざる地下世界 [NHK]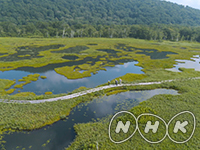 |Length : 30min |Year : 2020 |
Science ZERO utilizes cutting edge knowledge and technology to thoroughly investigate various phenomena from a scientific perspective. In this episode, we focus on Oze, Japan's largest mountain wetlands, where a comprehensive scientific survey was conducted after a hiatus of 20 years. Documenting the survey team for one year, this program joins them in revealing the secrets that have made Oze a paradise for rare flora and fauna. Even the experts are surprised by what they find in a pond called Ryugu Pond. How can this small pool possibly keep absorbing a stream of water that continually eddies in? Using the latest underwater drone technology, the survey team discovers a complex tunnel structure beneath the pond. It turns out that the key to Oze's unique ecosystem can be found in an unknown subterranean world!
Tech Innovators in Japan~ ①Visualizing Heart Disease ②Miracle Meat to Save the World~
DC292041

世界一の九州が始まる! ①心音が"見える"!超聴診器 ②地球を救うミラクルミート [RKK]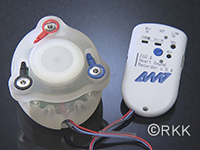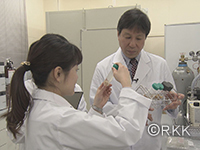 |Length : 24min |Year : 2020 |
① President of the medical startup AMI Co., Ltd., cardiovascular disease specialist Shinpei Ogawa has developed a stethoscope that allows doctors to see heartbeats.
Until now, stethoscopes have only provided the sound of heartbeats; by turning them into graphic data, it allows for early detection of heart disease and assists doctors with diagnoses. There are even plans to use it in telemedicine, as performing stethoscopies via the internet can benefit areas with a shortage of doctors. Could this device be a breakthrough for the countries' ageing population, as well as areas short on doctors?


② As the world's population increases, so do fears of a future protein shortage. For that reason, DAIZ, a company located in Kumamoto City, Japan, has developed a "miracle meat" made solely from soy beans. Koji Ochiai, DAIZ's Head of Research and Development, was interested in the fact that germinating soy beans share similar properties with animal meat. And by altering their sprouting conditions, he was able to produce "meat" that closely resembled the taste of beef, pork, chicken, and more. Since then, he has continued to develop this miracle meat in the hopes that it may one day save the world.