Drama

School Gates - a Family Dilemma - | The Shin Totsukawa Story | The Sensitive Samurai | The Sensitive Samurai Part 2 | The Sensitive Samurai Part 3 | Hey! Tetsuya | She's Green | The Storehouse of Dreams | Money Story | Vanishing Point | Company | Engagement Trip | Trip for Love | Light Winds : All Women Police Squad | Rival or Not Rival? | Love in Kyoto | Granddad's Here! | Seven Duels | Kurama Tengu |
DR139600

婚約旅行 [NHK]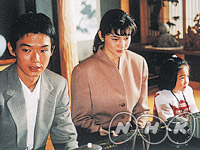 |Length : 20min. x4 |Year : 1996 |
Happily Ever After? Or Never After?

Love vs. duty. Career advancement vs. quality of life. These are among the conflicts facing protagonist Masao Shiozaki in this addictive drama series. When we first meet Masao he has just proposed to love interest Takako that they visit his hometown and announce their engagement to his family. But true love never runs smooth. Their future together is thrown into doubt first by the revelation of a secret Takako had been harboring - the existence of a daughter. The lovers then face a further test with Masao's growing desire to give up big city life and return to the family's struggling pearl farm, a dream Takako does not share. Will they find a solution that makes everyone happy?
DR129600

カンパニー [NHK]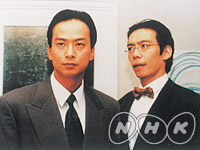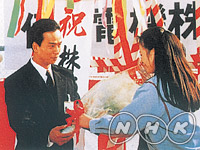 |Length : 74min. x3 |Year : 1996 |
Big Dreams, Big Business

Masahiko Date, thrust into the presidency of the family electronics firm with the sudden passing of his father, is forced to learn the rules of business...fast. He turns to a friend, Akira Sekita, to help him run the company and realize his dream of being listed on the stock exchange. Things begin well, as they recruit a brilliant engineer and start work on a promising car navigation system. But the two men go their separate ways in a dispute over outside financing, and Sekita establishes his own firm. The methods the two employ, however, are strikingly different; Sekita is not above stepping around the law, while Date keeps his business dealings above board. Which will succeed? In an age when more and more young entrepreneurs are challenging the status quo, Date's "on the job" education in the world of big business is sure to inspire.

Episode 1: The Beginning of Dream
Episode 2: Those Who Are Leaving
Episode 3: Love's Destiny
DR119500

ゼロの焦点 [NHK]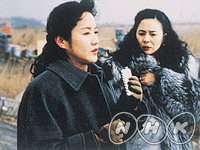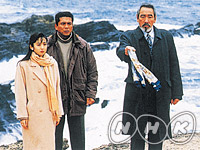 |Length : 45min. x4 |Year : 1995 |
All newly-weds tend to be a little nervous. The very intimacy of marriage can make them wonder how much they really know their partner! Yet, sometimes this predictable and rather natural form of conjugal paranoia, turns out to be quite justified. In the case of Teiko Uhara, for example, the honeymoon is over all too soon! First her new husband Kenichi suddenly and unaccountably disappears. Then, to make things worse, someone murders Kenichi's brother Sotaro along with a mysterious woman named Hisako. It is one thing after another as the cloud of mystery thickens and the suspense amounts. Hisako's equally mysterious lover jumps off a cliff to his death; the police enter the picture; a manhunt begins. Is Teiko in danger ? And how much does she really want to know the truth ?
This is a riveting drama that you won't want to miss.

Episode 1: The Heavenly North
Episode 2: A Distant Farewell
Episode 3: The Forces of Time
Episode 4: The Watery Grave
DR109600

名古屋お金物語 [NHK]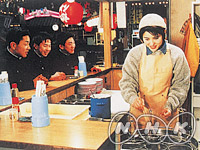 |Length : 20min. x20 |Year : 1996 |
Tomoko Moritani's dream of getting married and living happily ever after turns into a nightmare when her fiance loses his own money in the stock market and skips town with her life savings, plus funds drawn on her credit card. Deep in debt as a result and having already given up her job and apartment, she discovers firsthand how difficult it is for a young woman to live in the big city without money. She soon finds herself eking out a living selling noodles from a street cart. Will hard work and common sense be enough to restore the "security" of her former life?
The trials and tribulations of Tomoko and her new working-class friends will provoke both smiles and thought.
The Family Trip
DR099501

家族旅行 [NHK]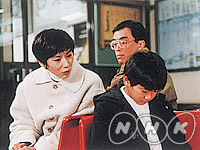 |Length : 89min. |Year : 1995 |
This insightful program explores a highly contemporary problem which many women face how to reconcile the needs of a career with marriage and family life. For Reiko, this is a major dilemma.
Since coming to Tokyo from northern Japan, she has put in long hours, working hard to achieve her youthful hopes and ambitions and to prove herself and get ahead in business. But at what cost in personal terms? With her relationship with her husband cooling off and in some trouble and with her child having problems in school, Reiko sets out with her family to visit her home town. Here in the bosom of nature, she meets her parents and old friends.
These reunions and encounters have an effect on each member of the family and each undergoes important changes coming to essential realizations as the trip progresses. While, in some sense, this is a trip back in time, it is a trip which provides a new foundation for the family. This is a program that not only explores a problem common to many families in a thoughtful and balanced manner - but provides some sensible solutions.