Education

What and Why | Let's Tackle Scientific Problems | Junior High School Science | Only One Earth | Science Club | Whiz Bang Science | Maths Wonderland | Digital Pictorial Book - Nature in Japan - | Experiments Are Fun | Pythagora Switch | Pythagora Switch II | Pythagora Switch III | Pythagora Switch IV | Let's Get Movin' | Science Sleuth | ABU Voyage to the Future | The Science Station | We Love Science | Joule & Professor Watt | Wonderful Science | KIDS SURVIVAL SCHOOL | What Can We Do? Our Planet's Future | Listen to the Earth | The Power to Save Lives in Disasters | Let's enjoy Math with Barky the Dog | LIFE IS A CHALLENGE | Bravo to Music! | TAKE TECH | Gretel's Oven | Viewpoint Science | Story Land | Endless Wonders | TEXICO |
Story Land | The Gratitude of the Crane
ED311802

つるのおんがえし [NHK]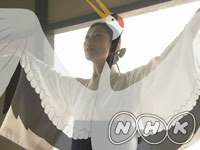 |Length : 10 |Year : 2018 |
A poor young man frees a crane from a trap. Soon after, a beautiful young woman comes to his door. The two marry and live happily together. The young wife secludes herself in a back room to weave a beautiful roll of cloth, making her husband promise not to look while she's working. Later she weaves a second roll, but her husband breaks his promise and peeks…
Story Land | The Monkey and the Crab
ED311801

さるかにがっせん [NHK]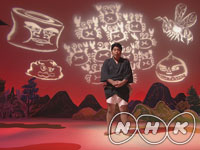 |Length : 10 |Year : 2018 |
Tricked by a monkey, a mother crab trades a rice ball for a persimmon seed. She plants the seed and it quickly grows into a tree with plenty of fruit. But the monkey takes all the fruit and kills the crab. The crab's children vow revenge and, with a wooden mortar, a chestnut, a bee and a pile of cow dung as allies, track down the monkey to teach him a lesson.
ED301810

ならべてみる [NHK]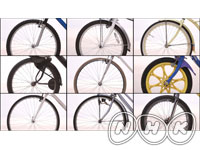 |Length : 10 |Year : 2018 |
When we line up some bicycles, we discovered a lot of interesting things. Why is the shaft of a handlebar angled?
ED301809

分解してみる [NHK]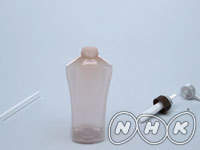 |Length : 10 |Year : 2018 |
A notebook, a toilet paper tube and etc…. When you take apart something familiar, do you notice anything interesting?
ED301808

仲間分けしてみる [NHK]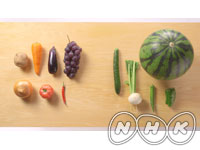 |Length : 10 |Year : 2018 |
Carrots, grapes, okra, eggplant, watermelon, radishes, cucumbers… Various fruits and vegetables. What interesting stuff will you find when you try to sort them into groups?