Education

What and Why | Let's Tackle Scientific Problems | Junior High School Science | Only One Earth | Science Club | Whiz Bang Science | Maths Wonderland | Digital Pictorial Book - Nature in Japan - | Experiments Are Fun | Pythagora Switch | Pythagora Switch II | Pythagora Switch III | Pythagora Switch IV | Let's Get Movin' | Science Sleuth | ABU Voyage to the Future | The Science Station | We Love Science | Joule & Professor Watt | Wonderful Science | KIDS SURVIVAL SCHOOL | What Can We Do? Our Planet's Future | Listen to the Earth | The Power to Save Lives in Disasters | Let's enjoy Math with Barky the Dog | LIFE IS A CHALLENGE | Bravo to Music! | TAKE TECH | Gretel's Oven | Viewpoint Science | Story Land |
We Love Science | Unraveling the Secrets of the Shinkansen's High Speed!
ED170803

科学大好き 土よう塾 | 発見!新幹線の速さのヒミツ [NHK]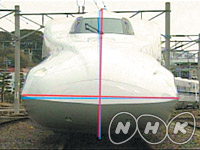 |Length : 44min. |Year : 2008 |
Riding on a shinkansen is fun for every kid, whose most attractive feature is its maximum speed exceeding 300 kilometers per hour. This program focuses on the secret that makes it possible to achieve such amazing speed. It features the technologies allowing the shinkansen to turn corners without slowing down, the shape of its "face" that reduces air resistance to the bare minimum, as well as the shinkansen of the future aiming at becoming the fastest in the world. It also introduces the developed noise and vibration prevention technologies necessary for the pursuit of speed in a densely populated country.
We Love Science | Genius Edison Special March! Brush Robot!
ED170804

科学大好き 土よう塾 | エジソンスペシャル"進め!ブラシロボット" [NHK]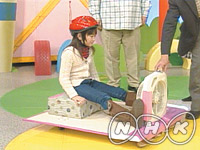 |Length : 44min. |Year : 2008 |
By scientifically analyzing the techniques used by schools that participated in the competition, this program discusses scientific principles such as "Why does a brush robot move?" and "How do you make a brush robot move faster?" through various experiments. Also, the guest Ichitaro Koshi brings to the studio a giant brush robot children can ride on!
We Love Science | Amazing! Astonishing! Visual Illusions!
ED170805

科学大好き 土よう塾 | ふしぎ!驚き!目の錯覚 [NHK]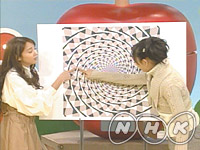 |Length : 44min. |Year : 2008 |
A circle that's supposedly there disappears! A light that's supposedly not there shines! This program focuses on such visual illusions. When a hard pencil is quickly swung like a seesaw, it looks like rubber. The secret lies in our limits of "eyesight". The program also introduces the visual illusions we see when our brain perceives "depth". When the picture of a crater is seen upside down, it looks like a dome. Our preconceived knowledge that sunlight shines from above affects our visual perception. This episode takes the viewers into the wonderful world of visual illusions.
ED180900

E!気分(いいきぶん) [TUF]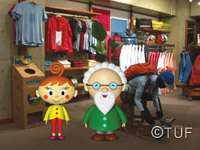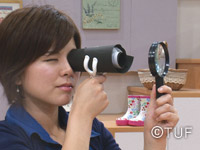 |Length : 3min. x11 |Year : 2009 |
While humanity evolved with the development of science, we can also state that science and technology play a crucial role in saving the human race from global warming, an issue shared by all of mankind. This series of short programs whose purpose is to offered in an easy-to-understand style to reach out to a wide audience, particularly children. Each episode is presented by twoanimated characters, namely a little girl called Joule and the know-it-all Professor Watt, allowing children to learn while having fun. The purpose of this series is to familiarize children with science and technology, hoping that one day they'll be committed to activities aimed at protecting the environment.
Amazing Human Powers
ED190901

からだのちから [NHK]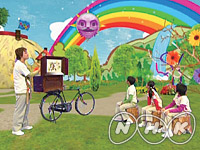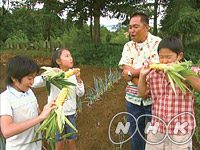 |Length : 25min. |Year : 2009 |
A science program for 10- to 13-year olds set in a virtual studio where children learn about the wonders of human power from the power masters.


[1. Are You Chewing?]
This episode features "chewing." Some studies suggest that human evolution is attributed to the development of the habit of chewing. Unfortunately, today's dietary life require less chewing, which has been tied to certain health concerns.
By introducing a country where people are cavity-free even at the age of 50, and methods on how to chew properly, this episode takes viewers on a fun "chewing" tour to show the benefits of chewing.