Education

What and Why | Let's Tackle Scientific Problems | Junior High School Science | Only One Earth | Science Club | Whiz Bang Science | Maths Wonderland | Digital Pictorial Book - Nature in Japan - | Experiments Are Fun | Pythagora Switch | Pythagora Switch II | Pythagora Switch III | Pythagora Switch IV | Let's Get Movin' | Science Sleuth | ABU Voyage to the Future | The Science Station | We Love Science | Joule & Professor Watt | Wonderful Science | KIDS SURVIVAL SCHOOL | What Can We Do? Our Planet's Future | Listen to the Earth | The Power to Save Lives in Disasters | Let's enjoy Math with Barky the Dog | LIFE IS A CHALLENGE | Bravo to Music! | TAKE TECH | Gretel's Oven | Viewpoint Science | Story Land | Endless Wonders | TEXICO |
ED301704

描いてみる [NHK]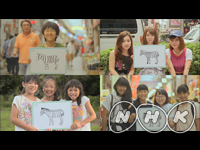 |Length : 10 |Year : 2017 |
The star of this episode is the zebra. What do a zebra's stripes look like? Can you draw them from memory? After you try, look at a picture of a zebra—the stripes are probably more complicated than you think!
ED301703

仮説を立ててみる [NHK]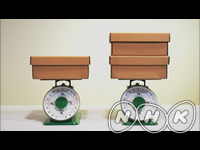 |Length : 10 |Year : 2017 |
Two boxes that weigh the same. Each one has two plastic bottles of water inside. We put an empty box under one of these boxes. Now, which stack is heavier?
ED301702

中を見てみる [NHK]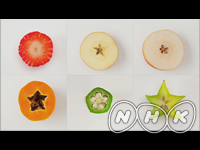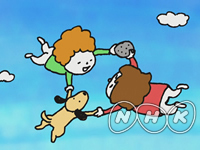 |Length : 10 |Year : 2017 |
What's a strawberry like on the inside? We asked people on the street. Did they come up with the right answer? We open up a strawberry and find out.
ED301701

作ってみる [NHK]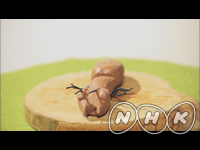 |Length : 10 |Year : 2017 |
We try and make an ant out of clay and wire. Could you build an ant, without looking at a picture?
Gretel's Oven | The Peach Festival: Hanamochi in Matsue
ED291604

桃の節句 松江の花もち [NHK]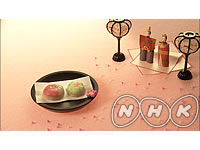 |Length : 24min |Year : 2016 |
Matsue is an old castle town in Shimane Prefecture with a long tradition of eating sweets with a cup of green tea. A unique local sweet called hanamochi is eaten to mark Hinamatsuri, or Girls' Day. It is brightly decorated in pink and pale green in honor of the festival. We'll meet the people carrying on this special tradition.