Program
Delving into the Mysteries of the Universe~ The Forefront of Japanese Craftsmanship and Technology~
DC291938

宇宙のナゾに挑む~日本の人・モノ・技術、最前線~ [RSK]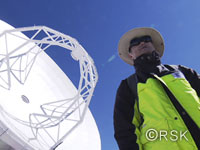 |Length : 48 |Year : 2019 |
Sixty-six parabolic antennas at an altitude of 5,000 meter in Atacama Desert in Chile—ALMA is an international project among 22 countries and regions. It is a radio telescope with an outstanding sight that it has achieved observation 13.28 billion light-year away. In fact, some parts were made in Okayama.
The cutting-edge technology of Okayama's small factories is utilized in ALMA: processing aluminum into slightly curved panels to make a perfect parabolic dish shape, and grinding the surface into one-hundredth of a millimeter or less precise. Their efforts and passions contribute to the advanced research of the universe. Dr. Masaaki Hiramatsu, an astronomer born in Okayama, is a member of ALMA project, promoting the accomplishments through it to the world.
In this program, we visited ALMA and covered a story of the technology and the craftsmanship of Okayama that makes it possible to explore the universe even further.