Education

Gretel's Oven

グレーテルのかまど [NHK]

Japan's traditional sweets are rooted in the climate and the seasons. This program introduces the history and stories behind a variety of such sweets, and also explains how to make them. The presenters are a magical Oven, and a 15th-generation descendant of the fairy tale character Hansel. Oven guides Hansel through each step as he makes sweets for his sister Gretel.
The Peach Festival: Hanamochi in Matsue
ED291604

桃の節句 松江の花もち [NHK]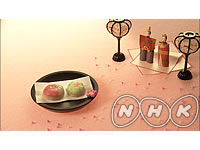 |Length : 24min |Year : 2016 |
Matsue is an old castle town in Shimane Prefecture with a long tradition of eating sweets with a cup of green tea. A unique local sweet called hanamochi is eaten to mark Hinamatsuri, or Girls' Day. It is brightly decorated in pink and pale green in honor of the festival. We'll meet the people carrying on this special tradition.
For Students Everywhere: The Plum Sweets of Tenjin
ED291603

天神様の梅スイーツ [NHK]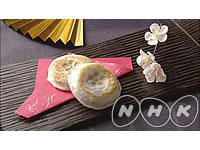 |Length : 24min |Year : 2016 |
Umegae-mochi, literally "plum-branch rice" sweets, have a very old relationship with Sugawara no Michizane. This real-life historical figure is now celebrated as the god of learning in Japan. Discover more about these sweets, which are now eaten all over the country.
Kashiwa-mochi for Children's Day
ED291602

端午の節句のかしわ餅 [NHK]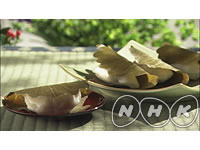 |Length : 24min |Year : 2016 |
Kashiwa-mochi are a key part of celebrating Children's Day. The leaves of a kashiwa (oak) don't fall until new shoots have formed. These symbolic leaves are used to wrap mochi filled with sweet beans. It's a wish for the success and prosperity of a family's descendants. This episode will introduce the different types of kashiwa-mochi made and eaten across Japan.
A Kyoto Treat to Beat the Heat
ED291601

京女の"夏越し"の和菓子 [NHK]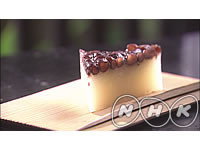 |Length : 24min |Year : 2016 |
It's a Kyoto tradition to eat sweets called minazuki on June 30 every year. They symbolize a wish to make it safely through the merciless summer heat of Kyoto. According to tradition, the triangle shape is a reminder of cool ice, and the beans on top ward against evil.