TV Station HBC
What is School? – The Decade of Struggle with Delinquents, Dropouts and School-Phobic Youths –
DC249916

学校とは何か? ツッパリ・中退・不登校と格闘した10年 [HBC]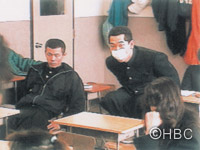 |Length : 55min. |Year : 1999 |
At Hokusei Yoichi High School, a private school in Hokkaido, high school dropouts from around the country who were once called "losers" come to enroll. At this school, everyday is a constant battle between teachers and students. Teachers not only confront incidents of violence, but also the various emotional difficulties and anguish that the students carry. However, eventually, even a student who was a former motorcycle gang member who distrusted schools is able to say, "School has become like my relative".
Forming Bonds, Making the Future
DC231431

十勝が教えてくれた3つのこと [HBC]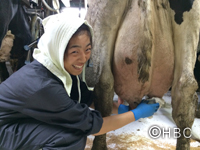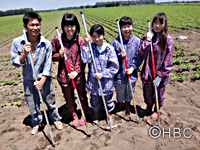 |Length : 46min. |Year : 2014 |
Every single day in the vast stretches of nature in Tokachi, Hokkaido, farmers struggle with nature, deal with the reality of life and death, and carry on with their farm work. In order to realize their wish to deepen the interaction between agricultural and urban areas, the farmers of Tokachi started up a farm homestay program where urban high school students spend a night at the farmers' houses to experience the rural life and farm work. On its first year, the program only accepted 24 students. However, in 2014, its 5th year, the program drew around 3,000 high school students to Tokachi.
In this program, actress Nao Minamisawa visits a Tokachi dairy farm and tries her hand at taking care of newborn calves and milking cows, both of which are tasks visiting high school students experience.
The program puts high school students through things they aren't used to—like touching soil, getting muddy, and dealing with crops and cows—to learn firsthand about the importance of life and the hardships of farmers. Furthermore, the students feel the warmth of a family as they sit down to eat together with everyone. What do the students learn over the short stay of one night and two days? And what expressions do they show at the end of this experience?
We cover the farm homestay experience of the 11th-grade coed class of the Nara Women's University Secondary School, who have come from the Kansai area for their school trip, and witness their hard work and the tears they shed.

DC239103

大草原の少女みゆきちゃん 知床 '90編 [HBC]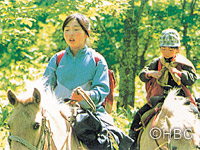 |Length : 60min. x2 |Year : 1991 |
This documentary follows the daily life of the family of a little girl, Miyuki, living in a solitary village near the Shiretoko Peninsula in Hokkaido. Her father, Toshiharu Kudo, is raising 90 beef cattle at his stock farm of 500 hectares in Hokkaido, and he is also an expert hunter of bears. Toshiharu tries to teach his daughter how to live with both the beauties and the rigors of nature, while making her share the work at the stock farm.

DC239103, DC239104