Production Year 1992
Flowers along the Riverbank
DC229202

四季 おじいちゃんの花日記 [RKB]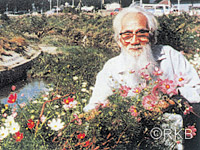 |Length : 12min. |Year : 1992 |
The flowers that bloom along the banks of the Yatsunami River are pretty enough. But to 78-year-old Sumio Okabe, the man who planted the flowers, they're more than just decoration. They're an affirmation of the joy of life itself. "Flowers Along the Riverbank" shows that planting and caring for flowers is just one of the volunteer community services performed by Okabe. He's also out every morning collecting trash. This heartwarming documentary shows how Okabe's selfless actions have endeared him to the local people.
Welcome Home, Mom and Dad!
DC239205

今年も帰ってきたよ! [RKK]


|Length : 12min. |Year : 1992 |
In the town of Kuratake, the children of fishing families live at a dormitory while their parents are away at sea.
"Welcome Home, Mom and Dad" looks at three of those children, the Ikeda sisters. The girls are only able to see their parents part of the year - and one of those time is the New Year's holidays. The documentary conveys the girls' impatience as they wait for their parents to return, and their joy at finally being able to welcome mom and dad home.
The Barber of a Snow Country – The Time She's Spent in Hachirogata, Akita Prefecture –
DC239206

雪国の出張床屋さん 秋田県八郎潟町の歳月 [NHK]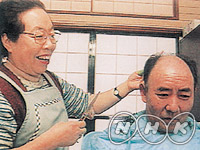 |Length : 44min. |Year : 1992 |
Suino Ishikawa, aged 66, is the owner of the only barber shop in Hachirogata, Akita prefecture. She manages the shop all by herself, and when she doesn't have any customers, she wraps all of her tools in a bundle to visit the elderly who are unable to come to her place because of illness or the cold weather. Through her everyday experiences, the program portrays the lives and thoughts of older people in the village of northern Japan.
Bathing with Friends
DC239207

愉快村はだか通り [RKB]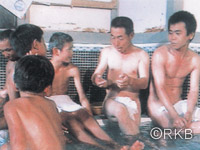 |Length : 12min. |Year : 1992 |
The public bath in the village of Sakasedani is a symbol of the village's old-style togetherness. From tending the boiler to scrubbing the bathtubs, the villagers work together to keep the bath going. "Bathing with Friends" highlights the traditional importance of the public bath as a community gathering place and also provides a glimpse of the type of rural culture that has virtually disappeared from modern Japan.
Drawing Nature's Water – A Father and Daughter's Story –
DC239208

清水の里の井戸掘り父娘 富山県黒部市 [NHK]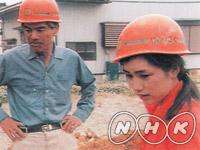 |Length : 28min. |Year : 1992 |
Kurobe, a city facing the Japan Sea in Toyama Prefecture, contains a district called Ikuji where the air is filled with the gurgling sound of pure spring water rising from the earth. The spring water has played an important role in everyday life here since ancient times. The program explores the ways in which the sea and spring water have nurtured the people of Ikuji over the years, and it focuses in particular on the activities of a man and his daughter who sink wells for a living.