Production Year 1995
The Pencil Which Crossed the Ocean – Modern Romania through the Eyes of Japanese Girls –
DC289513

海を越えた鉛筆 少女たちの見たルーマニアの今 [NHK]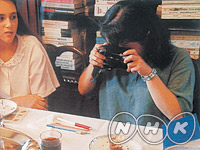 |Length : 44min. |Year : 1995 |
When the 10th graders of Konko Gakuen Senior High School saw a TV report on the difficulties of Romania after its political upheaval in 1990, they decided to do something - so, they collected 3000 used pencils and sent them to a primary school in Bucharest. This act of good will was just the beginning. Five Japanese girls visited Romania the following summer. The program shows the lives of the Romanian children who received the pencils and their warm welcome for their benefactors.
The Nagoya Triangle – Life in a Workshop –
DC299504

平成名古屋にっぽん製造村奮闘記 [NHK]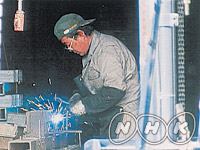 |Length : 44min. |Year : 1995 |
Nagoya, Japan's third largest city, contains an area called the Triangle, which is crowded with more than 650 factories that make everything from parts for cars and jet aircraft to baby clothes - or even Buddhist altars. With most of these factories employing no more than ten people, this industrial area is Japan's major center of small-scale manufacturing and a pillar of the economy. The program looks at the people who work in these factories and their lives.
Recolectores de miel
DC719501

驚異!狂暴ミツバチ50万匹と闘う [NTV]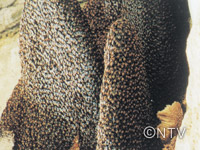 |Length : 28min. |Year : 1995 |
Durante más de diez mil año en las aldeas del Himalaya, cerca del Tíbet, la gente ha arriesgado sus vidas por cosechar la miel. Todos los aldeanos se reúnen para sacar la miel de las gigantescas colmenas suspendidas de las montañas, en precipicios de más de 2,500 metros de altura. Después de la recolección, la miel se reparte en partes iguales entre todos los aldeanos. Además de la manera curiosa de cosechar la miel este programa perfila tanto las costumbres como el folclor heredados en esta remota área del Himalaya. Y también reflexiona sobre los ideales de una comunidad, que parecen haberse perdido en la sociedad moderna. El programa es una contribución valiosa ala antropología cultural.
El último mono blanco
DC719502

観察15年 野生の白い猿4姉妹の物語 [NTV]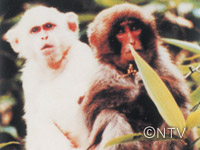 |Length : 28min. |Year : 1995 |
Los albinos, o sea los animales "blancos", como el famoso tigre blanco, han empezado, recientemente, a despertar interés a nivel mundial. Hace quince años el Sr. Toru Endoh, un dentista llegó a sentirse fascinado por el mono blanco, cuya leyenda estudiar y observar esta rareza, Endoh encontró cuatro monos albinos, de los cuales el mono blanco de este programa, es el único sobreviviente.
Este programa, que recoge las investigaciones realizadas por Endoh durante muchos años, muestra y subraya la importancia de proteger los entornos naturales, no sólo del mono blanco, sino también de todos los animales.
Una efímera visión de verano
DC719503

秘境!大雪山 ~一瞬の夏~ [NTV]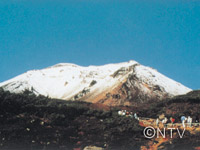 |Length : 27min. |Year : 1995 |
El parque nacional de Taisetsuzan en la isla norte de Hokkaido es el último paisaje natural salvaje que queda en Japón. El verano de Taisetsuzan es fugaz pero espectacular. La estación es tan corta que tan pronto los animales salen de sus guaridas, comienzan a prepararse de inmediato, para el largo invierno que se avecina.
Al diluirse las últimas huellas de nieve en las montañas el inmenso campo florece. Sus colores gloriosos alfombran los picos hasta que el verano abandone Taisetsuzan.