17th JAMCO Online International Symposium
February 1 to February 29, 2008
Trans-border TV Broadcastings of Non-English-speaking Countries
Presenter 2: Arirang Global TV, Connecting Korea to the World
1. Background of Establishment
As the international society moved beyond ideological conflicts and faced an era of unlimited competition based on principles of market economy in the 1990's, a marked increase in international exchanges and symbolic factors such as design, brand, and image have been considered highly important, thereby prompting the Korean government to initiate a variety of actions in order to actively 'market' Korea to the rest of the world. Among those action plans, a necessity of TV broadcasting as a way of improving national image through mass media came to the fore. Broadcasting programs only targeted for domestic Korean natives could not fully provide enough information of Korea for either foreign residents in Korea, visitors, or Korean residents overseas who want to access up-to-date news about Korea. In fact, foreign news reporting on Korea was mainly concerned with serious issues such as political and social disturbance and crimes over the country cannot but influence on building negative images about Korea.
The situation of Korea's rapidly-growing economy with high dependence on foreign trade as well as the increasing need on media information, from the diplomatic and international aspects, originating from Seoul to the World under the diplomatic confrontation with North Korea boosted the Government Information Agency to take forwarded its plans for the creation of an international satellite broadcaster to the president and began taking initial steps in January of 1995, involving research by the Overseas Information Service and Government Information Service, and hearing advice from experts in various related fields. The preparations resulted in the establishment of the "Five-year Plans for Advanced Broadcasting" and announcement of a blue print for the creation and operation of the 'Korea Channel (Overseas satellite broadcast channel). When the reporting and preparation phase for the Korea Channel was complete, the actual work for its creation was initiated.
To show a true picture of Korea and Koreans to the world, KOBACO1, KBS, MBC, SBS, the KITA2, and KCCI3 participated to launch the Korea International Broadcasting Foundation as a public agency. According to the priorities and strategies for KIBF, the first stage is to operate a foreign-language broadcaster in Korea (cable channel), the second stage is to operate Korean foreign-language channel for overseas broadcast by building an international satellite network, and the third stage is to conduct a variety of supporting businesses for raise competitiveness of international exchange in TV programs (centered on Asia) along with auxiliary operations on the global.
All of KIBF's efforts materialized in February of 1992 in the form of an English cable program aimed at foreign residents and visitors in Korea, representing the first step in the master plan for creation of a satellite broadcaster. The brief disagreements on what to name the new station died down when 'Arirang' was selected, a word that acknowledges the common identity of all Koreans, included in many of Korea's folk songs, and is well-known overseas as a word that best represents Korea. The word came from ancient notions from Korea's past of hopeful longing and wishes, signifying a hill that must be overcome along with other obstacles on one's way to a utopian paradise.
On October of 1998, Arirang was selected by Ministry of Culture and Tourism, Korea as Korea's prime public broadcaster to the world, which was followed by a year of preparations before launching Arirang TV satellite broadcasting services that encompassed the large part of the Asia-Pacific region. A year after establishment of its satellite operation, Arirang extended the range of its international broadcasts including the Americas, Europe, and North Africa. In addition, introduction of satellite cable services (by Skylife) allowed Arirang to be viewed everywhere in Korea. Arirang also opened an FM radio station on the southern Korean island of Jeju, transforming itself into a multimedia broadcast provider including international TV, and domestic television and radio. In August of 2004, there was additional extension of Arirang's overseas broadcasting area that brought the entire continent of Africa within Arirang's reach.
However, Arirang TV was well aware of the constraints of broadcasting in utilizing an existing global network based on a single lingua franca (i.e. English), and decided to take initial steps toward increasing local accessibility and viewer convenience on August of 2004, when it began broadcasting in Arabic for six hours per day (the remaining 18 hours still broadcast in English) aimed at 22 nation in the Arab world.
2. Mission
The mission of the Korea International Broadcast Foundation is clearly stated in the second article of the KIBF constitution as: "KBIF seeks to promote accurate understanding concerning Korea and friendly relations among members of the international community, and will engage in operations for qualitative improvement of broadcast programs, thereby serving our stated purpose of contributing to the advancement of broadcast/visual media/advertisement industries as well as culture and the arts."
In order to fulfill the foundation's vision, the KIBF has established two main engines of operation: one is overseas satellite broadcasting intended to "enhance Korea's international image and understanding of the international community concerning Korea" and the other broadcasting activities "to promote better understanding among foreign residents in Korea and globalized thinking among Koreans."
Of course, Arirang TV's stated mission is tilted towards the former, namely enhancement of Korea's image in the world and encouragement of accurate understanding about Korea. It is a mission intended to actualize Arirang TV's vision, which is to become Asia's best global network bringing Korea to the rest of the world.
3. Broadcast Territory and Broadcast Engineering
Arirang TV currently operates three channels: Arirang TV Korea, Arirang TV World, and Arirang TV Arab. The covered area for Arirang broadcasts and broadcast channels in operation area are indicated in the following table (overseas broadcasting only)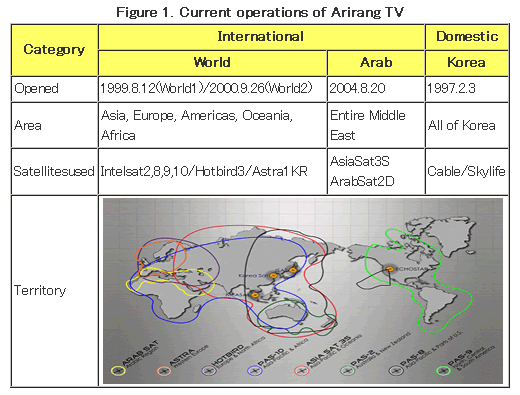 Arirang TV World started its service in August of 1999, and first began broadcasting to the Asia-Pacific region. Now broadcasting around the clock, 24 hours a day, Arirang TV World's broadcasting area has been extended over the entire globe.
Intelsat 10, 8, and 2 pick up and transmit Arirang TV World signals to Asia, Oceania, and Africa. Signal to North and South America are transmitted by IntelSat 9, while Hotbird 3/Astra satellites are used to relay signals to Europe.
Figure 2 shows broadcast pathways from Arirang TV to the rest of the world.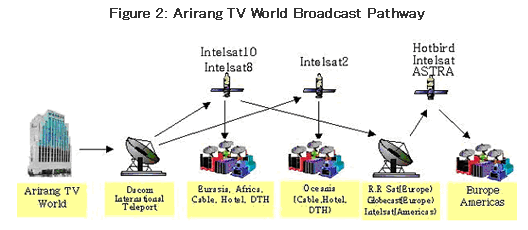 As Arirang TV has created an intricate global broadcasting network, Arirang signals are re-transmitted by local cable and satellite broadcasters rather than by direct satellite broadcasting (DTH), with audiences not limited to local households but also major hotels and even airline passengers.
Having established services around the globe, Arirang turned towards localization by opening Arirang TV Arab in August of 2004.
Arirang TV Arab is broadcasted to 22 Arab nations and adjoining countries in the Middle East, re-transmitted by AsiaSat3S and broadcast real time through ArabSat2D, which boasts the target number of subscribers among all regional satellites serving the Arabic-speaking regions.
The broadcasting pathways for Arirang TV Arab are showed in <Figure 3>.
The pathway begins with a signal broadcast from Arirang TV's master control room, which up-linked into space through the teleport belong to Korea's main communications operator, KT. The signal is up-linked to AsiaSat3S and then down-linked through a teleport in the United Arab Emirates, turned around to ArabSat2D and finally broadcast to 22 Arabic-speaking nations and adjoining countries.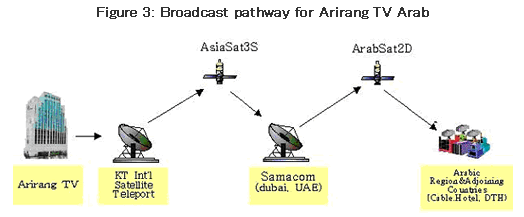 4. Target Audience and Languages
In its early phase, Arirang TV's broadcast operations were mainly aimed at local platform businesspeople in the respective countries, with only local Korean residents and foreigners with extensive dealings with Korea as a reliable class of audiences.
Platform audience
– Consists of: Local opinion leaders, men from 30 to 50 years of age, high level of English proficiency
– Main needs:
    

Prefers entertainment or variety shows to direct promotional programs
More interest in Korea's current situation than past history
A comprehensive channel including programs in current affairs, economy, and entertainment preferred over a single-genre channel
    

     
Overseas Korean residents
– Consists of: Korean immigrants, government/corporate personnel, overseas students
– Main needs:
    

The latest news from Korea
Fondness for latest trends and popular culture from Korea
(Esp. latest TV dramas, movies, and other trends considered 'hot')     

     
However, establishment of English-program channels in different countries followed by commencement of foreign-language broadcasting by KBS World has thrust Arirang TV into a much more competitive broadcasting environment than before, and the new reality has given rise to factors forcing change on a fundamental level in Arirang TV's existing foreign broadcasting strategies. Given the new set of circumstances, Arirang TV has adjusted its target audiences in accordance with the foreign market survey undertaken on December of 2006.
Local opinion leaders and foreigners with extensive dealings with Korea
– Main characteristics: Educated men ages from 30 to 60 with high level of English proficiency
– Main needs: News concerning Korea's rapid development, along with information on policy, industry, and economy


'Hallyu (Korea Wave)' Consumers
– Main characteristics: Women from ages 20 to 50 and adolescents
– Main needs: Drama, movies, latest rends/fashion/lifestyle programs (Women)
Pop music, showbiz news, games, and other 'entertaining' content (Adolescents)
The most of the programs are broadcasted in English, and some programs on certain time zones provided as subtitled or dubbed in Chinese, Spanish, or Korean. Arabic broadcasting is provided through Arirang TV World for six hours daily, with programs subtitled or dubbed in Arabic.
5. Programming Strategy
Based on a survey of "The Efficacy of overseas broadcasting and Research on viewer behavior" conducted by AC Nielsen Korea in concert with Ewha Woman's University Communications Laboratory, Arirang TV drew up a new long-term plan taking the station away from the current programming predominated by drama, pop music, and cinema (so-called Hallyu material) and setting up a new direction towards becoming "Comprehensive magazine channel about Korea," the details of which are as follows:
Channel concept: Comprehensive magazine-type channel centered on news/information and entertainment (Info-tainment)
– An info-Entertainment channel: a shift from existing entertainment-dominated
programming horizontally towards news/current affairs about Korea, and Hallyu content and related information.


Program strategy
– News/Current affairs information: A response to English channels in other countries     

Expansion of News Programming: Concentration on English news with focus on a single title (Arirang News)
Creation of comprehensive TV magazine: Broadcasting of more profound yet benign information on Korea
    

    
– Entertainment (hallyu): Flexible approach depending on domestic supply-demand
.
Drama: Avoid main export commodity programs of terrestrial broadcasters (modern dramas and situation comedies) and move towards more readily available historical dramas.


Diversify supply for Hallyu content: Showbiz news/ Pop music/ e-Sports.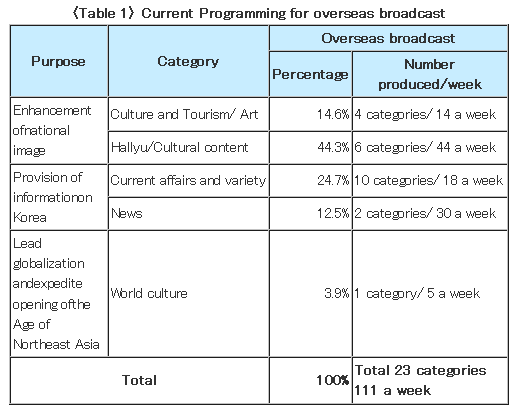 6. Production of programs
Programs shown on Arirang TV can be divided into three categories – in-house programs, where Arirang personnel manage the entire production process; commissioned programs, which are produced by outside production companies, commissioned for the work; and purchased programs, acquired from terrestrial broadcasters and independent production companies and subtitled at Arirang for broadcasting. As of November of 2007, 50.6% of Arirang programs are in-house, while commissioned and purchased programs take up 23.2% and 26.2%, respectively. The details are provided in Table 2 below:
Materials for news programs are acquired from various media sources including on-site reporting materials, Yonhap News, newspapers, broadcasters, and the Internet. Though some difficulties exist in the demarcation of materials from Arirang's own reporting and those acquired from other sources, even acquired sources must be reported on and edited with Arirang's own resources, it is safe to categorize all news to be in-house programs.
7. Staff
Out of the total 206 working in Arirang TV, 157 (76.2%) are employed for program production. <Table 3> shows the actual breakdown of Arirang employess.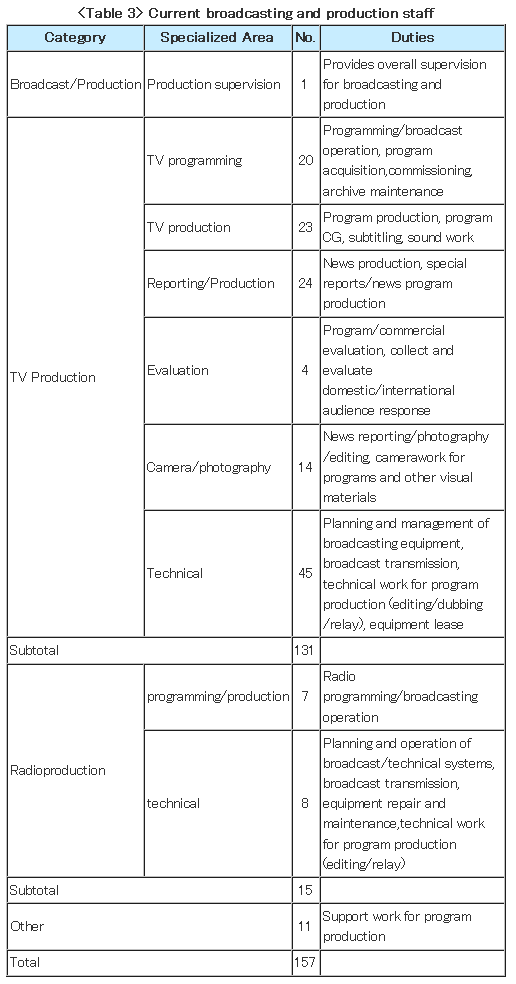 8. Capital and Budget
Arirang TV relies upon both corporate earnings and public funds (Broadcasting Development Fund) for its revenues, and although the exact percentage of each year depends on circumstances, it is about 40:60 on average. Arirang's budget for the year 2007 was 46 billion KRW (approx. $50 million), with 21.2 billion Won coming from its various earnings while the rest (24.8 billion KRW) from the Broadcasting Development Fund.
9. Ownership and Sponsorships
Despite being a public broadcaster operated in part by a public fund created as a result of government policy, Arirang TV has retained much independence in its broadcasting activities. Yet, its establishment and operation by a semi-independent fund under the control of Korea's Ministry of Culture and Tourism limits the amount of policy support and funding which are necessary for its overseas PR broadcasting on behalf of Korean government. Its legal status as an institution under the aegis of a public fund in turn hamstrings Arirang TV's ability to developing a clearly-defined model for generation of corporate profits, thus making the company dependent upon the Broadcasting Development Fund for most of its operating revenue.
Arirang TV owes its status as a semi-public corporation to Laws on Operation of Public Organizations announced and enacted on April of 2007, giving it responsibility and rights as a public organization while maintaining its independence in broadcasting and daily operations.
10. Challenges to overcome
Today, Arirang TV has attained global recognition for global broadcaster representing Asia and further performed, as Korea's public channel, a role of nation's foreign-language broadcaster improving Korea's image abroad. This would be a basis that will allows Arirang TV to secure one hundred million subscribers overseas via expansion of its overseas satellite network, which would mean a shift from the current strategic focus on the entire globe to pursuing specialization for viewers' need in different continents at the same time.
As mentioned in preceding pages, the creation of Arabic-language programming represents the first step in such a shift, in addition to creation of new channels in Russian, Spanish, Chinese, and Hindi to meet a new need arising from Hallyu's march west across the Asian continent. This entails cooperation with satellite services providers or platform operators in each country or continent with the most number of subscribers.
But these efforts will mean nothing if not predicated upon Arirang TV's own ceaseless efforts to increase its international competitiveness. Given the fierce nature of competition between foreign language "PR" channels in each country, a clear differentiation and competitiveness of Arirang's programming is vital if it is to maintain its competitive edge. There are several policy issues that must be resolved if all of the above are to come to pass.
Arirang TV's legal status must be clearly established. Arirang TV will need a new and clear status legally if it is to perform its function as Korea's international channel for promoting the nation's image to the rest of the world fully. More specifically, Arirang TV needs to become a public corporation.


Arirang TV must be provided with funding comparable to other countries if it is not to fall behind the competition. Arirang TV is experiencing severe constraints on further growth as Korea's official international channel, due to shortage in marketing expenses and over-reliance on re-runs, as a result of current budget of approximately $50 million. To put $50 million into proper perspective, Arirang TV uses about $12 million dollars for program production a year, which is about one-quarter of the epic KBS drama "Immortal Admiral Yi Sun-shin" which used $40 million for direct production and $55 million including all auxiliary costs. If Arirang TV is to maintain its competitive edge in securing international viewership over international channels in China and Japan, a bold investment to bolster its marketing budget is vitally necessary.


Arirang TV needs to conduct scientific surveys of overseas audiences. Needless to say, Arirang TV exists not to generate profit but to promote Korea and enhance Korea's image over the globe. Such activities undertaken properly will no doubt lead to positive effects in Korea's foreign relations, economy, trade, and social/cultural exchange. Therefore, instead of being overly concerned about its technical role for broadcasting visual images overseas, Arirang TV now needs to consider its hitherto neglected issues to maximize broadcasting potential by engaging in scientific studies.
Kim Taewoen
Associate Manager, Innovation & Policy Planning, Arirang TV, Seoul

Return to 17th JAMCO Online International Symposium contents page