24th JAMCO Online International Symposium
January 2016 - August 2016
The Current State and Challenges of Television Broadcasters in Asia.
Mongolian National Public Radio and Television (MNB) and TV viewership report in Mongolia
Mongolian National Public Radio and Television
(Mongolian National Broadcaster)

Introduction
Mongolian National Public Radio and Television (MNB) is the oldest broadcasting organization in Mongolia as well as the only public service broadcaster in the country. MNB's mission is to be a leading broadcasting organization that is independent and impartial, and serves the public interest only. In addition, MNB puts its best efforts into promoting Mongolia to the world through its external service broadcasting programs to our foreign audience.
Today MNB is available in over 1.8 million households in Mongolia, which accounts for over 90 percent of the entire population.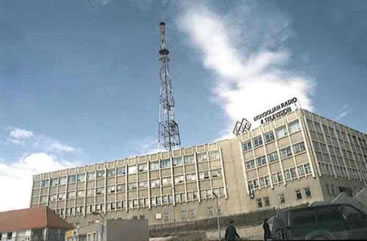 Governance
According to the Law on Public Radio and Television, adopted in 2005, MNB is a non-profit legal entity responsible for implementing a nationwide broadcasting service. Its highest governing body is The National Council of the MNB, which consists of 15 members. The general management of the organization is overseen by a Director-General, who is appointed by the National Council.
Funding
MNB is financed mainly from license fees and the state budget with some income generated from other sources such as social advertising, donations and contributions. License fees collected from the public ensure the independence and accountability of MNB. Around 50 percent of MNB's funding comes from the state budget, with 48 percent coming from license fees and the remaining two percent from social advertising and grants.
MNB Services
Radio
Mongolia's very first broadcasting service, Mongolian National Radio, was launched nationwide on 1 September, 1934. Today it airs 50 hours of daily programming on three channels, via long, medium and short waves.
Its external service, The Voice of Mongolia, was launched in 1964 and currently broadcasts eight hours of daily programming in Mongolian, English, Japanese, Chinese and Russian for foreign audiences in parts of Asia, Europe, the CIS and the Asia Pacific region. Given the country's sparse population (2.8 million, with a density of 2 persons per sq.km) and huge territory (1,566,500 sq.km), radio remains the most important source of information in the country, particularly for the scattered herdsmen in the countryside.
Our frequencies:
Channel 1 /nationwide/ 164 kHz, 209 kHz, 227 kHz LW, 882 kHz MW
In Ulaanbaatar on 106 MHz FM
Channel 2 /nationwide/ 7260 kHz, 4830 kHz, 4865 kHz, 4895 kHz SW
Channel 3 /in Ulaanbaatar/ 100.9 MHz FM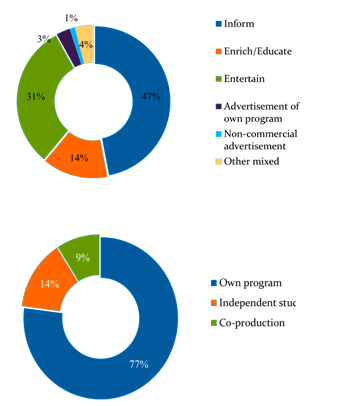 Television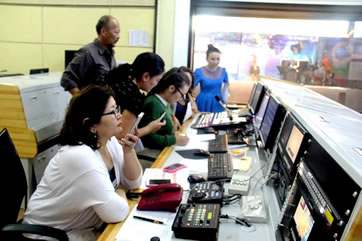 Mongolian National Public Television was launched on 27 September, 1967 and currently produces 6,200 hours of programs annually on one channel. According to an independent survey, Mongolian National Public Television is the most watched channel nationwide and the most credible media outlet among viewers.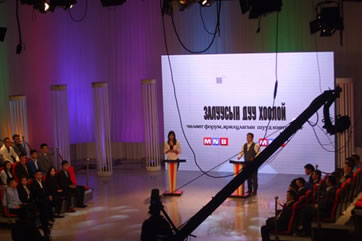 The main broadcasting objectives of Mongolian National Public Television are to contribute to the improvement of the cultural and educational level of the nation by promptly delivering unbiased information to the Mongolian people. MNPTV programs focus on culture, education, science and the economy of Mongolia as well as international affairs, protection of historical and cultural heritage and the environment.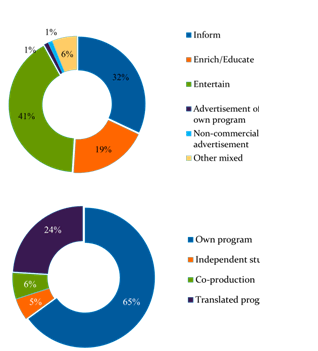 MN2 Television
On 11 July, 2011, MNB launched its second channel, MN-2, dedicated to ethnic minority groups in Mongolia with the kind support of a project known as "Comprehensive community services to improve human security for the rural disadvantaged populations in Mongolia," implemented by the United Nations Trust Fund for Human Security.
The mission of MN2 is to provide programming to the national and linguistic minorities in their native languages, to protect, preserve and promote the rich cultural heritage and traditions of minorities, and to respect and uphold their rights.
Almost 30 percent of the total programs on MN-2 channel are news bulletins and other educational, culture and arts programs designed for and dedicated to ethnic minorities. "TV Wave" in the Kazakh language, "Altai Home" in the Tuvan language, "Homeland" in the Buryat language and "Welcome" in regional dialects are just a few examples.
News and current affairs
MM news agency is the news service of MNB. Its flagship program is "Tsagyn Khurd" — literally translated as "Time Wheel" – which was voted the most trusted and impartial source of news and current affairs in Mongolia. The independent survey showed that MNB attracts its largest audience when it is broadcasting news programs and bulletins.
MNB was the first to introduce news programs in English, which appeal to a younger generation of viewers.
Mongolian News Channel
MNB embarked on organizational reform starting in 2015. As a result, the new Mongolian News channel started broadcasting on 27 September, 2015. The new news and information channel brings together MM news agency, MN-2 channel's news for ethnic minorities, and the
www.mnb.mn
web site.

Foreign relations
As the only public and the biggest broadcasting organization in Mongolia, MNB is developing its external connections, and is now partnering with leading foreign media organizations such as NHK, EBS, KBS, Russia Today, Associated Press, SNTV etc.

It has been a full member of the Asia-Pacific Broadcasting Union since 1991, and a member of the Asia-Pacific Broadcasting Development Institute since 2000.
In order to improve its programs and identify public needs, MNB asks independent survey companies to do regular surveys of the TV audience, as well as public opinion polls on vital social issues.
Human Resources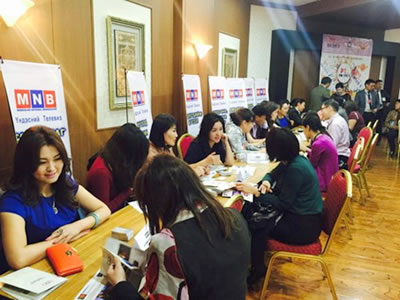 With 680 staff, MNB is the largest broadcasting organization in the country. Creativity, collaboration and excellence are the trademark of our staff at MNB.
47% Production staff
20% Top- and mid-level managers
17% Production assistants
12% Senior production staff
4% Administrative staff
TV viewership rates in Mongolia
Preface
In 2014, major positive changes were made in the television industry market. The number and quality of local advertising and PR agencies increased, and a number of foreign publicity and advertising companies entered the Mongolian market by establishing subsidiary companies. As a result, we see increased market competition. Aiming to promote not only big international brands but also local products and services, these companies have improved the media market and approached international standards.
The traditional idea that audience perception depends on the frequency of advertising is changing in favor of the idea that more targeted ads can attract a bigger audience. Therefore foreign and local agencies and advertising providers tend to use research into TV viewership in their work plans.
The main factor in developing the media industry is content development. The industry players in the TV and broadcasting industry (e.g. TV stations) are promoting the proper usage of contents by acquiring licenses and respecting the copyrights of license holders. Mongolian Television Forum MTF organized in 2014 pointed out this issue and started the tendency to broadcast content only with the consent of the copyright holder.
Also, Mongolian content producers are starting to compete with foreign producers and the proportion of Mongolian content in popular genres has increased. In addition, the rapid development of the telecommunications industry has opened up new possibilities for the television and news industry.
Television viewers' behavior
Period of time spent watching TV
A survey conducted to determine the number of hours TV viewers spent watching TV shows that 36.3% of viewers spend less than two hours doing so.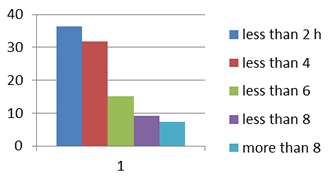 In Ulaanbaatar city, a survey shows that the average TV viewer spends 206 minutes in front of a TV set. Compared to last year indicators, time spent watching TV has decreased. The next chart shows the reason for this fall.
Comparison chart of Mongolian and foreign channels
| | 2013 | 2014 | Variation |
| --- | --- | --- | --- |
| Mongolian channels | 223min | 206min | 8▼ |
| Foreign channels | 82min | 97min | 8▲ |
As we can see from the chart, the increase in viewing of foreign channels has resulted in less time spent watching Mongolian channels. This variation wasn't observed among male and female viewers in the +35 age group, but among audience with an age range of between 16 and 24. This may be due to the wide range of channels available, access to cable and new services.
Peak hours
Regarding TV viewership peak hours, there were no big changes observed compared to indicators for 2013.
Daily viewership chart ( 2014 average )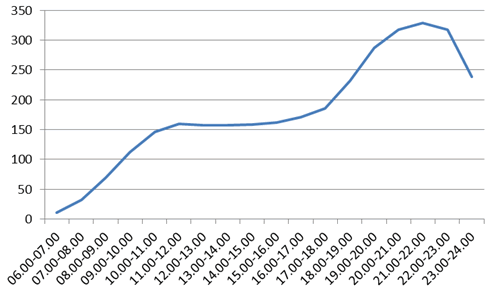 As seen from this chart, the peak hours when the largest number of viewers is in front of the TV is between 21.00 and 23.00. At this hour, 330,000 viewers (almost 33% percent of the audience in Ulaanbaatar) were watching TV simultaneously.
From 17.00 onward, we observe a sharp increase in the viewer rate, which proves the supposition that peak TV viewing hours begin at 6pm. The TV viewership rate during working hours is broadly similar compared to the 2013 indicators. Between 11.00 and 17.00, the TV viewing rate is 17%, or 170 thousand people, which is almost half the TV viewership rate at peak hours. The explanation is that some family members stay at home during working hours. The statistics show that the employment rate in 2013 was 50.5%, which may have been responsible for the TV viewership rate. The viewership rate by gender shows that the number of men and women watching TV is almost equal.
Rate by days
TV viewership rate is different on workdays and weekends.

Compared to workdays, the amount of people watching TV on the weekend is much higher.
Viewers' choices
Viewers' choices may differ depending on month, day and time period. But we have observed the repeated phenomenon that at any time of the day, 40% of TV viewers are focused on Mongolia's top five channels.
In general, the top ten channels are watched by 60% of the audience, and the other 40% is dispersed on other TV channels (there are around 70 channels in Mongolia).
How we define the TV stations with most viewers
From the times when there were no definite information and research methods, it is hard to define such concepts like "our audience" or "loyal viewers." Therefore, different methods are used to define the rate of viewers.
| Channel | Rtg | Rch(5m.nc) |
| --- | --- | --- |
| EduTV | 14,000 | 897,000 |
| MNB | 11,000 | 890,000 |
| Mongol HD | 9,000 | 890,000 |
| UBS | 5,000 | 865,000 |
| TV9 | 9,000 | 951,000 |
| TV5 | 5,000 | 849,000 |
| MN25 | 5,000 | 835,000 |
| NTV | 5,000 | 828,000 |
| TM | 4,000 | 814,000 |
| SBN | 3,000 | 811,000 |
Rch (5m.nc) indicators show that in 2014 December, viewers watched those channels for five minutes continuously. This indicator shows us that there are around ten TV channels in Ulaanbaatar city with a viewership of more than 800,000 people.
Rtg indicators show the average number of television viewers watching that channel during a one-minute period. In other words, it defines the constant audience.
The Rtg indicator is mostly for use in the television market.
Peak hours of the top 10 TV channels by segmentation in 2014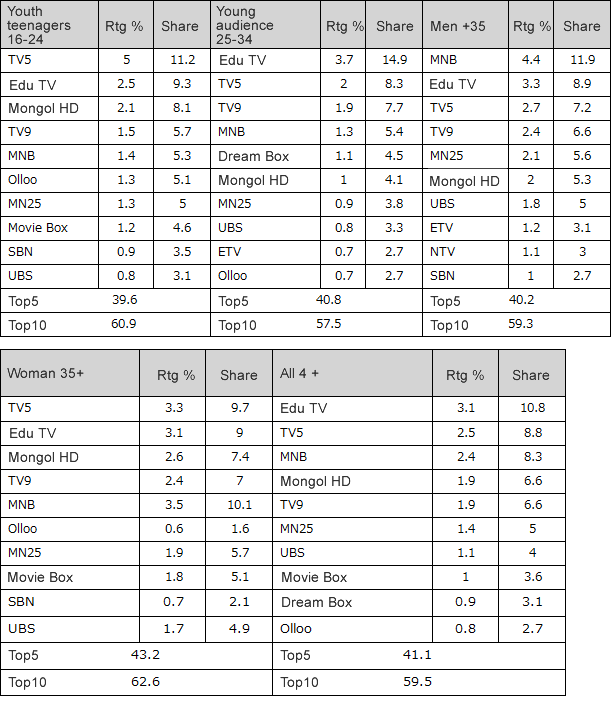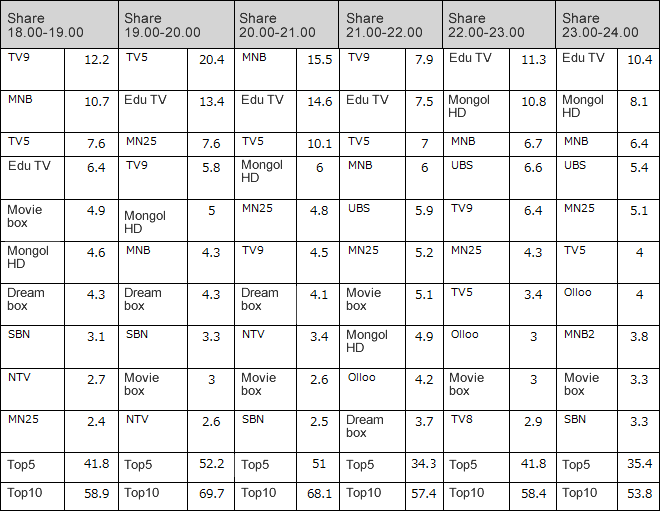 Selection of broadcasting hours and its impact on channel rates
Television channels tend to broadcast their best content during peak hours. In general, this is between 6pm and 12 midnight. This is the most competitive period of the day.
However, the majority of viewers tend to choose from the top five or ten channels. This tendency therefore shows that the viewership rate of the new television channels does not directly depend on the quality of their content, because there is successful content already being broadcast for a long time during peak hours, and those successful contents already have regular viewers, who constantly watch these programs. In other words, viewers are habituated to watching that content. One example is "Wheel of Time," the evening news program broadcast by MNB.
In the 2014 television market, some commercial television channels used less competitive, non-peak hours to raise their viewership ratings.
For example:
On 3rd March, 2014, Mongol HD television broadcast a live transmission of the Academy Awards ceremony. Even though it was broadcast during non-peak working hours, it managed to attract an audience that was able to watch TV at this hour.
ETV television broadcast the FIFA World Cup soccer final at 4 am on 14th July 2014, which obtained a viewership rating of over 10%.
UBS broadcast Miss World 2014 during non-peak hours on 14th October 2014 and it managed to gather a 10% viewership rating.
Channels such as Moviebox and Dreambox have poor viewership ratings during peak hours, so they target audiences and gather viewer ratings during the daytime. This shows us that in order to attract viewers, it may be efficient to not only attach importance to high viewer hours, but also to concrete events or content.
Ratings of television channels by month
Youth, 16-24
There are no fixed channels that they prefer to watch. In 2014, this age category represented the highest rating in the viewership rate of foreign channels.
Young people, 24-35
No fixed channels. This age category is least likely to watch TV.
35+
The most watched channel among men aged 35 or over is MNB. Members of this age category of viewers are consistent in the TV channels they choose to watch, and mostly prefer news and currents affairs programs.
Compared to men, women aged 35 or over do not prefer news and current affairs programs. This age category represents the highest viewership rate for Mongolian TV channels.

Ratings by program category
In 2014, total broadcasting was 262,451 hours of television and 484,748 programs.
The chart below shows broadcasting by program genre and their percentage of broadcasting time.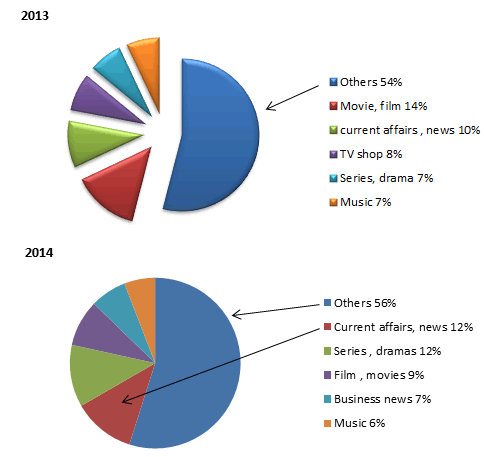 Judging from the 2014 chart, only five content genres account for 44% of total on-air time. The remaining 56% is distributed among 11 genres and 85 specialty programs. Compared to 2013, the percentage of current affairs or news programs in 2014 increased by 2%. On the contrary, the amount of music programs and movies showed a slight fall.
Program demand
2014 –December, whole day
| N | Specialty | Rtg(000) | Frequency |
| --- | --- | --- | --- |
| 1 | Series, drama | 10(29%▼) | 32046(57%▲) |
| 2 | Comedy, comic live shows, or TV shows | 9(28%▲) | 3584(55%▼) |
| 3 | Tele-novella | 9 | 416 |
| 4 | Politics | 8 | 1973(60%▼) |
| 5 | TV show | 8 | 2807(46%▼) |
Compared to 2013, dramas and series showed a rise of 57%. In 2014, dramas and series were broadcast a total of 32,046 times. When the supply rises, the average rating may show a fall. Therefore, compared to 2013, the average rating for one episode of a series in 2014 fell by 29%. Despite this percentage fall, one episode of a series or a drama in 2014 managed to attract on average more than 10 thousand viewers, which shows that this genre is still popular among the audience.
Regarding other genres, even though the supply has shown a slight decrease, the average rating is still the same. In general television stations have increased their supply of news and current affairs and drama series by decreasing the amount of programs in other genres.
Mongolian and foreign contents
Mongolian content was the top issue in the 2014 media industry. The approval of the "Mongolian content" initiative and inclusion of related issues into the broadcasting law proposal shows us that some work has already started to be implemented.
Programs specialty chart by its origin countries 2014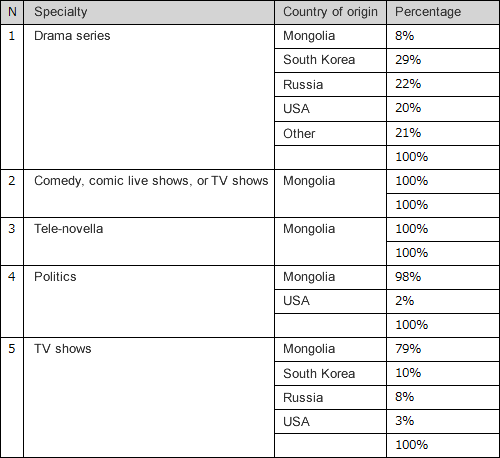 The amount of content produced in Mongolia increased from 2.9% to 8% in 2014, and by rating can compete with popular Korean series.
Also in 2014, we observed a decrease in the supply of Korean drama series from 37% in 2014 to 29%. But the supply of drama series in general increased by 57% in 2014 compared to previous years. By ratings, Korean soap operas and dramas are still popular among the audience compared to other foreign series.
The result of survey breaks the stereotype that Mongolian channels broadcast only Korean dramas. Regarding comedy content, comic live shows, and TV shows, those types of content are all produced in Mongolia, but the supply decreased compared to previous years.
Entertainment programs and television shows produced by Mongolian TV stations are still getting high ratings among TV viewers. It is gratifying to note that the highest rated TV shows mostly have Mongolian content. Compared to 2013 in 2014, no big changes were observed.
High rated programs


Cooperation with Japanese media organizations
MNB is keen on cooperating with similar public broadcasting stations of foreign countries. Among those, Japanese content makes up a significant part of foreign children's programs, as well as the educational and documentary program fund of MNB.
Under ABU's project One-Asia, an MNB television crew in 2013 co-produced with TV Tokyo a television documentary named "Waki-the Rock Farmer," depicting stories of people engaged in agriculture in areas with harsh ecological conditions. A Mongolian family that plants vegetables in the Gobi Area also took part in this co-production.
The governments of the two countries had exchanged notes, under which "The project for improvement of TV programs of Mongolian National Broadcaster" was implemented. As a result of the project, NHK International Inc. has distributed documentary, educational and culture programs to MNB 390.
Under the basic contract signed between JAMCO and MNB, MNB has received from MNB children's series such as "Pythagora Switch," "Puppet Theatre," "Wonderful Science in 2013," and 1,500 minutes of Japanese drama series and animation in 2015.
From 2011 to 2015, MNB has actively participated in NHK ABU Digista Teens festival, which allows young people to acquire fluency with new media by creating videos. Contestants from Mongolia got good results in the last festival and were awarded Story Master and Visual Master prizes.
Interesting fact
MNB's VOM radio international service broadcasts its programs in Mongolian, Chinese, Japanese, Russian and English. Among the foreign listeners, those from Japan are the most active, and the highest number of comments and feedback are addressed to the Japanese language section of VOM.
From the TV viewership rate, we can see that MNB leads in the genre of news and current affairs, as well as social and political programs. This means the MNB is popular among middle-aged men aged 35 and over.
During the last few years Mongolian, content providers, including MNB, have been actively producing Mongolian television drama series that attract audiences and are capable of competing with Korean content, which is in large supply in the TV market.
Mr. Ariunbat Lkhagvajav
Director of Mongolian National Public Television First Television Channel

Educational background : Postgraduate
-Academy of Political Science and Communication, Moscow, Soviet Union
-Iowa Peace Institute, Communication and Modern Journalism course

Foreign languages : English, Russian

Positions :
| | |
| --- | --- |
| 1990-1994 | Montsame National News Agency, political correspondent and journalist at youth newspaper and news agency. |
| 1994-1997 | Editor-in-chief of Guur newspaper. At the same time was taking part in numerous international media projects, production of films by National Geographic and BBC, photo agency Flagstaff Photo, etc. |
| 1997-1999 | UNDP, Regional media development project, editorial coordinator |
| 2000-2004 | Director of media and communication company ARIGU Media |
| 2004-2006 | Executive producer at C1 television |
| 2006-2007 | MNB, Director of Mongolian National Public Television |
| 2007-2010 | Managing director of EDU TV |
| 2010-2012 | World Bank, social welfare project, communication officer consultant, Director of Star TV |
| 2013 | Counselor at ARIGU Media |
| 2015 | MNB, Director of Mongolian National Public Television First Television Channel |

Return to 24th JAMCO Online International Symposium contents page