16th JAMCO Online International Symposium
January to March, 2007
Images of Foreign Countries Projected on Television of China, Korea, and Japan
Lecture 1: The Image of Japan and Other Countries in Chinese TV
The role of the Chinese TV media in the string of anti-Japanese protests that erupted in part of China in spring of 2005 has been examined under the title "Anti-Japanese Sentiment in China and the Role of TV" in the symposium held last year. The following are the findings from analytic study. First, Chinese television had been relatively cautious in its coverage of Japan, due to strong government regulation, and in fact played a regulatory function in the anti-Japanese demonstrations, with media coverage rarely resorting to sensationalism. On the other hand, Chinese media has broadcast war movies and programs in 2005, which marked the 60th anniversary of the end of WWII and implanted Japan's image of "atrocity" and "invasion." It cannot be denied that these broadcasts exacerbated the antagonistic sentiment among the people.
Since the demonstrations, the Chinese government has issued guidance on media policy on Japanese news coverage. The study herein looks into the impact of Chinese TV broadcasting on the image of information and image of Japan and the distinctive characteristics of the Japanese image projected in Chinese TV, compared to the image of other countries, based on analysis of related programs broadcast on China Central Television (CCTV) from January to August 2006.
1. International news coverage in National News
CCTV's National News (broadcast daily 19:00-19:30) is China's most influential news program.
In the eight months from January to August 2006, National News aired 1720 international news stories in total. Of these, most were related to the United States, reaching 162 in number and accounting for nearly 10% of international news coverage. This is followed by Russia and 124 and by Japan with 68, ranking third. Germany, UK, South Korea and France follow.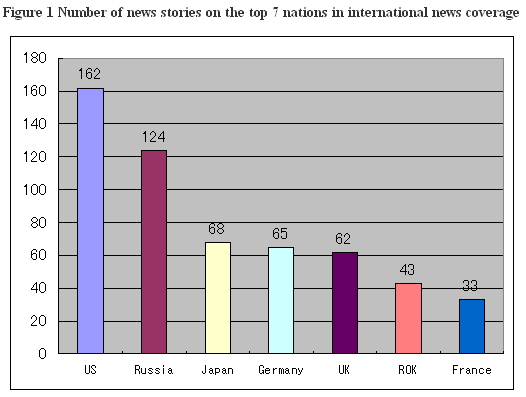 In the breakdown by month, Japanese news had more than 10 in January, April and August but roughly 5 stories per month in other months. The figures are roughly comparable to those of a typical year.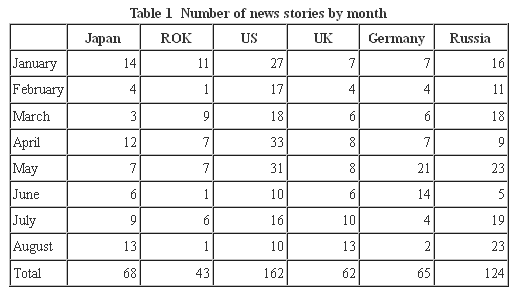 Classifying news content into two categories of domestic news and international news, the percentage of domestic news is roughly 10% higher than for international use for the United States and Japan. For Russia, however, international news accounts for the overwhelming majority, reaching 70 percent.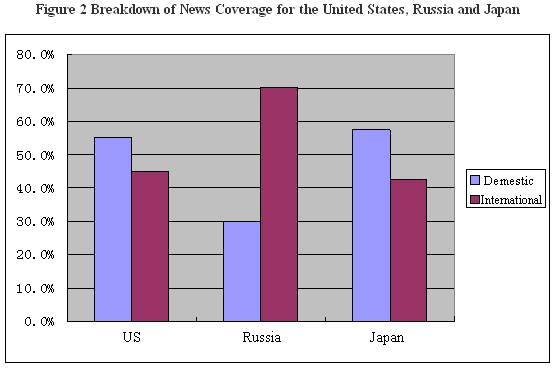 In domestic news coverage for the United States, stories related to the space shuttle accounted for 11. This was followed by six new stories related to terrorism and five on President George W. Bush admitting wiretapping by the National Security Agency (NSA) without court order. Others are diverse in topic, such as natural disasters, corporate news, market trends and science and technology. Domestic news from Japan include stories on an international animation exhibition, the Aum cult, new robots, train accidents and earthquake forecast system.
When international news is classified into those related to China and those on nations other than China, news coverage on political exchanges with China ranked high for Russia, accounting for more than 40% of its international news coverage. The reason for the high percentage was a large number of VIP visits paid mutually between the two countries, as well as special events, organized for the China-Russia Friendship Year.
In the United States, China-related news accounted for 20%, with 12 stories on the US visit by CPC General Secretary Hu Jintao. In Japanese news, news stories on exchange with China accounted for 15%, or 10 stories, which is the lowest when compared with those in the US and Russia. This reflects the strained relations between the two countries, in which top-level diplomacy has been suspended.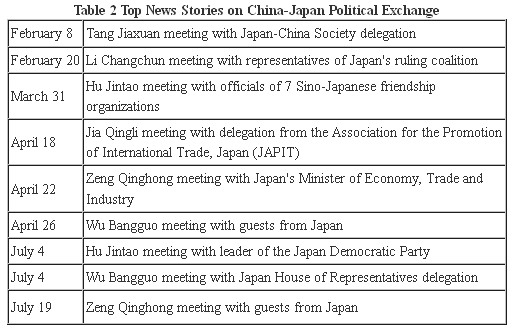 In comparison with news related to countries other than China, the three nations accounted for percentages on the 20% level each. In the case of the US, 15 news stories were related to Iraq. For Russia, six covered friction with Ukraine over natural gas. In the case of Japan, news coverage related to its friction with South Korea over Dokdo (Solitary Islands) accounted for the largest number, five new stories.
Although news reporting on each country is chiefly neutral in nature, news on Japan related to the issue of historical awareness and Prime Minister Koizumi's visits to Yasukuni Shrine numbered 14, with 10 of them aired chiefly in August when the prime minister paid his sixth visit to the shrine in question. Many of these reports were critical of Japan.
2. News Specials and Documentary Programs
Overseas-related news specials broadcast on CCTV's major news programs (Topics in Focus, People in the News, Face-To-Face and World Watch) totaled 24 in the period from January to August 2006. The highest number (7) of specials were on the United States. This is followed by four on Russia and two each on Japan and Iran. Other nations with one each are the UK, Israel, Thailand, Italy, Indonesia, Vietnam and Egypt. Specials on Japan were "Japanese soldier in the Chinese invasion — Ritaro Honda" broadcast in Face-To-Face on March 30 and "Interview with Former Japanese Prime Minister Tomiichi Murayama" aired on June 27 in People in the News.
In January-June 2005, CCTV broadcast 10 new specials on Japan. Of these, five were concerned with Japan's awareness of East Asian history. Two were on Sino-Japanese relations, one on cultural exchange and one on the territorial issue between Japan and South Korea. It is clear that the Japan issue diminished in attention in CCTV's new specials in 2006.
On the other hand, there had been a documentary featuring Japanese in the program titled "Person (?)" on CCTV. With virtually all Japan-related programs being imported from Japan, a documentary portraying the Japanese broadcast with such intensity had been unheard of in Chinese TV.
"Person" is a series of 42 installments broadcast from January to August 2006 that spotlighted foreign nationals. Of these, most were programs from Japan and the UK, with 11 each. This is followed by nine from the US, four from South Korea and two from Italy.
Of the Japan-related programs, there have been cases featuring cultural figures, represented by the episode titled "Eminent Film Director: Yasujiro Ozu," but NHK's "Project X" accounted for eight of the installments.
Broadcast of "Project X" in China provided information that was beneficial for Chinese understanding of Japan and the Japanese. Although the wish of the Chinese government was behind the broadcast, it was also actively supported by the Japanese, including the Keizai Koho Center (KKC).
Of the foreign programs broadcast in the series, there was a significant number of programs from the UK and the US. From the UK, there were 11, namely "Popular British Model: Kate・Moss, "The Most Charismatic Idol in the UK Culinary Industry: Jamie・Oliver, "Beauty Gourmet," "England National Team Captain: David Beckham,"・"England National Team Manager: Sven・Goran・Eriksson, "Mr.Bean: Rowan・Atkinson, "UK's Intellectual Film Director: Ken・Loach, "The British Halfback Film Director: Peter・Greenaway, "Life of Dance: Marion・Brown, "The Brain Magician": Tony・Buzan," and "Master Latin Dancer: Marion・Bromn." There were 8 from the US — including "World-Famous Actor: Johnny・Depp," "Hollywood Actress: Angelina・Jolie," "Father of 007 James Bond: Ian・Fleming, "Google Founder: Sergey・Brin and Larry・Page, "Women's Rights Advocate: Eve・Ensler, "The Legendary American Boss: Howard・Hughes, "Superman: Christopher・Reeve" and "US Film Master: Robert・Redford."
While Japanese programs focused on businessmen, many of the British and American programs featured celebrities and show business people.
3. Foreign TV Drama
There were two Japanese drama booms in China, in the 1980s and 1990s. During the first boom, the "Red Series" featuring Momoe Yamaguchi and "O-shin" attracted popular attention in China. In the second, Japanese drama such as "Tokyo Love Story," "101st Proposal" and "Under One Roof" became vastly popular, especially among young people.
After the turn of the century, there were virtually no Japanese drama that attracted attention in China. In fact, Korean drama drew immense popularity, triggering the so-called "Korean style " boom.
Conditions have changed in 2002. Fuji TV's "White Tower" began broadcast on CCTV from March 18. Written by Toyoko Yamazaki,
It featured top actors, such as Toshiaki Karasawa, Yosuke Eguchi, Hitomi Kuroki, Akiko Yada, Maki Mizuno, Hideaki Ito and Koji Ishizaka. The drama rapidly became popular from its introduction, grabbing nearly 4% in nationwide viewing rate and catapulted to the top in rating for the broadcast slot. Encouraged by its success, TV insiders reportedly are planning to introduce more Japanese drama in the future. During the same period, Hunan TV reedited and broadcast "O-shin"and achieved major success. Insiders believe that a third Japanese drama boom is imminent.
In addition to "White Tower, CCTV's Drama Channel has featured 17 drama series from Japan between January-August 2006, such as "Mukodono (Son-in-Law)," "Kurosagi," "Top News Anchor,"Vessel of Sand," "Midsummer Christmas," "Oniyome-nikki (Domineering Wife Diary)," "Fugo Keiji Deluxe (Millionaire Police Detective Deluxe)," "Couple," and "Man Who Cannot Marry."
CCTV's Drama Channel began broadcasting on May 3, 1999, of which domestic drama and imported drama accounted for roughly 50% each. Statistical data shows that Chinese drama numbered 105 and foreign drama 99 of the 204 drama series broadcast in the January-August 2006 period.
Of foreign drama, the largest number (31) were from South Korea. Although it has somehow lost momentum, Korean drama popularity remains a strong. Japanese drama ranks second with 18. The United States is in third place with 17. These three nations alone account for two thirds of foreign drama broadcast in China.
4. Conclusion
Based on the observations described above, the image of Japan and other countries projected in Chinese TV is characterized by the following two features. First, news programs focus on neutral coverage of developments in other countries, but those critical of Japan, including those concerning the Yasukuni shrine issue, remains significant in number. On the other hand, programs such as new specials are increasingly showing a positive image of the Japanese, with those concerning history and others critical of Japan dropping dramatically in number.
The greatest problem in Chinese TV communication on Japan is that very few reflect the realities and Japanese society. Japanese that appear in the TV media are restricted to certain politicians and the former imperial Japanese army and rarely feature ordinary Japanese or their lives. Because of this, Chinese image of the Japanese is inclined to be biased. Increase in the number of drama series imported from Japan is expected to correct these problems.
Liu Zhiming
Chinese Academy of Social Science
He is Chief Researcher at the Chinese Academy of Social Sciences, specializing in mass communications, since 1998. Previously he was a researcher in journalism at Renmin University of China and an assistant professor at Kobe University. His research focuses on the effects of the growth of the Internet in China on the mass media, the language environment and language awareness. He is the author of "Principles of Televisionology" (1993) and "The Chinese Mass Media and Images of Japan" (1998).

Return to 16th JAMCO Online International Symposium contents page