24th JAMCO Online International Symposium
January 2016 - August 2016
The Current State and Challenges of Television Broadcasters in Asia.
The Current Situation of Sri lanka TV Media and the Challenges Ahead
History of TV Media in Sri Lanka
Communication is nothing new to Sri Lanka, when one traces its evolution from the art of Ola leaves, epigraphy and drum beating, but revolutionary change occurred when radio broadcasting was introduced by the colonial administration as early as 1923. There are now around 70 radio stations, as well as foreign stations such as All India Radio, BBC World Service, China Radio International, and Radio VERITAS Asia. Broadcasting has achieved rapid progress with the passage of time.
Television, a spectacular invention of the post-war era, only came to Sri Lanka in 1979. The Independent Television Network, popularly known as the "Family channel" was the maiden TV channel in Sri Lanka, launching its operations on June 5, 1979.
The Independent Television Network (ITN) and the Sri Lanka Rupavahini Corporation (established February 15, 1982), became state media under Act no. 6 of 1982.
In 1992, a landmark decision for the industry was made, recognizing private television channels. Teleshan Network (PVT) Ltd, was the first private TV channel to operate in the country, but they were denied the right to broadcast news. On their long road to success, the private broadcasters have achieved and surpassed milestones such as cable and satellite TV.
The Derana channel provides round-the-clock news, and other channels have hourly news updates 24 hours a day. A special feature of the Rupavahini Corporation (SLRC) is news broadcasts using signs to aid the disabled.
The SLRC utilizes a news bar for the hearing – impaired. A current list of Sri Lankan T.V. channels is annexed. Satellite channels such as Dialog TV and PEO TV initially provided free services, but this policy was abolished due to the cost of decoders.
Dialog TV broadcasts using satellite technology, and PEO TV (IPTV) via telephone lines. The annual license fee of RS 250 /- for both radio and television during the first decade gave people the right to reject programs unacceptable to them.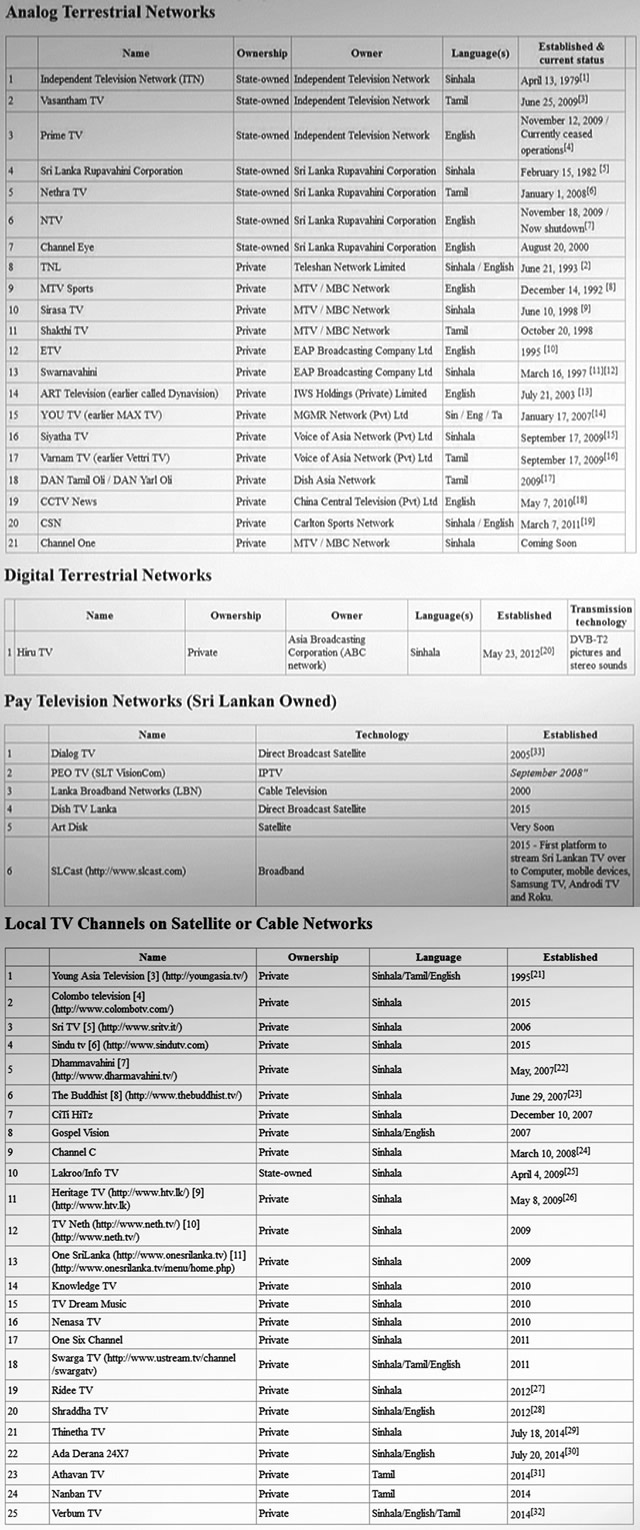 Nature of Sri Lanka's TV Channels and Challenges
Despite the large number of local channels, satellite and cable networks, none are digitalized, and remain dependent on analogue technology. There is not a single fully digitalized channel in Sri Lanka as of today, although certain channels claim to be so, purely as a market strategy. Although High Definition Television remains a challenge, each channel has its program-related File Based Facility. Digital technology is conspicuous by its absence in broadcasting. In due course, all programs will be digitalized, replacing analogue technology. We need a national policy for digitalization and an independent regulatory mechanism to oversee its implementation, like most other countries – but in a nation where there is unbridled allegiance to political masters, such an independent body is only a distant dream.
Consequently, digitalization will be a slow process.
Sri Lanka equals other advanced countries as far as electronic media, the internet, and mobile telephone technology are concerned. The commercial use of mobile phones in Sri Lanka preceded our giant neighbor India.
It is time for Convergence Technology to completely sever itself from conventional ,analogue technology.
Accessing TV, radio and the internet through mobile phones has become widespread. Investments in digitalization largely depend on the success of an independent regulatory mechanism.
The Role of the Press in Disaster Management
Volcano free Sri Lanka has now fallen victim to natural disasters. The tsunami tragedy which struck Sri Lanka violently on December 26, 2004, killing over 30,000 people, is unforgettable. It was the general practice for the media to make people aware of the urgency of the situation during a drought, floods or cyclone based on information from the meteorological authorities. Apart from this awareness process, most channels have taken initiatives to launch relief campaigns for disaster victims. In national disasters, it is obvious that television takes the lead. There was tangible progress in electronic media in disaster management following the tsunami calamity. Compared to Japan's advanced disaster management, we are still in the early stages.
Unlike Japan, we do not have an early warning signal system which automatically reflects the disaster on the TV Screen using digital technology. "Breaking News" delivers the message of the disaster only after minutes of its occurrence. Access to the scene of disaster may be difficult.
In a developing country, electronic media face financial, manpower, and technological issues. Community journalism is not a completely effective tool for information. During an emergency, network jam poses an obstacle against collecting information.
Verification of news before going to air is a fundamental responsibility, and an inescapable duty. Therefore, it is important to have a system to obtain correct information without network jam.
This will help to make telephones and the internet more productive during an emergency, and will greatly benefit the provincial reporters. Awards will be presented by the Disaster Management Ministry to media personnel on December 26 Tsunami Remembrance Day as an encouragement for the media, and media personnel. It is a pity that there are private channels which exploit disasters for commercial purposes. The File Transfer protocol known as FTP technology, which enables anybody anywhere in the country to communicate an incident to a newspaper company is nothing new in Sri Lanka. In the past, provincial reporters dispatched video cassettes of important news to headquarters via the night-bus.
Internet, Social Media, Mobile Phones and Television
Sri Lanka ranked 65th in the use of the internet in 2013, and 4,746,967(21.90%) of its inhabitants use the internet, according to Wikipedia. Today the computer has become an essential household necessity, and demand shows a rapid rise.
Mobile broadband connections exceeded 1.2 million in September 2013. Internet users increased sharply in 2012/2013 – users aged 15-60 increased from 2.5 million to 2.8 million, and 2.4 million were estimated to have accessed the internet on a daily or weekly basis. Which is why today all indigenous TV channels are inseparable from social media such as the internet, YouTube, Facebook, Twitter, and Google+ Each channel also has their own website.
All channels use SMS via mobile phones and other social media to ascertain the news of the people, newsgathering, and to ensure, audience participation in their programs. The social Media provide a big boost to the popularity of channels. Unfortunately, there are instances when in violation of media ethics unsavory news is also broadcast via private websites. Each channel provides streaming, which enables its clientele worldwide to watch its programs. Viewers can also watch all programs via Over-the-Top-Content (OTT). Most people have easy access wherever they are to the internet via mobile phones, and also watch TV.
Standard of Programs
The number of channels provides variety in its programs, yet shortfalls of their revenue cannot be excluded. Consequently, the number of channels to cater to the needs of a population of approximately 20.25 million is excessively high. This, of course, leads to low-quality, low standard and low budget programs, and also the employment of unskilled and inexperienced artistes at low rates. Instances are not rare where such an artiste, a neophyte in the field will have the audacity to direct a teledrama.
Exploiting the people's interest in teledramas, attempts are made to screen 7 or 8 teledramas by a single channel. But the most popular teledrama could attract the largest number of advertisements. In a country such as Sri Lanka which enjoys the highest literacy rate in Asia, the viewers demand more than mere entertainment, and their priority is programs and features that promote knowledge and intelligence, despite the lack of sponsors. It is because of the lack of such sponsors that most private channels are driven to produce low grade programs. The end result is that the demand for local teledramas continues to decline.
To amend the volatile situation, there is a tendency to screen foreign creations, which the Rupavahini Corporation accomplishes with a sense of responsibility unlike the profit-motivated private channels, who want to safeguard their commercial interests.
Local channels lag far behind the level of standards and performance of Japan's NHK and UK's BBC NHK is run as a venture in the interests of its people.
A nominal fee is levied to ensure its survival. In contrast to this, occasions are not rare at private channels in Sri Lanka where not only dramas, but news and political discussions are conducted with total disregard for moral and ethical values.
Returning home after a day of work, many Sri Lankan viewers would prefer simple entertainment. Unfortunately what he sees on the screen are cheap creations. Viewers complain very often that they are compelled to sit and spend their valuable time in watching them.
This failure, in fact, is due to its monotony and each channel embracing it blindly, as if eagerly perusing lottery results, or keeping the audience in suspense as to who will be the last contestants, and who will be finally judged the winner? Maintaining healthy standards in the public interest is the solution – long overdue in this connection.
To meet the challenge of satellite channels, local terrestrial channels need to have self-regulation. For example, the Rupavahini, Sri Lanka's National TV has its own self-regulatory mechanism since its inception, it has always maintained the dignity of women and children, exercised care regarding language, and conducts political or any heated discussions with due regard to the stature of persons, their public image, and privacy. In this context the director as well as announcer carries heavy responsibility on their shoulders. The National Rupavahini's pre-occupation with the kind of message to be delivered to the society more than the revenue from advertisements is laudable.
Over 70% of the Rupavahini's output are intended to ensure people's wellbeing, including intellectual development – disproportionately high, and in sharp contrast to private channels, who would usually only have one or two such programs. Education plays a significant role in the Rupavahini programs. Its Nena mihira educational program is a classic example. Its precious time is also set apart in the mornings to help students who sit for Year 5 Scholarship examination, GCE (O/L) and GCE (A/L) examinations.
The Rupavahini, in addition conducts educational seminars in different parts of the country, not for pecuniary gain, but in the national interest. Instances are not rare where the political interference affects the standard of channels.
People's Response
The number of television sets in use in Sri Lanka compared to its population of over 20 million is far excessive. According to the 2009/2010 Census and Statistics, over 79% of rural houses have television sets while the number of viewers is far greater when those who do not have television sets visit their neighbors to watch programs. Almost 100% of urban dwellers view TV programs, which has resulted in electricity consumption exceeding 94%. The increasing number of TV viewers has its direct impact on the escalating electricity consumption.
Sometimes doctors have warned their patients to avoid constant exposure to TV. This higher electricity consumption percentage runs parallel to that of advanced countries. The highest electricity consumption due to TV programs is recorded during the morning busy hour between 5.30 am – 6.30 am and after that it begins to drop. The evening peak period begins around 6.30 pm and continues till about 10.30 pm, when those exhausted after their day's labor get ready to watch TV programs of their choice.
Criteria to Gauge Popularity
A number of international and national institutions such as LMRB (Lanka Market Research Bureau) and Neilsen SRL (Survey Research Lanka) have been set up to identify popular channels and programs. None of them, however, could succeed in their mission due to their serious weaknesses. It is doubtful whether LMRBs Diary system was able to correctly record the popular programs with its sample size of 1000 participants.
Although Neilsen's accuracy is far greater, its 100-150 sample size cannot be expected to judge the audience's preferences.
The digital system is not totally fool-proof since the possibility of altering data cannot be ruled out. Although the criteria are fraught with shortcomings, yet it is important to ensure competition between channels, and over patronage for company programs.
Awards as Incentives
The first ever Rupavahini Awards Festival was held in 1984 by the Wijaya Newspapers to recognize the TV channels as well as artistes. It was not continued, thereafter. In 1995 Lakbima Newspapers held the Sumathi Awards Festival, followed by Raigam Tele Award. Electronic media artistes are awarded at the State TV Awards Festival, SIGNIS and BUNKA. Sri Lankan TV programs and artistes have been recognized at yearly International Awards festivals.
The National TV Channel
Rupavahini was a gift by the Japanese government to mark the traditional friendship between the two countries. It was set up on February 15, 1982. Sri Lanka Rupavahini Corporation is the flagship. Located close to Independence Square, Colombo, its transmission covers more than 95% of the country's land mass. Transmission towers are installed in Colombo, Pidurutalagala and Kokavil. Most other channels do not have such advanced transmission facilities.
The Rupavahini Corporation was set up on January 23, 1982 by Parliamentary Act No 6 of 1982. Japan's gift of the Rupavahini was symbolic of her cordial relationship with the then President J.R. Jayawardene.
As a public broadcaster SLRC operates four program channels namely, Rupavahini, Channel EYE, Nethra and NTV. The main channel Rupavahini carries programs for 21 hours daily, targeted at all audience groups, Channel Eye, which is mainly dedicated to Educational, youth, sports and entertainment broadcasts 18 hours per day was commissioned in February 1999 . Nethra, the Tamil channel broadcasts 17 hours per day, was commissioned in January 2008. There is also the NTV English Channel, which carries 8 daily programs. Local teledramas were very popular in our channel at the beginning. Following the drop in quality of most local teledramas, demand for foreign stories has increased. The Rupavahini holds the record as the first channel to dub foreign teledramas into Sinhala, and the world famous Japanese creation Oshin,, a gift from the Japan Foundation was dubbed into Sinhala and became most popular.
Later it was dubbed into Tamil as well. Previously, no teledramas were ever screened between 6.30-7.30 pm on any channel, but since 2012 this has become the prime time slot, attracting every section of the Sri Lankan audience following the screening of Oshin. Later, a number of dubbed South Korean, Chinese and Japanese teledramas such as Jewel in the Palace and Carnation were screened at this new prime time. At present there is a surge of such dubbed films whatever its quality.
Ranaviru Real Star competition had the biggest demand from the fans. Animations such as Kada Walalu, Buddhist Jathaka stories, folk stories like proverbial "Mahadenamuththa and Andaregen Passe are in production. Local animations are made in our 3D studio, a gift from Japan, and have been judged best.at four National awards ceremonies.
Educational and awareness –raising programs such as Irida Ayubowan, which are not perhaps economically viable, have been popular among viewers. The Rupavahini has linked with the internet since 1999, when it opened its website
www.rupavahini.lk
. The Rupavahini channel's live telecasts streams have been available since 2006, Channel EYE (English) and Nethra (Tamil) since 2010. Separate websites –
www.channeleye.lk
and
www.nethratv.lk
are also in operation.
The Rupavahini linked with Facebook (
www.facebook.com/srilankarupavahini
) ) and Twitter @rupavahinitv in 2013. The website has the special feature of repeat programs going back 48 hours. The Rupavahini Jathika Pasala, Vinividawiks is exclusively for children.
Facilities for Disaster Management and Institutional Problems
The NHK's superb disaster management reporting is still beyond imagination in our experience. Prior warnings, though effective, take time. Citizen's media make little use of television, and as state media, the Rupavahini should be more concerned about national disasters. A system to streamline social media and citizen's media in this context is important.
Tax on Foreign Dramas
There is a steady inflow of foreign dramas, due to declining quality of local teledramas and globalization. Foreign creations need the prior approval of a special committee in the Mass Media Ministry. The Public Performance Board censors scenes depicting alcohol use and smoking, as well as inspecting literature and erotic images which violate cultural and moral values.
A special tax of RS 90,000/- was imposed on foreign teledramas from 2004. An import duty has also been imposed on dubbed teledramas – Hindi RS 100,000, English RS 25,000 and French RS 200,000. Imported children's films are exempt from tax, regardless of the country of origin.
Chinese, South Korean, and Russian creations are also exempt from import duties, due to the cultural agreements that we have entered into. However, despite close diplomatic relations going back 63 years, Sri Lankan fans are denied the opportunity to see top Japanese creations as there are no cultural agreements signed between the two countries. It has been decided to broadcast a number of dubbed Japanese teledramas in the near future, with duties imposed by the Ministry as follows:
1.
Sunshine
156×15" RS 75,000 per 15 min. ep
2.
Teppan
151×15 RS 75,000 per 15 min. ep
3.
Bon Appetit
150×15 RS 75,000 per 15 min. ep
4.
Doctor Ume
146×15 RS 75,000 per 15 min. ep
Screening a single episode of a Japanese Teledrama, including royalty costs the Rupavahini Corporation RS 316,500/= (Yen 267,617.58). A Cultural MOU with the Japanese government could eliminate the need to pay such duties. Representations have been made in this connection to the Sri Lanka Embassy in Japan.
The percentage of foreign teledramas works out to 15% – 20% of the Corporation daily air time. The period from 6.30-7.30 pm is reserved for foreign teledramas, while 3.00-4.00 pm is allocated for foreign animations and exploratory programs. This is subject to change yearly. A foreign film is screened on weekends. Of foreign programs, 70% are dubbed, while the remaining 30% are sub-titled. Studies over the past few years indicate that the Japanese government has gifted the most programs. Under cultural aid, the NHK had donated us a large number of programs through the Japan Foundation and Hoso Bunka Foundation. The Rupavahini Corporation sponsors the annual Bunka Awards ceremony.
Oshin, Hallo Friends, Suzuran, Sea Monkeys, Mathematics, Japan Video topics
by NHK, and
Engagement Trip, Rival or Not Rival
by JAMCO have been gifted to Sri Lanka.
Receipt and exchange of programs, with CCTV, MBC, KBS, DDI, BBC, Warner Brothers, RHI, Beyond, Australian Children"s Foundation, Nelvana, and NFDC (INDIA) is a continuing process.
Jewel in the Palace, My Lovely Girl and My Lovely Sam soon
were gifted to Sri Lanka under South Korean cultural aid.
Gifts from Japan
Japan tops the list of countries supplying TV programs, and NHK is the leader out of all corporations which extend patronage to our channel. JICA awards us foreign educational scholarships in its generosity. South Korea has awarded us television and educational scholarships as well. China's ECTV, BBC and the Dutch government scholarship programs have benefitted us immensely. Sri Lanka Rupavahini Corporation is a full-time member of the ABU/AIBD, participating in its programs and activities. Our Corporation has won numerous awards after being judged the reputed communicator in electronic media in the Asia Pacific Zone, including the coveted Japan Prize.
Grant Aids by JICA
Grant Aid-1 (1981 – 1982) – 2 TV Studios/MCR/DUB/OBBUS Approx Rs. 350 Mn
Pidurutalagala/Kokavil/Kandy TX
(Designed for 2 hour/Day)
Grant Aid-2 ( 1985-86) – Studio No 3/Editing Systems
Namunukula / Sooriyakanda
Transposer Stations
Grant Aid-3 (1997 – 98) – Studio 1 Video Equipment
Studio 2 Video and Audio Equipment
Transposer Stations
MCR – Master Switches Rs.1500 Mn
New Ob Bus
Pidurutalagala TX –
New Transmitter with NICAM
Grant Aid-4 (2012-13) – 2D/3D Animation and Dubbing Studio Rs. 60 Mn
Local Challenges
The Rupavahini Corporation, the state's official electronic media, is charged with the responsibility of raising awareness among the people regarding the government"s development programs, and covering all state and national functions. The main obstacle to its progress is that its expenses are not reimbursed, neither is tax relief given for imports.
Approximately RS 1 million is incurred when a staff of 30 with five cameras is deployed to cover a state function for two hours and telecast it. The ministries or departments concerned do not reimburse the expenses. Other problems faced by the Corporation are limited scope to criticize the government, the need to represent the government, expenses incurred on public relations spots, the need to telecast, produce and telecast scenes of national disasters at corporation expenses, frequent changes in the directorate (Chairman/Director General), and producing programs ignoring popular culture.
During the last 33 years there were 26 Chairmen and 19 Director Generals at the Sri Lanka Rupavahini (TV) Corporation.
Our TV Creations and Foreign Market
Our domestic market is a Lilliputian compared to giants such as our neighbor India, Australia, Japan and South Korea. This is one obvious reason for lack of demand for our creations. The technological setbacks due to non-digitalization are another major reason. There is a bigger demand for seasonal news than our creations, so exploring a market for it is imperative.
Request for Japanese Assistance
The Rupavahini Corporation has addressed JICA through the External Resources Dept. on a number of important issues, which are detailed in the annex.
– Production and Broadcasting Trilingual TV Programs
Our objective is to create national unity by means of presenting programs in Sinhala, English and Tamil media in this multi-ethnic and multi-religious country, after the conclusion of a 30 year old war. A separate channel is of utmost importance in this connection. There is no separate TV studio for the North and the East.
– Modernization of the Dubbing and Subtitling programs
The dubbing section where there are very senior, experienced producers presents all dubbed and subtitled foreign tele-creations. The author of this paper is its director. It was this section that under my direction created the JICA voluntary programs, which was possible due to the close relations established between our two governments through the embassy. The dubbing section could do much better if it is equipped with new technology and provided with foreign training.
– Programs Archival Project in Sri Lanka Rupavahini (TV) Corporation
The Sri Lanka Rupavahini Corporation, a gift from the Japanese Government, has broadcast for more than 100,000 hours . However old technology such as u-matic, Beta cam and UTR are still in use. These programs are more than three decades old, and as such its importance is inestimable. The Japanese Government's kindly intervention is sought for the preservation of these invaluable videos.
B.A.D.Athula Ransirilal
Director (Film & Dubbing)
Sri Lannka Rupavahini(TV) Corporation

Return to 24th JAMCO Online International Symposium contents page