28th JAMCO Online International Symposium
February 2020 - March 2020
Educational Content in the Developing Countries : Its Role and New Possibilities
The Use of Japanese TV Programs to Enrich Secondary Education for Girls in Tanzania and Promote Understanding of Japan
Outline
The Sakura Girls Secondary School, in the village of Arusha at the foot of Mt. Kilimanjaro, opened in January 2016. It has about 200 pupils, all of whom are boarders. It was founded by the late Sumiko Iwao, a professor emeritus at Keio University, whose lobbying secured the cooperation and assistance of the Japanese government, businesses and private individuals.
It is common in many African countries for girls to marry after finishing primary education, between the ages of 10 and 15, a practice that has been termed the "reproduction of poverty." The school seeks to bring change by nurturing creative female leaders who have a strong command of scientific and other technical subjects. With support also from the Hoso Bunka Foundation, 623 Japanese TV programs, including many held by JAMCO and NHK International, have been provided for use as classroom teaching materials. The school has now been open for three years. This report assesses the current situation regarding the TV programs' use, issues, and areas where improvement is needed.
Objectives
The assistance project makes use of Japanese TV programs in the classes of a secondary school for girls in the African country of Tanzania with the aims of enriching lessons, nurturing creative female leaders who have a strong grasp of science and technology, and promoting knowledge and understanding of Japan.
Secondary Education for Girls in Tanzania
Primary school in Tanzania is followed by four years of Ordinary Level and two years of Advanced Level secondary education. The ratio of girls to boys tends, however, to be low in the higher schools because girls are frequently expected to perform many domestic tasks in the home and must often marry and bear children at a young age. These demands deny them opportunities to learn and participate more widely in society.
The SGSS Project and its Backers
■JICA
■Group Kilimanjaro Inc.
■NGO Sakura Vision Tanzania
■Sakura Girls Secondary School(SGSS)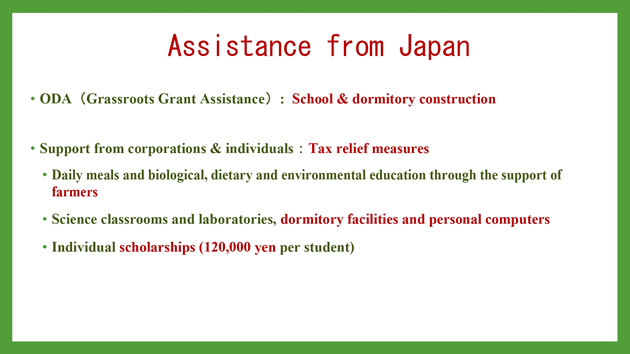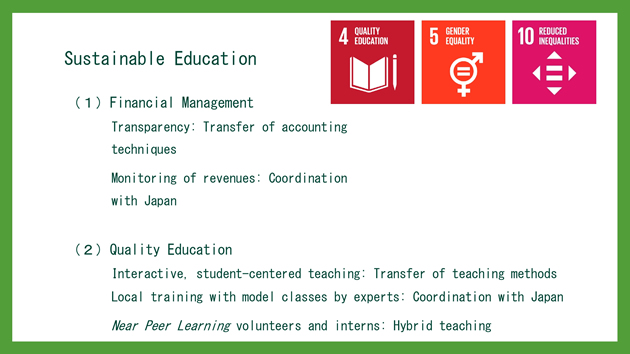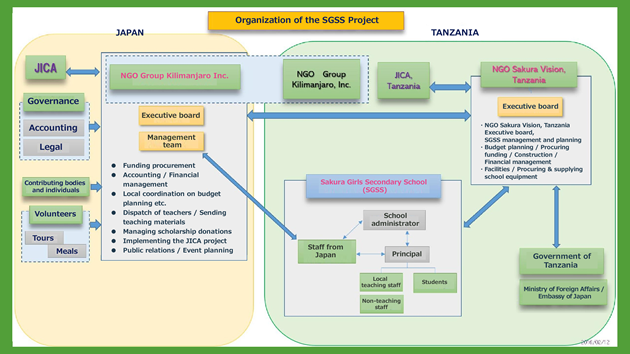 Methods
1. Program Selection
Programs are primarily selected according to the following criteria:
Programs that match the Tanzanian science curriculum
Programs not directly connected to the curriculum that can nonetheless be expected to stimulate the students' interest in their school subjects
Programs that tackle environmental problems, nature conservation, and other life-and health-related issues
Programs that nurture knowledge and understanding of Japan
2. Classroom Uses
Viewing at the start of the lesson to introduce a topic and stimulate the students' interest in it
Insertion to supplement lesson content
Use in preparatory study for an experiment
Supplementary use in cases where experimental materials or devices are insufficiently available
3. Frequency of Classroom Use
The frequency of use varies according to the educational content and is irregular but tends to average about once or twice a week. The programs are used especially in the teaching of electrolysis and acidity/alkalinity in chemistry, blood circulation, digestion in biology, and other subject areas where the practical work or experiments are difficult either to perform or to observe.
In the case of classes about Japanese culture, an introductory DVD to Japan is screened at the start of the lesson to stimulate the students' interest by showing them aspect of the Japanese lifestyle, customs etc. that are new to them.
4. Library Use
The students have a weekly library period during which they can watch any program of their own choice. The library has eleven personal computers for viewing the DVD's but this is not enough for everyone and they are always fully occupied.
Achievements
1. Impact and Results
As described above, rich and wide-ranging use is being made of the programs. Their classroom use is nurturing the students' curiosity and, as a supplementary teaching material, they are helping expand the students' knowledge and understanding. Classes in Tanzanian secondary education tend to be long, consisting of double periods of two units of 40 minutes each, and it is also felt that the programs provide welcome variation for maintaining the students' concentration. The programs are also considered a particularly valuable teaching resource because the school does not otherwise have such plentiful supplementary experimental and audio-visual materials as would be available to a school in Japan. The use of shorter programs of 10 to 15 minutes in length, such as 10 Minutes of Science, Wonderful Science, is especially high because of their convenience for classroom use.
Further, the programs have also proven their worth as an extremely effective tool for promoting knowledge and understanding of Japan. Aside from the programs concerning Japanese culture, the students are also fascinated by the Japanese aspects of the science teaching programs because they were made in Japan, including, for example, images of the buildings and the clothes people wear.
2. Student Reactions
The students were given a questionnaire asking them which programs they liked best. The five most popular programs are listed below. Programs concerned with life, the human body and Japanese culture are particularly popular.
Wonderful Science Part3 Episode 5. The Miracle of Birth
BEGIN JapanologyⅢ Episode 6. Dolls
Super Cameras Episode 30. Body – Mysteries of Development
Images of Japan Episode 10. Contemporary Sports & Traditional Entertainment
Animal All-Stars Episode 4. The Slowest Moving Creature – Chameleon
The students were also asked to write their impressions of the programs. Some of the more striking comments included:
Wonderful Science Part3 Episode 5. The Miracle of Birth

'I had never seen the process of the birth of life before and found it very moving. I makes me look forward to becoming a mother one day. It also made me want to be a doctor who helps women give birth one day.'


Wonderful Science Part4 Episode 4. After We Eat

'It explained how food is digested and used as energy very well. This was my first time to see inside the stomach. Its structures are very interesting and I learned a lot.'


Wonderful Science Part3 Episode 9. What's in Seawater?

'I was surprised. I never knew before that the salt we use was produced from seawater. I want to try boiling seawater and making salt myself.'


Images of Japan Episode 2. Working Women

'I was very surprised to learn Japan has woman bus drivers and factory workers. Only men do jobs like that in Tanzania. It would be nice if women could do a lot of different jobs in Tanzania, too.'


BEGIN JapanologyⅣ Episode 7. Conveyor Belt Sushi

I enjoyed seeing the food going around on a sort of conveyor belt. I thought it was a good idea not having to order or wait. I was also surprised to see people eating raw fish. I would like to try sushi one day.
3. Issues and Points for Improvement
Supplementary explanations of program content

In everyday classroom use, teachers do not always have the time to view the programs in advance and have to select the programs by their title alone. This sometimes leads to the situation where the content is different from what was expected and the program does not complement the lesson in the desired manner. For the most efficient and effective program use, it will be necessary to add brief explanations of the content to each program title in the course of use.

Example – 10 Minutes of Science Episode 14. Studying Chemicals (1) Hydrochloric Acid
The title does not explain whether the program only deals with the properties of hydrochloric acid or also includes experiments involving its various chemical reactions. A written record made after viewing of what experiments the program showed would facilitate appropriate future use according to the content of the lesson.


Subtitles are needed

Students whose command of English is limited tend to find it hard to concentrate for long on the programs. The short experiments and natural science programs are easy enough to follow from the images but long, 30-40 documentaries are hard to understand from the images alone and easily become boring for students who struggle to follow the language. The insertion of subtitles would facilitate understanding and also help improve their English ability.


4. Other Programs Wanted for the Sakura Girls Secondary School and Tanzania
Japanese language study programs

Japanese terms and phrases are sometimes taught in lessons about Japanese culture. The students have strong interest in the language, asking questions about it outside class and also studying Japanese language texts independently in the library. Students tell their teachers, too, that they would like to have real Japanese language lessons. If Japanese language study programs were available, these may be expected to meet a ready demand not only at the Sakura Girls Secondary School but elsewhere in Tanzania, too.
Photographs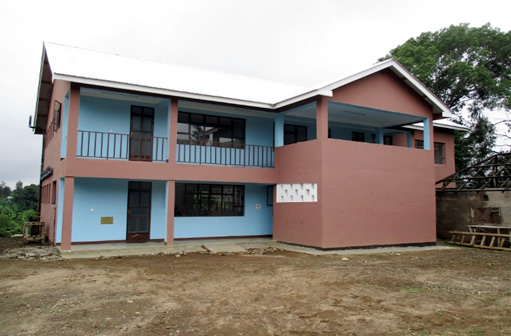 Sakura Girls Secondary School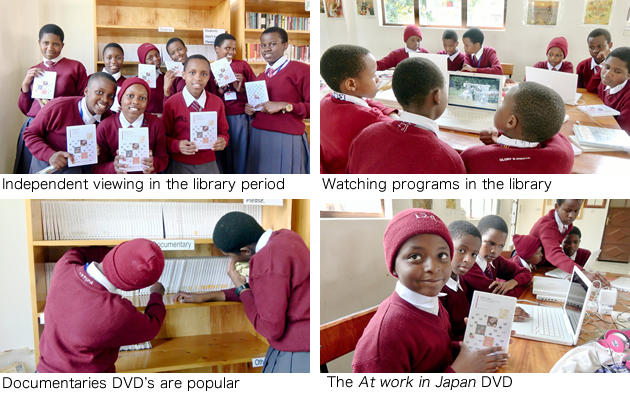 Chief Researcher Obumi Furuya
Chairperson, Group Kilimanjaro Inc.

Return to 28th JAMCO Online International Symposium contents page