19th JAMCO Online International Symposium
February 1 to February 28, 2010
International Exchange in TV Drama Productions
A Regional Broadcasting Station's Perspective on the Importance of Japanese Drama Exposure Overseas
Hokkaido Television Broadcasting has been producing its own TV dramas at the rate of one per year since 1996, in its determination to create its own independent productions. Unlike the so-called "network key stations" that supply programming to their respective networks, we do not have many opportunities for television production. We explore overseas broadcast opportunities without regard to genre, not only in drama but also in production of documentaries, animation and sightseeing programs, and continue to build partnerships and connections with people around the world through participation in foreign film festivals. Why then communicate from Hokkaido via television programming? We began to do this from a certain encounter. In the early 1990s, we happened to market a program featuring a music festival (Pacific Music Festival) that was held in Sapporo to a satellite TV station in Hong Kong. The time coincided with the infancy of satellite broadcasting in Asia. Asian television programming that relied exclusively on terrestrial-wave broadcasting began to expand into multi-channel programming in various Asian nations. It was the age of "100 Channels of Asia". In the course of the interaction with the Hong Kong TV station, we realized that "Asia has become smaller". From this experience, we sensed the imminent approach of change in Hokkaido's perspective from "Hokkaido as part of Japan" to "Hokkaido as part of Asia". We felt the possibility of communication from Hokkaido, not via Tokyo as the center of Japan but directly from the island. The movement was accelerated with the start of digital satellite broadcasting around 1995 and the arrival of the age of 100 channels in each Asian market.
The subsequent introduction of Internet mobile computing and the emergence of digital media diminish the barriers further. Combined with development of transportation infrastructure, 24/7 airport operation systems and economic advancement, the age of large-scale interaction began in the Asian bloc.
Nearly 20 years since then, we have been exploring ways of communicating local information to overseas markets, while keeping in step with changes in media in Asia. And, drama production is one alternative. And, in recent years, our very few drama productions began to be recognized in international contests in increasing frequency, becoming award winners or finalists.
The following is an outline of recognitions we have received in overseas film festivals in recent years.
"Sorapuchi" (special drama; 2007 production; 46 min.; Digital Hi-Vision format)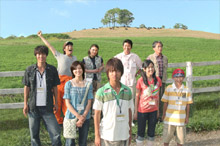 The program is based on an actual project named "Sorapuchi Kids Camp," aimed at creating a camping ground with medical facilities at Takikawa City, Hokkaido, for children battling intractable diseases. With the cool and refreshing summer atmosphere in Takikawa as the setting, the program portrays a young boy with the unique experience of overcoming childhood cancer, as he steps into adolescence — the fleeting experience of first love and other experiences everyone has at this stage in life, combined with the warmth of love and friendship with the adults who watch over him and with other kids who are fighting for their lives just like him.
・December 2008: Highly Recommended, Single Drama and Telemovie Category, 13th Asian Television Awards, 2008
・May 2008: Nominee, Television Film Category, 48th Monte-Carlo Television Festival, 2008
The Wind's Song" (special drama; September 2006 production; approx. 46 min.; Digital Hi-Vision format)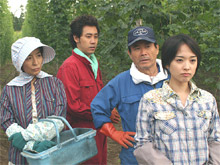 Yagisawa family runs a hop-growing farm in Kamifurano-cho, Hokkaido. The family is asked to appear in a TV commercial for a new beer product and, in the course of this experience, discovers that the son and his wife are considering abandoning farming. The father and son engage in arguments over how they want to lead their lives. The mother and her daughter-in-law who appeared to be in very friendly terms find they have grudges against each other. The family of three generations that appeared to be leading peaceful lives begin to fall apart. Will the family come to terms with each other? Will another longstanding, respected beer hop farm disappear? Set against the expansive and scenic Kamifurano, the program portrays the problem of "finding successors to carry on the farming tradition" that modern farming households face, as well as clashes between in-laws and problems in family ties, with warmth and a sense of comedy.
・February 2008: Finalist, TV Movie/Drama Special Category, New York Festivals, 2008
・October-December 2009: On sale for in-flight showing on Cathay Pacific Airways flights
"Ode to Joy: A Chorus for Life" (special drama; September 2008 production, approx. 70 min.; Digital Hi-Vision format)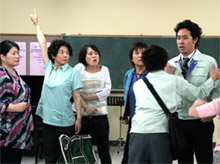 The story takes place in the fictitious hilly town of Ohtaru located on the sea. The sun is setting as the ladies of the "Ohtaru Ladies Chorus" practice, their voices ringing from a room of Minami-Ohtaru Kaikan, a small civic center. They are working hard to prepare for their performance at the town's 20th anniversary concert scheduled to be held at the Ohtaru Civic Center.
At the Ohtaru Civic Center, a problem was discovered — the result of negligent and shoddy work by its administrative office manager. The 20th anniversary commemorative address by the Mayor and the Ohtaru Ladies Chorus concert had been booked at the Center on the same day! Trapped between an important city event that cannot be postponed and the group of hardy, headstrong women who refuse to step down, the manager slowly develops a warm sense of empathy with the chorus group, women who devote what little time they can muster from their hardworking lives and problems they have to deal with every day in order to devote to singing. Badly wanting to help these women perform, the manager comes up with a surprising solution.
・October-December 2009: On sale for in-flight showing on Cathay Pacific Airways flights
Hokkaido Broadcasting has participated in contests and won recognition not only for its drama productions but also for its documentaries and animations as well.
The company has also been involved in the following project in its aforementioned search for building connections between Hokkaido and Asia at large.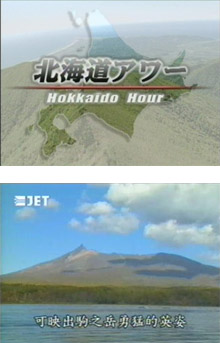 In 1997, Hokkaido Broadcasting became the only regional TV station to participate in Japan Entertainment Television (JET; presently headquarters in Taipei) established by TBS and other stations under the leadership of Sumitomo Corporation. The participation was for broadcast of "Hokkaido Hour," a program showing its culture, beauty of nature and tourism information on Hokkaido. It was a weekly 60-minute program shown in JET's broadcasting area of Taiwan, as well as Hong Kong, Singapore and Malaysia. Over more than 10 years, the program was aired for roughly 3000 hours, including repeat broadcasts, to transmit information on Hokkaido. Hokkaido Hour's program concept was "to let snow fall on Asia". With nearly all of the programs in the JET timetable featuring fashionable "trendy" drama, "anime" and "samurai" drama productions from the network key stations, it was very unique production that set itself apart from the rest.
The program earned fairly good response. According to a poll conducted in 1999 by the Hokkaido Council on East Asia Media Promotion, a joint body organized by the Hokkaido government and local economic sector, 31% of the people of Taipei responded that they know Hokkaido Hour and 69% of them actually view the program. On the question whether interest in Hokkaido grew by watching the program, 95% said yes. In 1997, Taiwanese visitors to Hokkaido numbered 50,000 a year. Two years into the program's broadcast, the number doubled. In the next 10 years, the number multiplied by more than 5 times.
Hokkaido's tourism industry also grew from ¥1 trillion at that time to ¥2 trillion in scale. That was realized by the tourists from East Asian countries, demonstrating the strong influence visual and information communication wields on the viewing public. Another objective of the program was to show all the municipalities in Hokkaido. Since not all of these towns and villages offer tourism resources, some featured local shopping districts and public bathhouses as well. They showed the ambience of everyday living and culture in Hokkaido and resulted in repeat visitors from Taiwan showing up in such towns and villages. We discovered that there is no telling what will interest the viewers unless we try–because of the difference in perspective and, certainly, the difference in culture.
From this experience, we uncovered the needs for diversity, distinctive regional qualities and everyday culture and learned the importance of communication. Our effort to broadcast our own drama productions is in line with this approach.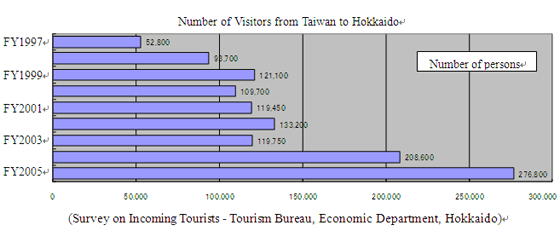 During the past 10 years, the communication media underwent drastic change from satellite broadcasting to Web, IPTV and mobile media. With the distance between Japan and other countries shrinking further, we believe that globalization from standpoint of visual media communication lies in uncovering needs for diversity and distinctive regional qualities. Communication from Japan should be discussed and conducted from this perspective, and the change in this direction can be seen from our endeavours and efforts. For this reason, we believe that the role of JAMCO will become increasingly important, in view of the change that is coming in line with our approach. Regional broadcasting stations have strong expectations toward JAMCO.
Minoru Toizumi 
Senior Executive Director, Hokkaido Television Broadcasting Co., Ltd.
Senior Executive Director, Hokkaido Television Broadcasting Co., Ltd. Born in Yamanashi Prefecture in 1949, he has a degree in Chinese literature from Keio University's Faculty of Letters. He joined Hokkaido Television Broadcasting in 1972 and was appointed a director in 2002 and senior executive director in 2008. He continues to be involved in pioneering regional media projects in the digital age, represented by Hokkaido Hour, a program introduced in 1997 to communicate information on the region to countries of East Asia and start of regional data broadcasting in 1998.

Return to 19th JAMCO Online International Symposium contents page