19th JAMCO Online International Symposium
February 1 to February 28, 2010
International Exchange in TV Drama Productions
The Current State of Korean TV Drama
1. Introduction
My apologies for starting with something personal — my family has recently become avid fans of the drama series Jumong. It has been roughly three years since the same happened with another drama series, Dae Jang Geum. It may be that we had become busier after moving from Kyoto, where we lived for 7 years since 2000, to my current job location. Or, it may be that the children had grown up. At any rate, I feel that we are watching TV less and less together. This didn't change even when we decided to subscribe to an IP TV unlimited viewing package with installation of optical broadband access at our condominium building exactly a year ago. The family sat together for a movie just once or twice a month. As media research, this author has been watching TV with the (still analog) set and one-seg broadcasts on the PC. One day last autumn, however, the family decided that we should be making more use of the paid package, since the subscription fee is being paid every month. We started searching for programs to watch. In the search, I recalled being interested watching the introductory segments of the Korean drama series Jumong. Since then, we watched the series nearly every night for over a month.
Although "Hallyu" (Korean Wave) drama productions are beginning to lose the prominence it enjoyed, I realized through personal experience that, with the diversification of lifestyles and of the media environment, there is a way for these dramas to survive, so long as they have a fan base that may not be a majority but very loyal. This paper attempts to assess the current state of Korean dramas, that peaked around 2005 and has started to show signs of diminishing attention, and to examine its current status chiefly from the perspective of the markets that have imported these productions. Furthermore, comparison with the Japanese drama productions will be conducted in order to look into the industrial and political significance of international drama distribution and acceptance in the region, as well as the potential and the issues involved.
2. The Current State of Korean Drama: Export/Import Statistics
Let us begin with a look into the current state of Korean drama productions from the data in the 2009 Cultural Industry White Paper of South Korea.
[Table 1] Changes in Exports and Imports of Broadcast Programs in the Republic of Korea (in thousand US$)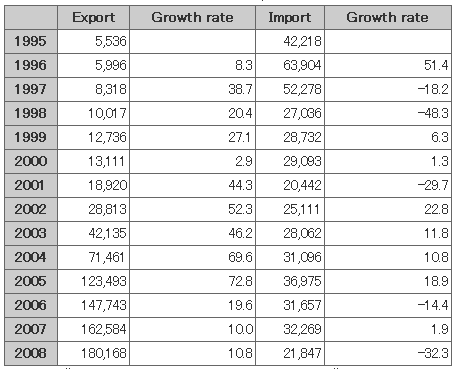 Source: Based on "Broadcast Program Export/Import Statistics," Ministry of Culture, Sports and Tourism, Republic of Korea
The data on the value of South Korea's broadcast video content exports clearly shows spectacular growth. Data for the span of 10 years starting in 1995 shows that export value multiplied by more than 22 times. Although the growth rate has slowed down somewhat, exports are continuing to grow. The balance in broadcast program trade shows surpluses starting in 2002, with the price per episode rising dramatically as well. In the breakdown by program genres, drama productions account for the majority of exports. In export destinations, East Asia accounted for the large part of the exports, with Japan, Taiwan, mainland China and Hong Kong making up 90% of the total. However, the export markets include Mongolia, Indonesia, Malaysia, Vietnam, Uzbekistan, Iran, and Egypt as well. In recent years, Korean drama broadcasting began in African countries such as Kenya, Zimbabwe, Sudan and Tanzania.1
In terms of export value, however, Japan carries an overwhelmingly large weight. Japan placed third after Taiwan and China until 2003 but rose to become the largest buyer of Korean drama productions today, beginning with the broadcast of Winter Sonata which led to import of many such drama series.
Notwithstanding this, the Chinese cultural sphere including Taiwan and China actually account for the largest in volume, namely, in the number of hours (running time) of drama exports and in the size of their fan bases. This means that Korean drama productions are most widely accepted in China and Taiwan but, on the other hand, are supported in Japan by a viewer base that shows extremely high level of fan loyalty.
As mentioned earlier, the export growth rate is starting to slow down after peaking in 2006. This has been attributed to import control being implemented in China and Taiwan, drop in imports in reaction to skyrocketing prices of these productions and concentration of the Japanese fan base in the middle aged and older age groups. With total export value not falling after peaking, combined with the growing trend of Korean drama productions being broadcast at fixed timeslots on specific TV channels in these countries, some believe that Korean dramas have taken root as a staple in TV broadcasting. Drama productions that accounted for nearly 90% of broadcast program exports in 2005 fell to 77% in 2006 but rose again to 90.2% in 2007 and to 91% in 2008.
The growth since 2007 had been caused by the popularity of so-called "fusion historical drama" that took the liberty of adding modern interpretations and plot narratives to historical accounts and also by the resurgence of export to Japan. Even in Japan, dramas such as Love in Palace and Jumong became popular, showing that Korean period dramas are gaining solid popularity as a new Korean drama genre that grew with Dae Jang Geum.
In Taiwan and China that have wider fan bases, on the other hand, export value has remained stagnant. In particular, exports to Taiwan fell from $20.18 million in 2006 to $17.6 million in 2007 and $7.77 million in 2008. Although this is believed to be caused by soaring prices and the absence of hits to follow Dae Jang Geum, as well as the rising popularity of Taiwanese drama productions, Taiwanese import of Korean dramas began to rise once again between 2008 and 2009 when the price per episode fell from the high of $5000 in 2008 to $2643 in the same year (according to KOCCA FOCUS, 2009-04). In China, Korean drama imports also dropped from $7.78 million in 2007 to $5.5 million but rose once again after the 2008 Olympic Games in Beijing. It must be noted, however, that widespread distribution of pirated productions is believed to exist in East Asia excluding Japan, suggesting the possible existence of a wider viewing audience that does not show in the import statistics.
The copyrights to the majority of broadcast programs exported from South Korea are held by terrestrial broadcasting stations, totaling $162.57 million in value or roughly 85% of the 2008 export value. On the other hand, exports from broadcast channel operators (also known as broadcast service providers in Japan) amounted to only 15% of exports, or $17.6 million. However, the percentage is higher than that of 2007.
How does this compare with Japan? Of the terrestrial TV programs exported from Japan in FY2007, animation was the overwhelming leader in terms of genre, accounting for 63.9%. It is followed by dramas and documentaries. In the breakdown of export destinations, Asia accounts for 41.1% of the total, followed by Europe and North America (based on White Paper 2009: Information and Communications in Japan , Ministry of Internal Affairs and Communications, Japan).
As described above, Korean dramas are growing steadily as a significant presence in broadcasting chiefly in the East Asian region, led by Japan providing the greatest economical benefits, as well as the Chinese markets consisting of mainland China, Taiwan, Hong Kong, etc. At the same time, their popularity is growing also in Africa and in the Middle East, such as Iran, partly due to aggressive promotional efforts by South Korea.
3. Opinions on the Success of Korean Dramas
  In a paper titled "Hanryu no sokojikara to sono gensetsu (Hallyu's Fundamental Strength and Its Arguments)" (2008), this author had examined into the current state of Korean broadcast contents in each of the TV drama, motion picture and music genres and examined into the opinions on what are the secrets behind the "fundamental strength" of Korean contents. As an issue for analysis, I pointed to the questionable theory of "Korean Wave as national policy" that was widely talked about during the Hallyu boom. It was a critical study of the political significance that the theory held. What was the factor or factors that catapulted Korean TV drama to such prominence? The reality is that the "national policy theory" was actually widely discussed not only in Japan but in South Korea as well. Certainly, various government policies such as the 1998 policy to promote broadcast video business and the five-year plan to promote broadcast video business (2003-2008) may have contributed to their success. However, the author argued in the paper that the boom cannot be explained sufficiently by these policies alone.
The Korean Wave was the result, not only of "effort organized on the national government level," but more the result of various external factors, namely, the diversification of broadcast channels in Asia, particularly the growth of the middle class in the Chinese cultural sphere through economic growth. In the case of Japan, there certainly was the growth in the sense of goodwill (alongside rise of antagonism) toward South Korea with joint organization of the 2002 World Cup Soccer Tournament and South Korea deciding to deregulate import of Japanese popular culture. However, the more realistic and plausible opinion is that the drama series "Winter Sonata" broadcast on NHK happened to successfully strike by a miraculous combination of circumstances the niche market of "middle-aged women" who had been ignored by Japanese television.
After more than two years, the Korean drama boom no longer enjoys the growth it experienced at its peak but does not yet show signs of decline, as mentioned earlier. What is the reason for the sustained popularity? The first reason that comes to mind is the rise in "competence" in developing video content.
This had been propelled by the increase in resources and growing competition brought on by the quantitative growth of South Korea's domestic terrestrial broadcasting industry. As media and channels grew in variety and number, interest in video content rose as well. Therefore, it is reasonable to think that TV programs became more competitive in quality through increased input of resources and manpower to deal with the competition and media/channel diversification. In the area of program content, diversification is seen in the selection of themes and the broader range of freedom and expression, made possible by economic growth and democratization and seen also in recent South Korean films. Another major underlying factor may be the dynamism created by the interaction of various factors stemming from the experiences and sensibilities of the newly emerging younger generations who grew up in a tumultuous — and even dramatic — age, being reflected in television production. This opinion is believed to be very convincing in view of the fact that the productions that drew support and empathy of audiences in Japan and other East Asian countries very often project the tumultuous changes in modern history that South Korean society had experienced and the lives of families that lived through the upheavals. In addition, Dae Jang Geum and other period dramas produced with a new historical outlook appear to have drawn huge viewer response with introduction of a broader range in historical material, a shift in sense and taste in production departing from fixed patterns and shifting spotlight from heroes to heroines.
What is happening to the Korean Wave in China and other regions of the Chinese cultural sphere and in Japan? Is it continuing and, if so, what are the causes? These questions will be examined from the perspective of the countries on the receiving end.
4. Acceptance of Korean TV Drama in the Chinese Cultural Sphere
Starting with What's Love in 1997, China began to broadcast Korean dramas in full scale. More than 10 years since then, it is a major export market for these productions. Drama series such as Autumn in My Heart, Winter Sonata and Dae Jang Geum triggered a boom. Although the momentum fell slightly after 2006, deregulation of broadcast programs with the 2008 Olympic Games in Beijing led to a resurgence of demand for Korean video contents. Recently popular are, for example, Chun-Hyang, Temptation of Wife and Famous 'Chil' Princess. However, pirated DVDs are being distributed widely today and extending beyond program broadcasts. According to the latest surveys, the number of licensed Korean drama imports is on the rise once again. The numbers are 29 in 2005, 14 in 2006, 17 in 2007 and 27 in 2008 (Yoon, 2009).
The first Korean drama aired by China Central Television (hereinafter called CCTV) was Jealousy from MBC. This production closely resembles the so-called "trendy" dramas of Japan, involving fashionable characters and settings that swept the country's broadcasting industry in the early 1990s. In the Korean society that had entered the phase of consumer-oriented capitalism at that time, melodrama that featured a succession of fashionable items and goods in the program, as well as fashionable dating spots, drew great popularity. In China, however, there was no significant viewer response to the drama, possibly due to the lack of attractiveness compared to the Japanese originals.
Surprisingly, however, the drama titled What's Love that was broadcast during the same period (1997) triggered huge viewer response. Produced also by MBC (Munhwa Broadcasting Company), it was aired in South Korea at around the same time (Nov. 30, 1991 – May 31, 1992; 55 episodes). In contrast to Jealousy's imitation of Japan's fashionable "trendy" dramas, it was a family drama written by Kim Su-hyeon, who had been writing scripts for MBC's top drama productions. 2 The drama, featuring two middle-aged women who were classmates in high school, portrayed with a comical touch the clash of values between generations and between families that emerge in the process of the son and of the daughter of these women, as they try to get married. The series earned a viewer rating of 59.6% in South Korea. In China, it recorded the highest-ever ratings for a foreign-made production and paved the way for the subsequent Korean drama boom.
What was the reason behind the contrasting results of these two drama series in China? The Chinese viewing audience of the late 1990s responded positively to Korean family drama in which the family takes priority over romance or work, rather than to fashionable drama that excludes the family or social background of the principal characters to the extreme and placed emphasis on showing fashionable goods and places instead. This had ignited the popularity of Korean family drama and gradually led to the increase in Korean drama imports. Subsequent hits included not only pure family drama but romantic stories featuring handsome men and beauties, set in stories involving relations with families and friends and backed by beautiful scenery and music– in what can be called Korean-style "trendy" romances.
There are various explanations to why these drama productions were accepted. This author attempts to combine and organize them as follows. Although Korean government policy and enhanced competitiveness of the Korean TV production industry mentioned earlier are very often been attributed as causes, the study here will focus chiefly on how these drama productions have been received and interpreted on the receiving end.
The first argument focuses on the growing awareness and recognition of modern drama elements. According to this argument, these dramas deftly express the dream of affluent living and freedom in romantic love emerging with economic development and that now has become more realistic and within reach for the viewers. The viewers are able to dream of something that appears to be possible in the stars in these dramas, who look much like the viewers but carry with them an aura of sophistication.
The second attributes the popularity to the appeal of traditional culture. The shared cultural background makes Chinese viewers easier to identify with Korean dramas. Also, they are able to see how South Korea, which shares cultural common ground but has undergone modernization earlier than China, had experienced change and how it handles tradition and modern society. In addition, the viewers are able to feel cultural affinity from the Confucian tradition felt in family ties and friendships portrayed in the plots for both period and modern drama productions.
The third cause is said to be "the sense of empathy" that is central to the themes in Korean dramas. Some report that these dramas have little conflicts and are slow in plot development but show "the sense of empathy" with a sense of beauty and as genuine and intrinsic value in life. Some have also suggested that these drama portrayed very delicately the sense of beauty in everyday living, turns in emotion and dreams hidden in the heart, along with lavish show of the dilemmas in society, human weakness and other elements, to draw viewer interest.3
A typical opinion on the cause the popularity was "convenience of Internet access." With many South Korean websites providing information in Chinese, people in China are able to access information on Korean films and TV programs on the Web, providing a platform convenient for dissemination of Korea contents. For this author possessing access to media and culture-related websites both in Japan and South Korea, this claim appears to have some validity.
In other words, their opinion is that the Chinese audience is feeling a sense of affinity in traditional culture, combined with a moderately modern taste, very favorably. At the same time, the dramas enable the viewer "to reaffirm Chinese pride that China is the fountainhead of Oriental culture" and furthermore provide satisfaction of tasting foreign culture, such as the skillful portrayal of themes on "sense of empathy" not found in Chinese drama productions.
The explanation given by these Chinese researchers agree in some areas with the arguments presented by the South Koreans and is generally accepted. However, there are delicate differences in the opinions among these specialists. According to Chinese culture researcher Lee, Wook-Yeon (2008), the period from the late 1980s to the early 1990s when Japanese drama became popular was the time when China began to undergo change and open its doors to foreign countries and modernization and urbanization had just started. On the other hand, the latter half of the 1990s when Korean dramas began to gain popularity was the time when the market economy under the socialist regime had gained adequate strength, and modernization/urbanization under this economy had reached into the everyday lives of the Chinese population, transforming the lifestyles and thinking of the people. Furthermore, the most important current in the Chinese society at that time was the revival of cultural conservatism and traditions.
Within this atmosphere in its society, Korean drama that places emphasis on Confucian values became popular in Chinese households. In 2005, this was followed by the mega-success of Dae Jang Geum, which added elements to show of Confucian values. The drama series immediately became a hit when its broadcast started at Hunan Satellite TV. Before this, the popularity of Korean dramas was split between two types of viewers in China. Youths in their teens were attracted to Korean dramas for the popular music and stylish, attractive stars, while the more mature audience preferred family dramas. However, Dae Jang Geum turned out to be a nationwide success attracting viewers of all generations and both genders, even those who were repelled by Korean drama productions in the past.
Why? Although it has been attributed to the presentation of herbal medicine with which the Chinese are familiar and to curiosity toward the Korean cuisine, the greatest cause of the tremendous popularity is believed to be "the Jang Geum spirit." Many Chinese viewers were attracted by the heroine who "continues to work hard and overcome obstacles, notwithstanding her background, and achieve her goals in life," eventually achieving leadership position and continuing to work with firm resolve, refusing to relent to hardships. The reason for the success of the audition program Supergirl which drew nationwide popularity at the same time is also the same Chinese dream of success in life. Regarding this TV program, its popularity has also been explained as the rather conventional audition program format of representatives of various regions competing against each other to win votes from spectators and TV viewers, stimulating the political aspirations of the Chinese people who have little experience of direct democracy. This explanation also applies to the plot of the aforementioned Korean court drama, in which Jang Geum devotes herself to "benevolent rule" would strength of will and good faith, while being involved in the court struggle for power.

As mentioned above, Korean dramas have spread widely in China, demonstrating that conditions differ from those underlying the Korean Wave in Japan. The photo shows an intersection at Beijing's Wang Fu Jing, a commercial district in the city. It shows billboards featuring Korean stars, as well as Korean corporations, and a store selling DVDs of Korean films and dramas, as well as Korean music CDs, at a corner. The model in the Olympus ad is Jun Jihyun of My Sassy Girl fame, who is immensely popular in China as well as in Japan.
This author had also visited Shanghai three years later in 2007 and Beijing in the following year, where the presence of merchandise and popular culture of South Korea could be confirmed at university campuses. In dialogues this author had with university students who helped with conference management regarding the culture they enjoy, Korean-inspired popular culture was found to be an ever-growing presence in their lives. A science and technology researcher that the author met at a conference reception spoke favorably of Korean period drama, "I like Korean history drama, because the story is told from the perspective of the people, rather than from that of those in power. Also, there is skillful plot development." This author hoped to hear more on the reason for this impression but unfortunately lost the opportunity.
Korean dramas appear to stimulate huge response in various parts of East Asia to this day. There are media reports of Korean stars establishing themselves as national figures in Vietnam. In Mongolia, a drama series titled Temptation of Wife is enjoying popularity, with viewer rating reportedly reaching as high as 80%. As the statistical data presented earlier in this paper shows, the reality, however, is that revenues from countries other than Japan amount to very little, notwithstanding the strong cultural presence in these markets. Yet, some say that the growth of such presence should be welcomed in view of the ripple effects in the areas of manufacturing and tourism. Conversely, there are arguments expressing fears that this will lead to further disregard of copyright and a wider distribution of illegal copies, depriving the creators of income that can be earned when markets develop in the future. There is also the argument that the pursuit of short-term profit may lead to dumping or mass production of dramas of inferior quality. Regardless of such concerns, what can be said for certain is that Korean dramas have established a solid presence in the Chinese cultural sphere of China, Taiwan, etc., as well as in other East Asian regions.
5. The Current State of Korean TV Drama in Japan
In Japan, the conditions surrounding Korean drama are clearly different from those in China and its culturally related neighbors. It is true that the Korean Wave has already passed its peak in Japan and has settled to become an established genre. In the summer of 2009, a special event organized to commemorate the broadcast of East of Eden on TBS Television in Japan attracted several thousand fans (mostly women), hoping to see Song Seung-heon who played the leading role, to the space in front of TBS broadcasting station in Akasaka. In autumn, Korean star Bae Yong Joon demonstrated his power to make a Tokyo Dome fan meeting a great success. (He participated in this Tokyo event, notwithstanding the fact that he had just been released from a hospital where he was treated for fatigue.) In addition, the sudden marriage of Lee Young Ae, the star of Dae Jang Geum, flashed through the Japanese media as emergency newsflash.
Korean dramas are still being broadcast in many TV channels in Japan today. TBS is broadcasting East of Eden, Dae Jang Geum and Boys over Flowers. Regional TV stations are presently filling their afternoon drama and early evening rerun timeslots with Korean dramas. In addition, NHK satellite channels, SKY Perfect (CS multi-channel pay TV), cable television and various new broadcast channels broadcasting on the web show that Korean drama productions are attracting attention as content with a fixed fan base. In DVD sales and rental businesses, these dramas have established themselves into a fixed genre. Although it is difficult to determine whether this is peculiar to the Japanese culture or unique exclusively to Korean drama fans, it is certain that there is a solid foundation made up of fans who are extremely loyal to these dramas.
But, a look into Japanese society as a whole reveals a clear difference with China or Taiwan in terms of acceptance of Korean dramas by a wider segment of society. Happenings similar to those described by the Chinese researcher — a friend asking another what he or she is doing, and the other responding that he or she is watching Korean dramas or saying that once again in a telephone call and urging the friend to watch Korean dramas because they are very interesting — is unheard of in Japanese society. Many of the students attending this author's courses say that they are frustrated by their mothers becoming "completely hooked" to these dramas. It is extremely rare to see a student — of either gender — becoming "hooked" as well. In Japan, "middle-aged women" is the vital key in describing enthusiasm for Korean dramas. In the world of popular music, singers such as BoA and Tohoshinki are being accepted by young Japanese, and Korean films are attracting a slightly wider audience. However, the principal segment of the population viewing Korean dramas are middle-aged and older women (very likely women in their 30s and older?). Although many phenomena unique to Japan are results of various circumstances emerging by coincidence or the combination of such circumstances, it is clear that this is very exclusive to Japan. Although opinions on various fads and trends by this author can be seen in other papers (2006, 2007a and 2007b), what must be noted here specifically is that the political arguments between conservatives and progressive camps that engage in radical interpretations in line with the political arguments of the two countries and the "anti-Korean Wave" popular movement that emerged as a result of such activities are phenomena unique to the relationship between Japan and South Korea. In other words, there had been hopes of resolving historical issues from the cultural diplomacy approach and, at the same time, reactionary opposition that had taken place towards such actions in the past.
If the discussion is restricted to the realm of media theory, it is most reasonable to conclude that the popularity of Korean dramas was brought on by channel diversification. With the growth of broadcast opportunities besides terrestrial broadcasting, demand for broadcast content rose dramatically. As a result, American drama productions that had disappeared from Japanese TV after the 1960s have returned once again as startup broadcast content for the new, advanced media. What is interesting is that such content are not programs created for the terrestrial channels but productions by HBO and other media based on paid subscriptions. Still, they have not been adequate to fill the space opened by the rapid increase in broadcast time. It was in such a frantic search for broadcast content that an NHK director noticed the Korean drama boom by chance while visiting Taiwan, leading to the broadcast of Winter Sonata on NHK. The success of Korean drama productions in Japan, spearheaded by Winter Sonata, can be interpreted as having helped uncover viewer needs that were either totally new or simply in hibernation.
Also, in line with the analysis conducted on the developments of broadcast acceptance in China, it may be necessary to look into what type of "human desire" had been triggered in Japan through acceptance and consumption of these productions. This requires study from the perspective of the middle-aged woman group that makes up the principal viewing audience. For further information on this, papers by Yukie Hirata (2004) and Kaori Hayashi (2005) provide excellent analysis from this standpoint.
Notwithstanding, analytic studies have yet to be published on what changes took place in the Japanese viewing audience with the huge success of Dae Jang Geum and other Korean period dramas that followed. It is necessary to study into whether these period dramas broadened the viewing audience from the present concentration in the middle-aged female viewers and also whether there had been changes in interpretation, while paying attention to changes in political ties between Japan and South Korea. It must be noted, however, that the interpretation (of viewer acceptance and structure reconfiguration) is likely to be vastly different from that for the Chinese cultural sphere, although it must be said that this is strictly speculative conjecture on the part of this author. Although the interpretation in Japan is very likely not has positive as in China, this author wonders how the Japanese viewers are responding to Dae Jang Geum and the Korean period drama productions that followed.
6. In Place of Conclusion: The Industrial and Political Significance Underlying Transboundary Distribution of Drama Productions
Lastly, the paper looks into the significance underlying international distribution of dramas in the region. First, study begins with organization of data on why Korean drama exports grew during this period. Organization and consolidation of various analytic findings led to the following observation.
It has been very often said that, from the industrial perspective, Korean dramas are competitive in pricing (roughly half the price for Japanese dramas), are sold in contract schemes that allow bulk handling of copyrights which is very convenient for the buyers, and also rarely violate standards on sexual expression and violence in export markets, due to rigorous regulations on broadcasting inside South Korea. (It must be noted, however, that the differences between Japanese and Korean productions has become minimal, with such expressions becoming subdued in Japanese TV dramas compared to ten years earlier.) Another advantage of Korean productions is that each series is long and very often broadcast twice a week, making it easier for the importer to schedule broadcasts. Furthermore, the Korean productions are more favored by specialized channels of satellite broadcast and cable TV operators because of the need to satisfy strong or niche needs.
The aforementioned practices in Korean drama production and trade can be regarded "underdeveloped," considering the path of development that the Japanese broadcasting industry had taken in the past. It was after going through such a period that the 13-episode season scheme was established in Japan. Looking from the standpoint of copyright handling, the bulk handling scheme adopted by the South Koreans will not only present the problem of protecting the rights of the copyright holders but is likely to lead to unfairly surrendering revenues that can be generated in the future. Also in terms of the program running time and programming pattern, the South Korean model will undoubtedly appear to be underdeveloped from the viewpoint of the Japanese broadcasting industry, which had conceived its business model by targeting the greatest common denominator of the nationwide viewing audience and the largest share of the market (for instance, the F1 segment consisting of women aged 20-34, who rates highest in value as advertising target).
Notwithstanding, amid the growing momentum in media globalization and digital channel diversification, the direction that is suited to the new age of broadcasting media may ironically be found in "the past," shown from the current state of the Korean drama boom, although it may not be suited as the model for terrestrial broadcast programming. The performance of Korean dramas not only proved that "saccharine" and long-winded drama holds powerful appeal to "hard-core fan base. " Particularly in the case of Japan, they uncovered the "desires" and "ability" of middle-aged female viewers that had been lying latent and hidden from attention and holds value in the sense that they stimulated movement of these viewers in various directions. Furthermore, the copyright handling scheme based on bulk processing can be viewed as a stimulant toward secondary use of programs in the present age of digital, multi-channel broadcasting, by establishing the allocation of revenues to the various copyright holders and stakeholders by contract. Of course, the system did not intentionally come to be from the Korean drama production industry. As mentioned earlier time and again, it was actually a product of "coincidence" and "circumstances." That is why the Korean broadcast industry have been taken by surprise by the discovery of the power of its dramas. Struggling to find how to take advantage of and sustain this prime opportunity, there is growing momentum in the industry today to learn from the Japanese broadcasting industry the advanced style of program production and business practices through exchanges. These differences between the two countries can be examined from a different perspective. The fact of the matter is that what is considered "overseas market" for South Korea is different from what Japan perceives as such. Frankly speaking, Japan is an attractive market for South Korea. For Japan, however, East Asia does not have a market that is attractive enough for its industry. For the Japanese drama producers, there is a rich and stable market within the country. Particularly for key stations of terrestrial broadcasting networks, there is no need to actively cultivate overseas markets, so long as the existing structure of broadcasting dominance functions effectively. Some argue that the value of overseas markets lies only in cultural diplomacy, exemplified by the Oshin boom of the past.
On the other hand, South Korea's domestic market has witnessed the advertising market shrinking with economic slowdown and illegal downloads on the Web. Earnings from licensing DVDs and other secondary markets can no longer be expected in significant amounts. In addition, terrestrial broadcasting is relatively low in status compared to that in Japan and faces intensive competition from cable TV, IP TV and other newly emerging broadcast channels. For this reason, overseas markets that produce solid revenues, especially the Japanese market, hold importance beyond actual expectation levels. Especially for independent production companies, it is said that "drama production cannot become financially feasible without export." With Korean dramas, as well as other foreign-produced dramas, priced lower than dramas produced domestically, they present use value especially for independent UHF broadcasting stations, satellite broadcasting services and other new channels in Japan, as the means to attract solid fan base. For Korean production companies, revenues from Japan are regarded important secondary earnings that determine whether or not drama production will become financially feasible. With big Korean stars in the cast, the certainty of secondary-use revenues rises further. If the series records a hit in the scale of Winter Sonata, earnings can grow explosively. The latest notable dramas such as Boys over Flowers (KBS), East of Eden (MBC) and Kingdom of the Winds (KBS) each earned roughly 5 billion won in total export to Asia. But, virtually all of the earnings came from Japan. In the case of A Man's Story (KBS) featuring Park Yong Ha, it was sold in advance to Japan at the price of $1.6 million. It is reported that Star's Lover starring Choi Ji Woo had been produced with investment from Dentsu, Inc. In other words, a business scheme had developed in which drama series no longer need to be successful in South Korea, so long as the series features top stars and earnings in the Japanese markets are guaranteed. However, this is naturally not desirable for Korean drama production. In addition, it is feared to possibly affect drama production adversely. This scheme is also believed to drive Korean production companies to produce "dramas for delivery to Japan," that is, productions simply featuring top Korea stars and that need not carry high price tags but only financially feasible.
Let us next look into the political and cultural significance. The broadcast contents industry producing TV dramas and films is not large in scale. However, it is spotlighted beyond the size of its real presence because it is regarded an attraction promoting the culture of the country and a force creating ripple effects in manufacturing and tourism industries. In international politics, it is often explained as "soft power" (Nye, 2004). In the Oshin boom of the past, there were little expectations for export of TV programs at that time, although such exposure was likely to enhance the image of Japan. Rather, cultural export of TV drama and other productions was expected to "establish indicators for breakthrough into the Japanese image created by the mass media, that is, an image that is warped and split into extremes of high-tech power and land of samurai and geisha." The expectations were for joint effort by Japan's public and private sectors in the form of "government-led fund assistance" and "commercial provision by Japanese businesses" that led to the Oshin boom (Kawatake, 1998) . However, the recent Korean Wave boom shows now that it is dubious whether the Oshin boom of the past actually realized such expectations. In fact, such expectations actually eroded cultural dynamism, with countries on the receiving end noting that the programs "reeked of government policy" and therefore such effect working adversely as a result.
Naturally, this author does not refute the various promising opportunities that emerge from transboundary dissemination. Acceptance of foreign drama, which takes place within a restricted framework of relations between the providing and receiving countries and their historical ties, etc., can actually gain new meaning through active response of people on the receiving end. Furthermore, the significance of reaching beyond political boundaries can be found in actually showing the image of the people in the providing nation as seen by others and assist in relative assessment of themselves through understanding of other parties. True mutual understanding emerges not from emphasis of self-identity and effort to make others understand it but rather from the relative assessment of oneself through perception by others and hence opening up the path for mutual change.
The debates that took place in Japan in the past regarding international distribution of TV programs had been inclined to call for program export as policy of cultural diplomacy without regard to economical feasibility. In recent years, arguments dismissing program acceptance in other countries seem to be growing, on grounds that such markets remain underdeveloped with distribution of pirated copies, etc. This author believes the time has come for studies to be conducted on a broader perspective.
[Addendum]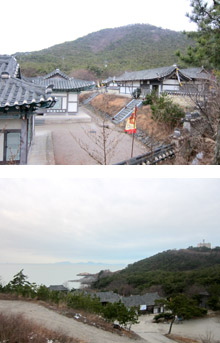 When this author visited South Korea late last year for research, the new-style historical drama boom mentioned earlier was still thriving. The recent trend is to base drama on ancient tales of Silla and Goguryeo kingdoms. Also, many of them had females taking leading roles or male leads that attract female fans. In both cases, the trend is to target female viewers. Additionally, these productions appears to be created with strong awareness of relations with neighboring nations rather than as a historical account of a single country, due to content development now in the stage of production for possible export. In terms of plot, the human relationships among the characters are emphasized. The interpretation of history also emphasizes modern elements and narrative quality, showing that weight is placed more on "drama" rather than "history." Although there are critics in South Korea arguing that history is being twisted excessively in this drama production trend, this author was reminded of the period dramas produced by NHK and private Japanese broadcasting stations, such as Saka no ue no kumo (Clouds over the Hill) that started late last year and Ryoma-den (Story of Ryoma) scheduled to be broadcast in the new year and meditated on the differences between South Korea and Japan in many ways. Korean period drama pursues romance in ancient history to an extent regarded extreme and focuses on women. On the other hand, Japan is attempting to shed light on its modern history once again and moving toward drama about men. Why such differences? One reason may be the level of consciousness toward export. But, this author feels that the underlying factors provide the clue to examining the "level of modernity of East Asia." At any rate, this author hopes to make this thought an issue for study in the future.
The photo shows the period drama production sets located in Danyang-gun in Chungcheongbuk-do and in Byunsan Peninsula in western Jeollabuk-do. They have become tourist spots after filming was completed.
[Notes]
1.According to Mr. Yasuaki Kaneda of JAMCO that sponsors the symposium, he found during his business trip to Africa between late August and mid-September of last year, that Jumong is already on air from Tanzania's private TV station ITV and Kenya's private TV station NTV is scheduled to air Winter Sonata. Later, this author studied into the present state of Korean drama broadcasting in Africa and found that Dae Jang Geum and other "staple" series are being broadcast in other nations in the continent, started when the Korean Broadcasting Institute (presently Korea Creative Content Agency) supplied a drama series titled The Sad Love Story to a TV station in Zimbabwe.
2.Quite naturally, Japan's influence — or imitation of its productions — has been claimed also regarding the characteristics of Korean family drama. Notwithstanding, the relationship of influence should not be discussed purely in the vein of Japan-Korea relations. Rather, attention should be paid on the relationship of influence from the more global perspective of longstanding historical ties. In the genre of "trendy" drama, on the other hand, various testimonies, as well as this author's experiences in South Korea and Japan, appear to prove a more direct act of imitation.
3.The information above had been summarized from materials on the Korea Creative Content Agency website. Because sources were not cited in the reference materials used by this author, the opinions of Chinese specialists have been summarized here as well. It must be noted that these views were confirmed by the author in the course of discussions of many researchers of Chinese background at international conferences and other meetings.
Hwang, Seongbin
Professor, College of Sociology, Rikkyo University
Born in Gunsan City, Republic of Korea, he graduated from Yonsei University and went to Rikkyo University graduate program, completing doctorate studies in sociological research (Ph.D, Sociology). After serving as assistant at Rikkyo University's Faculty of Sociology, he became assistant professor at Ritsumeikan University's School of Sociology. After serving as guest researcher at the University of California at San Diego, he was appointed to the current position in 2007. His field of expertise is media and cultural research and comparative media theories. He has co-authored "Media shakai no arukikata - sono rekishi to shikumi" (How to Walk through the Media Society - Its History and Structure), Sekai Shiso-sha, "Hanryu no uchi-soto - Kankoku bunka-ryoku to higashi ajia no yuugou hannou" (Inside and Outside Hallyu: Korean Cultural Strength and Fusion Reaction in East Asia), Ochanomizu Shobo and "Sakkaa no shigaku to seijigaku" (The Lyrical and Political Study of Soccer), Jinbun Shoin, etc.

Return to 19th JAMCO Online International Symposium contents page