19th JAMCO Online International Symposium
February 1 to February 28, 2010
International Exchange in TV Drama Productions
Comment: Japanese TV Drama in China
1. Introduction
Nearly 30 years have passed since Japanese TV drama began entering China in the late 1970s. With the introduction of political and economic reform and of an open-door policy in China in the late 1970s, the country's popular culture market was opened up as well, leading to the broadcast of the Japanese animation series Tetsuwan Atom (Astro Boy), the first Japanese television program to appear on Chinese TV screens from late 1979. Since then, Kimi yo Fundo no Kawa wo Watare (Hot Pursuit), Sandakan Hachiban Shoukan – Boukyou (Sandakan House No. 8), Ningen no Shoumei (Proof of the Man) and others had been shown in the late 1970s through the early 1980s, becoming the first foreign films to enter mainland China. Since then, the large number of motion pictures, TV dramas, animation and other video productions produced in Japan were shown and broadcast in China, triggering huge acclaim. The scale of the boom was spectacular, impacting and reaching deep into the lives of the Chinese people and society. Despite the enthusiasm, the Japanese video boom lasted only a little over 10 years. By the start of the 1990s, the percentage of Japanese TV dramas declined steadily as the number of Chinese-produced TV dramas increased and viewer segmentation advanced. By the middle to the end of the decade, Korean dramas rose into prominence as a "newly emerging force" and expanded their influence steadily over China, triggering a boom and forming the "Korean Wave (Hallyu)" that rushed into the Chinese culture market. The number of Japanese TV drama broadcasts in China started to drop in the latter half of the 1990s, losing their influence in the country and finally disappearing from its principal TV channels.
Why had Japanese TV dramas that enjoyed a period of glorious popularity in China dwindled into what they are today? Does the problem lie in the intrinsic quality of these productions? Does it have to do with the social and cultural changes that took place in China? Or, are there other causes? These questions represent the basic theme of this paper. These questions will be examined through study and analysis of Japanese TV broadcasting in China for a span of 30 years and their impact on the country.
2. The Rise of Japanese Television Drama in China
In the period from the 1980s to the 1990s, foreign TV programs dominated and grew in the huge Chinese market, due to the lack of drama production capability in China. The principal reason why the TV stations imported foreign dramas one after another was to expand the range of programs and satisfy market demand. At the same time, the action had been taken to promote cultural exchange with other nations. It was under such conditions that foreign TV dramas entered the Chinese market in huge volume, with the level peaking in the latter half of the 1990s. Japanese programs became the mainstay in drama imports into China for some 10+ years, enjoying their heyday especially in the span of time between 1986 and 1996. The peak of Japanese drama broadcast in mainland China was in 1993, and the volume gradually declined thereafter.
According to a statistical study by a Taiwanese researcher, smaller booms occurred subsequently.
However, the quantity never exceeded the 1993 figures of 194 total broadcasts and 123.83 hours in total broadcasting time. Between 1993 and 2005, the total number of broadcasts was 84 in 1996, accounting for 65.25 hours in total broadcasting time. In that year 2000, the figures were 47 in total number and only 35.25 hours in broadcast time. In 2003, the figures were 65 and only 48.75 hours, respectively.1 Since 1996, Japanese TV drama exposure evidently declined both in total number and total hours of broadcast. These figures clearly reflect the change from glory to decline of Japanese dramas in mainland China.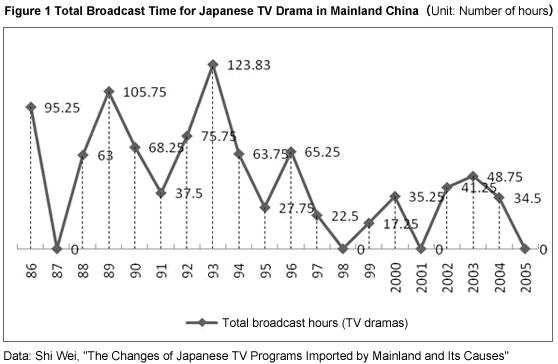 Looking into conditions in the broadcast of Japanese dramas by TV stations in China, local stations are continuing to broadcast Japanese TV programs for the past 30 years, becoming the principal force in Japanese drama broadcasting. On the other hand, Japanese TV program broadcasts by the China Central Television (CCTV) have changed rapidly. The number of Japanese programs aired by CCTV, having served as the principal platform of broadcasting at that time, dwindled from 2005.
There are two main factors underlying these developments. One is that local TV stations clearly do not have CCTV's drama production capability and purchasing drama productions from abroad was their principal alternative to enrich their channel content and boost viewer ratings. The other is that local stations have greater freedom than CCTV in terms of selecting broadcast content. CCTV must comply with a large number of restrictions and in addition bears greater responsibility than its local counterparts in fulfilling its function of disseminating the Principles of the People (its national ideology). With start of the 21st century, China began to restrict foreign TV drama broadcast as policy action aimed at protection of domestic TV drama broadcasting. Domestic drama began to make up the majority of broadcast during the night primetime hours. Under this policy, the foreign TV drama market continued to shrink, and Korean-made productions began to gain greater share than the Japanese dramas in the market. According to data in the Report on China's TV Drama Market, the number of Japanese drama ranked 5th after Hong Kong, South Korea, Taiwan and the United States, with 23 productions, in the 2002 ranking of foreign TV dramas aired on the main TV channels in China. These productions account for only 7% of the total foreign dramas broadcast in mainland China during the year. These facts clearly show the decline in influence of Japanese TV dramas in China.
Examining foreign dramas broadcast at night on Chinese TV stations in 2008, productions from a variety of nations are being shown, and the contents are wide ranging as well. Specifically, there were 22 dramas from Hong Kong, 16 from Taiwan, 15 from the US, 13 from South Korea, 10 from Singapore, 9 from Japan, 5 from India, 4 from Italy, etc.
In terms of broadcast and viewer ratings, there are signs of change. In 2008, drama productions from Hong Kong, South Korea, the United States, Singapore, etc., are declining. In the case of South Korea, drama productions hit a peak around 2005 with Dae Jang Geum. Their popularity is falling gradually but still retains significant influence. Hong Kong dramas remain highly popular, placing at the top in terms of number of foreign drama broadcasts since 2007. Not only that, their viewer ratings are high as well. The Hong Kong dramas having the greatest broadcast exposure are those based on urban living. The program that is earning particularly high viewer rating is one called "Contemporary Legend," which features various occurrences in everyday living and people involved in them. Dramas in the genre of action, biography, suspense, etc., are popular, occupying the top four in foreign TV drama viewer ratings. With policy assistance and deregulation, Taiwan drama is also beginning to enjoy popularity. American dramas, despite the thrilling and exciting plots, meticulously planned and sophisticated production methods and casts of highly talented actors, have not gained much popularity in mainland China. In contrast, TV dramas from Taiwan and Japan are regaining in viewer ratings.
In 2008, the ratio of Chinese TV dramas aired in the 18:00-24:00 time slot in 80 cities nationwide was 84.76%, showing their dominance in the Chinese TV drama market and increasing by 2% over 2007. In the same year, foreign dramas produced in a total of 18 countries and territories were broadcast in China, accounting for the remaining 15.4% market share. This market share represents productions from Hong Kong (5.41%), South Korea (4.54%), Taiwan (3.61%) and Japan (0.44%) (Table 1)2. These figures show the decline of the impact of Japanese TV dramas in China.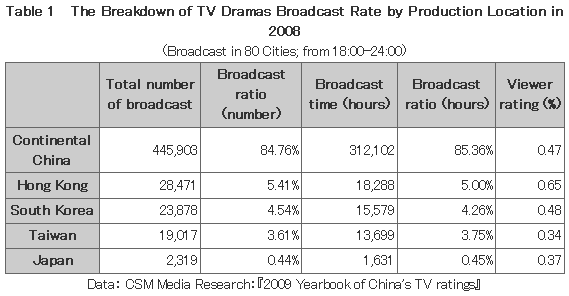 3. The Impact of Japanese TV Drama in China
It can be said that Japanese TV drama broadcasting in China and its influence on the country are closely linked to China's advances in liberalization and reform. In the span of 30 years from 1980, the Japanese TV programs aired by mainland Chinese TV stations were chiefly dramas, animations, special features, serials, variety shows, etc. Of these, dramas and animations made up the majority. This paper will focus its attention chiefly on these two genres, observing the impact of Japanese TV programs on Chinese society during this span of time from the perspectives of broadcasting conditions, viewing conditions and social influences.
In the 1980s, foreign TV dramas began to enter China in a large scale. The Japanese drama that had been aired at an early stage are, for example, Oshin, Akai Giwaku (Red Suspicion) and Moero Attack (Burn yourself out! Attack!). Many of the star volleyball players in China began to practice the sport, influenced by Moero Attack's heroine Junko Ojika's persistence and diligence. Also, many middle-aged and older Chinese remember the plot of Akai Giwaku. The Japanese motion picture and TV stars Ken Takakura, Ryoko Nakano, Komaki Kurihara, Yumiko Araki, Momoe Yamaguchi and Tomokazu Miura are deeply admired by Chinese viewers. The Japanese drama boom had impact not only in China but in the entire Asian continent. As Chinese popular culture began to advance, Japan's fashionable "trendy drama" rapidly gained popularity in 1992 in large cities of China. In China, many of these productions including Tokyo Love Story became synonymous with being fashionable, modern and urban. The Japanese trendy drama boom began from "idol dramas" of Hong Kong's Phoenix Television that specializes in the broadcast of Japanese TV drama series, with Japanese drama becoming famous as "youth idol drama."3 These dramas gained recognition first in China. Starting in 1992, new trendy dramas broadcast in Japan were immediately brought into mainland China, Taiwan and Hong Kong. Represented by Tokyo Love Story, Under One Roof, Long Vacation (1996), Love Generation (1997), GTO (1998) and Beautiful Life (2000), these dramas had cast of beautiful actors and actresses, dressed in fashionable clothing, engaged in a story that is both sophisticated and painfully beautiful, thus drawing the support and tears of many Chinese viewers. During this same period, Japanese dramas broadcast by CCTV included From the Northern Country, Suzuran and Heaven's Coin. Also, these led to the popularity of Japanese stars Takuya Kimura, Takako Matsu, Yutaka Takenouchi, Takako Tokiwa, Hideaki Takizawa and others in various parts of China. These actors became the object of admiration to many Chinese youths. These drama series had influenced China's fashion culture quietly and without deliberate action, leading to the growth of "Hanri (Japan fan)" among Chinese youths.
4. The Viewership of Japanese TV Drama in China
In the early 1980s when the Chinese people were under the socialist regime of a planned economy, life was not stressful with ample leisure time, although the quality of life remains low. Despite this, there were very few cultural goods available for the people to consume. For this reason, the introduction of Japanese video productions spurred nationwide popularity at that time. The decade can be regarded the age of nationwide consumption of Japanese video productions in China. In the early 1990s, advances in growth of China's market economy led to diversification into dimensions of the country's society and culture. Segmentation of viewership led to further expansion and diversification in the range of cultural consumer goods. These factors were also the causes for change into Japanese TV programs broadcast in the Chinese market in the middle to end of the decade.
According to a 1999 sampling survey conducted by two Japanese researchers, Yumiko Hara and Takehiro Shiota, 75% of the mainland Chinese people surveyed reported that they had seen Akai Giwaku (Red Suspicion). Of the respondents, 72.6% reported seeing Oshin, 57.2% Moero Attack, 40.3% Sugata Sanshiro and 33.2% Tokyo Love Story.4 Oshin also had 30% viewer rating in Taiwan. Animations such as Astro Boy, Jungle Emperor Leo/Kimba the White Lion, Doraemon, Dragonball, Slam Dunk, Chibimaruko and Crayon Shinchan, as well as Hayao Miyazaki's works including Kaze no Tani no Naushika (Nausicaa of the Valley of the Wind), Princess Mononoke and Spirited Away, had strong support among Chinese youths. Chinese viewership of Japanese TV dramas such as Akai Giwaku (Red Suspicion), Oshin and Moero Attack encompasses a wide spectrum both in age and gender, as well as occupations such as laborers, agricultural workers, commercial workers and students. The Japanese video boom in the 1980s can be regarded the epitome of the golden age of Sino-Japanese relations at that time. The outstanding films and TV dramas, with stories and characters that touch the hearts of viewers, influenced the Chinese perception of Japan, nearly eliminating the memory of Japanese aggression in China, a tragic phase of Sino-Japanese history.5 It was through these productions that the Chinese viewers at that time saw life in the Western world for the first time. Japanese TV programs captured large viewerships in Taiwan and Hong Kong as well.
Over a long period of time, the principal broadcast platform for Japanese TV programs had been TV stations in the various provinces. Since 2003, CCTV also began to broadcast a number of Japanese TV dramas, suggesting the promotion of these Japanese programs in status. The reason for this action had been the start of the TV drama channel CCTV-8 by CCTV in 1990. The program on this channel titled "Overseas Theater" provided the venue for exposure of overseas TV dramas. However, the ratio of Japanese productions broadcast on this program remains low in comparison to the number of broadcasts for Korean dramas.
While Japanese TV productions were considered "most favored" by a large number of Chinese viewers in the past, Japanese programs started to withdraw from the mainstream in Chinese TV viewing during the past 10 years, becoming a peripheral presence with a viewership base shifting from nationwide support to niche support centering chiefly among young people. However, the status of Japanese TV productions and their impact on the Chinese viewership cannot be ignored to this day and still create booms at times. The famous Japanese TV drama Shiroi Kyotou (The Great White Tower) that CCTV acquired in 2005 was introduced on CCTV's Channel 8 in March 2006. The drama series has received acclaim from a large number of Chinese viewers and is assumed to have triggered a Japanese drama boom once again. In addition to this, Hunan Satellite Television started the rebroadcast of Oshin on April 5, 2006. Although there have been some doubts over whether a drama series produced more than 20 years ago will have adequate appeal today, the viewer rating has actually risen steadily since its start, marking the nationwide viewership share of 5.79% on April 13 and catapulting the drama production to the top in national viewer rating for the broadcast timeslot. This represents the revival of Japanese TV dramas in mainstream Chinese TV since 2006.
5. The Impact of Japanese Dramas on Change in Chinese Society
In terms of the impact of TV dramas on China's economy, society and culture, Japanese programs became a unique cultural phenomenon at the time of social transition and economic reform in the country, significantly affecting economic development, social transformation, changes in lifestyle and values, etc. Since the start of the modern period, cultural interaction between China and Japan underwent rapid changes and was an intricate historical tangle. Starting at the time when China opened its doors to the outside world and implemented reform, Japanese influence on China began in the economic sector. A part of the clues and trigger for China's liberalization can be said to have come from Japan. This is because the turning point in Chinese policy came from Deng Xiaoping's visit to Japan in 1979. A significant part of China's model for modernization had been influenced by Japan. At that time, China and Japan belonged to separate ideological camps. In China, the Cultural Revolution came to an end. By opening its doors to the world at large, the Chinese realized the high level of modernization achieved by a neighboring country.
This surprised the Chinese leadership and nurtured the desire to learn from Japan based on objective evidences and make Japan its model for development. At the same time, Japan expressed enthusiasm for cooperation and assistance to China, creating the "honeymoon " in Sino-Japanese relations.
The communication of Japanese culture chiefly through video productions in 1980 and later helped lay the emotional and mental foundation for the Chinese people to easily accept the advanced technologies and industrial goods from Japan. This is represented by the entry of Japanese household appliances manufactured by Toshiba, Hitachi, Sharp, etc., in the early years of liberalization and reform of the 1980s, alongside Japanese motion pictures and TV dramas such as Kimi yo Fundo no Kawa wo Watare (Cross the Angry River), Sandakan Hachiban Shoukan – Boukyo (Sandakan House No. 8), Akai Giwaku (Red Suspicion) and Moero Attack . Japanese film and TV stars led by Ken Takakura, Ryoko Nakano, Yumiko Araki and Momoe Yamaguchi drastically transformed the image of "Devils" that the Chinese had long harbored toward the Japanese people into that of people who have a sense of justice and to be loved. From the 1990s and later, the influence of Japanese culture expanded further in the economic, social and other sectors, sweeping China with Japanese electrical appliances from Sony, Panasonic, etc., Japanese cars from Honda, Toyota, etc., karaoke, Japanese foods and others.
Looking at the development objectively, the cultural dissemination and influence of Japanese TV dramas in China helped foster economic cooperation and exchange between the two countries, build mutual trust steadily, eliminate the remaining frictions, minimize misunderstandings and became a major factor in boosting mutual understanding and trust, as well as facilitating the transnational movement of money, technology, goods and people. It has also strengthened the foundation for growth of bilateral economic and trade ties.
6. The Impact of Japanese Dramas on Change in Chinese Popular Culture and Values
From 1980 to date, Chinese popular culture underwent unprecedented and spectacular change. The distinctive features that can be seen clearly by such changes are the commercialization, marketization and growth in the dimensions of cultural goods. Looking at the import of foreign TV programs, the ratio of imported programs to the total of programs in China is rising. And, a large number of these imports are entertainment programs, with the largest number being motion pictures and TV dramas.
The culture of a country reflects its ethnic characteristics. Japanese culture presents its own unique cultural characteristics of integrating and condensing the best of Eastern and Western cultures. Japanese video productions were broadcast in large volume, creating a Japanese culture boom in China. The Chinese admired and learned from this spirit of diligent, hard work and struggle in the TV drama Oshin and the Japanese enthusiasm for work and emphasis on teamwork that could be seen in the fashionable "trendy dramas" such as Tokyo Love Story. The 30 years of reform and liberalization of China consisted of transition from a traditional farming economy to a modern industrial economy, from a planned economy to a market economy and from traditional conservative society to modernized society. Alongside these great transformations in society, huge changes came into lifestyles, behavior, values and cultural concepts. The impact of foreign culture liberated the minds of people from the insular and inflexible state at that time, triggering the cultivation of new ways of thinking and ideas.
7. The Impact of Japanese Dramas on Change in Chinese Video Productions
In the area of the video content industry, the influx of Japanese video productions generated a large number of stimuli in Chinese video production that was in transition at that time, prompting many to explore new directions of development. The Chinese video industry shed its influence from Soviet film models and embraced, learned and imitated motion pictures from Hollywood and Japan. Many of the young film directors in China have been influenced by the film production models of Hollywood and Japan. Films by the "Fifth-Generation" directors led by Zhang Yimou and Chen Kaige and those of the "Sixth-Generation" directors represented by Xu Jinglei show traces of influence by Japanese motion pictures. In particular, films by Akira Kurosawa wielded significantly important influence on Chinese motion pictures. The film concepts and techniques displayed by this film master became a model to be imitated in cinematography classes at Chinese film schools and have been adopted by prominent Chinese film directors in their productions. Among the Chinese films regarded to be classics, quite a few show that they have acquired and applied moviemaking skills and artistic concepts of Akira Kurosawa.
Japan's "trendy dramas" can also be regarded an innovative influence on Chinese TV drama productions. In 1992, Tokyo Love Story from Japan generated huge response in China, pioneering the broadcast of "idol dramas." This was followed by Long Vacation, Beautiful Life, etc., captivating viewers to Japanese drama, resulting in a continuing Japanese drama boom. However, the nation that learned to most quickly and imitated these fashionable Japanese dramas was South Korea. Also, the cultural expansion effect triggered by the Korean drama boom presented many positive benefits to the Chinese viewership and TV industry. Also, Japanese drama had an important influence on TV drama production itself and to the producers, along with its influence on the lifestyles and appreciation of beauty by the Chinese viewers in general. The TV drama Meteor Garden produced in Taiwan became the most popular "idol drama"6 in China, winning high viewer ratings and spurring TV producers to regard such dramas to be the key to generating viewer ratings. Interestingly enough, however, this program was a Taiwanese dramatization of a Japanese manga series written by Yoko Kamio and published in the Japanese comic magazine Margaret and therefore is simply a Taiwanese version of Japanese drama.
8. Hanri (Japan Fan): The Impact of Japanese Dramas on Chinese Youths
The "Hanri (Japan Fan)" phenomenon that grew among Chinese youths with Japanese "idol dramas" reflects the impact of the spread of Japanese video culture in China. The changes in Chinese society prompted by the current of globalization embodies the clash between tradition and contemporary values and confrontation between advancement and stagnancy — the collision and integration of Chinese culture with foreign cultures. With the mass influx of video productions, contemporary music and culture from Japan and South Korea, the so-called "Hanri" and "Hanhan (Korea fan)" grew among Chinese youths. The terms Hanri and Hanhan are not only concepts of fashion but holds important significance in terms of dissemination of Japanese and Korean video contents in China and therefore are research themes that cannot be dismissed. The Hanri boom began first in Taiwan, with the broadcast of Japan's "trendy dramas" on its cable TV channels in the 1990s. The word "han" of "Hanri" originates from the southern Min dialect of China, meaning "loving and desiring feverishly." 我很哈你 means "I want you so much that it is driving me crazy." The New Chinese Dictionary published by the Commercial Press in January 2003 includes the term "Hanri-zu (Japan fan or Japan-crazy family) along with other new fashionable terms such as 波波族 (Bobos), 街舞 (street dance) and 韓流 (Hanliu/Hallyu).
Both in bustling large cities and in remote countryside, we very often see a young boy of this description. Aged 17 or 18, he is dressed in "cool" fashion and is extremely "unique." His hair is dyed in colorful colors, wearing trousers nearly touching the ground and with badges of Takuya Kimura, Ahn Jae Wook or Bae Yong Joon decorating his bag. He appears to be nonchalant, not interested in anything in particular. Boys like this represent the Hanri and Hanhan that have grown rapidly in number during the past several years. For these people, eating Japanese food, sashimi and nori roles and drinking Japanese sake and plum wine is part of their normal routine. They are avid about Japanese TV dramas, films and literary works and dream of traveling to Harajuku in Tokyo, Osaka and Kyoto. According to data of a survey, the age group most deeply affected by this fever are young people in junior high school and in the first and second years of high school. Naturally, this boom is related to their age characteristics and to having large exposure to fashion in both length of time and frequency.7
9. The Impact of Japanese Animations on China
Japanese animations wield competitive power not only in the Chinese TV market but in the global TV market as well. Starting with Osamu Tezuka's Astro Boy, Japanese animation has established global superiority. These animations range widely in the scope of themes. Filled with creativity, attractive stories and masterfully produced, they are embraced by a wide range of age groups. From Hana no Ko Runrun (The Flower Child Lunlun) and Ikkyu-san of the past to Spirited Away of recent years, Japanese animations have attracted TV viewers in China over generations.
Children and students in elementary and junior high schools are the largest and stable consumer base for Japanese animations. In the 1980s, preschoolers and elementary school students enjoyed Ikkyu-san and Astro Boy. Children of the 1990s watched Chibimaruko and Crayon Shinchan. With the start of the new century, full-length animations by Hayao Miyazaki represented by Spirited Away and Porco Rosso attracted not only children but a large number of adults in China. Japan's Doraemon has been the most popular character for children of various ages, with the character featured in a large number of school stationery products, toys and clothing, as well as in various video games. These developments and merchandise show the extent of influence and popularity of Japanese animations among children and young people of China.
Today, China is growing to become the world's largest animation consumer market. There are more than 1.3 billion children aged under 14, which is the largest in the world and making up the most stable consumer base for the animation industry. However, the number of Chinese-made animations are very few, in spite of the enormous size of the market. According to the statistical data of "ManDongZuo", 19 of the 20 animation characters that are loved by young people of China are from Japanese animations. The only Chinese character among the top 20 was Sun Wukong (Monkey King).8 Also, Japanese productions account for 60% of animations best loved by young Chinese, followed by Western animations accounting for 29% and only 11% for Chinese animations, including those from Hong Kong and Taiwan.9 The reason is the better quality of Japanese animation in character development, plot and picture quality compared to those from other regions.
For many TV stations in China, import and broadcast of Japanese animations continue to be effective in winning high viewer ratings and boosting broadcast effect. However, the introduction of restrictions in animation import under Chinese government policy has led to the general decline of Japanese animation import and broadcast in China. As shown in Figure 2, Japanese programs aired in mainland China during the span of 20 years from 1986 to 2005 peaked in 1999 and declined thereafter. Although there had been some upsurge during the period, volume and frequency never exceeded the 1999 level of 476 total broadcasts and 158.67 total broadcast hours.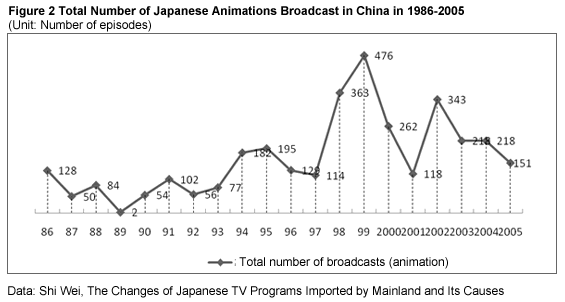 One of the notable changes here is the change in Japanese animation broadcast platform in China during the past several years. CCTV had been the principal media for Japanese animation broadcasts at one time, but the conditions are changing gradually. Particularly from 1994, the various provincial TV stations have become the principal platform for the Japanese programs. Japanese animations have disappeared from CCTV broadcast as a general rule.
10. Change in China's Policy on Foreign TV Drama Import
Why have Japanese TV drama broadcast and acceptance changed so dramatically? What are the factors underlying the rise and fall of Japanese TV programs? The top reason for the widespread acceptance of Japanese TV programs was, quite naturally, the high level of programming and production quality of these programs. In the 1980s to the first half of the 1990s, TV program production was not yet advanced, and there was a serious shortage in the number of programs produced. For this reason, a large number of foreign TV programs were needed to fill broadcast time. In addition, screening standards were not rigorous, enabling TV stations to purchase various foreign programs. In the second half of the 1990s, imported TV drama broadcasting reached its peak in the Chinese TV market, with the number of imported drama approved by the State Administration of Radio, Film, and Television marking 216 productions and 1,543 episodes. Because of the regulation at that time to keep the total number of imported TV dramas within 25% of the total for domestic-produced drama productions, there are foreign dramas that entered the market as a coproduction with mainland Chinese enterprises. Approval certificates for TV coproduction dramas issued in 1991 through screening and approval by the Chinese government covered 41 productions and 763 episodes.
One of the main reasons for the decline of Japanese TV dramas in China is the structural change in the Chinese TV program market. The influence of Japanese TV dramas in mainland China declined as a result of progress in Chinese-made drama productions and competition from dramas from Hong Kong, Taiwan, South Korea and Western nations. Particularly in recent years, South Korean dramas came into the mainland market with tremendous force, becoming not only a major competitor but exceeding their Japanese rivals in market competitiveness. Even in the case of fashionable "trendy dramas" featuring similar romantic stories and atmospheres, South Korean dramas presented greater depth and had greater appeal and familiarity to the mainland Chinese, especially the young viewers, in terms of affinity in Oriental traditional culture and ethical interpretations.
Another reason is the change in the viewing scheme among the people, with advances in digital technologies, especially those related to the Internet. For instance, the emergence of the VCD, DVD and Internet download schemes such as BT led to the diversification of TV program viewing and to a wider scope of options. In view of the need to attend to business management issues, TV stations must direct their attention first to the popularity, viewer rating and advertising in the TV program market. Programs that rate low in viewership are naturally not imported or broadcast.
It must be noted also that another reason that affects Japanese TV drama import into China is the current state of bilateral relations. First, the historical issue between the two countries has yet to be resolved. Anti-Japanese sentiment is growing among the Chinese, and quite a few people express opposition against Japanese cultural products.
Furthermore, a major factor affecting export/import of foreign TV programs is, naturally, the Chinese government's policy of regulating foreign TV program imports. Policies and laws related to the import and broadcast of foreign TV dramas in mainland China are essential requirements and the greatest foundation for whether Japanese TV programs can enter the Chinese popular culture market without facing problems. For the purpose of protecting the advancement of Chinese-made TV dramas, the establishment of schemes and protocols in the TV drama broadcast process, etc., and other factors, the State Administration of Radio, Film, and Television had issued a string of policy regulations in the effort to restrict imports of TV dramas altogether or regulate the volume, channels, themes, etc., of TV dramas to be imported. More restrictions are being imposed on the import and broadcast of foreign TV drama productions.
On February 3, 1994, the State Administration of Radio, Film, and Television at that time announced a regulation to control import and broadcast of foreign TV programs. Under this new policy, foreign productions were not to exceed 25% of total TV drama airing time for programs broadcast every day by each TV station. For primetime hours (18:00 to 22:00 each evening), the percentage is not to exceed 15%. Directly hit by this policy action, the number of Japanese TV drama imports decreased rapidly.
In January 2000, the State Administration enforced two more laws. One of them was the Notice on Reinforcing Control over TV Drama Import, Coproduction and Broadcast, which was aimed to strengthen restrictions on the location of imported drama production and the themes involved. It stipulated explicitly to avoid concentration of TV dramas that show redundancy in program material or in nation or region. TV stations and cable TV stations were prohibited from broadcasting imported drama between 19:00 and 21:30 each evening, except for those that have been authorized by the State Administration. The notice took a step further restricting broadcast of a single imported drama by more than three satellite channels of TV stations in each province. The other governmental ordinance, the Notice on Reinforcing Management and Production at Satellite Program Channels of Provincial TV Stations, enforced simultaneously expanded in explicit terms the scope of evening hours where overseas drama broadcasts were restricted, with the ratio of overseas dramas aired in the 18:00-22:00 hours to be under 5% and that imported dramas to be broadcast from 19:00 to 21:30 must be those that have been approved by the State Administration. In June 2000, the State Administration once again introduced a TV drama control regulation, which required that TV stations keep imported drama no more than 25% of the total TV drama broadcast hours per day and that the percentage must be kept under 15% during primetime hours (18:00 to 22:00 each evening). The new policies on foreign TV program imports and broadcasting affected and curbed the number of TV drama imports, the import routes and drama material immensely. Although these policies were not targeted only to Japanese TV program imports, they had significantly affected import and broadcast for Japanese programs.
11. Conclusion
Analysis of the state of broadcast and impact of Japanese TV dramas in China over the span of more than 30 years clearly shows that these productions enjoyed drastic change in popularity and acceptance. These productions enjoyed glory in China in the past, wielding tremendous influence and contributing positively to advances in modernization of the Chinese society, improving bilateral relations and working effectively in the emotional ties and understanding between the peoples of the two countries. However, broadcast exposure and influence has dwindled rapidly during the past 10 years. Generally speaking, Japanese TV dramas are no longer the most influential of foreign-made productions in China. However, its power continues to be strong among a large number of Chinese viewers. The popular media not only influences social, political, economical and cultural advances but also is affected and restricted by elements in the social, political, economical and cultural sectors. The greatest influence in the drastic change in status of Japanese TV drama in the Chinese market is the Chinese government's media policy and restrictions on TV drama export/import. Other factors that is influencing the Chinese people toward viewing Japanese TV dramas is the historical friction that remains between the two countries. Notwithstanding, Japanese animation remains highly influential in the mainland TV market. According to the 1990 Yearbook of China's TV ratings by CSM Media Research, Japanese dramas have begun to gain higher viewer ratings during the past several years. When Ooku (The Inner Palace) was broadcast in 2008 by Hunan Satellite Television, the series triggered a huge response in the industry, helping the resurgence of Japanese programs. The family drama Wataru Seken wa Oni Bakari (Making it Thourgh) series broadcast on CCTV's Channel 8 garnered high ratings in 80 cities nationwide. Other productions such as Iryu (Team Medical Dragon) that portrayed social ethics and Mama no Idenshi (Mama's Genes) that portrayed urban living succeeded in generating a measure of social impact.
(The Japanese Version was translated into Japanese by Mari Minami, Doctorate Course, Osaka University Graduate School)
[Notes]
1. Shi Wei, "The Changes of Japanese TV Programs Imported by Mainland and Its Causes," Research on Chinese Communist Party, Vol. 42, Issue 1, January 2008
2. CSM Media Research:『2009 Yearbook of China's TV ratings』
3. Japan's trendy dramas are known as "idol drama" in Chinese. The word "idol drama" has been used to describe not only the fashionable dramas from Japan but also TV dramas featuring show business idols.
4. Li Wen, The Cultural Causes of East Asia Cooperation, World Affairs Press, 2005, P. 183.
5. Wen Zhaoxia, The Propagation of Japanese and Korea TV Drama after 1980 in China, doctorate thesis, Jinan University
6. See Note 3.
7. Wen Zhaoxia, The propagation of Japanese and Korea TV drama after 1980 in China, doctorate thesis, Jinan University
8. Jiang Ximin, Fantastic Animation: Billions of Business Opportunities are Coming To Play, the Market Daily, June 22, 2005.
9. Hong Qiaojun, "Plenty of Talents, but Why Can't Chinese Animation Industry Be Larger and Stronger," China Youth Daily, April 29, 2005
Cui Baoguo
Professor, Director of Center for Media Operation and Management, Tsinghua University
Born in 1962 in Xuzhou City, he completed doctorate studies at Tohoku University Graduate School, Japan. He was appointed to his current position in 2001 and was also appointed the director of Tsinghua-Nikkei Institute of Media Studies since 2005. His research interests are communication theory, media management and information society. His works include the "Blue Book of China's Media"(2004-2009; one volume published annually), "Japan's Major Newspapers, Media Evolution and Social Development and Theories and Modes of Information Society".

Return to 19th JAMCO Online International Symposium contents page