22nd JAMCO Online International Symposium
March to December, 2014
The Internet and TV Stations in the Asia-Pacific Region
The utilization of the Internet by TV Stations in Thailand
Introduction
In the context of rapid change and frequent extreme events of civil or natural kinds, the Internet plays a primary role in rapid information transfer individuals; but it is also being used in conjunction with 'traditional mass media' to facilitate less urgent content exchange on a regular basis. In the case of TV there are several ways in which this interaction may be influenced, these relate to: legal and copyright issues associated with simultaneous retransmissions, consumer choice of programmes and available infrastructure. But before focusing on the Internet usage at terrestrial TV stations, a brief summary of the current industry situation in Thailand is appropriate.
Yoonaidharma (2012) commented that the Thai broadcasting industry has been relatively free of regulation since 2000. While this has no doubt contributed to rapid expansion of some sectors, it can also lead to potential problems and abuse of rights of some individuals or small organizations. Articles 13 and 15 of the Rome Convention guarantee a number of minimum rights for broadcasting organizations. For example, legally, each organization has the right to authorize or prohibit:
repeat broadcasting of their broadcasting materials
the integrity (unaltered content) of their broadcasting materials
copying of broadcast material without consent, of the creators or copyright holders – especially if copying is for a different purpose from the original programme
public access to television broadcasts – with or without fees – although this may be varied according to the domestic laws of different States (http://www.torakom.com)
As in other countries, much of the legislation on copyright and other broadcasting legal issues in Thailand is based on Acts from some years ago. Those laws may not adequately cover some aspects of the current situation (Somboonwong 2011).
There are six TV systems functioning at present – see Figure 1 – and, as Supanee Nitsmer (2013) reported, there are currently six free television channels in Thailand. The details of these stations are shown in Table 1; the television transmission standard in Thailand is PAL B. These terrestrial stations broadcast predominantly in Thai – although some have small sections of English-language programming, or an English language option is provided for some programmes. In addition, there are hundreds of both cable and satellite channels and IPTV (Internet Protocol Television) – see Table 1.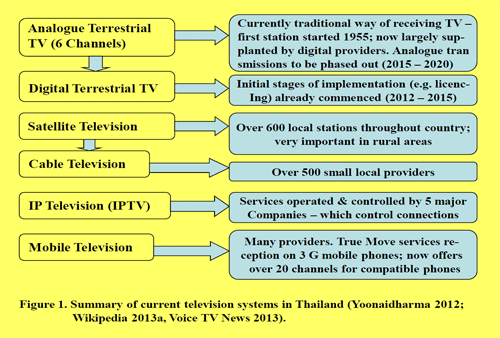 Thailand appears on the brink of major development in the broadcasting industry. It is reported that TV penetration is almost 100%, with cable and satellite TV (almost 64%) expecting continued growth due to recent positive initiatives by government. Recent rapid growth in the industry is attributed to: the establishment of the National Broadcasting and Telecommunications Commission (NBTC); recent changes in broadcast laws with coherent, standardized regulations; a new expanding group of competing companies serving the growing demands of Thai customers. In this context, planning and co-ordination of the industry are important at the national level with digital developments resulting in more channels. Cable and satellite TV are still very important with their capacity to provide quality content in urban areas (CASBAA 2013).
Table 1. Summary of television channels in Thailand (based on Yoonaidharma, 2012; Nitsmer, 2013; Voice TV News 2013 and other sources)
Channel
Audience Share*
Advert. Revenue*
Remarks
Free Local Television Stations (Frequency)
TV Channel 3 (VHF)
29.0
27.0
Supervised by Channel 9; headquarters in Bangkok; started 1970; owner BEC-TERO
TV Channel 5 (VHF)
6.9
17.7
Owned by Royal Thai Army (in Thai only)
TV Channel 7 (VHF)
(BBTV CH7)
47.5
37.7
Owned by Royal Thai Army and rented to Bangkok Broadcasting & Television Co. Ltd; headquarters in Bangkok; started in 1967
TV Channel 9 (VHF)
(Modernine)
9.2
20.0
Privatized under State Enterprise Corporatization Act; owned by MCOT/PMO
TV Channel 11 (VHF)
(NBT)
2.4
3.6
Established by government to promote education or publicity campaigns for the state; operated by Public Relations Department
Thai PBS (UHF)
(Channel 29)
5.0
0
First Public Service Broadcasting Television Station; established 2008
International Channel
IPTV
–
–
5 major telecom providers
Satellite Channels
(Over 600, mostly local)
–
–
Largest provider True Visions – also operates cable TV in many languages
*Audience and advertising share values are for 2011.
There is certainly evidence of changes in how Thais are accessing information. The figures vary between different surveys, depending on the questions asked and respondents, but one recent article reported that, each week, Thais are now spending more time online (16 hours) than watching TV (10 hours). Most people used four media platforms (TV, computers, smartphones and tablets), but that about 49 % of time spent on the Internet was via mobile phones. Demand is expected to increase with the number of Internet users in Thailand rising from 35 million now, to about 42 million in 2016 (Suchit Leesa-nguansuk, 2013). Another large survey by the Electronic Transactions Development Agency (ETDA) found that, over 12 years, Internet use had increased from 18 to 32 hours a week. Although the PC was still the most frequently used platform (45%) there was a higher rate of mobile devices (e.g. smartphone 25.3%, tablet 22.7%). Among the three most popular activities, with young people, watching television and listening to radio online scores 21% (ETDA 2013).
Despite the potential and expansion described above, it is acknowledged that the development of Internet television in Thailand has been very slow – since it began 5 – 6 years ago. There are clear advantages both for the audience and creators, in terms of individual material choice and rapid critical feedback respectively, but only a small audience is aware of Internet television. Reasons for this situation include: restricted infrastructure; unsatisfactory connections (too slow or expensive); variable programme content and quality; and consumer confusion about accessing Internet TV, or origins of the viewed material (Charoen et al. 2012).
The goals of this report are: to explain the current Internet usage at TV stations in Thailand; to discuss potential problems and inconsistencies in legal regulation between sectors of the television industry in Thailand; to explore the future prospects for Internet usage and simultaneous retransmissions over the Internet from TV stations in Thailand.
Structure of the Report
This report is organized as follows. First, the situation relating to Internet usage by TV stations in Thailand is summarized. The discussion is focused on legal system regulation as well as the current infrastructure. Second, case studies of two selected TV stations are considered in more detail – questions discussed include: if they use simultaneous retransmissions or VOD; amounts and types of material being retransmitted; target audiences and transmission language(s); and future plans. Separate comments on IPTV are also included. Third, audience responses are assessed in terms of: viewers' opinions, demands and expectations; the extent of viewer watching via the Internet; the time and appliance (platform) used for viewing the Internet. Fourth, the current and future trends in Thailand are considered, which lead on to the summary included in the concluding remarks.
Developments in Use of Internet TV
Regardless of the source of material, in practice, existing terrestrial stations already utilize the Internet by offering optional viewing applications for PCs and other portable devices. By going to the website of any of these major stations, viewers can directly access the live broadcast or archived material. In addition, in order to increase appeal to young people, each station has developed 'new media' channels (www.bangkokbiznews 2013). These new media channels (e.g. www.bugaboo.tv) will compete with independent niche Internet TV channels, such as FukDuk.TV or Gaggag.TV, that were discussed by Charoen et al.(2012) and highlights some areas of legal uncertainty or inconsistency. For example, while the major commercial or publicly owned stations have to conform to the full range of commercial and copyright regulations, the small private or independent Internet TV stations do not.
Relationship between TV stations and IPTV
IPTV (Internet Protocol Television) is a new system in Thailand that is showing limited growth. The features of this mode of viewing, compared to Internet TV are summarized in Table 2. The interactive capacity of this system, permitting real time participation in shows being broadcast, combined with VOD is considered to have the potential to change TV viewing habits (Column Multidimension, Siamrath Newspaper 2010).
Table 2. Summary of the differences between Internet TV and IPTV
Internet TV
IPTV
Features
It is a method of display of a TV programme or video by submitting data of images and sounds by downloading or streaming.
It is a method of transmitting information on an IP network which is a secured network via DSL and fiber-optic.
Controller
Video producers, small or medium sized business or Online TV operators
TV stations, Telecommunication companies, TV network Companies
Quality of programs
With a resolution that depends on Internet speed and efficiency of the receiving equipment
With high resolution.
Expenses for using the service
No charge
Have high costs and available only to subscribers.
Safety of the data
There are risks to copying or modifying or editing
Have a highly secure system to prevent copying and or modifying.
Source: Somboonwong (2011 : 289)
Overall situation of Internet usage by TV stations
Consumers are spending more time online. As a result, major media groups (including TV) need to adapt to meet the new multi-platform audience behaviour. One consumer survey last year in Thailand found that 24% of the population use the Internet through computers and 32% use mobile phones, including smartphones, indicating that phones are most important for 66% of the online population, with that number continuing to rise. BBTV Channel 7 television station revealed that young people increasingly receive information through the use of digital media and this is reducing the spending of hundreds of millions of baht to support a habit of watching video on demand.
Channel 5 has developed an application "ThaiTV5" on the cell phone for tracking information on news or entertainment channels including Channel 5 TGN and Army News Radio FM 94.0. Thailand TV station TV3 said the growth of smart devices (smartphones, tablets, and smart TVs) had stimulated the development of the website My 3Space for use by the web community. They have also developed three communication applications for entertainment, news and employment (to apply for a job).
NBT TV has said that this year it will feature New Media more. It has developed a website to enable access to Facebook, Twitter and news reports continuously. This concept in the development of mobile applications aims to support the new consumer behaviour as well.
MCOT (one of the companies owning Channel 9) has also modified and extended New Media. The News Website Modern Nine TV is supplemented by site group TV 2 channel, MCOT Insight, and MCOT Global and is preparing, MCOT Polls via media focuses on issues of interest to society. This has the potential to make a poll (www.bangkokbiznews.com).
Over the next 3 years, the Optimum Direct (Thailand) Co. Ltd. said the trend to watch is information through video content. In 2010 Thai people spent 27 hours a week watching television, and online media 7 hours per week. The following year people spent 30 hours a week watching television and online media 16 hours a week. These figures suggest that consumers taking information through online media rose on average by 50% per year and is likely to increase rapidly in the future. The prediction is that in 2014, consumers will receive more information through online media, such as YouTube or an application window, than from other media.
Situation of IPTV in Thailand
IPTV (Internet Protocol Television) is a system of television broadcasting via the Internet Protocol (IP), which allows the use of multimedia and transmission of both images and sound. TV can be viewed through a variety of devices (television sets, computers and mobile phones) to include shows broadcast on TV channels or cable TV. At the same time, the audience can program to watch based on their own needs (video on demand) for broadcast or backward browsing as desired.
For Thailand, IPTV system is a new technology and it has the potential to cause big changes in the television industry, including changes in TV viewing habits. Highlights of IPTV are different from Internet TV and channels 3, 5, 7, 9, 11 and Thai PBS, as well as cable TV. IPTV technology has enabled the audience to engage in interactive of two-way communications with TV stations 24 hours a day; this is different from traditional television systems where viewers cannot react to the station immediately.
It provides opportunities for consumers to engage directly with the programme as it is being broadcast; for example, watching a game show game post or send an SMS vote as part of viewer participation. It also permits Live chat on talk shows, phone chat over the Internet using chat rooms or webcams in camera, video capability (Videophone) in mobile communication era 3 (3G) and so on.
Currently IPTV service in Thailand is provided by the major telecom service organizations – each has its own telephone network. These providers already have a broadband and subscriber data base which is an advantage for doing business in IPTV. To date, the nature of IPTV services available has been largely experimental, testing the market; however, the conclusion is that the growth of IPTV in Thailand is probably limited, because of the few providers who also retain control of infrastructure and device access.
Examples of IPTV services in Thailand
Buddy IPTV:

Buddy IPTV is a provider of IPTV under the Advanced Data Network Communications Limited (AIS), which was the first concession from the Telephone Organization of Thailand (TOT) in 2005. High-speed Internet is available under the name "Buddy" broadband, which is the first TV broadband service commercially available. This system offers multimedia services over the Internet known as "Triple Play" that can provide both voice and data simultaneously (Column Multi-dimension 2010).



True IPTV:

True IPTV is a provider under the direction of True Corporation Limited. The company has expanded to become a provider of integrated communications covering voice, data and image so that it can meet the needs of customers in every group. Initially True's open broadband TV service in the name "True IPTV" was just a trial service, but a year later (2007) it was developed into TV 's True IPTV (Column Multi-dimension 2010).



Maxnet IPTV:

Maxnet IPTV is a provider of IPTV under the supervision of TT & T Public Company Limited, with an experimented broadband TV service in the name Maxnet TV. Since 2006 Maxnet TV has been the selling point of the telecommunications network for broadband connectivity and data transmission – covering most parts of the country. Subsequently, in 2007 Maxnet IPTV was piloted in 9 provinces in group TT & T's 1,000 service model. This trial studied the behaviour and needs of consumers and tested the quality of the content and techniques using a settop-box on existing television sets (Column Multi-dimension 2010).
Besides the private companies listed above, it is interesting that TOT (TOT Public Company Limited) and CAT (CAT Telecom Public Company Limited), which are major telecommunication infrastructure providers in Thailand, are now also involved. So it means that IPTV is the medium that some viewers recognize, although growth will be mostly in major urban centres where extensive infrastructure is already in place.
Regulatory Situation
As mentioned previously, many countries still lack comprehensive business or commercial laws to effectively regulate broadcast television via the Internet – in a clear or consistent way. This is partly because Internet TV uses technology that is accessible and available worldwide and partly because of the many interactions permitted with the single integrated technological package of the Internet. The Internet is a versatile, multi-purpose device that enables personal, cultural and recreational needs as well as facilitating financial or commercial transactions at varying scales. In practice, the industry is usually subject to a combination of commercial company legislation or regulation and copyright laws, which can contribute to very complex legal situations. For example, television broadcasts involve the transfer of several types of property, such as video images and soundtrack (music, lyrics, dialogue), each of which should not be transmitted without permission. So, legally, operators can be subject to both civil and criminal offences – depending on circumstances.
Thailand has no laws specifically governing the operation of Internet TV. The closest relevant legislation is the Act on Organization to Assign Radio Frequency and to Regulate the Broadcasting and Telecommunication Service BE2553 (2010), however, this legislation cannot be applied because Internet TV does not use radio frequencies; the original purpose of this Act was to oversee cable TV providers.
For copyright infringement issues the Thailand Copyright Act BE2537 (1994) defines the elements of an action for copyright infringement and penalties, both civil and criminal. For any illegal use of computer systems there is the Computer Crime Act BE 2550 (2007), which defines the offense and penalties both civil and criminal for using computers to distribute false or pornographic information. The issue of competition is covered by the Competition Act BE 2542 (1999), which prohibits monopolies; Thailand is also a member of the World Trade Organization (WTO), with agreements on opening trade and services liberalization.
Parts of the existing Copyright, Communication and Broadcast, Criminal and Competition laws could possibly be applied to the operation of Internet TV, but there are clear gaps and Thailand is in the process of considering legislation to regulate operations of this type.
The Supply of Programmes
It is relevant at this point to briefly consider the major sources of programmes for broadcast by TV stations in Thailand. Koopongsak (2010) explained that the material used can be divided into 7 categories, which are summarized in Table 3. As the table shows, in addition to long-established international collections of movies, there is considerable use of recent regional films and series from China and Hong Kong as well as Korea and Japan. It is also clear that there are a number of different financial or usage arrangements, as well as minimal mandatory content requirements, such as public service material.
Table 3. Summary of categories of programme that are broadcast by TV stations in Thailand (based on Koopongsak 2010)
Category
Remarks
1. Produced Programs (In-house)
Usually each station has its own productions, such as news, documentaries, drama series and public service material. The news program is considered to show the quality of the station, indicating the reliability and ideological freedom to serve and the journalistic standards.
2. Purchased Programs
There are many kinds of programmes which stations purchase from foreign manufacturers, such as movies from Paramount, Universal Studios or the Walt Disney Company. Movies and TV Series from China and Hong Kong are very popular, also movies and TV Series from Korea and Japan are highly popular at present.
3. Leased time Programs
Usually all stations will provide lessees with the timeframe to broadcast their programmes. The lessee has to manage and be responsible for the production and to find advertizing. Customers buy time directly from the producers, to advertize during the broadcast. The station only receives a rental fee for the lease time.
4. Live Programs
These are special programmes covering major events and other various National Day ceremonies that TV stations are required to broadcast.
5. Leased without charge Programs
Programmes that stations are required to broadcast without charge, such as governmental information, charity music programmes or other material considered appropriate by the Television Pool of Thailand (TPT) organization.
6. Exchanged Programs

There are 2 categories of exchange benefit between producers and TV stations :
1) Time Sharing is a joint venture between a station, which invests in broadcast time, and a producer who invests in production costs. The revenue sharing ratio is based on the agreement between the producer and the station, where the former takes 30-40%
2) Revenue Sharing is where a station gives producers an opportunity to present their programmes. Those producers only pay a minimum fee, agreed with the station, for broadcast time. But if those programmes generate more profit over that minimum fee, then the surplus income is divided so that the station takes 60%.

7. Co-production Programs
These are used by channels with low production budgets such as NBT (channel 11). Co-production with other governmental agencies is mutually beneficial in providing the station with broadcasting material and publicity for agency activities.

Case Studies – Modernine TV and Voice TV
The following discussion focuses on Modernine TV (Channel 9), an example of a major terrestrial station that reaches over 85% of the nation and Voice TV as an example of the growing sector of satellite channels.
ModernineTV
Channel 9 broadcasts 24 hours per day and the host station in Bangkok transmits to 35 local network stations, covering 87% of Thailand and 88.5% of the national population. The primary focus is on news and edutainment programmes; with the 2012 programme schedule listing the following proportions: news 21.6%, news analysis 10.4%, informativeness (i.e. general awareness or background on socially important issues) 9.6%, edutainment 18.8%, entertainment 27.9%, sports 7.3% and public service 4.4% (www.mcot.go.th ). The Annual Statement for 2012 indicates that 46.1% of production budgets were spent on 'in-house' station programmes, whereas 34.7% was allocated to co-productions and Time Sharing; the remaining 19.2% was for manufacturing costs (MCOT Public Company Ltd. 2012).
Contents retransmitted over Internet
As indicated in Table 1, the main transmission is VHF, but planned expanded coverage involves additional relay stations and some regional broadcasting in UHF. The available information suggests that Channel 9 has simultaneous retransmission of all programmes over the Internet. Although there is no VOD capacity with analogue technology, it is available with digital terrestrial technology (Wikipedia 2013). Both live and Internet retransmission are in Thai and primarily targeted for the domestic audience, but a few programmes are also available in English (www.mcot.go.th ).
Voice TV
Voice TV is one of a number of satellite TV stations established in the last few years, specifically to take advantage of technological and lifestyle changes. Coverage is nationwide and by the end of 2013 about 15 million satellite dishes will have been installed throughout Thailand. Voice TV aims to provide quality information as well as creativity on multi-platforms, with an emphasis on audience expression. The prime target group is young adults (18 – 31 years old) – and the premise is that by providing multi broadcasting channels (e.g. website, free-to-air Channel 7, satellite channels 41 and 10 and through local cable TV), this busy generation will catch up anywhere or at any time. Programmes include a wide range of informative topics as well as music, film, fashion and entertainment. Material can be viewed live or as a replay (Voice TV 2013).
Voice TV is a new breed of cross-platform media company that creates and distributes contents which inform, enrich, and inspire the new generation. It differs from competitors in that Voice TV website, Voice TV on mobile phone and Voice TV satellite work together, to connect young adults with what is happening in their world through a unique blend of professional journalist and viewer participation with multi broadcasting channels (Voice TV 2013).
Voice TV can be reached via different media. On demand and live streaming can easily be reached from the website. The Free-to-air signal is beamed via Thaicom 5 satellite C-Band Frequency 3545 Symbol Rate 30000 Vertical. For KU-BAND users material is also on Thaicom 5 and viewers can watch on DTV platform 24 hours a day on channel 7. Those who have a PSI satellite system can watch on channel 41 and channel 109 on GMMZ set top box. Voice TV also distributes contents through local cable TV operators.
Audience responses and needs
While the author is only aware of one detailed analysis of responses to Internet programmes in Thailand (see below), in recent years, there has been growing concern by television stations and broadcasting organizations about the popularity and audience responses to locally produced educational or lifestyle programmes. Factors that have contributed to management concerns mainly relate to efficiency, in terms of programme scheduling and audience convenience, as well as optimal investment returns on resources used – measured by audience estimates and rates of increase in numbers. These re-assessments have usually involved a review panel at the organization working with external communications consultants, who examine programmes for a number of 'desirable' presentation criteria and often co-ordinate or analyse audience surveys or questionnaires. The findings are then used to formulate recommendations about how to improve the programme and increase its appeal to audiences.
Table 4. Summary of TV audience responses and programme analyses.


Remarks indicate the most frequent responses of all viewers surveyed about selected lifestyle, education and children's programmes

Factor
Audience Remarks
Time
Programming Scheduling
Presenting should be at times most convenient for the primary target audience
Programme Length
Preferably no more than 30 minutes (shorter for some children's programmes – because they have shorter attention spans)
Presentation
Moderator or Compere
Presenter should be enthusiastic, with good clear speech and thorough background knowledge
Level of Participation
Requested or suggested competitions, or interactive singing / dancing; as well as audience forums (for comments or questions)
Moderate pace
Preferred separate brief segments in a short time (with precise editing)
Long-standing Series
Wanted continuity (of theme, presenters, characters), and development of narrative (with reminders) even if issues may change
Content
Relevance
Where possible to explain the practical connection of the subject to the everyday activities of the audience
Order, Clarity
Material should be in a logical flow, with clear take-away messages.
Source: Bilmanoch (unpublished data)
The common issues raised in several broad audience studies are summarized in Table 4 and mostly relate to basic communication or practical time constraints, but these same issues / criticisms are also important to restricted user groups and transmitted Internet material. For example, the survey by Charoen et al (2012) shows the very young Internet television audience want:
Distinctive relevant content for their age group (mostly 13-17 years);
Segments of 10 – 15 minutes in length;
Regular programmes (e.g. one per week);
Applications to enable reception on smart phones or tablets.
In all the above response surveys, relevance of content is a dominant theme, and this is particularly important in relation to International retransmission – where highly topical or relevant material in Japan (e.g. nuclear safety) is clearly not as relevant in Thailand. Although a TV station can choose relevant content from national or international materials, some flexibility may be necessary about using complete series of programmes.
Current and Future Trends
Despite the many technological refinements and alternative systems now being offered, it is recognized that the majority of consumers still depend on traditional broadcast television for long-term content consumption and that the common television set is here to stay, with substantial potential for improvement, with increased technological integration. Globally, the number of TV sets that will be connected to the Internet is expected to increase by 150 % in the next five years – to an estimated 759 million (Narang 2013b).
But, regardless of the delivery mode or system technology, there is a clear overall industry trend towards rapid access to TV programmes at any time. Critical analyses have identified a number of practical problems and have suggested desirable industry goals should include: a system where any content is available on demand for any device; more flexible and affordable subscription arrangements; and improved search / sort facility for material from many channels.
The current rate of increase in number of service subscribers to the Internet in Thailand – with direct implications for the use of Internet material by the television industry – is relatively low. Srinuan et al. (2011) analysed the factors involved and identified lack of fixed infrastructure, beyond Bangkok and nearby provinces, as the main barrier; but also found that price, due to lack of competition among providers, was also inhibiting growth.
The Behaviour of Internet Users
The Electronic Transactions Development Agency, which is a public organization, examined the behaviour of Internet users. From the sample of 23,907 people they found that today the use of the Internet is more than the year 2001. It was 18 hours per week in 2001 and increased to 32 hours per week in 2013. The analysis showed that desktop computers were most frequently used at 45.0 % with mobile phones 25.3 % and 22.7 % smart phones, then tablet PC usage rate of 6.8%. This means a higher proportion used the mobile Internet and emphasises that Internet use is not restricted by time or place anymore.
The most popular activities are to receive email information, use of search-engine and social networking. Adults focused on the use of the Internet to send and receive email, but children and young people will mostly use the Internet to play online games. Internet use by young people can be divided into the following categories: social networking (33.2%), read news or electronic newspapers (31.7 %), watching television and listening to radio online (21%), downloads (16.5 %), play online games (13.2%), financial transactions (12.8 %), purchases (10.2%), all private equity (7.6%), buy tickets online (7.3%) (www.manager.co.th).
Medium and venue of Internet use
To explore user behaviour with mobile devices, 20,000 visitors from 20 countries around the world were surveyed by inMobi (Mobile Advertising Network) in cooperation with Decision Fuel (http://thailandonlinefocus.com). In Thailand, the total number of respondents were equally divided by gender (women 50%, men 50%) but the age distribution differed. There were 19% in the age group between 15-19, 20% in the age group between 20-24, 37% in the age group 25-34, 16% in the age group between 35-44 and 7% were aged 45 years or more.
Accessing information by this sample was most frequently by computer followed by the television, then radio, and last was through the print media. Comparing the usage of different categories of electronic devices (computers, mobile phones, television) it was found that mobile phones were used most frequently. Most people were trying to access social networks (such as Facebook or Twitter) or checking e-mail messages, but doing financial transactions and shopping were also popular. There is no information about the levels of use of different types of mobile phone, such as smart phones. The main reasons given for using mobile phones to connect to the Internet were the ease of use and that it was considered private. People used mobile phones most frequently while watching TV at home, or while travelling from one place to another, by public transport (www.thailandonlinefocus.com).
Concluding Remarks
Broad global industry analyses identify a number of major trends in broadcasting, which include: cloud computing, digital transmission, an increase in free-to-air (FTA) channels and convergence of the web and traditional broadcasts (Narang 2013a). It is also internationally acknowledged that the ubiquitous television set (with applications and accessories) will remain a central part of consumer household infotainment systems (Narang 2013b). This is especially the case in Thailand where television is the only mass communication medium, with almost 80% of Thais relying on TV as their primary daily news source (Wikipedia 2013a; Yoonaidharma 2012). This dominance is demonstrated by the fact that 60% of all advertizing spending in Thailand is on television – the ratio of spending on any other medium is less than 15% (Yoonaidharma 2012).
Despite the political, commercial and logistic uncertainties a number of administrative and technological changes are planned for the next three years in Thailand (Yoonaidharma 2012); the main inhibitors to Internet connection are infrastructure inequality as well as high prices, resulting from the current industry structure with restricted competition (Srinuan et al. 2011).
The Internet is already being used extensively by the industry with both established and new small providers moving to multi-channels, accessible from a range of mobile devices. Other major trends in the industry have been the development of products or packages aimed especially at young age groups, and an increased capacity for viewer participation in real time. The existing legal framework has limited capacity for regulation of Internet TV and further legislation is under consideration. The numbers of both cable and satellite operators have expanded dramatically.
As expected, viewers' opinions vary widely – and the most important issues are summarized in Table 4 – but their needs, demands and expectations mainly relate to time, quality of source and relevance to their everyday activities. These viewers generally:
have very limited time to spend;
expect clear authoritative delivery – especially of important, serious or complex issues;
need it to be presented in a way that explains how it is practically useful for them;
require the capacity to access at varying intervals – either frequently or occasionally – on mobile devices.
Although these findings (a-d) are from analyses of a range of infotainment TV shows produced locally, the same points also apply to Internet material used by TV stations and that leads on to a comment about supplementary information. It is accepted that individuals have very limited time to concentrate on any topic or issue and, equally, most people will acknowledge that they need more than a few minutes to fully understand complex issues. So follow-up access to further information is essential. This trend of consumers having very short accessing or viewing opportunities will continue, further emphasizing the need for ready access at individual convenience. At the very least, this will involve continued 'on-demand' replay access to programme material (i.e. podcasts), but may also require re-interpretation of additional background information or illustrations.
In summary, the extent of the use of Internet material by Thai TV stations is unclear although, with industry expansion, it is clearly increasing. The combination of current low audience awareness, increasing access options and rapid uptake of mobile devices means there is potential for major expansion of Internet TV in Thailand; however, limitations of infrastructure and cost are medium-term challenges.
Bibliography
CASBAA (2013) CASBAA Thailand in view: Thailand TV poised for growth, http://au.finance.yahoo.com/news/casbaa-thailand-view-2013-thailand-TV-poised-for-growth (Accessed on November 12,2013)
Charoen, D., Watnitanon, S., Tuntisuthivat, P. and Phanomchaisawang, S. (2012) The problem of the growth of the Internet in Thailand, www.mediamonitor.in.th (Accessed on December 6, 2013)
Column Multi-dimension. (2010) IPTV: future of television? Siamrath Newspaper, 11 December, 2010.
Electronic Transactions Development Agency. (2013) ETDA survey revealed Internet user behavior in Thailand, http://www.manager.co.th (Accessed on December 6, 2013)
http://www.it24hrs.com (Accessed on December 7, 2013)
http://www.torakom.com (Accessed December 2013)
http://thailandonlinefocus.com (Accessed December 2013)
Koopongsak, A. (2010) Programming management for commercial free-to-air television, Executive Journal Bangkok: Bangkok University. Pp.30-36.
MCOT Public Company Limited. (2012) Statement for the year 2555. MCOT Public Company Limited, period from 1 January to 31 December 2555.
Narang, N. (2012) Future of television..Part 1 http://www.mediaentertainmentinfo.com/2012/12/ (Accessed on November 11, 2013)
Narang, N. (2013a) Broadcast industry trends, http://www.mediaentertainmentinfo.com/2013/07/ (Accessed on November 11, 2013)
Narang, N. (2013b) M & E Research: connected TVs set for massive uptrend, http://www.mediaentertainmentinfo.com/2013/10/ (Accessed on November 11, 2013)
Nitsmer, S. (2013) Tsunami disaster prevention and the roles of media in Thailand . 21st JAMCO Online International Symposium, 14pp.
Somboonwong, S. (2011) TV and radio online with legal gaps of the Act on Organization to assign Radio Frequency, pp. 287 – 311. In NBTC, 2554. Vol. 1. National Broadcasting and Telecommunications Commission, Bangkok.
Srinuan, C., Teppayayon, O. and Bohlin, E. (2011) Analysis of Internet access in Thailand: drivers and barriers, pp. 61 -81. In NBTC, 2554. Vol. 2. National Broadcasting and Telecommunications Commission, Bangkok.
Suchit Leesa-nguansuk. (2013) Internet use surpasses TV watching in Thailand, http://www,bangkokpost.com/learning/learning-from-news/356886/ (published 25.06.13) (Accessed October 8, 2013)
Voice TV. 2013. http://www.voicetv.co.th (Accessed on December 8, 2013)
Voice TV News (2013) How important of television business in Thailand? http://news.voicetv.co.th/business/84876.html (Accessed December 2013)
Wikipedia. (2013a) Media of Thailand, http://en.wikipedia.org/wiki/Media of Thailand (Accessed on November 12, 2013)
Wikipedia. (2013b)Television in Thailand, http://en.wikipedia.org/wiki/Television inThailand (Accessed on November 11, 2013)
www. bangkokbiznews (2013) Free TV accelerates new media to increase new online audience, www.bangkokbiznews.com (Accessed on December 6, 2013)
www.bugaboo.tv (Accessed on December 9, 2013)
www.mcot.go.th (Accessed on December 7, 2013)
www.manager.co.th (Accessed on December 2013)
Yoonaidharma, S. (2012) Thailand digital TV in transition: policy & regulation, www.itu.int/ITU-/asp/CMS/Events/2012/digitalbroadcasting/S5_Prof_Sudharma.pdf (Accessed November 2013)
Sasiphan Bilmanoch
Lecturer, Faculty of Communication Arts, Kasem Bundit University, Bangkok, Thailand.
B.A. (Political Science) 1985, Ramkhamhaeng University, Bangkok, Thailand.
B.A. (Mass Communication) 1999, Ramkhamhaeng University, Bangkok, Thailand.
M.A. (Mass Communication)1995, Chulalongkorn University, Bangkok, Thailand.
PhD (International Communication) 2006, Macquarie University, Sydney, Australia.

Certs. in
(1) Modernization of Physical Distribution (1994), Japan International Cooperation Agency (JICA) under the International Cooperation Programme of the Government of Japan.
(2) "Researchers creation (Strong Seed Program)" version 5, (2009), National Research Council (NRCT), Bangkok.
(3) "Management and supervision of public affairs radio and television broadcasting" version 1, (2011), The National Broadcasting and Telecommunications Commission (NBTC), Bangkok.

Work Experience:
Chief, Public Relations Division, Express Transportation Organization of Thailand (1987 -1995).
Lecturer, Faculty of Communication Arts, Christian University, Bangkok (1996 - 1997).
Lecturer, Broadcast Department, Faculty of Communication Arts, Kasem Bundit University, Bangkok (1997 - 1999).
Assistant to Dean for Academic Affairs, Faculty of Communication Arts, Kasem Bundit University, (2000-2002).
Honorary associate, Centre for International Communication, Macquarie University, Sydney, Australia (2005-2006).
Assistant Dean for Research and Development, Faculty of Communication Arts, Kasem Bundit University (2007- 2013).
Member of Executive Committee of National Tertiary Education (2007-2011).
Counsellor to Audience Council, Thai Public Broadcasting Service (2009- 2010).
TV Gold Awards Assessor Panellist (2007-2011).
Author and co-author of 20 academic papers and reports.

Return to 22nd JAMCO Online International Symposium contents page