22nd JAMCO Online International Symposium
March to December, 2014
The Internet and TV Stations in the Asia-Pacific Region
CHALLENGES AND APPROACH TOWARDS IP BASED AND USER GENERATED CONTENT IN MALAYSIA.
INTRODUCTION
Information and communication is the most important knowledge for human kind to co-exist. Recent communication developments have focused more on the use of technology. There is a blurry line between television and computer nowadays. And television needs to redefine itself all together.
Television was introduced in Malaysia in late 1963 with the broadcast of RTM1 by the government. In the early years, Malaysian television broadcasting had the role of a public broadcaster owned and maintained for the public by the national government. Its programming was predominantly educational, informational and cultural (Hassan Basri, Ahmad, Mohamad, Azlan, & Hashim, 2011). TV1 has been in existence for a long time and it is a good measure of the country's history and continuity. Even so, it must adjust to the changing environment and should attempt to lure the younger viewers too. TV1 should not be content with a veteran audience because, as national television, it should vie for a more comprehensive audience.
As for the young executives, they acknowledge the importance of RTM and especially of TV1 in today's media industry. They believe that TV1 promotes the national agenda and is able to cater for certain groups in the society. It is beneficial to have a national broadcasting channel so that government messages can be communicated to the public effectively. RTM is equated to the BBC in England in terms of its importance, tradition and more conservative approach. In October 1969 a second channel was launched, also under the direct control of the Ministry of Information. The following directives, which have remained virtually unchanged, have shaped the broadcasting policy:
To explain in depth and with the widest possible coverage the policies and the programmes of the government in order to ensure maximum understanding by the public
To stimulate public interest and opinion in order to achieve changes in line with the requirement of the government
The Broadcasting Act 1988 continues to play a vital role in the underdevelopment of Malaysian broadcasting. The act as it stands is both stringent and inflexible giving enormous powers to the government in determining the type of television programmes that are made available to the Malaysian public. The introduction of the Act in 1988 was clearly in anticipation of the further commercialization of broadcasting, especially television. Indeed, in the midst of the supposed 'deregulation' of broadcasting, the broadcasting act now gave the Minister of Information virtually total power to determine who will and will not broadcast and the nature of the broadcast material. Under the Act, any potential broadcaster would need to apply for a license from the Minister beforehand.
Broadcasting industry in this country has expanded to publication through websites or portals too. Malaysia has a fast-growing ICT sector backed by strong government policy and market liberalisation. In 2011, the government launched a national programme called "Digital Malaysia" that promotes the pervasive use of ICT in all aspects of the economy and should advance Malaysia into a developed digital economy by 2020.
A new Act was introduced to oversee all things related to information and communication technology. Communications and Multimedia Act 1998 (Act 588) was published in the Gazette on 15th of October 1998, with the following main objectives: to promote national policy objectives for the communications and multimedia industry; to establish a licensing and regulatory framework in support of national policy objectives for the communications and multimedia industry; to establish the powers and functions for the Malaysian Communications and Multimedia Commission; and to establish the powers and procedures for the administration of this Act. Thus, all things related to broadcast and ICT are governed by the Malaysian Communications and Multimedia Commission (MCMC).
In-home entertainment in Malaysia has evolved significantly during the review period thanks to the numerous digital products developed and made available and the rising use of the Internet. Large-screen televisions, home theatre systems, video game consoles, cable television, movie-on-demand through high-speed Internet connections and Blu-ray media players are devices with the ability to transform any home into a digital entertainment hub. A new strategy has to be started.
The National Broadband Implementation Strategy, better known as National Broadband Initiative (NBI), puts in place a national strategy that will bring broadband to the whole nation. In 2007 the Government of Malaysia set its target to achieve 50% household broadband penetration by the end of 2010 (Malaysian Communications and Multimedia Commission, 2013). The implementation of broadband services will create a spin-off effect in other sectors such as engineering, local content development and broadcasting. The delivery of services will be through wired and wireless connectivity, while the existing broadband and cellular coverage expand under the Universal Service Provision (USP) initiative. Hence, all was set within Malaysia's regulatory, enforcement and content development policies to embrace new technologies for broadcasting in traditional, digital and hybrid forms.
PROBLEM STATEMENT
This report seeks to discuss current issues faced by RTM to sustain and survive as the national television channel with new mission and objectives: How has the current viewers in the country pressured RTM to reinvent its identity in order to remain competitive? What are the consequences of this reinvention, especially in terms of new delivery methods and appeal towards a new generation of viewers?
To view this in perspective, the article traces the introduction of new channels in RTM television, local television operators, the rise of narrowcasting vs. broadcasting and the introduction of new, user-friendly technologies as strong competitors and current threats to national television.
MALAYSIAN INSIGHT
Malaysians prefer to access the internet via mobile devices. More than half of Malaysian internet users "primarily or exclusively" access the web via their mobile devices, according to a survey conducted jointly by InMobi, a mobile advertising company, and a research firm Decision Fuel during late 2011. The survey found out that Malaysians are most likely to get connected to the Internet every day in one way or another. With increasing GDP forecasted for the next few years, Malaysian consumption on digital gadgets and technological consumption will increase throughout the years.
Table 1: Malaysia Basic Indicators (GDP/CPI) (Malaysian Communication Multimedia Commission, 2013)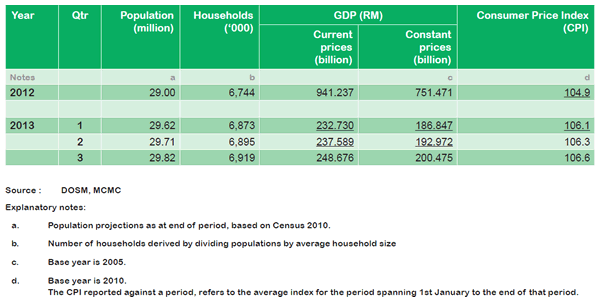 Table 2: Percentage of Households with access to Television by state (Malaysian Communication Multimedia Commission, 2013).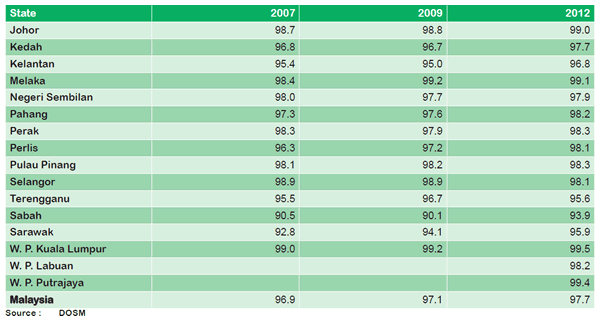 In 2012, 97.7% of population had access to television. With some states averaging 90 to 99% of penetration, most Malaysians have access to a television via free-to-air (FTA) or pay-TV services.
Table 3: Number of Broadcast Minutes, FTA TV (Malaysian Communication Multimedia Commission, 2013)

Table 4: Number of Pay-TV Subscriptions (Malaysian Communication Multimedia Commission, 2013)

Table 5: Number of IPTV Subscriptions (Malaysian Communication Multimedia Commission, 2013)

In 2012, FTA operators in Malaysia have broadcasted around 3,322,360 minutes of combined airtime. Also, in 2012, there were around 3,415,000 subscriptions for pay-TV services and another 519,700 households with subscription for IPTV services.
Table 6: Percentage of Households with access to a Computer by state (2012) (Malaysian Communication Multimedia Commission, 2013)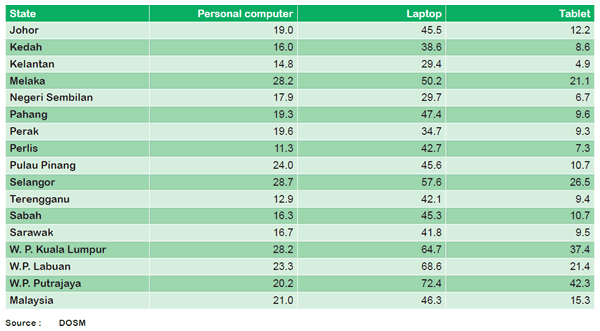 Statistics above show that most households tend to go for mobility, this is dominantly shown with most households preferring laptop and tablet as their main peripheral to access the digital domain.
Technological developments give opportunities for media practitioners to think about their audiences through interactive services. As many media organizations follow the pattern or trend in the environment for change, they indirectly cause changes in the socio-cultural lives of audiences including media literacy that enables audiences to utilize the new media that offer increasingly interactive features.
National policy objectives for the communications and multimedia industry have outlined 10 objectives to establish Malaysia as a major global center and a hub for communications and multimedia information and content services.
What did the competitors do? What are they doing to feed the new-age viewers' appetite for new content and ways of watching content via a variety of platforms available in the markets?
TM (HYPPTV)
TM has literally built the country's telecommunications and broadcasting infrastructure. It was instrumental in setting up the nation's first mobile network, the ATUR450, in 1985 and later the first GSM network in 1995. By 2003, it was the largest integrated telecommunications network in Malaysia with both fixed and mobile operations (Telekom Malaysia Berhad, 2012).
TM further expanded into the content space with the launch of HyppTV, its own brand of IPTV service. This marked TM's ability to aggregate content from various content providers and to seamlessly channel content to end customers via its next-generation-network (NGN). HyppTV today has 107 channels including 12 sports channels.
In addition, TM launched My1Content on 13th of June 2012, which became the first integrated Digital Marketplace for content buyers and sellers to meet and do business. This was built on the Content Service Delivery Platform (CSDP) developed in partnership with the Malaysian Government, in the spirit of building and promoting the local content industry.
The HyppTV has the following description for its mobile applications. "HyppTV is now available everywhere! This service is exclusive for HyppTV subscribers with UniFi and Streamyx 4Mbps & 8Mbps*. HyppTV subscribers can now watch their favorite programs, global updates and keep their kids entertained, anytime, everywhere, on tablet, smart phone and desktop. All you need is a WiFi or 3G/4G connection to enjoy the content" (Google Play).
Figure1: Mobile Application for HyppTV UX Capture
ASTRO
Astro Malaysia Holdings Berhad is an integrated consumer media entertainment group in Malaysia and Southeast Asia with operations in 4 key areas of business, namely Pay-TV, Radio, Publications and Digital Media. With a customer base of over 3.5 million residential customers or approximately 52% penetration of Malaysian TV households, Astro offers 170 TV channels, including 37 HD channels, delivered via Direct-To-Home satellite TV, IPTV and OTT platforms. Astro provides HD, 3D, PVR, VOD and IPTV services through Astro B.yond and Astro On-The-Go. Fulfilling its promise to bridge the digital divide for all of Malaysia, Astro introduced NJOI as an entry-level DTH satellite TV service and is the country's first non-subscription based satellite TV, offering 22 TV and 20 radio channels.
Astro Radio includes Malaysia's highest rated stations across key languages and is available on both terrestrial and digital channels, reaching approximately 13 million weekly listeners and capturing a 52% share of listenership in Malaysia in April 2012. Its digital arm is involved in digital publishing, applications and platforms as well as publication of entertainment and lifestyle magazines locally.
Figure 2: ASTRO: Facts & Figure 2013 (Astro Annual Report 2013)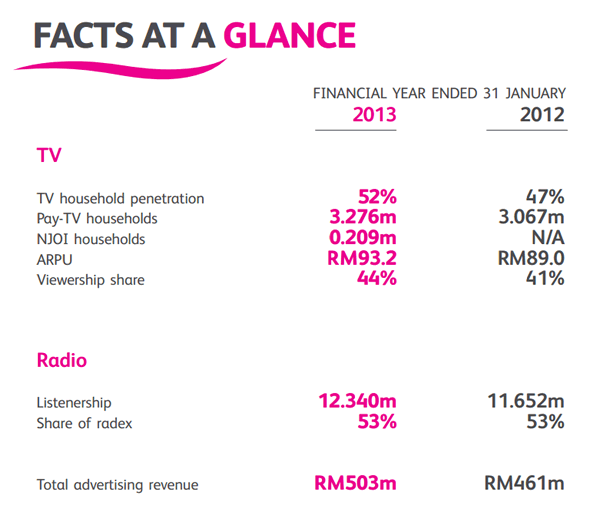 Astro On-The-Go (AOTG) – Delivering entertainment anytime anywhere. Leveraging on the consumer's desire for flexibility to view content on multiple devices and to expand our content reach beyond household to individuals, in May 2012, ASTRO launched AOTG, an OTT service for smartphones, tablets and PCs. The channel line-up spans across live events, kids, news and entertainment TV channels, radio channels, "catch up" service and VOD content. AOTG is now also commercially available to non-Astro customers, particularly in terms of what they want, when and where they want it, and on whatever device they may be using.
Figure 3: ASTRO's Tablet and Mobile App UX Capture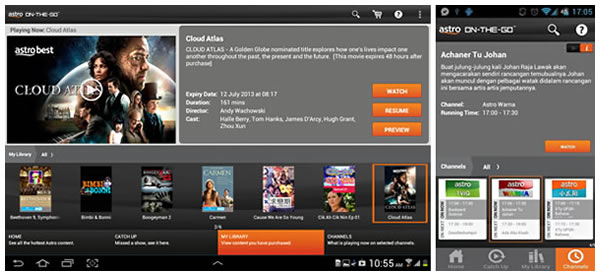 MEDIA PRIMA
Media Prima consists of TV3, ntv7, 8TV and TV9, a local FTA television provider. On 12th of December 2012, the Group unveiled its enlarged digital business unit – 'Media Prima Digital.' Alt Media, among others, is responsible for the innovation of Tonton, the multiple award-winning, No. 1 Malaysian video portal. In addition, Alt Media manages the Group's television and radio networks web portals, as well as Gua (gua.com.my), the country's premier entertainment and lifestyle portal. Web television operations such as tonton.com.my have changed programming as viewers can now watch reruns of Media Prima programs at their own convenience.
Figure 4: Tonton UX Capture

RTM
It was in Angkasapuri Complex that rapid development in broadcasting for both radio and television began. Broadcast time was extended to cater to the needs of listeners from all walks of life. Development in television is also very rapid especially in the era of Information Technology (IT). Efforts to air 80 percent local programmes and 20 percent foreign or imported programmes are taken very seriously. The Internet does not lessen the role of radio and television. On the contrary, the Net can be used to enhance the functions of radio and televisyen in disseminating information globally.
RTM vision is to be the country's prime and dynamic organization with a world class broadcast standard in upholding the "1 Malaysia Concept". Its mission is to transmit radio and television information and entertainment programmes of a competitive standard that caters to the varied needs of the audience using the latest technics while fulfilling the nation's vision. Three of the RTM's main objectives are: to become a pioneering nation builder through broadcasting service in upholding the "1Malaysia Concept; benefiting information technology and new media ideas for the public maximum viewers; and usage of Bahasa Melayu (Malay language) as a national Builder.
RTM has an overriding objective that is consistent with the country's development plan: the achievement of national unity. In addition, RTM aims to stimulate public interest and develop civic consciousness, while providing information and education. With the beginning of the new millennium, RTM is emphasizing the "infotainment" concept, for example, providing information and entertainment as a public service broadcasting station.
Mystream
Live stream of RTM exist as an experimental channel. It service began in early 2006 with only two television channels and four radio channels with the sole purpose to enhance and broaden the viewership through the Internet or IP. Now everybody can hear and watch their favourite Radio and TV programmes online. In 2012 live streaming services was broadened to include more Television and Radio channels that can be accessed via a website (http://mystream.rtm.gov.my/). As of date a combination of existing and experimental channels with niche programming including TV1, TV2, TVi, Galaksi Muzik, 1 News, Parlimen TV and BES1 together with 28 radio channels was stream live through the website.
Figure 5: Mystream UX Capture
Figure 6: Mystream: Streaming Hits & Volume for Local/International in 2012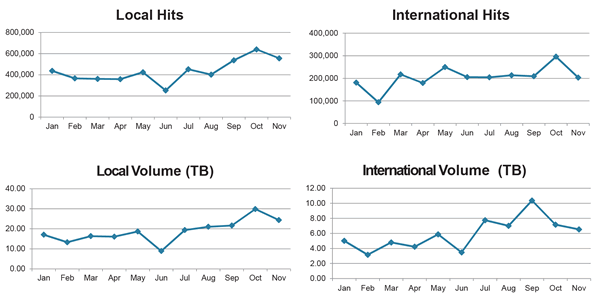 Shown above is a graph depicting the increasing number of local and international hits since Mystream service was launched in 2012. Live streaming of football matches gained major viewership since sports channels are becoming popular amongst young generations. RTM also takes a crucial step in insuring that all syndicated films and series are filtered during live streaming. Using licenses for video-on-demand and content management systems for video web filtering system, it allowed RTM to filter all syndicated programs that were only meant for terrestrial transmissions.
Myklik
Today, the Internet allows us to engage in exciting and enjoyable activities like watching movies, downloading music, searching for pictures and graphics and even shopping just at the click of a mouse. These are some of the added features that TV1 previously could not offer. Plus, the market is now flooded with mobile laptops and tablets to assist these activities. VOD – Video-on-Demand, the common phrase for a service where the user can choose a program from a menu or list, and instantly begin watching it from the start.
RTM's VOD services were introduced in 2009 and was rebranded as Myklik (http://myklik.rtm.gov.my) in early 2012.Myklik is a website dedicated for VOD. In Myklik, viewers can choose from all the best programs that were produced by RTM to be viewed after it was aired on TV.
Figure 7: Myklik: Web site UX Capture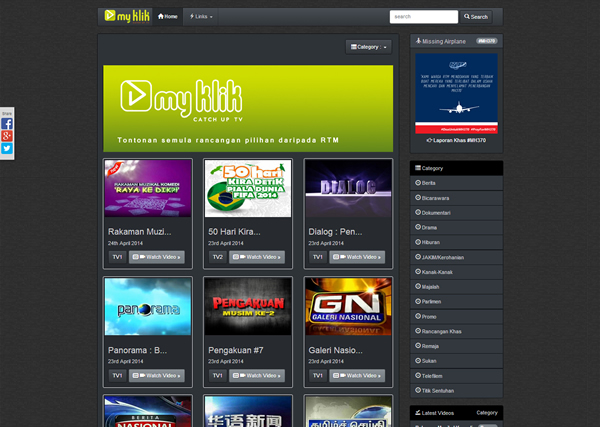 Figure 8: Myklik: Hits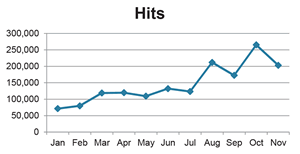 As shown in the charts above, from the introduction of Myklik in January 2012 to November of the same year, the access and usage by viewer has increased, with the most access on October. With increased demand for Myklik, RTM is looking forward to make it available on mobile devices soon.
RTM Mobile
With smartphones and tablets becoming the most preferable peripheral, RTM launched a mobile app for android phones on October, followed by iOS app for Apple devices on November of 2013. Services include television streaming for TV1, TV2, TVi, Muzik Aktif and RTM Parliament. It also has radio streaming for Nasional FM, Radio Klasik, MinnalFM, AiFm, TraxxFM, KLfm, AsyikFM, Vfm, WaiFM and MuzikFM. Programme Guide feature is available too for TV and radio that enables users to set a reminder for their favourite programs.
Figure 9: RTM Mobile Applications for Android & iOS
Between its introduction in October 16th and December 21st 2013, RTM Mobile for android has been downloaded 6,450 times worldwide.
Figure 10: RTM Mobile: Android App download from October 16th to December 21st, 2013(Google – Google Play, 2013)

Figure 11: RTM Mobile: Android App download among country and Telco Provider since October 16, 2013 to December 21, 2013 (Google – Google Play, 2013)

Of the 6,450 downloads, 90.93% are from Malaysia and 6.28% are from Singapore. As seen in these statistics, increasing number of viewers are watching RTM programs via mobile phones and the trend is expected to continue.
CONCLUSIONS
Existing media regulations and content controls assure government scrutiny of media contents. Providing broadcasting contents via the Internet has been shown to provide greater satisfaction to the audience compared to previous methods of delivery. The report suggests that portal web television station, which is a balance of content and mobility, is getting the most attention among TV broadcaster in Malaysia today.
The dawn of new media and communication technologies have brought about a profound transformation in the way people communicate and share knowledge and information. These new technologies offer vast new opportunities for public participation and engagement and have the potential to expand media use even further (Abdul Latif, Wan Mahmud, & Salman, 2013).
Hence, national television in Malaysia needs to be more innovative in its content delivery methods in order to remain competitive and survive, as well as to capture the dynamic younger audience that is mobile and on the move.
Bibliography
Abdul Latif, R., Wan Mahmud, W., & Salman, A. (2013). A Broadcasting History of Malaysia: Progress and Shifts. Asian Social Science, 9 (6).
Google – Google Play. (2013).
Government of Malaysia. (1998). Communications and Multimedia Act 588. Communications and Multimedia Act 588 . MALAYSIA.
Hassan Basri, F., Ahmad, A., Mohamad, E., Azlan, A., & Hashim, H. (2011). The Survival of Malaysia's National Television Within a Changing Mediascape. The Innovation Journal : The Public Sector Innovation Journal.

Malaysian Communication Multimedia Commission. (2013). COMMUNICATIONS & MULTIMEDIA (POCKETS BOOK OF STATISTICS).
Malaysian Communications and Multimedia Commission. (2013). Malaysian Communications and Multimedia Commission. Retrieved from http://www.skmm.gov.my/Sectors/Broadband/National-Broadband-Initiative.aspx

Telekom Malaysia Berhad. (2012). 2012 Annual report. TRUST.
*Links are for posted items. It is possible that some items are not currently available or are being edited.
Hazizul Jaya Ab Rahim, Abdul Manap Abdul Hamid
HAZIZUL JAYA AB RAHIM
Designer, Radio Television Malaysia

Bachelor of Art & Design (Graphic) from (UiTM) Mara University of Technology, Malaysia
MA in Art & Design (Visual Communication & New Media) from (UiTM) Mara University of Technology, Malaysia

Before joining the RTM, Hazizul Jaya had more than 4 years of experience in graphic design, post-production, multimedia and interactive TV, working for public service broadcasters including 9 years for RTM, Malaysia. Currently, he is working on UX/UI, Interactive TV design and New Media in the RTM.
ABDUL MANAP ABDUL HAMID
Deputy Director RTM Online

B.A. (Film and Theatre Studies and Asian Studies) Victoria University of Wellington, New Zealand

Before holding his current position Abdul Manap had a broadcasting career spanning for more than 34 years, which include working in the Drama Division, seconded for 12 years in Communication Sector in The Prime Minister of Malaysia Office, Radio Television Malaysia News and Current Affairs Division. Currently he is responsible for managing a team of programmers, graphic designers and TV/Radio Producers for the development and content management of Radio Television Malaysia official Portal, website and live streaming of 4 TV channels, 9 radio channels and video on demand (catch-up TV).

Return to 22nd JAMCO Online International Symposium contents page