22nd JAMCO Online International Symposium
March to December, 2014
The Internet and TV Stations in the Asia-Pacific Region
Korea : Internet Distribution of Programs and Copyright Issues
1. Introduction
Internet distribution of broadcasts from Korean terrestrial stations began at the end of the 1990s. Of Korea's three terrestrial broadcasters, commercial broadcaster SBS was the first, in 1999, to set up an Internet broadcasting station within its terrestrial network. MBC and KBS followed in 2000, when they also launched Internet broadcasting.
Internet distribution by terrestrial broadcasters started relatively early in Korea because the prevailing conditions were favorable—Internet use spread rapidly and terrestrial broadcasters own the copyrights to their programming. Today, 10 years later, Korea has a variety of Internet-based platforms and the number of channels available to viewers has also tremendously increased. The program production environment and the methods of procuring funds for production have also changed substantially, as has broadcasters' profit structure. And, with patterns of program use by viewers changing quite a bit, particularly among young people, terrestrial broadcasters are trying to get the most out of the programs they own and increase profitability. But despite intense competition among media and the dramatic changes in the patterns of young people's viewing, terrestrial broadcasters continue to occupy a dominant position in audiovisual content distribution and are also the main players as far as sales of programs overseas are concerned.
In this paper, I will examine the current state of viewers' use of programs from a number of different angles—terrestrial broadcasters, program copyright issues, the emergence of various platforms, patterns of online program use by viewers, etc.—along with the state of overseas program distribution now and in the future.
2. Program Production and Copyright in Korea
2.1 Producing Programs in Korea
Article 72 of Korea's Broadcast Act provides for the "obligation to outsource" a certain percentage of program production. The reason for adopting this system, in 1991, was to stimulate the development of the audiovisual industry as a whole by changing the vertically integrated media industry structure of the terrestrial broadcasting stations that had long dominated the broadcasting industry and thereby introduce competition in the production market (Korea Creative Content Agency, 2009). An additional aim of this law was to encourage the growth of diverse types of program production companies to meet the needs of a multichannel environment. The 1991 enforcement ordinance of the Broadcast Act stated that the percentage of outsourced production should range from 2 to 20 percent, as announced by the Minister of the Bureau of Public Information, but this has increased to 40 percent today, as announced by the Korea Communications Commission.
The increase in the percentage of outsourced production led to a remarkable increase in the number of production companies, exactly as the Act had intended. The number of independent production companies began to grow quickly in the first half of the 2000s, and by 2008 there were 391 companies. By 2011 there were 628 production companies and 896 in 2012, and the attempt to introduce competition in the audiovisual industry has been moderately successful. The amount spent on outsourced production grew ten-fold from 38 billion won in 1999 to 410.3 billion won in 2011, and the ratio of terrestrial broadcasters' outsourced production, 5.6 percent initially, increased to 45.5 percent, evidence of the growth of the industry (Korea Communications Commission, 2012.) However, many independent production companies find it difficult to do a profitable business, and a number have virtually gone out of business.
In Korea, the cost of producing programs, mainly dramas, is between 200 and 350 million won per episode. When outsourcing production, broadcasters typically pay the production company about 50 percent of that amount. The production company is left to fund the rest by raising money through product placement or private sector sources. The production company also handles casting, selecting actors and scriptwriters for its productions. Although it is the norm for the copyright distribution to be determined based on the ratio of funding or the role played by the various entities, in Korea production companies are forced to sign contracts on terms unfavorable to them because there are only three terrestrial broadcasters in the country that can air the programs they create.
According to a 2013 survey conducted among the 48 member companies of the Korea Independent Productions Association and the Korean Independent Producers Association, 91.7 percent of the copyright for outsourced programming is held by the broadcasters, and 81.3 percent of production companies reported that a broadcaster had forced them to sign a contract giving up their rights entirely. While holders of neighboring rights, such as actors, voice talents, and scriptwriters, receive fees for rebroadcasts, 97.9 percent of production companies said they received no such fees. Furthermore, 66 percent reported that broadcasters' employees intervened in matters relating to production company management (
PD
[producers']
Journal
website, accessed December 8, 2013).
Although the sample surveyed was small, it does reflect a situation in which production companies are, to varying degrees, in a weak position vis-à-vis broadcasters. In other words, although terrestrial broadcasters are now outsourcing much more program production, they remain in the dominant position as far as control of the copyrights to the programs is concerned. And as far as rebroadcast rights are concerned, terrestrial broadcasters typically retain the copyrights, right from the production stage. This is one reason why broadcasters were able to offer programs on online platforms from an early stage.
2.2 Exceptions for Copyrights on Audiovisual Works
Chapter 5 of Korea's Copyright Act
*1
makes exceptions for audiovisual works. The law provides that if the copyright owner authorizes another party to render the copyrighted material as audiovisual material, barring special provisions stating otherwise, it is presumed that such authorization includes the following rights: "to dramatize a work for the production of a cinematographic [audiovisual] work," "to publicly present a cinematographic work for the purpose of public presentation," "to broadcast a cinematographic work for the purpose of broadcasting," "to interactively transmit [deliver] a cinematographic work for the purpose of interactive transmission," "to reproduce and distribute a cinematographic work for its original purpose," and "to use the translation of a cinematographic work in the same way as applied to such cinematographic work."
Table 5, Article 100 (1) of the law states: "If a person, who has agreed with a producer of a cinematographic work to cooperate on the production of a cinematographic work, should obtain the copyright for such cinematographic work, it shall be presumed that the rights necessary for the use of such cinematographic work are transferred to the producer of such cinematographic work, unless provided otherwise." Further, Article 100 (3) states: "As regards the use of a cinematographic work regarding a performer who has agreed with a producer of such cinematographic work to cooperate for the production of such cinematographic work, it shall be presumed that the right of reproduction pursuant to Article 69
*2
, the right of distribution pursuant to Article 70
*3
, the right of broadcasting pursuant to Article 73
*4
, and the right of interactive transmission pursuant to Article 74
*5
are transferred to the producer of such cinematographic work, unless provided otherwise."
Simply put, if applied to broadcast programs, this means that the neighboring-rights holders' rights to programs belong to the broadcaster, "unless provided otherwise." These clauses were introduced to promote the smooth use of audiovisual works, but it has been pointed out that unless special provisions are inserted by the rights-holder, rights to the works could be granted to the broadcaster without the rights-holder's knowledge Park Su-Jin, PD Journal website, article dated March 16, 2010). The clause concerning "transmission" (delivery) was added when the law was revised in 2003. To a certain extent, this clause freed broadcasters offering Internet distribution services from the rights issue.
2.3 Program Copyright Issues
[1] Within Korea
Domestically, there are two major types of problems relating to program rights. One concerns disputes between rights-holders of program production and re-use.
As noted earlier, such disputes arise because contracts between broadcasters and other rights-holders give an unfair advantage to the broadcasters. A related issue reported in the media is that agreements concluded between amateur performers on audition shows (a genre very popular nowadays) and a certain broadcaster contain provisions denying the rights of neighboring rights-holders: this has exposed the conditions relating to benefits apportioned to neighboring rights-holders.
The agreements purportedly give the broadcaster the right to broadcast or deliver the program throughout the world over all media platforms, including the right to create and use secondary copyrighted materials related to the program, such as merchandising, publishing, cable or wireless picture services and so forth. The agreement also contains a provision giving the broadcaster exclusive rights to intellectual property, including copyrights and neighboring copyrights, to all content related to participation in the audition, thus preventing audition contestants from asserting their rights from the very beginning, despite the fact that they are ancillary rights-holders (see OhmyNews, January 15, 2012 article [in Korean]).
Another issue is that dealing with the rights of neighboring rights-holders involved in program production takes time and interferes with exports of the programs
*6
. In particular, when a platform operator not involved when a contract allowing use of the program was signed tries to export the program, issues about program content use often arise. The problems often have to do with the rights-holders to the music or musical effects used in the program, pointing to the need for a better system of permissions for use of music (Chae Ji-Young, 2012, p. 102). Today it's common for actors and other performers to sign contracts relating to distribution before programs are produced, and some sources believe that a similar system of "distribution first, payment [of royalties] later" should be established for the distribution of music in overseas markets (Kim Hwan-Sok, 2012, p. 166).
The second problem concerns illegal distribution of content. Terrestrial broadcasters have been distributing their programs over the Internet for quite some time now, and downloaded content is distributed through a variety of illegal channels, with damage growing rapidly due to illegal content distribution through Webhard services, as well as P2P file sharing and BitTorrent.
Under revisions to the Copyright Act in 2009, special types of online service providers (OSPs) such as Webhard are now required to employ technology to protect copyrights and take technical measures to stop illegal distribution if a rights-holder so requests. But some OSPs have been exploring shifting to legal distribution services recently, and content providers seeking to build multiple sales channels have emerged, so the situation regarding illegal content distribution through Webhard providers could improve.
However, services like BitTorrent have been responsible for more and more damages lately. BitTorrent makes it easy for anyone to download and distribute on a small scale; unlike the illegal copying and distribution activity of the past, this is very difficult to police. Leaking online content produced for IP TV and other online services and turning it into illegal offline content is also becoming more common (Korea Federation of Copyright Organizations/Copyright Protection Center, 2013). Use of illegal content on smart devices is also growing. According to the Korea Copyright Commission, in 2011 14.9 percent of smart device users reported having illegally downloaded and installed fee-charging content applications, a figure which rose to 20.3 percent in 2012. Much of that content was copyrighted games, films, broadcasts and music (Kim Jwa-hyun, 2013, p. 11, re-quoted from the Korea Copyright Commission, 2012). Use of illegal content is likely to diversify further, as the number of smart device
*7
users continues to grow.
[2] Overseas
The main forms of illegal access to Korean audiovisual contents overseas are similar to those in Korea: illegal download sites, Webhard, P2P file sharing, BitTorrent, streaming sites, SNS like blogs, and so forth. In Malaysia, set-top boxes attached to televisions to connect to the Internet and allowing easy access to online sources of illegal content are common (see ENA, p. iii).
Figure1. Illegal Distribution Process for Korean Content in the Three Main Countries*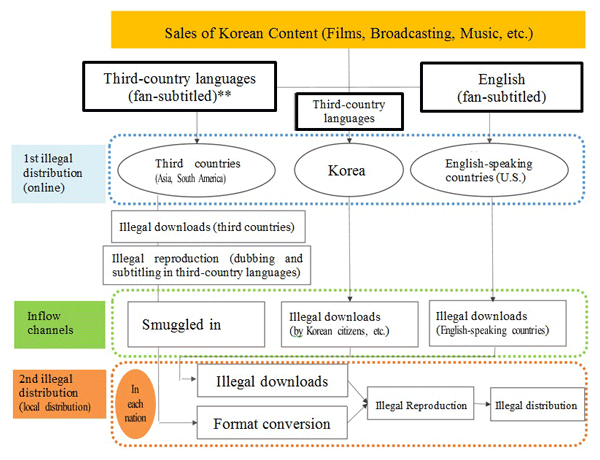 Source: EAN 2012, p. i.
* This refers to Brazil, India and Malaysia, the countries targeted for research in the reference material cited.
** "Fan-subtitled" refers to subtitling of audiovisual products by fans.
Figure 1 is a graphic rendering of the ways in which Korean audiovisual content is reproduced and illegally distributed abroad. It describes whether works illegally distributed online in Korea are recorded onto CDs and other media or downloaded abroad and distributed locally. Recently in the news are services illegally distributing terrestrial broadcasts overseas. In other countries (mainly the U.S.), there are four ways of watching Korean broadcasts legally, as described in Figure 2. Each has drawbacks, whether in terms of price, image quality or time lag after the program has been aired, which made illegal distribution services popular.
The company providing the illegal service converted terrestrial broadcasts into files—using its own equipment—which it provided to Koreans living in the U.S. as streaming video or downloads for $15 per month. Users chose this illegal service over legal means, as described in Figure 2, for its "low price," "ability to see programs soon after they are broadcast" and its "extensive content library covering several broadcasters." As a result, illegally downloaded Korean programs proliferated not only in the U.S. and Canada but in Mexico and other countries as well. Ultimately, this service was prosecuted by the Korean authorities for infringing on simultaneous broadcast and reproduction rights because it charged the general public to watch programs without having a contract with the terrestrial broadcasters. Many users did not realize that they were using an illegal service, because they had paid fees for the service (Korean Creative Content Agency website, accessed November 25, 2013).
Figure 2. Sources of Viewing Korean Broadcasts Abroad (Mainly the U.S.)
Sources
Advantages, Disadvantages
Real-time viewing on broadcaster's website

Drawbacks such as interruptions, poor image quality, etc.
Can be viewed immediately

Redistribution service from broadcasters' websites

50 to 70 yen per viewing
Available for around 14,000 yen for 360 days or around 1,500 yen for 30 days, using an entrance pass
Fee-charging, expensive if contracted for with all broadcasters

DVD and video rentals

Access to content may take up to one month
Fewer physical outlets due to more illegal downloads

Korean-language channels in the U.S. *

Access to content may be delayed 12 hours to one week

Source: Dong-A Ilbo; accessed November 25.
* Fee-charging service available through Korean cable TV channels in the U.S.
As this indicates, legally distributed material can shorten the time needed for access to illegally distributed content abroad. On the other hand, if a system could be devised through which legal services could offer service similar to that which attracts users to illegally distributed content, users could be encouraged to choose legal services.
3. Program Exports by Terrestrial Broadcasters
In 2011, Korea's terrestrial broadcasters exported 56,372 programs with a total value of $189.86 million, to Japan, China, the U.S., and elsewhere. This sum includes funds to support broadcasts to Korean living abroad, video and DVD sales, time block
*8
and format sales, and broadcasting rights. Broken down by broadcaster, sales were as follows: KBS led with sales of $61.2 million, followed by MBC with $50.07 million, and SBS with $45.61 million
*9
Figure 3 shows that 83.7 percent of sales were to Asian countries, of which exports to Japan accounted for a high 59.9 percent (see p. 53, Korea Communications Commission 2012).
Figure 3. Imports/Exports of Terrestrial Broadcasts from/to Major Destinations (2011)
Unit: Thousand dollars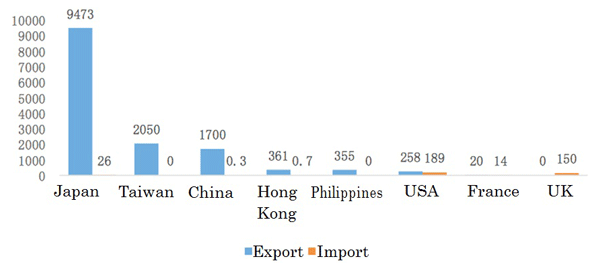 Source: Korea Communications Commission 2012, p. 53.
By genre, dramas accounted for 94.9 percent of export value, followed by entertainment programs (3.8 percent), and documentaries (0.8 percent). Dramas were far and away the most popular type of content exported.
Few statistics for exports of VOD rights were available. But in the case of KBS, which began exporting VOD rights in 2002, one article stated that its exports of VOD rights were going well and had reached $14 million in 2011 (Hankyung website, accessed December 13, 2013). For MBC, meanwhile, sales of rights by category were as described in Figure 4, and it is clear that the number of rights sales for the categories that include VOD is rising year by year.
Figure 4. Transactions, by Category of Rights (2005–2009)
Unit: Transaction/%
Type of Rights
2005
2006
2007
2008
2009 *
TV only
208
231
157
191
74
54.5%
66.2%
55.7%
52.0%
62.2%
Video and DVD
105
36
38
39
14
27.5%
10.3%
13.5%
10.6%
11.8%
TV and Video (DVD)
37
65
62
40
11
9.7%
18.6%
22.0%
10.9%
9.2%
Publishing
19
5
4
6
1
5.0%
1.4%
1.4%
1.6%
0.8%
VOD and IP TV
7
4
11
52
10
1.8%
1.1%
3.9%
14.2%
8.4%
TV, DVD and VOD
3
4
5
17
3
0.8%
1.1%
1.8%
4.6%
2.5%
Other
3
4
5
22
6
0.8%
1.1%
1.8%
6.0%
5.0%
Total
382(25.5)
349(23.3)
282(18.8)
367(24.5)
119(7.9)
100%
100%
100%
100%
100%
Source: Lee Mun-hang 2012, p. 247.
* Figures for 2009 are up to April only, and therefore figures appear smaller in comparison to those for other years.
4. Internet Distribution by Broadcasters
Korean terrestrial broadcasters began distributing content over the Internet nearly 14 years ago. SBS was the first to offer this service, in 1999, followed by MBC and KBS in 2000. Programs were initially offered free of charge, but all three networks introduced fee-charging services between 2001 and 2003. Figure 5 shows Internet distribution of programs by the three terrestrial networks.
Figure 5. Internet Distribution of Programs by Broadcasters
Category
KBS *10
MBC
SBS
Name of service
KBS, Conpia
iMBC
SBS
Redistribution (in real time)
Simultaneous redistribution within Korea only.
K Media Evolution (viewable on Player K dedicated players, for domestic use only).
Simultaneous redistribution within Korea only.
On-air service.
Simultaneous redistribution within Korea only.
On-air service.
Viewing method for missed programs
VOD, streaming (ordinary image quality)
VOD, streaming (high-definition, ordinary image quality)
VOD, streaming (high-definition, ordinary image quality)
Types of programs missed
Drama, entertainment, cultural, documentary, etc.
On K Media Evolution, all KBS content except drama and entertainment
Drama, documentary, entertainment, children's, news reporting and other network content. Also provides a service for films, music, games, etc.
Drama, entertainment, educational, etc.
Available to
Korean citizens and foreign residents (on presentation of ID card)
Korean citizens and foreign residents (on presentation of ID card)
Korean citizens and foreign residents (on presentation of ID card)
Availability of foreign programs
Not available on KBS or K Media Evolution.
Films available on Conpia *
Yes
No
Other
Until recently, programs had been available free of charge through cable TV and IP TV one week after airing, but from August 2013 the blackout period was extended to three weeks.
A site offering programs, mainly dramas, to Japan and Japanese-language service was established through MBC Japan.
Joint services ConTing
Joint services
ConTing


A legal download site jointly established by KBSi, iMBC, and SBSi, subsidiaries of terrestrial broadcasters. In addition to content from the three broadcasters, the site is attempting to invigorate legal downloads by tying up with EBS (educational broadcasting services) and movie content services.
The service was inaugurated in August 2009. Charges are 700 won** per program and 1,000 to 3,500 won per film viewed.
ConTing offers content outside the Digital Rights Management framework. Content downloaded through ConTing can be viewed on any device.

Sources: Prepared from information on broadcasters' websites and Chae Ji-Young 2012, pp. 38 to 43.
http://www.conpia.com, http://www.conting.com/, http://www.imbc.com/, http://www.kbsmedia.co.kr, http://k.kbs.co.kr/, http://www.mbcjapan.co.jp/, http://vod.sbs.co.kr/sw13/review_index.jsp, http://vod.sbs.co.kr/onair/onair_index.jsp?Channel=SBS
* Foreign films, dramas and variety programs. Content for which rights have been obtained is offered through broadcasters' websites as VOD service, not by redistribution.
** 1 yen =10.22 won (as of December 9, 2013)
Among the three terrestrial broadcasters, iMBC is concentrating on distributing programs to Japan, which it does through a dedicated site offering online service for Japan. It has a program app for smartphones (some popular dramas only), and also handles direct transactions with users viewing programs on smartphones. In a business deal valued at $10.52 million, iMBC also recently contracted with iQIYI, a subsidiary of Baidu, China's largest Web portal site, to supply programs. Under that two-year agreement, iMBC will be the exclusive supplier of MBC Broadcasting's programs, starting in 2014. This is a major deal, equivalent to 23 percent of iMBC's sales the previous year (
Money Today News
article dated September 30, 2013, accessed December 8, 2013).
iMBC also concluded an agreement with Web portal site Naver to supply programs for the Korean domestic market, offering a download service for approximately 4,000 MBC programs by 2014. Its other mainly online service offerings will be followed with interest. (iMBC website, accessed December 8, 2013). Sales of the Contents Division of SBS Contents Hub, which markets rights to SBS programs in Korea and overseas, have been growing steadily over the past three years, from 72 billion won in 2010 to 92.3 billion won in 2011 and 193.5 billion won in 2012.
Figure 6 below describes other redistribution services via platforms operated by broadcasters or entertainment companies.
Figure 6. Redistribution Services on Other Platforms
Name of Service
Description
Pooq
Operated by Contents Alliance Platform *

Service inaugurated July 2012
Contents from terrestrial broadcasters and their affiliates
Real time, redistribution, streaming
Accessible on various devices
1,000 won per piece
Aims to become the Hulu of Korea
Due to copyright issues, service available only to people residing in Korea

Tving


Operated by CJ Hellovision

Service inaugurated June 2010
Offers 200 domestic channels, including terrestrial broadcasts, cable TV, films, sports, etc. and 50,000 programs, as a paid VOD service
Real time, redistribution, streaming, downloads
Accessible on various devices
Charges are 700 won per view for broadcast programs, and between 1,000 to 4,000 won per film viewed
Also offers 14 overseas channels viewable exclusively on Tving **
Due to copyright issues, service available mainly to people residing in Korea (some content is also available in overseas markets)

Mnet


Operated by CJ E&M

Service inaugurated 2005
Offers music channels, distribution of CDs, tapes, etc., information about events and advance ticket sales, as well as music-related content
Real time, streaming, downloads
For music, 600 won per piece; for programs, 700–1,500 won per view
Formed Mnet Japan in 2005 and entered the Japanese market; formed Mnet US in 2010, where it broadcasts 22 programs
Partnered with CCTV to enter the Chinese market and supplies Korean content like "M Countdown," "School of Rock (楽)", offered in prime time. Together with major portal sites, offers events and real time broadcasts.

Source: Prepared based on information from Chae Ji-Young 2012, pp. 38-40.
http://www.mnet.com、http://www.pooq.co.kr
* The Contents Alliance Platform is a joint venture set up by MBC and SBS. KBS is not a founder but provides content.
** For example, a channel that plays French club music, a sports-centered entertainment channel, a Singapore-based Asian food channel, a U.K. children's channel, or a channel airing Indian entertainment and films.
While services through the broadcasters' websites are also available to foreigners outside Korea, Pooq and Tving started to offer their services only to people residing in Korea. Their operators intend to expand these services abroad, but whether the venture is successful or not remains to be seen.
Tving once entered the market in eight countries and regions in a tie-up with Yahoo, including Singapore, Taiwan, Malaysia and Hong Kong, but stopped providing some services citing the reason that its one-year contract with Yahoo expired. But the real reason was that Tving, having tried to export the Tving platform when it first tied up with Yahoo, ended up simply providing content through overseas portal sites rather than being a platform. In the future, Tving intends to improve its services and aim for global markets (etnews.com article, accessed December 20, 2013). Pooq also currently shuts out overseas IP address but is exploring ways of entering overseas markets in the future.
5. Content Distributed on Digital Cable TV, IP TV and Smart TV
Korea's terrestrial broadcasters are not the only ones offering online services for broadcast programs. Cable TV, IP TV, smart TV, and n-screen, a relatively new entrant providing programming for mobile devices, are also well established.
IP TV services and digital cable TV redistribute terrestrial broadcasts, paying
*11
the terrestrial broadcasters for their redistributed material using the cost per sales for each subscriber to their paid services. Subscribers can view programs free of charge on a VOD basis three weeks after they have aired. Programs had originally been available for free viewing one week after airing, but this was changed to three weeks, beginning in August 2013, at the request of the terrestrial broadcasters. Since subscribers must pay a fee if they want to see a program before the free viewing period starts, the extension of the blackout period is expected to contribute to the increase in VOD sales.
The smart TV industry is also beefing up its efforts to obtain content. LG Electronics, for example, entered into a contract with KBS, MBC and others to obtain contents, and in return for offering subscribers a six-month free viewing VOD period, purportedly paid the broadcasters 1 billion won (Kim Gwang-Suk 2012, p. 62). Samsung Smart TV provides existing program broadcasting services like Pooq and Tving and has also developed and produced its own repertoire of interactive entertainment and educational content for children. Samsung Smart TV recently announced that it would offer a Vienna Opera app available only through its devices, starting up a service providing operas and ballet performances, with trilingual subtitles in Korean, English, and German, in real time and VOD (
Financial News
, October 17, 2013). Numerous content-providing entities are trying to obtain a broad variety of content, hoping to differentiate themselves from competitors, and it is programs from terrestrial broadcasters that are the most basic service they must provide.
6. Viewers' Usage and Perceptions
In 2012, the Korea Information Society Development Institute (KISDI) conducted a survey of the media or devices through which viewers watch terrestrial broadcasters' programs. According to this survey, 84.8 percent of respondents viewed programs in real time and 2.2 percent used VOD, indicating that real time viewing is the dominant mode of access. Broken down by age and gender (Figure 7 below), VOD usage rate is higher among younger people, and length of average daily VOD viewing time increases in direct proportion to age.
Figure 7. Rate of VOD Use and Length of Viewing Time for Terrestrial TV Programs, by Age and Gender
No. of VOD users
VOD Usage Rate (1) *
VOD Viewing Time
Age
10s and under
1,799
132
7.3
1 hr 26 min
20s
1,451
138
9.5
1 hr 13 min
30s
1,758
132
7.5
1 hr 55 min
40s
1,872
122
6.5
1 hr 57 min
50s and up
3,439
155
4.4
2 hr 28 min
Gender
Male
5,148
331
6.4
1 hr 41 min
Female
5,171
348
6.7
2 hr 7 min
Source: Kim Yun-Hwa 2013, p. 12.
* VOD usage rate was based on all respondents in each age group. Viewing time was based on average length of viewing by users in each age group.
These findings mean that whereas younger people tend to use VOD now because of difficulties that older people may have in using the technology, once that hurdle is overcome, older people may spend more time watching VOD content than younger age groups. When the interface for paying for programs on IP TV and digital cable TV becomes easier to use, VOD use is likely to grow among different age groups. Cable TV (including existing analog subscribers) services have over five times more subscribers than IP TV services, but the VOD usage rate on IP TV was equivalent to 57 percent of the VOD usage rate on cable TV, demonstrating that IP TV subscribers are more enthusiastic users of VOD.
7. Conclusion
Smart devices—smartphones, smart TVs, tablet PCs and so forth—are proliferating on a global scale, leading broadcast program copyright holders in Korea to explore new ways of distributing content worldwide. In addition to their conventional per-program offline sales, broadcasters are showing stronger interest in online services in the global market, which promise much higher revenues.
Even before the days of online distribution, broadcasters in Korea commonly held the rights to program usage, allowing them to test the feasibility of online services from early on. Terrestrial broadcasters started up their own online services, but in order to respond to new competition and a changing media environment they later began offering a greater range of exclusive services and even created joint platforms. But when domestic platforms began expanding into global markets, copyright issues became the biggest hurdle. For one thing, standards differ from country to country. The fact that copyrights are becoming more and more of an impediment to distribution even within the domestic market is also a problem.
Ever since the emergence of the "K-wave" Korean entertainment phenomenon, more programs are produced with an eye to global distribution right from the start: therefore, copyright issues involving performers are frequently addressed in advance. But in some instances, in order to get permissions for export or foreign distribution, copyright issues are handled on a case-by-case basis. Although handling of rights issues for foreign and online distribution goes more smoothly compared to the situation with Japanese terrestrial broadcasters, many obstacles remain, among them copyrights for music used in programs and how copyrights are assigned in the case of platforms, which are not directly involved in program production, when they enter overseas markets.
Bibliography
1. Documents (Reports, Academic Papers)
BIR Research Group. 2012. "Trends in the Broadcasting and Telecommunications Industry and Development Strategies for New Technologies[Korean], BIR, 2012.
Chae Ji-Young. 2012. "Research on Ways of Expanding Content Exports through Domestic Platforms[Korean]", Korea Culture and Tourism Policy Institute, 2012.
Korea Copyright Commission. 2012. "Research on the State of Smart Device-related Copyright Infringement and Channels Employed[Korean]", Korea Copyright Commission 2012.
Korean Ministry of Culture, Sports and Tourism and Korea Copyright Commission. 2013. "2012 White Paper on Copyrights [Korean]", Korean Ministry of Culture, Sports, and Tourism and Korea Copyright Commission, 2013.
EAN Co. Ltd. 2012. "Survey on Distribution and Use of Korean Copyrighted Materials in Countries where Korean Media Offerings are Popular[Korean]", Copyright Council of Korea, 2012.
Korea Federation of Copyright Organizations/Copyright Protection Center. 2013. "2013 Annual Report on Copyright Protection (Summary)[Korean]", Korea Federation of Copyright Organizations/Copyright Protection Center, 2013.
Lee Mun-hang. 2012. "Research on the Characteristics of Overseas Sales of Terrestrial Broadcasters' Programs, Focusing on MBC [Korean]", [Journal of Korean Speech Information] 59 (Autumn 2012), Korean Association for Communication and Information Studies.
Kim Gwang-Suk. 2012. "Research on Competition in Distribution of Broadcast Contents in a Smart Media Environment and Ways of Resolving Copyright Disputes [Japanese]", Ph. D. dissertation, Chuo University, Japan.
Kim Hyon-Mi. 2010. "How Copyright Organizations Are Dealing with the Illegal Webhard Service Now and Issues Faced [Korean]", Copyright Technology Trends Biweekly [Korean], 4th week of December" 2010. Technology Research Institute, Korea Copyright Commission.
Kim Jwa-hyun. 2013. "C Story," July 2013 issue, Copyright Protection Center.
Kim Yun-Hwa. 2013. "Analysis of Viewing Modes for Terrestrial TV Broadcast Programs: A Comparison of Real Time and VOD Viewing Modes[Korean]", KISDI STAT Report, 13-05, Korea Information Society Development Institute.
Korea Communications Commission. 2012. Report on Conditions in the Broadcasting Industry in 2012 [Korean], Korea Communications Commission, 2012.
Korea Creative Contents Agency. 2009. Report on 2008 Survey of Independent Production Companies [Korean], Korea Creative Contents Agency, 2009.
2. Internet Sites (Newspaper Articles, Internet Articles, etc.)
脚注
For the English text of this law, see http://en.wikisource.org/wiki/Copyright_Act_of_South_Korea *1


(Right of Reproduction) Performers shall have the right to reproduce their performances. *2


(Right of Distribution) Performers shall have the right to distribute the reproduction of their performances unless the reproduction of the performance is offered for transaction by means of selling, etc. with the authorization of the performer. *3


(Right of Broadcasting of Performances) Performers shall have the right to broadcast their performances, except those recorded with the authorization of performers. *4


(Right of Interactive Transmission) Performers shall have the right to transmit their works in an interactive manner. *5


Until now, many rights-holders involved in program production in Korea had shown little interest in protecting their rights, since the income from secondary or tertiary residuals had been so scant. Now, however, they have become more aware of their rights given the popularity of Korean creative content in many countries. *6


Smart devices refer to smartphones, tablets, smart TVs and other such terminals.*7


Time block sales refers to selling a time segment to broadcasters overseas to air only programs from domestic [Korean] broadcasters in that segment. (BIR Research Group 2012, p. 254) *8


Excludes funding to support broadcasts to Korean living abroad, video and DVD sales, and time block and format sales. *9


KBS has three sites offering KBS content: KBS, Conpia, and K Media Evolution. On its main website, KBS offers program synopses, viewing of missed programs, and live broadcasts. K Media Evolution has been offering drama, variety, current affairs, and educational programs aired on KBS since July 2011. Player K, a dedicated device, is needed for using the K Media Evolution service. Once Player K is installed, content can be accessed through smartphones, tablets, and various other devices. K Media Evolution also provides information about programs currently aired, in magazine format. Conpia is a site created when KBS switched from a free Internet program service through its own website to paid services. The major difference between Conpia and the two services above is that Conpia offers no live broadcasts or news programs but also provides KBS content from the past and overseas contents. *10


The Cost Per Subscriber (CPS) currently agreed upon between the terrestrial broadcasters and paid broadcasting service providers is 280 won. *11
*Links are for posted items. It is possible that some items are not currently available or are being edited.
Milim Kim
Researcher, Institute for Media and Communications Research, Keio University
Ph.D., Keio University, Graduate School of Media and Governance.

Formerly a member of policy research team of the Korea Creative Content Agency, Korean Film Promotion Committee and Korea Culture and Tourism Institute Japan correspondent, she currently holds positions as part-time lecturer at Keio University, Rikkyo University and Senshu University; researcher at the Keio University Institute for Media and Communications Research; and special fellow at the Ministry of Internal Affairs Institute for Information and Communications Policy.

Specializing in the field of international communication, content policy, broadcasting and telecommunications, her recent publication include The Growth and International Distribution of the Korean Video Content Industry –from Regulation to Support Policy [in Japanese] (Keio University Press, 2013), and "(Chapter 7) Terrestrial TV and Cable TV in Korea" in Sugaya, M. (eds) Regional Media Power [in Japanese] (Chuokeizai-sha, 2014). Received Researcher's Award from Society of Public Utility Economics in 2014.


Return to 22nd JAMCO Online International Symposium contents page