22nd JAMCO Online International Symposium
March to December, 2014
The Internet and TV Stations in the Asia-Pacific Region
Internet Broadcast Status in the Pacific Island Nations
1. Background
Many developing countries are not in a position to avail the benefits of information technology because of their inadequate broadband infrastructure. The narrowing of the digital divide
*1
remains a key challenge in national development. The broadband gap due to digital divide
*2
is turning to be a handicap for businesses and inhabitants in many LDCs. As the world becomes increasingly digital, the simple connectivity is no longer enough, and broadband must be within reach of people, businesses and governments. The delay in broadband expansion affecting logistics supplies, economic and social activities. Therefore it is necessary to make broadband available to the inhabitants at reasonable cost empowering them to enhance their activities.
During the 1990's music gone online
*3
and these days the visual media is going to follow the footprint as what the music has created. Experts have talked about the combination and convergence between broadcast and broadband as revolutionary. Unfortunately, we are still watching almost the same content as we did 10 years ago because the broadband could not penetrate in developing nations as predicted by experts and technologists. In Japan music became online in 1999, and since then new style businesses came into picture. The visual media is learning from the music industry and gradually started going online…
Live sports are the biggest audience producer compared with episodic television or featured films, but the reality is that the people are watching the very similar contents today.
Sports are the dominant factor in the visual media business whether talking about the World Cup soccer, American football, rugby or the Olympic Games. Most typical TV program
*4
of 'Fiji One TV' on a day is shown in Table 1.
Table1. Fiji One TV Program of January 25, 2014
| | |
| --- | --- |
| Time | TV Show |
| 6:00 | Rage: Chart Hits |
| 7:30 | Brandstar Shop on TV |
| 8:00 | Kirtan Sangrah |
| 9:00 | Jharokha (Replay) |
| 9:30 | Music Masti (Replay) |
| 10:30 | Noda Gauna (Replay) |
| 11:00 | Close Up (Replay) |
| 11:30 | HSBC Port Elizabeth Highlights. |
| 11:55 | 2014 USA Sevens Day 1 (Live!!) |
| 12:00 | South Africa vs. Wales |
| 12:22 | Kenya vs. Canada |
| 12:44 | New Zealand vs. Australia |
| 13:06 | Fiji vs. Scotland |
| 13:28 | Samoa vs. England |
| 13:50 | Portugal vs. Uruguay |
| | |
| --- | --- |
| Time | TV Show |
| 14:12 | Argentina vs United States |
| 14:34 | France vs. Spain |
| 14:56 | South Africa vs. Canada |
| 15:18 | Kenya vs. Wales |
| 15:40 | New Zealand vs. Scotland |
| 16:02 | Fiji vs. Australia |
| 16:24 | Samoa vs. Uruguay |
| 16:46 | Portugal vs. England |
| 17:08 | Argentina vs. Spain |
| 17:30 | France vs. United States |
| 18:00 | Fiji One News |
| 18:30 | The Groove Thang |
| 19:30 | Movie:Remember The Titans (PG) |
| 21:30 | 2014 USA Sevens Day 1 (Replay) |
| 5:30 | Rush TV |
2. Internet Broadcasting of Radio and TV programs in Pacific Island Nations
Pacific Island Nations, also known as Oceania region comprise of countries with a combination of small islands having vast distances between islands. Most of them are with sparse populations and conditions vary between the smallest and the largest countries in the region. Network infrastructure is not developed compared with other developing nations in continental regions.
Nowadays the Internet is a dominant means of communication where the IPTV market is significant with a better opportunity in the telecom industry growth. To transmit TV programs over the Internet, availability of the program content at affordable cost is very important to all television systems. The existing Internet and data network has to meet the requirements for TV business to grow as in the developing nations. A regular video program needs at least 512Kbps, and a HDTV net broadcast program needs at least 3Mbps for smooth viewing. Considering the network speed and the available services in Island nations of Oceania, only limited locations of major cities are served. Along with the availability, and the introduction of services with a cost within the reach of people, gradual increase in the audience is being observed. Access to broadband at home is the most effective way of bringing people online. At home, all household members can have access no matter whether young or old, go to work, or go to school. Broadband access can also be via fixed or mobile networks, and can cover the Internet at home, at work, in school, in Internet cafes, in public places, and so to say anywhere any time. Broadcast audio program
*5
or simultaneous audio broadcast programs are available in Oceania, over the Internet as shown
*2
in Table 2. However due to bandwidth limitations many of them are interrupted during streaming.
When broadcast and broadband services merge over one platform, new services will emerge. In order to expand such services, Telecom., and broadcast organizations as well as regulators has to come up with active determination and aggressive participation to expand broadband networks in small islands even having very few inhabitants.
3. Facts and figures of the South Pacific Island Nations
The South Pacific region also known as Oceania is located between 140E to 140W, and between 20N to 30S, 9000 km east to west, and 5000 km north to south. There are about 25 countries and territories, and each of them comprise of a combination of small islands having vast distances within them with sparse populations.
Figure1: Micronesia, Melanesia and Polynesia zones of Oceania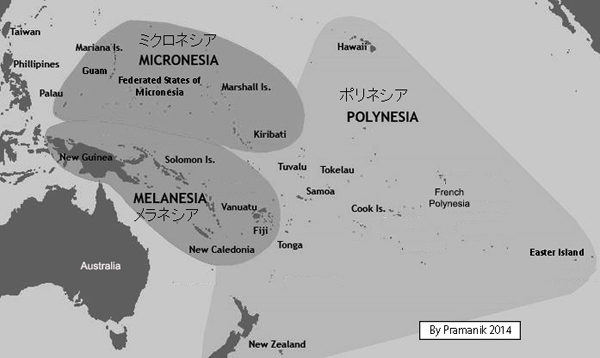 Due to geographical locations with climatic conditions, these countries are extremely vulnerable to climate change and are strongly affected by natural hazards limiting infrastructure development, economic and social advancement. The islands in Oceania are divided in three zones: Melanesia, Micronesia, and Polynesia as shown in figure 1. The countrywise data as available in various sources is shown
*6
in Table 2. In 2012, the 6th Pacific Island states leaders meeting
*7
PALM-6 was held in Nago city, Okinawa Japan where the leaders agreed on Response to Natural Disasters by improving the Pacific Tsunami Warning and Mitigation System contributing to the development of catastrophe risk insurance. They also expressed their intention to push forward collaborative efforts with donor countries in the area of disaster prevention. The Pacific Island leaders stated that the impact of climate change was indeed a serious problem that threatened their national security, and given the fact that the Pacific Island Countries were the most vulnerable to climate change, their position was that the international community should work on this issue with the utmost priority. With the PALM-6 declarations, the required ICT services that came into picture were: mass education, training, video conference, e-Govt., e-health, disaster management, Internet broadcasting, community address over network, and many more. In order to achieve these goals, broadband infrastructure development is considered a priority.
Table3. Country wise data of Oceania regionL5*6
| | | |
| --- | --- | --- |
| Oceania Island Nations | Land Area (sq.km) | Population (2009-13) |
| Cook Islands | 236 | 11,870 |
| Fiji | 18,274 | 875,983 |
| Kiribati | 811 | 12,850 |
| Marshal Islands | 236 | 64,522 |
| Micronesia (FSM) | 702 | 107,434 |
| Nauru | 21 | 14,019 |
| Papua New Guinea | 462,840 | 6,431,902 |
| Niue | 260 | 1,398 |
| Palau | 459 | 20,796 |
| Samoa | 2,831 | 192,998 |
| Solomon Islands | 28,896 | 95,613 |
| Tokelau | 12 | 1,416 |
| Tonga | 747 | 120,898 |
| Tuvalu | 26 | 12,373 |
| Vanuatu | 2,189 | 218,519 |
| American Samoa | 199 | 65,628 |
| Guam | 544 | 180,865 |
| Saipan | 464 | 51,484 |
| French Polynesia | 236 | 287,032 |
| New Caledonia | 18,575 | 27,436 |
| Wallis Futuna | 142 | 15,398 |
| Grand Total | 538,700 | 8,810,434 |
The University of the South Pacific (USP) is an ICT Pioneer in the Pacific region, in education and basic ICT services for its presence in the 12 member countries i.e. Cook Islands, Fiji, Kiribati, Marshal Islands, Nauru, Niue, Samoa, Solomon Islands, Tokelau, Tonga, Tuvalu, and Vanuatu. Since its establishment
*8
in 1969, it is offering tertiary education for its member states. At present, it caters over 20,000 students, of which about a half is studying at remote campuses and centers availing distance education mode. The distance education network, USPNet was originally upgraded to a satellite based system in the year 2000 with a combination of grants from Japan, Australia and New Zealand. Since 2008 over a period of five years, the Japan Pacific ICT Center
*9
complex was constructed with a grant aid from the Japanese ODA and during this period the USPNet was completely refurbished adding new cutting edge technology based facilities.
Photo1: The Japan-Pacific ICT Centre complex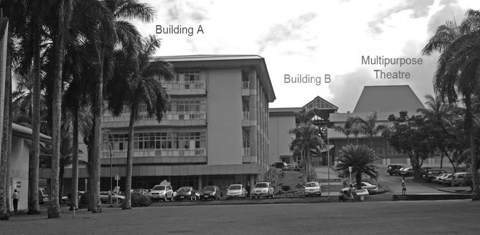 The complex consists of buildings A and B with a total floor space 6,500 m
2
, and the multipurpose theater
10
having 315 seating capacity. There are international optical fiber connection, and high speed broadband with most modern ICT facilities to serve research labs, student labs, video conference rooms, international ICT certification center and related offices including international organizations like, ITU, PITA, PIRRC, PacCERT.
In 2012, the Japan-Pacific ICT Centre at USP was inaugurated as the Centre of Excellence in ICT enhancing networking linkage with other nations. The launching of this centre has great social impact in the region promoting further cooperation between academia and industry in regional ICT development. The USPNet is enhanced
*11
with additional Ku-band satellite system enabling the network to operate with smaller parabola antenna expanding the network for additional need in network applications. Subject to regulatory conditions, this network could be utilized as a broadband
*12
backbone to access the Internet with minimum additional investment enhancing ICT education in elementary and secondary schools of the USP member countries.
4. Broadband Services Fiji Example
The largest country with biggest landmass in the South Pacific is Fiji. With its location in the middle of the area, it has advantages over many: such as aviation routes, logistics as well as inter-continental submarine fiber routings. It has submarine optical fiber connection since the year 2000, connecting to Australia and to the world enabling better communication. Whether it is Fiji, Tonga or any other emerging economy, rural area or underserved area, some of the issues are similar, who will own the network, who will pay for it and maintain it, what services will be offered and how will a broadband system be developed to encourage expansion. While broadband is becoming more affordable worldwide, with prices falling everywhere, it still remains unaffordable in many parts of the developing world, especially in small Island Nations. The price of broadband access plays a critical role in broadband expansion. Current pricing of data is based on fixed service broadband, but policy should be adjusted to make mobile broadband data within the reach of end users.
Telecom Fiji, Vodafone, Kidanet and Unwired Fiji are the four major broadband service providers in Fiji. Telecom Fiji has the biggest number of residential and business customers through wired and wireless connections. However, most of the services are limited to the major cities and towns of Fiji. It is under the management of ATH Limited
*13
who also owns Telecom Fiji Limited, Vodaphone Fiji as well as Fintel Fiji limited. Broadband Services in Fiji are briefly described below as typical examples.
4.1 Telecom Fiji Limited


Telecom Fiji Limited is one of the largest facilities-based providers of communication and networking services in Fiji. It provides full telecom services for businesses and residents with technology solutions suitable for their needs. Using modern facilities, it delivers broadband advanced services than any other communications company.



4.2 Vodafone Fiji


Vodafone Fiji is the largest mobile service provider in Fiji including mobile phones and Internet services. Vodafone has a number of items in their service menu. The service name is FlashNet and there are three steps of charging mechanism. Upon reaching maximum data cap on any of the subscribed Broadband plans, FlashNet account set to be barred. If the subscribers need more data they have to upgrade to a higher cap plan paying more.



4.3 Unwired Fiji Ltd.


Unwired Fiji is a private Fijian registered company dedicated to building a nationwide, telecommunications network offering internet services. Unwired Fiji Limited launched its services in 2005 as the first wireless internet service provider in Fiji and later Digicel took control of the company. It provides internet services using 4G WIMAX technology. The Unwired Fiji provides services with data speeds 128, 256,512, 1024, 2048 Kbps, and 8Mbps. Coverage area of Unwired limited include major cities and towns such as the greater Suva, Lami and Nausori, Nadi, Lautoka and Sigatoka.



4.4 Fintel Fiji


KIDANET's Internet access connects at broadband speeds of up to 2Mbps (WIMAX). Each plan has the same level of quality, service and reliability. KIDANET provides dedicated and shared Internet access services for home users, business clients and educational entities. Prepaid service is also provided with no annual contracts or monthly bills. Prepay Internet service gives more flexibility for customers as and when service is needed.
In this section broadband in Fiji is mentioned. However there are countries like, Vanuatu, Samoa, and Papua New Guinea where considerable achievement in Broadband connection has been noticed. In those countries also, the services are mostly in the cities and densely populates locations similar to Fiji.
5. Broadband network is essential for simultaneous broadcast
Simultaneous broadcasting of TV programs over the Internet requires satisfactory network resources. Penetration of broadband services to rural areas and small Islands are yet to come causing difficulties in timely disseminating information, and transmitting entertainment and business application to the users.
The arrival of broadband Internet brings new era to information delivery mode from broadcast to online models, creating direct-to-consumer opportunities for content producers that the usual broadcasting system could not offer.
Figure: Major Submarine Fiber Optic Cable network in Oceania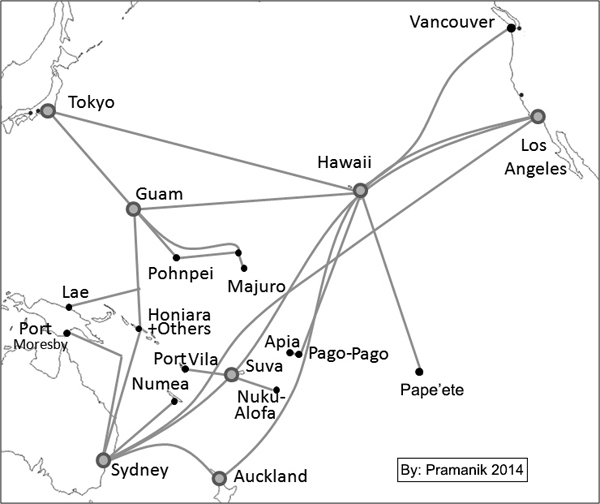 The ability to provide contents direct to the end users leads the entire infrastructure to create online communities, deliver and monetize contents, and care for customers in one scalable platform. As digital audiences are queuing online, providers are coordinating to arm media companies to equip with identical technology and services. The contents businesses want to know about their audiences as much as possible in order to localize their services. Many countries in the region have access to Submarine Fiber Cable to connect their gateway to the world networks. These fibers are connected to the nation's capital and or large cities. The map
*14
shown in Figure 2 is the major international submarine Cable network in the region.
However, most of the cables landings are at major locations, and not connected to remote islands or small villages. Considering confidentiality and security, locations rather than actual addresses of the landing points are made public. The names of the approximate locations and countries are given in Table 4.
Table4. Outline of Cable Landing Locations
Country
Cable Landing
Point
Australia
Sydney
New Zealand
Auckland
Papua New Guinea
Port Moresby
Papua new Guinea
Lae
Solomon Islands
Honiara
Vanuatu
Port Vila
Micronesia(FSM)
Pohnpei
Marshal Islands
Majuro
Fiji
Suva
Country
Cable Landing
Point
Samoa
Apia
Tonga
Nuku Alofa
American Samoa
Pago Pago
French Polynesia
Tahiti
New Caledonia
Numea
USA
Hawaii
USA
Guam
USA
Los Angeles
Japan
Tokyo
Broadband access enables users to access the Internet and Internet based services at significantly higher speeds than those available through low speed Internet access. Broadband speeds vary significantly from 128 kbps to 30 Mbps depending on the type and level of service. Recent services available
*15
with VDSL or FTTH for residential consumers are from 100 Mbps up to few Gbps
*16
. However, many of the Island Nations do not have adequate number of broadband connections. Most recent data as available in ITU documents
*17
is shown in Table 5. Cost of broadband services is fairly high in the countries that do not have fiber connections.
Table5. Broadband connections in Island States
Country or area
Fixed subscriptions
Mobile subscriptions
Number
World Rank
Number
World Rank
New Caledonia
48,165
114
6,033
141
French Polynesia
39,878
118
15,971
135
Fiji
13,734
142
96,277
118
Papua New Guinea
8,077
153
–
–
Solomon Islands
2,198
170
36,969
128
Tonga
1,518
173
–
–
Wallis and Futuna
1,363
176
–
–
Kiribati
993
181
–
–
Palau
621
184
–
–
Tuvalu
592
185
–
–
Nauru
–
–
904
145
6. Broadband for Internet TV and its prospects
In most of the countries of Oceania 128kbps connection is mainly known as broadband that are used to feed Wi-Fi Hot-spots where it is difficult to launch a typical website with pictures and graphics, and in many cases freezing is experienced. Streaming is difficult and almost impossible to view a video clip using such a slow network, except low quality news feeds. Nowadays broadband, gigabit network, optical fiber, G4, LTE is widely known in many countries but it is not a very significant topic in the Island nations.
Mobile phones are available and popular in urban areas but services are very limited in remote islands. Smart phones are available but due to the high cost they are affordable to only certain level of consumers. SMS, text messaging and other types of text based communication are very popular with mobile phones whereas watching video clips or online TV broadcast programs are not popular due to high network costs. Although it varies from country to country, majority of the mobile phones are prepaid customers and therefore they are not used for long duration to receive services such as video clips or broadcast programs.
A number of countries in the region offer simultaneous streaming services of radio programs. Most of these programs are available within the country where reasonable Internet access is available. However due to inadequate network accessibility, only a few are receivable from outside the respective countries with a very few uninterrupted streaming.
Satellite broadcasts from certain foreign countries are available and being viewed at hotels and residences. Local broadcasting facilities are also available in the South Pacific region. There are many retransmissions of foreign TV and radio programs. However, TV broadcast is not available in many remote islands or remote villages. Japan is supporting these nations with ODA grants but further support is needed in ICT sector to enable them to enjoy broadcasting programs from Japan over the Internet.
In order to achieve simultaneous broadcast over the Internet, adequate network and platform is necessary and in order to know all the pros and cons of the countries in the region, a thorough survey is required.
References
*Links are for posted items. It is possible that some items are not currently available or are being edited.
Dr. Kader Hiroshi Pramanik
JTEC, Tokyo, Japan
Special Advisor to the President, Japan Telecommunications Engineering and Consulting Service (JTEC), Tokyo Japan.

・Citizenship: Japanese Citizen.
・Degree: Ph.D. Degree in Electrical and Communication Engineering, Tohoku University Japan.
・Career: Experience over 35 years Worked in the ITU Technical Cooperation Sector, Japanese Govt.ODA projects, Telecom and Broadcast industry, Telecom Operator, APT Activities etc. around the world. In recent year actively involved in ICT activities promoting broadband in the Oceania region.

Awards:
・"The International Cooperation Award 2007" from the Ministry of Internal Affairs and Communications, Japan (executed by the ITU association of Japan).
・"The ICT Accomplishment Award" in 2013; from The Ministry of Internal Affairs and Communications (MIC) Japan, (executed by the ITU Association of Japan) for contribution to ICT development in the Asia Pacific region).

Return to 22nd JAMCO Online International Symposium contents page