TV Station NBN
My homeland, and my mother's
DC281048

私の国 母の国 [NBN]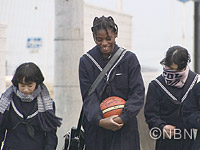 |Length : 46min. |Year : 2010 |
Mawuli Evelyn,she is 14years old junior high school student who lives in Aichi prefecture. Her parents are from Ghana. Evelyn was born and raised in Japan. She learned Japanese, culture and custom just like other Japanese children did. Even if she was born in Japan, under the Japanese law, her nationality was still Ghana.
She started basketball in elementary school. However, there was a big wall in front of her. The problem was her nationality. It was impossible to be a Japanese basketball player having Ghana's nationality. Evelyn was chosen as a delegate basketball player under 16years old team, and this made her parents to decide to naturalize as Japanese.
Is it possible for Evelyn to get Japanese nationality by her international match? We focused on her inner motion and her struggles in daily life.
Two Home Countries: Evelyn's Journey
DC281557

母の国へ~馬瓜エブリン18歳~ [NBN]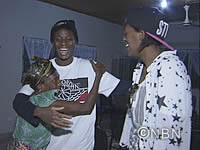 |Length : 48min |Year : 2015 |
"What is nationality? What is race?" These are questions Evelyn Mawuli has been thinking about since she was a little girl. Born and raised in Japan to Ghanaian parents, Evelyn speaks Japanese and grew up no differently from any Japanese child in Japan. When she was in elementary school she became aware of her differences.
At age 14, Evelyn was a candidate to play for Japan's under-16 national basketball team. In order to give Evelyn a chance to fulfill her dream, her mother made a decision to become a naturalized Japanese citizen giving up her Ghanaian nationality. With her high school graduation a few months away, she decided to visit her mother's home country. What made her decide to visit Ghana?
SPIRIT OF JAPAN: The Man Who Created Magic Frying Pans
DC291634

日本のチカラ フライパンに魔法をかけた男~厚さ1.5mmの壁~ [NBN]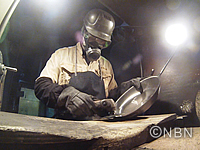 |Length : 25min |Year : 2016 |
There are frying pans so remarkably popular that you'd have to wait for about two years to get it. They are Magic Frying Pans manufactured by a cast iron products manufacturer called Nishikimi Chuzo, Co. The most prominent feature of the Magic Frying Pans is the thinness: it's only 1.5 mm thick. Nishikimi Chuzo developed a technology to achieve much desired "thinness" and thus the company could manufacture frying pans with excellent thermal conductivity for domestic use. However, for the development the company spent ten long years.Behind this success was the company president's tenacity in getting out of being a subcontractor at the time when the company was in a harsh business environment.