Production Year 1993
CH049300

あつまれじゃんけんぽん [NHK]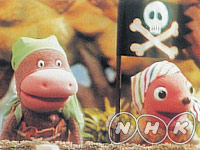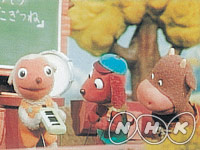 |Length : 15min. x40 |Year : 1993 |
There is nothing so entertaining or educational for children as a puppet show. Parsley Playground's cute puppet characters all have something that a young audience can identify with and the situations they get involved in are all familiar ones. Set in Parsley Elementary School, each story is interesting, educational, and fun. This series is intended to add a little zest to those first few years of school life and to help kids learn how to get along with family and friends - but adults will enjoy it too.

1. Back to School
2. Polly in a Spin
3. The "Thunk" Ball
4. Dodgeball Drama
5. Nature Trail
6. A Day in the Seaside
7. Adventure in the Dark
8. Beefy's Gamebrain
9. The Detective Club
10. Call of the Wild
11. "Let's Go to Town"
12. Back to Nature
13. Corky Gets Cross
14. Stuck-up
15. Granny's Little Helpers
16. I'll Do it Later !
17. Wally's Secret
18. The Box
19. The Echo Song
20. Spring Is in the Air
21. A Morning Full of Flowers
22. Corky Down in the Dumps
23. Sly Sniffer Wagtail
24. Where is the Blackboard Rubber?
25. I'm Not Little
26. The Mountain Lake
27. Playing Pirates
28. Sleepy Katy
29. Beefy Bullock's Camera
30. The Gale Family Passes
31. It's Grandad !
32. Polly's Goldfish Acorn
33. Hello! I'm a Little Pencil Case
34. The Play Rehearsal
35. Big Brother Corky
36. Nelly Does Her Best
37. Sorry Mr.Porker
38. The "Get-Well" Letter
39. The Beautiful Rising Sun
40. Forever Friends
DC019301

そこが知りたい | 素顔の銀座 [TBS]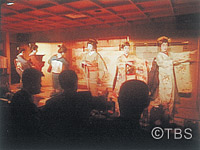 |Length : 46min. |Year : 1993 |
This light-hearted but informative program gives us a look at Tokyo's equivalent of Fifth Avenue: Ginza, home to shops and restaurants as exclusive and luxurious as any in the world. Among the hidden treasures known only to discriminating insiders are the Kiyota Sushi shop where there is no sign and a single meal may cost as much as $500, a traditional clothing store where only perfection counts, a master craftsman who works with gold leaf, and a modern-day geisha.
DC019302

そこが知りたい | 美味を極める!日本の名料理人 [TBS]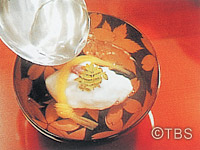 |Length : 30min. |Year : 1993 |
The basic techniques of Japanese cookery are slicing, grilling, deep-frying, and kneading, but - as this mouth-watering program shows - it is all a matter of taste. The chef at the Imperial Hotel attributes his mastery of French cuisine to skill in slicing; for the owner of a Kyoto restaurant the essence of traditional cooking is grilling; tempura cooks say their art lies in the deep-frying; and dumpling makers testify to the importance of kneading and grinding.
DC019303

そこが知りたい | 人情大好き!日本人にナリタイ [TBS]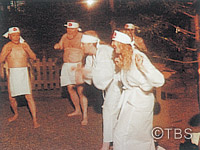 |Length : 46min. |Year : 1993 |
This program deals with various examples of Japanese racial prejudice. The cases include a man of Greek birth who has become a nationalized Japanese citizen but is still regarded as a "foreigner" by most other Japanese; a Japanese rakugo artist of mixed ancestry born and raised in Japan with the same problem; and a South East Asian refugee who has lived here for fourteen years and is refused citizenship because his daughter is caught riding a motorbike without a helmet.
DC019304

そこが知りたい | アブナイ!眠れない東京の真夜中 [TBS]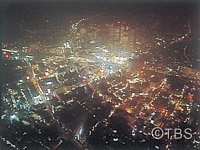 |Length : 46min. |Year : 1993 |
Like many large cities, Tokyo never really sleeps. This is a city whose night people are as various as they are interesting: there's a locksmith who makes house calls; a man who posts signs - illegally - under cover of darkness; a couple working the night shift to pay off a debt; a young man working his way through school by waking up limousine drivers; and a restaurateur. The program also shows a late-night florist, a bookstore for night owls, and an after hours public bath.