Production Year 2011
The Niyodo River – The Symphony in Blue –
DC221117

仁淀川 ~知られざる青の世界~ [NHK]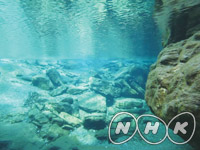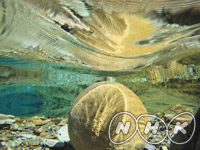 |Length : 43min. |Year : 2011 |
The 124-kilometer Niyodo River is the purest in all of Japan. It possesses a striking hue of blue known as Niyodo Blue that is a testament to the cleanliness of its waters, which have remained pristine despite serving the needs of 100,000 locals. The program vividly portrays the Niyodo through gorgeous photography captured with the latest technology and Masakatsu Takagi's evocative piano score.
The Niyodo remains blue from the forests that give it birth to its mouth. Along the way, its waters nurture the colorful wildlife that live in and around the river while also displaying a surprising expressiveness themselves. These aspects are filmed in meticulous detail with the help of guide Nobuyuki Takahashi, a photographer with intimate knowledge of the river. His camera captures a number of beautiful moments, from the glittering rime that serves as the Niyodo's source to the blue sheen that shrouds a plain brown dipper as it dives into the river.
This symphony in blue was composed to remind viewers that Japan is home to some of the most beautiful waters in the world, and that it is our duty to protect them even as the nation's rivers continue to be spoiled through industrial development.
Bonds Born Through Football – A year with 2 Coaches
DC281149

ボールが結んだ心の絆 ~熱血サッカーコーチの1年に密着 [KHB]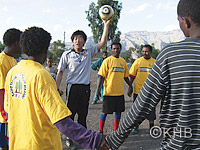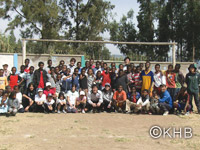 |Length : 30min. |Year : 2011 |
Vegalta Sendai makes its home in Sendai, a city known for its greenery. In the subdivisions of this club, there are 2 young coaches who coach children in hopes of cultivating them into professional football players. ( These 2 coaches are Coach Kazunori Inoue and Coach Naoto Fukuda of the Sendai Vegalta Player Development Division. ) In January of 2011, these 2 coaches took a trip to coach football to children in Ethiopia. With a population of 80 million, football is very popular in Ethiopia. When you ask the children what they want to be when they grow up, they answer almost in unison that they want to be pro-football players. The football field of the elementary school the coaches visit first is laden with huge rocks making it a dangerous environment to play in. Their footballs are made from old clothes being stitched together so when the children get the chance to play with a real football, they all run after it excitedly. This is the only way they know how to play football as they imitate what they see on TV. So it was big news when they heard football coaches would be coming from Japan as they do not yet know how an actual football practice is carried out. Their bright eyes fixed on the coaches fill with expectations and hopes. The coaches struggle at communicating to the children drills that can be done with a few footballs to many people like dribbling and passing. At first the confusion the children felt was evident. However, the children gradually began to feed off the coaches' enthusiasm. The joy of playing football with your friends turned the expressions on the children's faces to smiles. The 2 coaches feel the bonds created from football as they head for home. However, soon after arriving in Japan, they are met by a great earthquake and a giant tsunami in their home towns. The Japanese children whose footballs and football shoes were washed away by the tsunami hope for the day they can play football again with all of their friends. The coaches become busy bringing aid to the disaster-stricken areas in hopes of giving the children a chance to play football as soon as possible. In the midst of all this, they receive a message from the children of Ethiopia filled with concern for the disaster and gratitude for what the coaches taught them.
DC331107

美の壷 | 寄木細工 [NHK]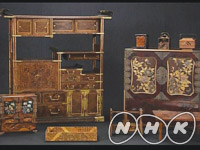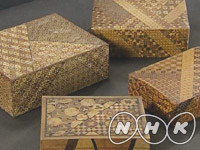 |Length : 29min. |Year : 2011 |
One of Japan's traditional wood crafts, Yosegi-zaiku marquetry combines wood pieces of a wide range of colors and shapes to produce gorgeous designs to decorate desks and boxes. This art spread throughout Japan in the 18th century. For puzzle boxes, many unique pictures are hidden in the patterns, and the boxes themselves are fitted with fascinating mechanisms.Japanese marquetry attracted Western people from the latter half of the 19th century, and marquetry craftsmen, combining the wood pieces with sprinkled picture, produced exquisite gems of art.
DC331108

美の壷 | 石畳 [NHK]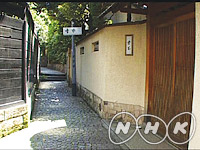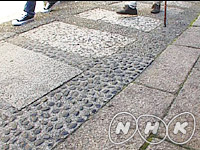 |Length : 29min. |Year : 2011 |
Stone pavement in Japan began with the paving of approaches to shrines and temples, and it has since added emotional contours to various aspects of daily life in Japan. Stone pavement has received attention in recent years as part of the guise of the city, with rectangle-patterned pavement being particularly popular. We look closely at the allure of Japanese stone pavement, including the rarely known principles of the beauty of stone pavement used in Japanese-style houses and the tasteful expressiveness shown in the stone pavement of old streets.
DC331109

美の壷 | 大谷石 [NHK]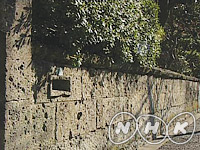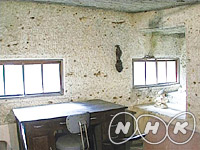 |Length : 24min. |Year : 2011 |
Oya stone is known for its uniquely beautiful texture. In the past, Oya stone was used without a second thought for daily life settings like stone walls. But recently it has captured attention for its use in fashionable interiors. The greatest allure of Oya stone is its varicolored and uneven surface. These features create its distinctively "warm" surface. Utilized for this texture, which other rocks do not have, Oya stone has been used in a variety of famous architectural showcases, and we will see how and why in this program.