Production Year 1999
Japan in Focus | The Streetcars are Still Running – Hiroshima –
DC039920

新日本探訪 | 路面電車走り続けて 広島市 [NHK]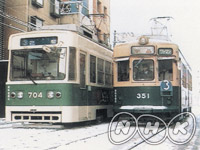 |Length : 24min. |Year : 1999 |
In most parts of the country, as cars have come to dominate the roads, streetcars have become extinct. But in Hiroshima, the old transportation system still survives, carrying 120,000 passengers a day, more than anywhere else in Japan. Cost-cutting measures, including recycling discarded trams, have enabled Hiroshima to keep its 220 streetcars running. This program follows a driver with over 30 years of experience and a young recruit training for the job that will fulfill his childhood dream.
Japan in Focus | Trumpets Echo in the Mountains – Kitakata, Miyazaki –
DC039921

新日本探訪 | 山に響けトランペット 宮崎県北方町 [NHK]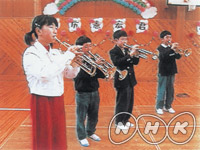 |Length : 24min. |Year : 1999 |
Nestled deep in the mountains of Kyushu is the small community of Shimo-Shishigawa, in the municipality of Kitakata, Miyazaki Prefecture at the southwestern tip of Japan. There are only 10 pupils in the elementary school, three who come from urban areas, but all are members of the school's trumpet band. Local children originally formed the band, and their skills were boosted as city students joined. This heart-warming program portrays children whose friendship grows out of making music together, and the adults who keep a watchful eye over them.
DC119901

課外授業 ようこそ先輩 | パラパラ漫画がアートになった! [NHK]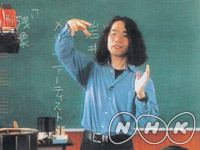 |Length : 42min. |Year : 1999 |
Mr. Toshio Iwai is a media artist, who is receiving the most attention today for his collaboration performances combining images with music, such as with his unique imagery pieces using computer graphics. The children learn the theories and history behind images using visual tools, and make 8-frame animation. A moving image is finally created by drawing pictures and adding voices all according to one's own original story. The children quickly change from viewers to makers of image media.
Special Lessons | Making Invisible Things Visible
DC119902

課外授業 ようこそ先輩 | 見えないものが見えてきた [NHK]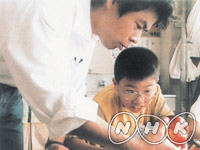 |Length : 42min. |Year : 1999 |
Mr. Katsuhiro Hibino is a famous Japanese pop artist who characteristically uses cardboard material in his work. Mr. Hibino first teaches the importance of "observation". The next task he presents the children with is expressing "invisible" emotions, such as "excitement", "irritation" and "gentleness", in a shape or form by using objects found around them. Enchanted by the improvised novel art displayed by Mr. Hibino, the children devote themselves to making objects using balls, basketball shoes, and newspapers.
DC119903

課外授業 ようこそ先輩 | 探せ!たたけ!自分の音を [NHK]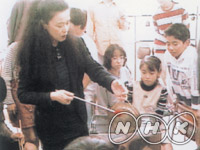 |Length : 42min. |Year : 1999 |
Ms. Sumire Yoshihara is a percussionist known for creating her own world of music, using not only percussion instruments from around the world, but also using everyday objects as instruments. After the lesson in hitting percussion instruments freely, she assigns a task to the children, to "find the sound that makes you feel the best". The children look for that sound and make hand-made instruments. In the final lesson, everybody takes part in a concert, using their hand-made instruments.