Documentary : Environment

Flowers along the Riverbank
DC229202

四季 おじいちゃんの花日記 [RKB]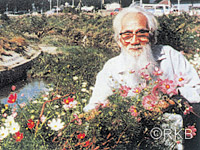 |Length : 12min. |Year : 1992 |
The flowers that bloom along the banks of the Yatsunami River are pretty enough. But to 78-year-old Sumio Okabe, the man who planted the flowers, they're more than just decoration. They're an affirmation of the joy of life itself. "Flowers Along the Riverbank" shows that planting and caring for flowers is just one of the volunteer community services performed by Okabe. He's also out every morning collecting trash. This heartwarming documentary shows how Okabe's selfless actions have endeared him to the local people.
Pollution Watch! – Asia's Environmental Network –
DC229303

アジアの汚染と闘う 愛媛大・環境ネットワーク [NHK]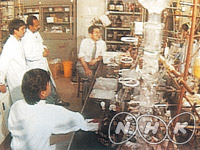 |Length : 29min. |Year : 1993 |
A world leader in the ongoing fight against environmental pollution, Professor Ryo Tachikawa of Ehime University was first to identify PBC pollution in the Seto Inland Sea twenty years ago. Nowadays, the professor's research laboratory plays host to researchers from many other countries, helping them deal with their own pollution problems. The program focuses on Professor Tachikawa's efforts to set up a pollution survey network in Korea as part of a pan-Asian network.
The Ancient Forests of the Asahi Mountain Range
DC229304

太古の森・朝日連峰 [YBC]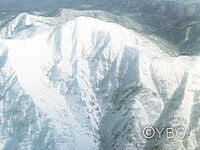 |Length : 25min. |Year : 1993 |
For hundreds of years, magnificent forests of beech trees covered much of Japan. Their roots helped the soil hold water, preventing water shortages and flooding, and many believed they were home to the Water Gods. In the 1960's, however, the lumber industry began to cut down the beech forests and replace them with more profitable but less ecologically beneficial trees such as cedar and cyprus. This program focuses on the remaining beech forests of the Asahi Mountains.
Rain Forest Voices – Borneo's Indigenous Dayaks –
DC229305

熱帯林の先住民は叫ぶ 緑の秘境ボルネオ 小さな村からの報告 [NAV]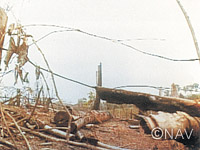 |Length : 59min. |Year : 1993 |
This program focuses on a major environmental issue. It follows two Dayaks from Sarawak's highland rain forest on a journey to the lowlands. Piman and Peseo want to invite logging companies to their area, hoping "progress" will bring jobs and roads. First, however, they want to look at a logging site and visit the villages of the many Dayaks who have already migrated to the lowlands looking for a better life. What they find is a tragic predicament with relevance to us all.
The Mountains Are Dying
DC229506

山の声届かず [IBC]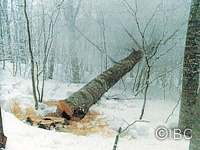 |Length : 28min. |Year : 1995 |
Deforestation is destroying the beauty of Iwate Prefecture, which is home to some of northern Japan's most breathtaking scenery. In fact, mountain logging is having a disastrous effect on the whole ecosystem: bare of trees, the mountains are unable to hold water, leading to flooding and drought and massive soil erosion. As is so often the case in Japan, the culprit is the bureaucracy - the Forestry Agency, which mandates continued logging despite low demand for timber.