TV Station TUY
The onion master's farming club Seeds for tomorrow's agriculture
DC262111

寅ちゃんと6年1組農業部 [TUY]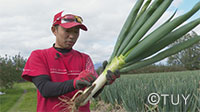 |Length : 46min |Year : 2021 |
A red hat and red t-shirt. Characters on the back say he's an "Onion Master."
Tsuyoshi Shimizu, the Onion Master, is 38 years old. His incredible Welsh onions— "sweeter, thicker, and softer than fruit" —have reached sugar levels of up to 22.5 degrees.
As determined as Tsuyoshi Shimizu is to create his own ultimate Welsh onion, the declining number of farmers in Japan has not escaped his attention. He believes that the best way to solve this problem is to get more people aware of agriculture.
Fortunately, Tsuyoshi Shimizu happened upon the chance to teach sixth graders of Terazu Elementary in Yamagata Prefecture's Tendo City about agriculture. He suggested that they go beyond the simple farming curriculum in public education, which cannot foster true understanding or enjoyment of agriculture, and organize an extracurricular farming club, in which children would get the real farming experience.
And so, in the spring of 2019, he served as the guide to 19 sixth-grade members of a Farming Club, bringing real farming experience to kids. Kids would undertake everything from the sprouting, planting, cultivation, harvest, and even sales of produce. Through this new undertaking, they gained independence and new outlooks on agriculture.
See the efforts of a Welsh onion farmer looking to change all Japan's agriculture, and what 19 hard-working sixth-graders manage to produce in this total coverage documentary.


Experiencing Japan's Ancient Mountains
DC212030

ローカル魂 朝日連峰大縦走 原始の山を行く [TUY]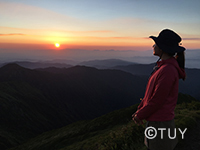 |Length : 46min |Year : 2020 |
Located in the northern part of central Japan, the Asahi Mountain Range straddles Yamagata and Niigata prefectures.
With an elevation of 1,870 meters at its highest point, the mountain range's numerous peaks have seen little development, preserving their ancient landscape. For this very reason, hikers must shoulder their own food and equipment and climb from trailhead to summit, relying on their own strength.
Departing from town, they drive 15 kilometers across steep mountain roads before arriving at a solitary mountain hut amidst a thick forest of beech trees: The Naturalist House. Here, the Asahi Mineral Spa gushes forth, a little-known medicinal spring from times long past. Roughly 40 years ago, owner Nobuo Nishizawa moved from western Japan and re-opened the once-shuttered medicinal spring, attracting hikers from all over Japan, their gazes fixed on the Asahi Mountain Range.
According to Mr. Nishizawa, "To fully appreciate the Asahi Mountain Range's nature, you must traverse its ridge."
Local TV announcer Haruka Koyama of TV-U Yamagata accompanies him. Together they attempt a 3-day, 30-kilometer-long hike.
Through her journey with Mr. Nishizawa, Ms. Koyama encounters breathtaking views and discovers the allure and profoundness of these ancient mountains.