Production Year 2003
CH080300

バケルノ小学校ヒュードロ組 [NHK]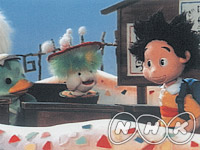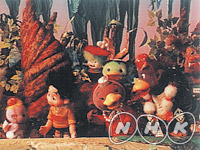 |Length : 15min. x13 |Year : 2003 |
Nobiro is an elementary school student in grade two. His parents have gone to Africa on business, and while they are away, Nobiro is staying with the family of his father's good friends, Otengu. Otengu and his wife, Metengu, take good care of Nobiro as if he was their own son. But in fact, Otengu and Metengu are not human. They are crow goblins. The Otengu family live in apartment 305 of a very tall building called "Monster Heights". Nobiro's school, "Monster School", is found on the 101st floor, on the roof of the tower. A high-speed elevator takes the students up to school each day. Nobiro's classmates include Santa the water goblin, Miiko the magic cat, Byakko the fox, the Yukinki Brothers the twin yeti and Mush the magical mushroom. Each of them has their own special powers. Even their teacher, Ms.Okiku, the principal, Principal Bunbuku, and the school chef, Noppera, are monsters.
This series of programs uses puppet characters to tell the story of Nobiro as he gets to know his new classmates. He learns to understand them, and teaches them about himself. Through this core theme, the series focuses on teaching children the importance of communication.


1. I Love Monster School
2. Metengu Lays An Egg
3. Miiko and Byakko's Contest
4. Why Isn't Ms.Okiku Angry?
5. Kotengu is Born
6. Nighttime at the Monster Market
7. Nobiro's School Project
8. The Haunted Bathroom
9. My Cute Little Sister
10. Midnight Marathon
11. My Magic Pencil Crayons
12. Nanny Knows Best
13. Monster School Cinderella
Sankyoson – One-hectare Utopia –
DC230325

散居村 1haのユートピア [KNB]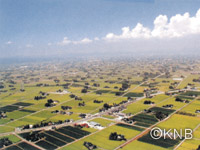 |Length : 47min. |Year : 2003 |
"Sankyoson" signifies a certain type of rural community where villagers'houses are scattered irregularly, with each house situated in the middle of 1 hectare of plowed land. Factors that allowed such beautiful scenery and this unique form of local community to continue existence into this modern age are found in the form of Sankyoson itself. "Houses scattered, separated from each other by 100 meters" indicates the basic layout. A big house called "Azumadachi", and "Kainyo", a thick estate forest surrounding its lot of 500 tsubo, provide each family with perfect privacy free from unnecessary attention from the neighbors.
Crossing the Finish Line – The Story of a Thoroughbred Who Lost Her Sight –
DC230326

盲目の名馬 タカラコスモス [RAB]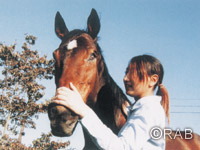 |Length : 47min. |Year : 2003 |
Takara Cosmos was once called a "Queen" in the Japanese Equestrian World. Unfortunately for this champion, the spotlight of fame slowly faded from sight. Five years ago, Takara Cosmos went blind due to an undiagnosed illness. A world without light is full of fear and uncertainty. However, a friendly young voice reaches out to touch her heart and keep her spirit alive. Takara Cosmos finds a kindred spirit in equestrian club student, Kanae Minato. Finally, a new life emerges from the darkness.
Kakiemon : A Never-ending Journey – Japanese Porcelain with an Enduring Appeal in Europe –
DC270322

柿右衛門 はてしなき旅路 ヨーロッパが愛した日本の美 [NHK]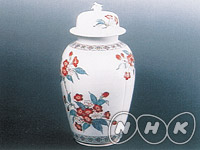 |Length : 59min. |Year : 2003 |
Vivid red-against a seemingly endless white background that exudes a delicate warmth. Kakiemon is an exquisite example of Arita ware, a representative form of Japanese porcelain, that traveled the oceans to Europe in the 17th century, and captured the hearts of the upper classes there and subsequently around the world.
Tales of Hokkaido Heritage
DC270323

北海道遺産物語SPECIAL [HTB]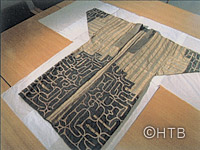 |Length : 46min. |Year : 2003 |
The "Hokkaido Heritage" designation is given to tangible cultural properties and intangible assets selected by Hokkaido citizens as heritages that should be passed on to succeeding generations. Like the UNESCO World Heritage listing, the Hokkaido Heritage designation extends beyond cultural assets to include sites of natural splendor, distinctive cultural traditions, special industries and unique lifestyles. The world is realizing that heritages must not be condemned to historical obscurity, but must be rediscovered again and again, and handed down to each succeeding generation.