Production Year 2014
Forming Bonds, Making the Future
DC231431

十勝が教えてくれた3つのこと [HBC]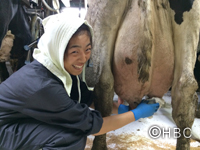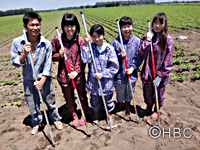 |Length : 46min. |Year : 2014 |
Every single day in the vast stretches of nature in Tokachi, Hokkaido, farmers struggle with nature, deal with the reality of life and death, and carry on with their farm work. In order to realize their wish to deepen the interaction between agricultural and urban areas, the farmers of Tokachi started up a farm homestay program where urban high school students spend a night at the farmers' houses to experience the rural life and farm work. On its first year, the program only accepted 24 students. However, in 2014, its 5th year, the program drew around 3,000 high school students to Tokachi.
In this program, actress Nao Minamisawa visits a Tokachi dairy farm and tries her hand at taking care of newborn calves and milking cows, both of which are tasks visiting high school students experience.
The program puts high school students through things they aren't used to—like touching soil, getting muddy, and dealing with crops and cows—to learn firsthand about the importance of life and the hardships of farmers. Furthermore, the students feel the warmth of a family as they sit down to eat together with everyone. What do the students learn over the short stay of one night and two days? And what expressions do they show at the end of this experience?
We cover the farm homestay experience of the 11th-grade coed class of the Nara Women's University Secondary School, who have come from the Kansai area for their school trip, and witness their hard work and the tears they shed.

Home to the Finest Craftsmen
DC271434

手わざ恋々和美巡り [BS4]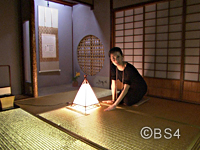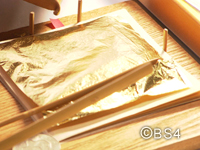 |Length : 54min. |Year : 2014 |
Join actress Rei Dan on a visit to Kanazawa, in the ancient Japanese domain of Kaga. Rei looks into the amazing story of gold leaf craftsmanship here that dates back to the 17th century. Find out how Kanazawa became a center of the arts and culture and how many of those arts and crafts live on to this day. Luckily, Kanazawa was saved from much of the damage the country suffered during the last war and as a result much of the old town and residences still stand as they did when they were first built. Rei also visits various craftsmen and women to see how gold leafing has evolved and adapted to the changing times.
A Passionate Challenger | Doc Fights for the Future of a Tsunami-Hit City
DC281453

情熱大陸 | 医師・川島実 [MBS]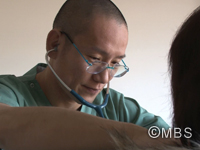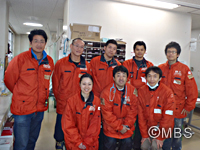 |Length : 24min. |Year : 2014 |
Kesennuma City in Miyagi Prefecture was devastated by the tsunami of the Great East Japan Earthquake. In 2013, two years after the earthquake, the region's only medical institution, Motoyoshi Hospital, finally began admitting patients.
The man who rebuilt this hospital is Dr. Minoru Kawashima. In 2011, the tsunami destroyed the first floor of Motoyoshi hospital and doctors left one after another. Kawashima couldn't turn his back on the hospital shutdown, so he began commuting to Motoyoshi every weekend to lend aid and support as a volunteer doctor. Half a year after the earthquake, he was appointed as the hospital director and took on the task of restoring the hospital services.
Immediately, Kawashima was confronted with a critical shortage of doctors specializing in obstetrics and pediatrics. Hoping to make Motoyoshi a place where mothers can give birth to their children at ease, he personally receives training once a week at another hospital to open an OB-GYN ward at his Hospital. Kawashima envisions a hospital that offers "comprehensive medical care" including internal medicine, pediatrics, surgery and obstetrics-gynecology.
There is another challenge that Kawashima faces in community medicine - "home care." Motoyoshi has many senior citizens for whom even a visit to the hospital is a difficult ordeal. To Kawashima, to die means to "live until the very last breath." He wants the practice of "home care" to take root, so that one's end of life can come at home, surrounded by family and loved ones. Presently, he has 70 patients who receive medical care at home.
Kawashima's life has taken unusual and diverse turns. As a graduate of an ultra-elite university, he first became a professional boxer and then farmer. He now hopes to "knock out" the region's medical problems.
A Passionate Challenger | Biologist Unlocks the Secret Life of Marine Animals
DC281454

情熱大陸 | 海洋生物学者 渡辺佑基 [MBS]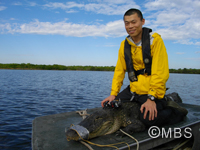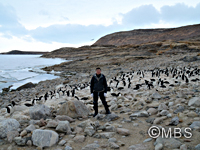 |Length : 24min. |Year : 2014 |
The behavior of marine animals still remains a mystery. A world-renowned biologist, Yuki Watanabe, researches and records their behavior using a method called bio logging. By attaching a motion recorder called logger and a miniature camera to the animal, the secret lives of these animals become clearer through captured footage. It is the most advanced field of research that has rapidly developed over the last 20 years in the biology field.
Watanabe's biggest accomplishment is the invention of logger retrieval system. Until now, bio logging was limited to animals that returned to their nest since that was the only way the logger could be retrieved. But Watanabe solved this problem by utilizing IT equipment and intelligence which instantly broadened the field of research. Joint research offers flocked to Watanabe from around the world and he became known as the "Indy Jones of the biological world."
When Watanabe went to Antarctica as a member of the Antarctic expedition team, he captured footage of the Adelie penguin by attaching a camera to the penguin. That footage has garnered a lot of attention as it is the first time anyone has clearly seen a penguin eating its prey in its natural setting. It has been assumed that tuna swim at a high speed at almost 80 km/hour. But based on Watanabe's research, they swim at about 3 – 8 km/hour. Even in emergency situations, they only reach speeds of up to 30 km/hour. In this way, Watanabe works to clarify the behavior and habits of marine animals which are often shrouded in mystery.
The program follows Mr. Watanabe for three years. It introduces a joint research project he did with Australia's Tasmania University on the broadnose sevengill shark. It also presents a lot of the world premier footages, captured by cameras attached to marine animals.
Daring Attepmt of Oystermen to Overcome Earthquake Adversity
DC371412

三陸カキ 真の復興に挑む [KHB]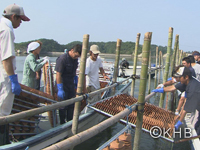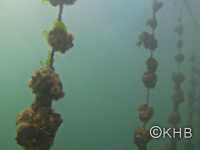 |Length : 24min. |Year : 2014 |
The oystermen on the Sanriku Coast of Japan suffered great losses in the tsunami wrought by the 2011 Tohoku Earthquake. A good 90% of the oyster cultivation facilities in Miyagi Prefecture, nearly 12,000 of them, were lost. There are men here who are attempting to bounce back from this adversity through a new venture. They consist of Hiroaki Saito, operator of an online oyster sales company, and 20 oystermen from six coves within the prefecture.
The Sanriku oyster industry has been plagued by problems such as an aging population and a lack of successors. In order to create a life better than that they led before the disaster, they must produce and market greater numbers of oysters in their shell. To that end, they decided to adopt cultivation methods used by oystermen in France, one of the world's leading oyster producing nations.
This program chronicles the attempts by these oystermen to restore the cultivation of Sanriku oysters.