Production Year 1995
CH529500

こども人形劇場 [NHK]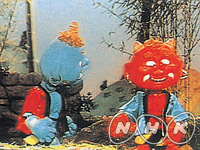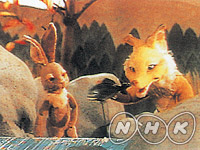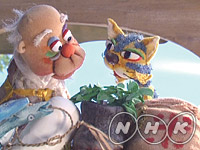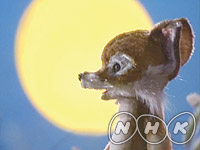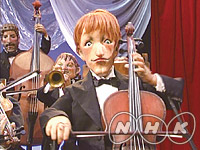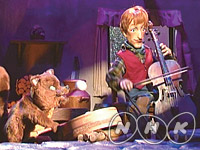 |Length : 15min. x33 |Year : 1995 |
Esta serie, producida por NHK, consta de cuentos japoneses y de otros países. En japón, esta serie de programas sé transmitó para niños de a años. Cada programa atrae la atención de los niños gracias a su gran técnica de marionetas y a sus impresionantes diálogos. Estamos convencidos de que estas sencillas marionetas y cuentos ayudan a desarrollar la creatividad y sensibilidad de los niños, y al mismo tiempo, les hacen disfrutar de los programas.

1. El conejo en la luna
2. El diablo de buen corazón
3. Los novicios listos
4. El malvado tejón
5. Las aventuras de Songoku(1)
6. Las aventuras de Songoku(2)
7. Las aventuras de Songoku(3)
8. Las aventuras de Songoku(4)
9. La ropa del ángel
10. El niñito y las pinzas de ropa
11. El travieso diablillo de agua
12. La última hoja
13. El soldado perdido
14. El niño y el demonio
15. El hacha de oro
16. El retrato de la esposa
17. La pajilla de la suerte
18. El conejo oreja mordida
19. La lámpara antigua
20. Los tres deseos
21. La nariz
22. Matarabe, hijo del sol(1)
23. Matarabe, hijo del sol(2)
24. El niño del halcón
25. Toshishun(1)
26. Toshishun(2)
27. Moby Dick(1)
28. Moby Dick(2)
29. Moby Dick(3)

30. El gato y el monje
Un flojo monje Budista y su gato intellegente Tora vivian en la pobreza, pero muy felices. Por fin llego el dia en que une vez que le ofrecio a Tora lo que quedaba del arroz, se quedaron completamente sin comida. Sin embargo, y en forma muy rara, empezando al dia siguiente, diariamente le enviaban al templo arroz, pasta de miso, pescado y rabanos. Una noche, pensando que esto estaba raro, el monje Budista siguio a Tora. Tora les estaba ensenando a otros gatos a cantar y bailar, y a cambio recibia el arroz, verduras y otro alimento.

31. Gon, el pequeno zorro
Habia una vez un pequeno zorro a quien le gustaba hacer bromas. Un dia, Hyoju vio que el zorro dejaba escaper al conejo de la jaula de pescado. Unos 10 dias despues, el zorry se entera de que la mama de Hyoju habia fallecido. Pensando que tal vez a la mama do Hyoju le hubiera gustado comer conejo,el zorro se arrepiente de haber dejado escaper al conejo. Desde entonces el zorro le lleva castanas y hongos a Hyoju casi diario. Pero al no saber esto, Hyoju dispara al zorro con su mosquete.

32. Gauche el violonchelista: Parte I
33. Gauche el violonchelista: Parte II
Gauche es un violonchelista de la orquesta de la ciudad. Pero batalla con el violonchelo y siempre es reganado por el Maestro. Una noche un cucu visita a Gauche. Eso fue solo el comienzo, ya que los animales lo visitaban todas las noches. Por una u otra razon los animales le pedian a Gauche que les tocara. Entonces, se llego el dia del concierto. El concierto tiene un verdadero exito. Cuando el maestro de ceremonias le pide otra al Maestro, el Maestro asigna a Gauche para que este al frente. Sorprendido pero recordando las visitas de los animales, Gauche de todo corazon toca "Cazando Tigres en India". La actuacion es una obra de arte, y es seguida por un aplauso muy entusiastico de la audiencia y companeros musicos.
DC019511

そこが知りたい | 見たぞ!理由ありの二人旅 [TBS]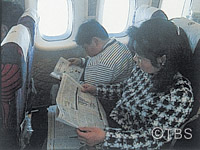 |Length : 46min. |Year : 1995 |
You will meet a mother travelling with her son who will enter a prestigious high school in Kagoshima. Another mother is travelling with her son - who is entering a high school for "problem" students in Hokkaido. There is a husband and wife driving to see their daughter off when she leaves for the Big City, a woman travelling to Tokyo to find her long-lost husband, and some cancer sufferers. This program provides a range of views of the human experience.
DC019512

そこが知りたい | 女子高生アツイ夏の体験 [TBS]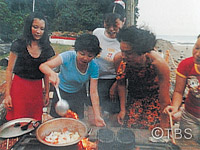 |Length : 46min. |Year : 1995 |
In their uniforms, Japanese high school girls may look the same but in fact they are all individuals and each has her own way of spending the summer. One girl spends the summer dreaming of becoming a stylist for models. Another does volunteer work at a hospital. Still another is studying hog farming and must cope with the death of a favourite pig. Perhaps most impressive is the 15-year-old who suffers from lifethreatening anemia, yet is determined to become a social worker.
DC019513

そこが知りたい | えっワタシが?継いでくださいウチの家業! [TBS]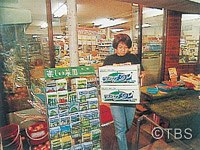 |Length : 46min. |Year : 1995 |
Traditionally, the eldest son takes over the family business in Japan. But recently things are changing. In the case of a tofu maker, it is his son in law who succeeds to the business. When the owner of a fish store falls victim to kidney disease, all three of his children pitch in to help. In one fishing family it is the daughter who takes over. And there is the eldest son of a farmer who must choose either to run the family farm - or to do what he really loves - making charcoal.
Japan : The Inside Story | Why Did They Fall in Love? – Older Wives, Younger Husbands –
DC019514

そこが知りたい | なぜホレた?姉さん女房と年下亭主 [TBS]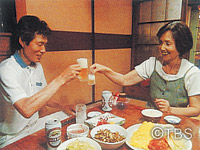 |Length : 46min. |Year : 1995 |
They call them "elder sister" wives. In this program, we meet a dance instructor who is married to a younger and very handsome fitness trainer - and is naturally worried about him straying. Then there is the wife who is as old as her husband's mother, the younger man who married the boss's daughter and adopted their family name, and the funeral home employee who left his wife and children to marry the widow of a man he helped bury. Sadly, the widow was later found to have cancer.