TV Station RSK
Delving into the Mysteries of the Universe~ The Forefront of Japanese Craftsmanship and Technology~
DC291938

宇宙のナゾに挑む~日本の人・モノ・技術、最前線~ [RSK]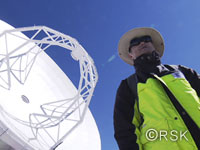 |Length : 48 |Year : 2019 |
Sixty-six parabolic antennas at an altitude of 5,000 meter in Atacama Desert in Chile—ALMA is an international project among 22 countries and regions. It is a radio telescope with an outstanding sight that it has achieved observation 13.28 billion light-year away. In fact, some parts were made in Okayama.
The cutting-edge technology of Okayama's small factories is utilized in ALMA: processing aluminum into slightly curved panels to make a perfect parabolic dish shape, and grinding the surface into one-hundredth of a millimeter or less precise. Their efforts and passions contribute to the advanced research of the universe. Dr. Masaaki Hiramatsu, an astronomer born in Okayama, is a member of ALMA project, promoting the accomplishments through it to the world.
In this program, we visited ALMA and covered a story of the technology and the craftsmanship of Okayama that makes it possible to explore the universe even further.
Medical Transplantation Joins Japan to Asia ~The Challenge of the Doctor named"God's Hands"~
DC281869

「メッセージ」 岡山発アジアへ~肺移植・大藤医師の挑戦~ [RSK]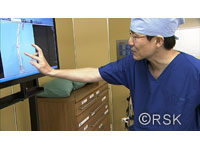 |Length : 48 |Year : 2018 |
A lung transplant is the most difficult in organ transplants. Takahiro Oto, a 50 year-old doctor in Okayama University Hospital, has succeeded lung transplanting surgeries in 100 percent. Since organ donation from people declared brain dead is quite few in Japan, patients who want organ transplant will pass away before the surgery. Dr. Oto has saved many patients who used to have no choice but giving up the surgery, with his rich experience and by using advanced medical technology. For example, he successfully completed a transplant inverting the lungs to right and left, "hybrid lung transplant" that made of each lung from a brain-dead donor and from a living person, a transplant of one lung combined the lobes of the right and the left lung, and so on. "I want to save more lives," said Dr. Oto about the reason why he tries such difficult surgeries. Now his hope is going beyond national borders—he received a request from Vietnam. It is a surgery of a 6-year-old boy who is suffering from a severe lung disease, and the transplant is the only way to survive. Vietnam does not have enough facilities for the lung transplant, however, Dr. Oto struggles to save him. We closely covered his challenge for the future of a lung transplant in Asia.