Production Year 2000
Japan in Focus | A Father, Two Sons & A Factory – Ota, Tokyo –
DC030022

新日本探訪 | 父と子の町工場 東京大田区 [NHK]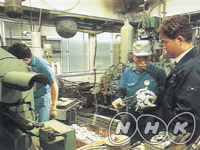 |Length : 24min. |Year : 2000 |
More than 6000 factories crowd the cityscape of Ota in downtown Tokyo. Most of these factories were built at the height of Japan's postwar economic boom, from the mid 1950s to the mid 1960s, and many are still family-run. Today, they are facing difficult times trying to pass on both their skills and their management know-how. This program examines the struggles and challenges facing the factories of downtown Tokyo at a critical time by profiling Masaru Fukunaga, his two sons and his metal parts factory which has been run by him for over 40 years...
Discover Asia | Growing Food in a Dry Land – Ulan Bator, Mongolia –
DC050008

アジア発見 | 乾いた大地に糧を求めて モンゴル・ウランバートル [NHK]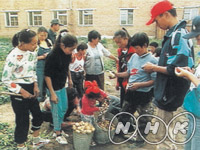 |Length : 24min. |Year : 2000 |
Mongolia suffers from serious food shortages. At a school on the outskirts of the country's capital, Ulan Bator, a farm was established in spring, 1999. Teachers, students and parents transformed a one-hectare former garbage dump into the school farm. The crops harvested on the farm are given to poor families and sold at the market. The profit from these sales is used to buy teaching materials for the school. This program demonstrates how the Mongolian people are responding to a new form of food aid.
Special Lessons | Da Vinci's Art Anatomy Classroom
DC110010

課外授業 ようこそ先輩 | ダ・ヴィンチ先生の美術解剖学教室 [NHK]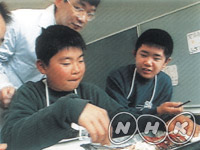 |Length : 42min. |Year : 2000 |
Hideto Fuse is an art critic known for his novel art critiques using materials such as anatomical charts and death masks. As he introduces the children to the anatomical charts of Leonardo Da Vinci, Mr. Fuse relates that the reason why Da Vinci was able to create numerous masterpieces was because in addition to his genius as a great painter he also had the eyes of an anatomist. The children practice dissecting a fish, and experience the miracle of the structure of living beings.
Special Lessons | Kata Make People Laugh in Kyogen
DC110011

課外授業 ようこそ先輩 | 狂言の笑いは「型」でござる! [NHK]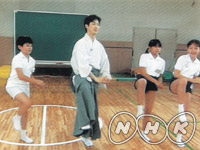 |Length : 42min. |Year : 2000 |
Mansai Nomura is a "Kyogen" actor. In Kyogen comedy, thinks Mansai, each performance of feelings of joy and anger have a characteristic form of expression called "kata." He holds a workshop for the children to experience "Kyogen". To the traditional "kata," the children create the "Kyogen" production "Momotaro" while adding their own original inventions. The children are fascinated by the enjoyment of using their whole bodies to perform.
Special Lessons | Feeling the Color of the Island
DC110012

課外授業 ようこそ先輩 | 体で感じる島の色 [NHK]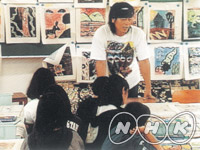 |Length : 42min. |Year : 2000 |
Bokunen Naka is a woodblock artist who depicts the spirit of Okinawa. Despite being born on lush island, the children have had little opportunity to come into contact with nature, and so Bokunen takes the children to a forest to play. His aim is that they will create woodblocks with the images they have felt with their bodies and hearts, by touching soil, rocks and plants and smelling smells. The worlds inside the children's hearts become reflected in the woodblocks in vivid colors and designs.