Production Year 2002
CH070200

ぼうけん!メカラッパ号 [NHK]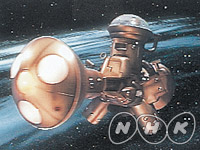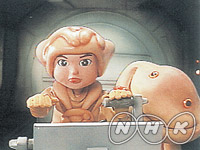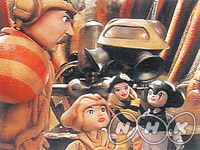 |Length : 15min. x30 |Year : 2002 |
The hero, Luck is an adventurous, lively boy who goes on board the Mecha-Rappa to space hop, and befriends aliens, with much different appearances and customs. Competing with rivals is also part of his maturing process. Young children can learn the basics of human relationships through the continuous storyline. Audiences can enjoy the puppet shows while learning, through the hero's adventures, how to form groups and be part of them, despite clashes.


[Series I]
1. The Beginning Of The Adventure
2. Launch The Cosmic Rover
3. The Power Of Dreamlocating
4. The Gale On Planet Pyuh Pyuh
5. The God Of Jabba Jabba
6. Operation Rescue Leviathan
7. The Itadaki Junior Pirates
8. Poyo Is My Friend
9. The Secret Of The Itadaki Junior Pirates
10. A New Friend
11. We've Got The Mecha-Rappa
12. The Creepy Crawly Operation
13. A Burnt Out Ambition
14. Save Planet Terra Terra (Part 1)
15. Save Planet Terra Terra (Part 2)

[Series II]
1. The Mysterious Pirate Ship
2. Luck versus the Itadaki Little Bear Pirates
3. Captain Guarv and the Grizzly
4. Heart Quest
5. Mayday, Areckio
6. The Horror of the Beauty
7. The Encyclopedia of "Mecha-Rappa"
8. Luck and Poyo and Suspicious men
9. The Thing from Planet-Ebi
10. Luck Fallen Down
11. A Gunman of a Shooting Star
12. Good-bye, Myself Part1
13. Good-bye, Myself Part2
14. Disbanding Itadaki-Pirates?
15. Luck, the Grand-Prix Boy
DC120213

オトナの試験 | はり師・きゅう師 [NHK]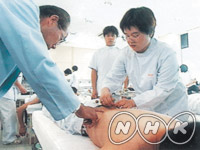 |Length : 10min. |Year : 2002 |
More and more people are turning to eastern medical treatments, known for their mild effects and few side effects, as the so-called natural lifestyle gains attention. Yoshie Asahina, aiming for a pain-free and feel-good acupuncture and moxibustion treatment, is currently in practice with the aim of opening the first acupuncture and moxibustion clinic in her town. Practitioners of this treatment must be certified from the Health, Welfare and Labor Ministry of Japan.
Shiretoko Peninsula : Dancing with Nature
DC210224

知床悠久の半島 ヒグマとともに生きること [HTB]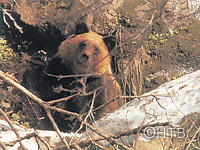 |Length : 46min. |Year : 2002 |
Into the Sea of Okhotsk, off northern Japan's island of Hokkaido, protrudes the Shiretoko Peninsula. The severe nature of the peninsula deters human intrusion and development. The peninsula, small though in size, has preserved a rich and bountiful ecosystem. Reigning atop this ecosystem is the brown bear. Can the fierce, wild animals successfully coexist with humans? We spotlight the brown bear. The camera captures the rare scenes of a bear family emerging from hibernation, fishing for Sakhalin trout, and a mother affectionately playing with her cubs.
Kumagaiso – A Tiny Miracle in a Tiny Village –
DC230224

クマガイ草 小さな村の小さな奇跡の物語 [RNB]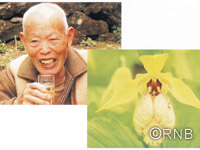 |Length : 55min. |Year : 2002 |
Besshiyama Village is the smallest village in Southern Japan with a population of only 270 people. Due to decreasing population, the once prosperous mining village will soon disappear as it merges with a city nearby. This story is about a flower named "Kumagaiso" which blooms for only 2 weeks in its lifetime and a 92-year former miner named Kiyoshi Kondo who has dedicated his life to the flower.
Tackle! Get out in front! – The Challenges of a Mentally Disabled Students' Rugby Team –
DC250221

ぶつかれ 前へでろ 知的障害者ラグビーチームの挑戦 [NHK]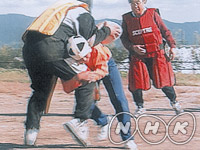 |Length : 49min. |Year : 2002 |
"Tackle! Get out in front!" Even today, principal Fumihiro Hatakeyama's voice echoes over the playing field. "Ryokusei-En", located in Morioka City of Iwate Prefecture, is home to the only rugby team comprised of mentally disabled persons. The students train daily in rugby during their three years in this school, and the results are startling. Over this time, boys who initially feared even falling to the ground show a complete transformation.