TV Station TVI
The Lady is a Fugitive
DR189901

逃げる女 [TVI]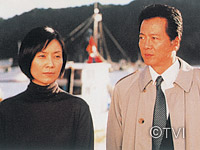 |Length : 95min. |Year : 1999 |
A mother's quest to avenge the murder of her 5-year-old daughter takes her from Tokyo to a small fishing village in Iwate Prefecture, with the police hot on her heels, but always one step behind. Tokyo veteran police detective Kohei Kudo goes after Akiko Kijima; but before he can catch up with her, she finds and murders the second man responsible for her daughter's death. Kudo teams up with a local policeman and they are able to capture Akiko before she commits yet another murder.
Loving Life – Postcards from the Edge of Japan –
DR169801

生きて、生きて 遠野の里から [TVI]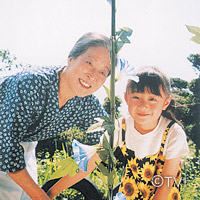 |Length : 48min. |Year : 1998 |
The graying of society requires new methods of caring for the elderly and infirmed

As the number of senior citizens in Japan increases, so does the recognition that home care is essential for the overall well-being of the individual. Various television programs have taken up this question, and Postcards from the Edge of Japan focuses on how one family's reconciliation brought about a recovery of spirit for a woman who had suffered a stroke.
The setting is Tono City in Japan's northeastern Iwate Prefecture, and the city's most well-known storyteller, Yae Takaiwa, has been confined to a nursing home following a stroke. Under the direction of Dr. Shuko Murakami, who recently moved into Tono, a hospital outpatient team is formed that is devoted to the care of senior citizens, and Takaiwa comes under Murakami's care. It is only when Takaiwa's granddaughter is injured in a traffic accident that the family is once again reunited.
Great East Japan Disaster : Akiko's First 30 Days
DC371207

NNNドキュメント'11 津波にのまれた女将 [TVI]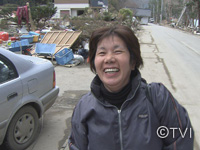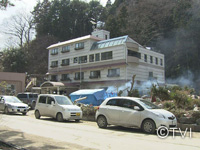 |Length : 24min. |Year : 2012 |
Akiko Iwasaki (age 54) lives by the sea near Kamaishi City in Iwate Prefecture. The inn she owns and operates is hit by the tsunami, destroying the entire first floor. Just then, Ms. Iwasaki was running through the parking lot to escape up the hill but was overcome by the wave. She talks of how she was sucked under like a whirlpool, all went dark and she calmly thought about how she was going to die like this. But then she tried swimming, clambered up to the surface, and was saved by a hairsbreadth.
She opens her ruined inn to 20 plus refugees, supplying her own food stocks and working hard, turning her place into a private evacuation shelter. Next the ruined inn is deemed hazardous for refugee living, and she receives an official order to shut down by the end of March. Akiko Iwasaki, the innkeeper who was sucked under by the tsunami and barely escaped with her life, is now, beyond her will, forced into transience.
The Tran Family : A Home Visit in Vietnam
DC289820

家族 トランさん一家のベトナム帰郷 [TVI]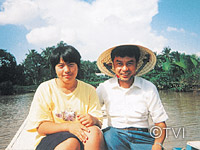 |Length : 24min. |Year : 1998 |
Tran Tho Hi came to Japan to study in 1972, three years before the end of the Vietnam War. Having been born in the Mekong Delta, when the South Vietnamese government fell, his passport became invalid, making his return home impossible. He subsequently opened a restaurant in Morioka City in northeastern Japan and obtained Japanese citizenship. This show follows Tran's journey home after 23 years, accompanied by his Japanese wife and daughter, and father who currently resides in Australia, and depicts how the war affected the lives of the people in Vietnam.
Thailand's Great Monk : Achan Kabesako
DC289306

タイの名僧になった男 アーチャン・カベサコ師 [TVI]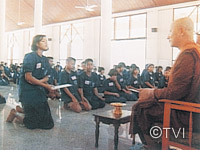 |Length : 28min. |Year : 1993 |
Archan Kabesako has founded a temple in Thailand, and works to help poor children, providing uniforms, scholarships, and even bicycles for children to go to school. Every year, he also has a camp for 300 students. Once he was a Japanese named Mitsuo Shibahashi, but now this hardworking monk is much more than that! His work has won him the respect of the local community, and receives support even from far-off Japan. He is a savior of children, and of the future.