TV Station NBN
SPIRIT OF JAPAN Giving Hope to Breast Cancer Patients ~The Challenge of Japanese Craftsmen~
DC291835

日本のチカラ 人工乳房で微笑みを ~常滑焼「型」職人の挑戦~ [NBN]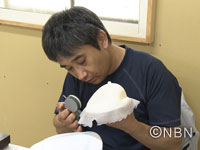 |Length : 26 |Year : 2018 |
Tokoname City is located in the center of the Chita Peninsula West Coast in Aichi Prefecture. It is also home to the Chubu Centrair International Airport – the entrance to Japan's central region. Tokoname is known for its traditional ceramics industry and rows of shops selling pottery and earthenware.
The Maeda Mold introduced in this episode is made by a small business that has been creating plaster molds for ceramic ware for over half a century.
Cheap foreign-made ceramics and other earthenware have driven many of Tokoname's potters out of business; however, Maeda Mold has been seeking new avenues of revenue to keep the business alive.
One of these new ventures is artificial breasts made of silicon.
Driving this successful business are the skills of the artisans who create the pottery molds used by Maeda Mold. The company has taken the bold step of applying these techniques to create artificial breasts.
These artisans had a strong desire to utilize the traditional techniques of their craft to make breast cancer patients smile by creating artificial breasts. They hoped these women can enjoy soaking in a hot spring with their friends or taking a bath with their young children, which are common in Japan, and doing other everyday things that women with natural breasts can easily do. After a series of trial and error, the artisans have successfully created a completely natural looking breast.
Maeda Mold's artificial breast business has developed into a key revenue source that currently accounts for about a quarter of all of its sales. This story illustrates the dedicated efforts of these Tokoname ware artisans, who have found a way to use the techniques that have supported the traditional ceramics industry to bring joy to breast cancer patients.

SPIRIT OF JAPAN A Local Product~Loved by the World~
DC291736

日本のチカラ 白い鉱物で"美"を発信!~奥三河産セリサイトの魅力~ [NBN]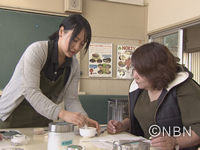 |Length : 24 |Year : 2017 |
SPRIT OF JAPAN is a program produced by the Minkyokyo (Commercial Broadcasting Education Association) featuring documentaries about craftsmanship, life-enriching activities and community revitalization.
All over Japan one can find compelling examples of chikara, or strength, in the technique of master artisans, local industries, and the wisdom, history and culture of local people.
In this episode we will visit the town of Toei, located in the eastern part of Aichi Prefecture. This small town has a population of 3,400 people.
We will learn about a project bringing hope to this community as it faces a shrinking and aging population. A white powder, previously unknown even to many locals, is central to this project.
This white powder is called sericite, and it is a raw material used in foundation used by both Japanese and major global cosmetics companies alike. The Japanese for the mineral sericite is kinu unmo, which translates to "silk mica".
Sericite is also mined outside of Japan in places such as Malaysia and China, but Toei is the only place where it is mined in Japan.
Sanshin Mining is the company that produces Sericite here. In stark contrast with the glamorous scene that comes to mind when one thinks of cosmetics, the mine shaft is narrow and gloomy. Unable to use heavy machinery in this environment, craftsmen mine the sericite seven hours a day by hand using pickaxes. The sericite mined in Toei is known for its color being whiter than foreign-sourced competitors. Its color remains white, even after absorbing moisture from sweat, and that's why companies from around the world covet it so much. The hard work of these craftsman is playing a hidden role in the beauty of women around the world.
Today we are meeting Ms. Chihiro Ooka. While enjoying her hobby of visiting famous festivals around the country, Chihiro was so attracted by the town and its traditional flower festival, Hana Matsuri, that she eventually moved here.
Now she has teamed up with Sanshin Mining President Junichi Misaki to use Toei's world-renowned sericite to help revitalize the town. Setting her sights on female visitors, she is the driving force behind the town's Make-Your-Own Foundation class that is triggering a burst of renewed interest in the town of Toei. Tourists are now coming from all over for the chance to experience making their own cosmetics. And now she will try promoting sericite and Toei for the first time in Tokyo! How will the customers react?
Toei is now confronted by a serious demographic challenge with its shrinking and aging population. Chihiro's efforts are returning smiles to peoples' faces in her community. She is a breath of fresh air, and may just change her town's future with this 'stone of beauty', sericite.

SPIRIT OF JAPAN: The Man Who Created Magic Frying Pans
DC291634

日本のチカラ フライパンに魔法をかけた男~厚さ1.5mmの壁~ [NBN]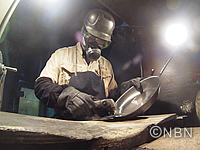 |Length : 25min |Year : 2016 |
There are frying pans so remarkably popular that you'd have to wait for about two years to get it. They are Magic Frying Pans manufactured by a cast iron products manufacturer called Nishikimi Chuzo, Co. The most prominent feature of the Magic Frying Pans is the thinness: it's only 1.5 mm thick. Nishikimi Chuzo developed a technology to achieve much desired "thinness" and thus the company could manufacture frying pans with excellent thermal conductivity for domestic use. However, for the development the company spent ten long years.Behind this success was the company president's tenacity in getting out of being a subcontractor at the time when the company was in a harsh business environment.
Two Home Countries: Evelyn's Journey
DC281557

母の国へ~馬瓜エブリン18歳~ [NBN]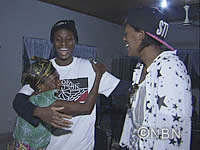 |Length : 48min |Year : 2015 |
"What is nationality? What is race?" These are questions Evelyn Mawuli has been thinking about since she was a little girl. Born and raised in Japan to Ghanaian parents, Evelyn speaks Japanese and grew up no differently from any Japanese child in Japan. When she was in elementary school she became aware of her differences.
At age 14, Evelyn was a candidate to play for Japan's under-16 national basketball team. In order to give Evelyn a chance to fulfill her dream, her mother made a decision to become a naturalized Japanese citizen giving up her Ghanaian nationality. With her high school graduation a few months away, she decided to visit her mother's home country. What made her decide to visit Ghana?
My homeland, and my mother's
DC281048

私の国 母の国 [NBN]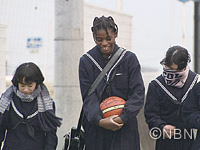 |Length : 46min. |Year : 2010 |
Mawuli Evelyn,she is 14years old junior high school student who lives in Aichi prefecture. Her parents are from Ghana. Evelyn was born and raised in Japan. She learned Japanese, culture and custom just like other Japanese children did. Even if she was born in Japan, under the Japanese law, her nationality was still Ghana.
She started basketball in elementary school. However, there was a big wall in front of her. The problem was her nationality. It was impossible to be a Japanese basketball player having Ghana's nationality. Evelyn was chosen as a delegate basketball player under 16years old team, and this made her parents to decide to naturalize as Japanese.
Is it possible for Evelyn to get Japanese nationality by her international match? We focused on her inner motion and her struggles in daily life.