Production Year 2017
DC241753

フットサル選手 [NHK]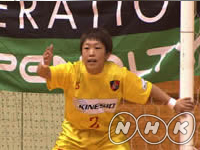 |Length : 24 |Year : 2017 |
Futsal goalkeeper Mari Nagashima has chased the ball on the field since she was 8, and dreams of playing for Japan's national team. Like all of her teammates, she is on an amateur contract. To make ends meet, she works as a non-permanent worker at a temp agency, a job that leaves her evenings and weekends free for futsal.
But as her 29th birthday approaches, Nagashima has started thinking seriously about what she will do after she hangs up her boots. As she ponders her future, her boss offers her a permanent position. It's a tempting offer from a career point of view, but becoming permanent staff would entail extra responsibilities – which could interfere with futsal practice and games. Will Nagashima take up the permanent position to safeguard her future, or continue chasing her sporting dream? At a crucial juncture in her life, this athlete must make a big decision.
DC241754

ダンサー [NHK]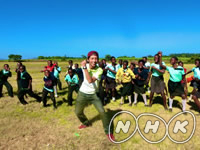 |Length : 24 |Year : 2017 |
Takanori Nakagome arranges dance events in which Japanese children and kids around the world take part together through web cameras.
Nakagome, 29, started dancing in high school. He worked for an education-related company after university, but after 4 years, he quit to realize the dream he had held since his student days – to travel the world teaching dance to children. This decision completely changed his life.
After returning from traveling around the globe, Nakagome started preparing to make teaching dance a full-time career. He began by holding online dance events, connecting with schools he visited on his travels overseas.
As word spread across social media, invitations to hold these events started coming in from all over Japan. He is also considering opening his own dance studio to "use dance to help children expand their potential." What drives Nakagome as he works towards fulfilling his dream?
Under Newton's Apple Tree ~The History Behind"Mori"Enhancements on the Faces of Japanese Women~
DC241755

ニュートンの木の下で~日本女性の顔における「盛り」の歴史とは?~ [CBC]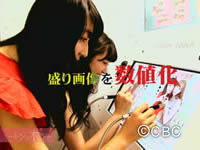 |Length : 23 |Year : 2017 |
Isaac Newton, the scientific genius who discovered the law of universal gravitation, said"My best friend is truth."
Since then, a number of researchers have put their own "truth" on papers.
They are called theses.
In this program, of the countless theses published to the world, we will introduce unique and innovative theses that may have even surprised Newton himself.
This talk show, hosted by Ryota Yamasato (a member of comedy duo Nankai Candies), invites the author of a particular thesis to the studio to dig into and find out more about their research and background story.
In this episode, we focus on Japanese youth culture.
Our guest this time is a researcher at the University of Tokyo, who studied "mori in photo sticker booths" that are popular among young girls.
She has quantified this "mori" for the first time in the world.
In addition, she has collected portraits of beauties throughout history to quantify their facial characteristics and investigate ideal faces admired by Japanese people.
What is the true value of Japanese culture found through her research?
KANSAI WORKER ~The Contemporary Kimono Designer~
DC241756

よ~いドン!発見!関西ワーカー 和を楽しむスタイルを提案する着物デザイン・プロデューサー [KTV]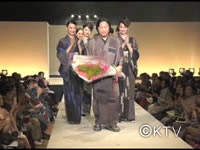 |Length : 21 |Year : 2017 |
The kimono is a traditional garment of Japan, and its culture is one Japan boasts to the world.
There is a man who unceasingly challenges himself to arrange the kimono in a variety of ways to make it blend into contemporary lifestyles. That man is kimono designer Jotaro Saito, who is the third generation owner of Sansai, an established kimono textile dyeing company in Kyoto.
Saito's designs are not confined to the realm of kimono fashion, as they are even used on furniture and lamps that adorn interiors of prestigious hotels. With his works, he continues to open up new possibilities for the kimono.
Although Saito's works are based on the traditional beauty kimono offer, Saito incorporates casual patterns to make the kimono fun for the wearer.
In addition to the use of such patterns, he has created stretchy kimono made of polyester and others that even feature metal studs by Swarovski.
In this program, comedic duo Rozan step inside the studio to take a look at the dyeing process. The two learn about the techniques involved, and marvel at the delicacy of the work involved. And then, they finally try out the dyeing process themselves.

The Passionate Dietitian's School Lunch ~The Secret Behind the Delicious Dishes~
DC261710

熱血栄養士!おいしい給食のヒミツ [HBC]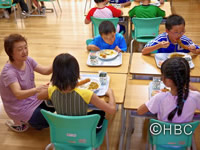 |Length : 47 |Year : 2017 |
In the town of Oketo in Hokkaido, Japan, population 3,000, there exists a delicious school lunch. The person behind it all is Tomi Sasaki, a registered dietitian who wishes to teach proper eating habits to children. Over her career of nearly 40 years, Tomi has gone above and beyond the average school lunch director. She visits local producers to select ingredients herself and even ventures out into the woods to harvest fresh vegetables. Some items on her menu include fish served without the bones removed and authentic curry that even an adult would find spicy. Her unyielding passion to have children try a variety of foods is what drives her to create school lunch from scratch using local ingredients.
Tomi, now almost 60, is nearing retirement. As we follow Tomi's final days leading up to her retirement, we discover the essence of eating, a necessity shared by all people.