TV Station EBC
"Two Para Swimming Rivals:Same Age, Same Name,Same Dream"
DC281870

2人の"ほのか" [EBC]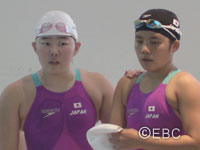 |Length : 47 |Year : 2018 |
Young swimmers, Honoka Okabe and Honoka Nakamichi are born in 2000 and raised in Ehime, Japan. Coincidentally, their given name and their age are the same.
Okabe has congenital disorder of her right arm from the elbows up. Nakamichi has no right leg as a birth defect. They began swimming in their childhood, but went to different swimming school. They met in their sixth year of elementary school, which was a wonderful encounter for them.
It is important for them to practice properly for the type of disability. They also have trained with disabled swimmers in nationwide.
Their next goal is to the take part in the competitive swimming 2020 Tokyo Paralympics. They are keep training towards the goal, encouraging each other.