TV Station HTB
Light of My Life
DR200101

ひかりのまち [HTB]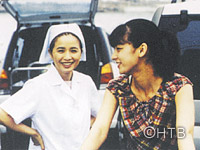 |Length : 46min. |Year : 2001 |
Yuko, the third grade of high school, is living with her divorced mother. Indecisive about her future, she submits a blank form about her college plans. As punishment, she is ordered by her mother to help her deliver evening meals to the elderly during her summer vacation. She meets a stubborn old man named Gansan whom she does not like at first, but gradually opens up to. She finds out he was once a skillful engineer of a famous ship building company, and now he paints to relieve his loneliness. Yuko arranges for him to meet his estranged son in a bid to bring him happiness, but the two cannot get along. Yuko does not know that Gansan's days are numbered because of a chronic heart disease.
Blackout in Hokkaido ~Two Days for 5.3 Million People~
DC372015

ブラックアウト ~530万人の2日間~ [HTB]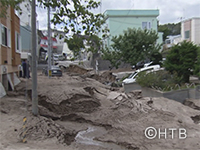 |Length : 25min |Year : 2020 |
On September 6th, 2018, Hokkaido was struck by the Eastern Iburi Earthquake.
After the earthquake, 2.95 million households lost their power in a blackout like never seen before.
Hokkaido fell into panic.
How did the citizens feel, and what did they do?
What did the citizens lack?
What did they want? How did they use social media?
Our reporting identified the reality of the citizens' lives, to find the issues that need to be tackled.
Tales of Hokkaido Heritage
DC270323

北海道遺産物語SPECIAL [HTB]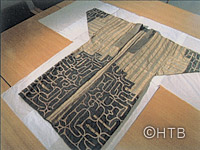 |Length : 46min. |Year : 2003 |
The "Hokkaido Heritage" designation is given to tangible cultural properties and intangible assets selected by Hokkaido citizens as heritages that should be passed on to succeeding generations. Like the UNESCO World Heritage listing, the Hokkaido Heritage designation extends beyond cultural assets to include sites of natural splendor, distinctive cultural traditions, special industries and unique lifestyles. The world is realizing that heritages must not be condemned to historical obscurity, but must be rediscovered again and again, and handed down to each succeeding generation.
The Echo of "Naruko" Castanets – Yosakoi Soran Festival 1996 –
DC279913

鳴子騒いだ…YOSAKOIソーラン祭り・1996 [HTB]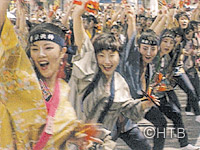 |Length : 24min. |Year : 1999 |
The June "Yosakoi Soran" Festival in Hokkaido draws up to 10,000 contestants and attracts an audience of 1 million over a three-day period. Performers must follow two rules: the Hokkaido folk song "Soran" must be incorporated in their music, and dancers must carry "Naruko" castanets in accordance with the original festival in Kochi Prefecture. The festival is organized by college students who recruit sponsors and contestants.
Feel the Wind Again – Running to the Dream –
DC259817

疾風よ再び 義足先生の夢力走 [HTB]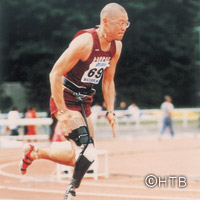 |Length : 24min. |Year : 1998 |
Aiming for the Paralymics

Koji Araki, a high school physical education teacher, lost the lower part of his right leg in a car accident. But this has not detered him from continuing his active life, which includes running, swimming and skiing. The phrase "fighting spirit" is inscribed on Araki's state-of-the-art artifical leg which was designed by Toshiya Nosaka in cooperation with a sports rehab research group at Sapporo Medical University. Araki is training for the Paralympics and the camera follows him through his training sessions, and zooms in on his relationship with the researchers who share his dream.