Documentary : Foodstuff

The Innovative Kyoto Chef
DC269101

古都・祇園に生きる 情熱の料理人 [NTV]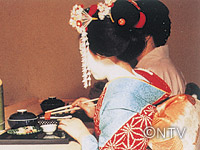 |Length : 28min. |Year : 1991 |
Nowhere are the ancient traditions of Japan more carefully preserved than in the Gion district of Kyoto. Chef Yoshio Maruyama chose the Gion for his restaurant "Maruyama" because he believes it offers the perfect setting in which to develop a genuine Kyoto cuisine. Glimpse the true heart of traditional Kyoto through the exquisite dishes and hospitality of this truly innovative chef.
A Dedicated Follower of Salmon
DC269102

日本一の塩ザケは刺し身がいちばん!! [NTV]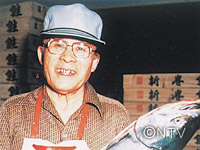 |Length : 27min. |Year : 1991 |
After pursuing the delicious taste of salmon for 60 years, Kametaro Unuma, owner of the shop "Marugame" specializing in salt-preserved salmon, has reached the conclusion that salmon is best when eaten raw. This program shows how he works as a "salmon specialist" while introducing various kinds of salmon dishes, a history of salt-preserved salmon, and salmon-fishing in the Shiretoko Peninsula of Hokkaido.
Going After the Stomachs of 300,000 People – Lunch War in Shinjuku –
DC269103

30万人の胃袋を狙え!西新宿・弁当戦争 [NHK]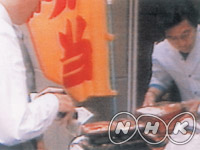 |Length : 44min. |Year : 1991 |
A number of high rise building towers into the sky in Nishi Shinjuku, Tokyo. A severe lunch war unfolds in this modern city, over the demands for lunch from business men and women in this area. The program introduces a rice store owner who lives in the suburbs of Tokyo, who challenges the lunch war with a unique hand-made lunch, and a major department store which prepares 300 kinds of lunch and tries to sell 15,000 portions a day.
The Sea Bream of the Inland Sea – The Splendid Cuisine of the King of Fish –
DC260004

瀬戸内海鯛物語 海の王・華麗なる"食"の世界 [RNB]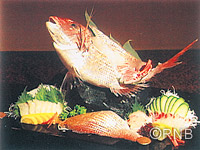 |Length : 30min. |Year : 2000 |
The sea bream has long been an essential part of many different kinds of celebratory occasions in Japan, including festivals and marriage parties. Indeed, it is often referred to as 'the king of fish'. In this documentary, we see fishermen rod-fishing in the Inland Sea, men cultivating top-quality fish, a master chef of a high-class restaurant in Tokyo creating various mouth-watering dishes, and a chef at a hot-spring inn on Shikoku Island attempting to recreate several 18th century sea bream recipes.
Food is the Driving Force of Life
DC260705

生きる力をいただきます ~命をはぐくむ「食育」のいま~ [NCC]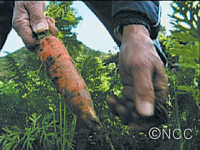 |Length : 45min. |Year : 2007 |
Toshimichi Yoshida initiated an activity in an attempt to turn the situation around by growing good, healty vegetables. His method is-food waste is mixed into the soil to turn it into fertilizer. Food waste causes the microorganism to proliferate in the soil.Yosida's farming is "education of life" itself. Through farming experience, children learn that the food they eat is the driving force of their life. People in the communities also realize that farming can be a means to reactivate their community.