TV Station ATV
Planting for the Future – Shirakami Mountains.JAPAN –
DC221218

白神からのおくりもの [ATV]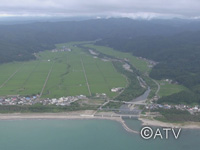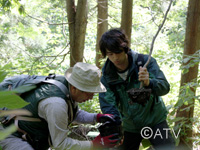 |Length : 46min. |Year : 2012 |
In 2013, the Shirakami Mountains Range marks its 20th year anniversary since it was designated as a UNESCO World Nature Heritage Site for the first time in Japan. The feature of Shirakami Mountains are one of the largest, primeval, beech tree forests in the world as well as broad-leaf tree forest which produces natural energy necessary for our life. However, bad behavior of tourist who visits there without knowing natural eco-system and growing cedar tree plantation of postwar era are said to have influenced natural eco-system of the Shirakami Mountains and its secondary forest.
This program covers a story of Mr.Katsuto Nagai, representative of NPO Shirakami Hitotsumori Natural School, who stays active in planting trees, aiming to restore/revitalize Shirakami Mountains to original state. For 19 years, they have planted beech trees, making their base in the village at downstream of Akaishi river running through the Shirakami Mountains Range. They uniquely plant and grow the beech trees all by themselves.
Beech tree bears fruit mostly every 5 year. Mr. K. Nagai and his fellows started to pick the fruit of beech tree. Meeting the difficulty in growing the fruit in secondary forest and taking a process of trial and error, they eventually became successful. Mr. K. Nagai based in secondary forest of Ajigasawa town of Aomori prefecture with less than 100 people, surrounded by mountain, river and sea, suffering from depopulation. He rented small abolished school there and collected fruit of beech tree with the resident for growing. New challenge he began from last year was to grow the fruit in a pot. Mr. Nagai quit his company to accomplish his dream of protecting natural eco-system in Shirakami Mountains. He intends to provide children with activities of forest and conducts classes of acquiring knowledge about culture of hunter, remaining in the nature of Shirakami Mountains and local area.
We have gathered information about Shirakami Hitotsumori Natural School for 1 year and half. Navigator is an actor, Mr. Takumi Saito who sympathizes with desire of those who are engaged in tree-planting activities in Shirakami Mountains Mr. Saito, having his home town in Tokyo, visits Shirakami Mountains Range and Hitotsunomori area to deliver the culture there and breadth of beech tree forest.