Production Year 1994
CH539400

ピコピコポン [NHK]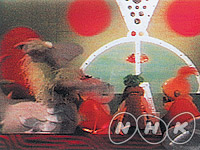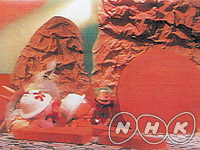 |Length : 15min. x20 |Year : 1994 |
Se trata de una serie de muñecos animados para niños, cuyo fin es familiarizar a los televidentes con los números, formas y cantidades, disfrutando al mismo tiempo de la historia de los muñecos. Todo empieza cuando Pokki y Munmu, abordo de una nave espacial, "Pico pon No." aterrizan en la isla de "Gu-Gu". La divertida e interesante conversación entre los muñecos incentiva la creatividad de los niños, y ayuda a impulsar sus actividades cotidianas.

1. ¿Cómo te llamas?
2. Separando cosas por su clase
3. ¿Cuál es diferente?
4. ¿Qué es?
5. ¿De qué lado tiene más?
6. Enumerando el número
7. El cero
8. Primero, segundo y tercero
9. La misma cantidad
10. ¿Quién es más alto?
11. Comparado de longitudes
12. Pesado y ligero
13. Los vasos y el jugo
14. Derecha e izquierda
15. De frente o la espalda
16. ¿Cuál es siguiente?
17. ¿Qué forma tiene?
18. Conos y triángulos
19. Dibujemos un mapa
20. El tesoro
DC019305

そこが知りたい | 仕事も遊びも!痛快な100歳 [TBS]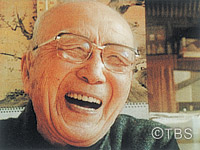 |Length : 46min. |Year : 1994 |
As the saying goes, you are only as old as you feel. This adage is certainly true for some older Japanese people for whom life does not really begin until a hundred. This fascinating program introduces some very energetic 100-year-olds - and some youngsters in their nineties - who are living life to the full with unashamed vigor. The sushi chef who still makes tasty sushi after 80 years in the business is only one example. The secret to longevity may be just a matter of attitude!
DC019406

そこが知りたい | ナニしてる?東京の20歳 [TBS]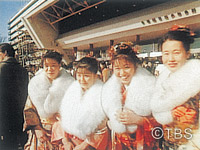 |Length : 46min. |Year : 1994 |
In Japan, young people officially become adults at age 20. This documentary takes an insightful look at the dreams and goals of the new generation that is transforming the nation. One young girl, who hopes to become a home health care worker, visits bedridden senior citizens for a company that provides bathing services. Two young men who dream of farming organic vegetables clear land at the foot of Mt. Fuji. Japan's young people are as full of energy as they are of hope.
DC019407

そこが知りたい | 夏だ!東京のおいしい水 [TBS]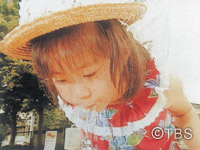 |Length : 46min. |Year : 1994 |
Everyone agrees Tokyo tap water tastes bad. But fear not - this program tells you what to do when your throat gets dry in the big city. For example, there is a restaurant where the chef insists on using only natural water. There is a shrine whose water is so famous one 92-year-old woman travels two and a half hours just to get a taste. Or you could dig a well in your own backyard or apply a little science to the problem. As the program shows you, you really don't have to drink the water.
DC019408

そこが知りたい | 人生色々!カラオケ大好き [TBS]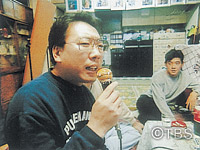 |Length : 46min. |Year : 1994 |
From private karaoke rooms to karaoke buses for kids, it is the newest craze. Some people do it to get rid of stress; some use it as a social lubricant: for still others, such as fishermen in Hokkaido during the long winters, there is simply not much else to do for entertainment. No matter what their budgets, karaoke fans are diverse. One man uses hi-tech stages and elaborate sets and costumes. Even old people enjoy "karaoke"!