Production Year 2019
Surviving a Devastating Flood and Landslide ~Records of a Major Disaster in Japan~
DC221921

まさか、私が 九州豪雨が遺したもの [KBC]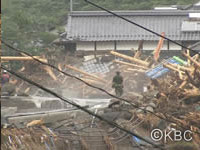 |Length : 48 |Year : 2019 |
On July 5, 2017, torrential rains over Kyushu unleashed the equivalent of six months of precipitation in just 24 hours. Thirty-seven people were killed in Fukuoka Prefecture, including two rain-related deaths. Two others remain missing.
What happened in those 24 chaotic hours? Our news team studied all 438 calls for assistance made to the Asakura City Fire Department that stormy day. Panicked cries from people desperately seeking help were juxtaposed with the frightening reality that rescue workers were unable to get to them because of the unprecedented heavy rainfall.
A thorough examination of the storm and its disastrous aftermath from various perspectives, including a survey of 100 disaster victims, discovered that the city had not followed its own disaster operating procedures. What disaster evacuation measures need to be implemented to prevent tragedies like this from repeating?
We provide insights.
Discovering Japan | Refining Traditional Wall-Building Skills
DC241959

それでも石を積みつづける [NHK]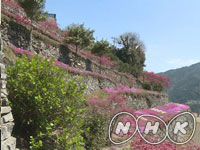 |Length : 34 |Year : 2019 |
Stone walls are part of the fabric of traditional Japanese scenery, especially in mountainous Shikoku in western Japan. Walls delineate fields, protect homes and support a rural way of life. But today, the expertise needed to maintain and repair them is in danger of dying out.
In college, Reo Kaneko, now 30, was charmed by the walls' functionality and simple elegance. He took on the challenge of learning traditional wall-building techniques and passing them on to the next generation. Quitting his job and moving to Tokushima, he set about making his living solely by repairing broken walls and teaching others how to do it.
However, the realities of marriage and a child are causing financial strain. He remains committed to living and working in rural Shikoku, while his wife works for a construction company in Tokyo. Can he find a way to build both walls and a family life?
DC241960

うみの色 しまの色 [NHK]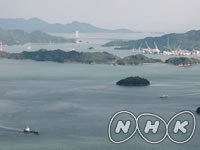 |Length : 29 |Year : 2019 |
The Seto Inland Sea region in western Japan has been dubbed the "jewel of the world" for its scenic beauty, but its remarkable colors are not limited to the deep blue waters and green forests that cover its many islands. This episode explores the palette of colors, both manmade and natural, that make this region so unique, including the prized silvery sheen of sardines carefully caught and quickly processed to preserve their freshness; the pure white island that is a major salt depository; the red, green, and white lights illuminating an industrial complex that operates around the clock, as fiery bursts from flare stacks scorch the night sky; and a deep red soy sauce made by combining crystal-clear water from the forests with a traditional brewing method involving natural bacteria and wooden barrels. Unlock the secrets of the colors created by nature and the people living near the Seto Inland Sea.
DC241961

芸予諸島 四季の色 [NHK]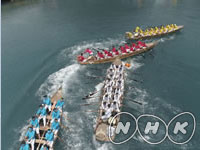 |Length : 29 |Year : 2019 |
colors mark each of the four seasons in the Geiyo Islands, in Japan's Seto Inland Sea. In winter, white mist blankets the sea. Between dawn to sunrise, the mist turns purple, then blue, and finally, gold. In spring, delicate pink cherry blossoms burst into bloom on Iwagi Island, with its 3,000 trees planted by the islanders themselves. In summer, Osakikamijima Island is the stage for a fierce and brightly-colored battle. Teams of men in red, yellow, blue, and white take part in a rowing race that dates back to medieval times. In autumn, milky-white oysters are ready. They are harvested from the oyster racks that flank the coast of Kurahashijima Island in Hiroshima Prefecture, Japan's top oyster producing region. And then, when winter returns, Kone Island is dotted with deep orange, the color of ripe satsuma oranges. The Geiyo Islands are truly a land of vibrant color, culture, and tradition.
Beyond the Off-Road ~A Mobile Clinic Makes its Way through Terrain~
DC251927

道なき道の彼方へ ~へき地を診る医師~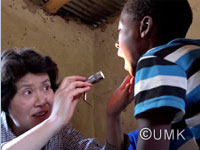 |Length : 47 |Year : 2019 |
The republic of Zanbia right in center of Southern Africa,about 1300km from Japan
Population is about 16million and one of the poorest countries in the world
Dr.Yamamoto runs a traveling clinic in the remote areas here where many huts only have straw roots,there are on schools,hospitals or electricity.
Malaria,the common tropical disease caused by parasites and conveyed by femaole
Mosquitos.
It can cause high fever ,nausea,coma and kidney failure
It kills more than 400,000people yearly,but the death toll has decreasing since Dr.yamamoto
Started her crusade.She was born and brought up in Miyazaki Japan
Her junior high school dream came true.She worked first as a local GP then because a
Medical officer for the WHO. In 2010 she acquired a medical license in Zambia
Despite her harsh situation, she never gives up on the patients.