Production Year 2016
It's Wonderful to Be Human!: Chimpanzees Disclose the Secrets of Evolution
DC211638

人間ってすばらしい チンパンジーが教えてくれる進化の秘密 [CBC]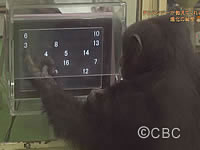 |Length : 48min |Year : 2016 |
Chimpanzees and human beings are very similar…yet different. Chimpanzees can do things we humans cannot, and we can do things chimpanzees cannot. Finding these differences allows us to explore the wonders of being human and reminds us of what makes us special. Mother and son chimpanzees Ai and Ayumu have learned language and numbers. Ayumu is able to instantly memorize numbers randomly displayed on a touch screen and sequence them in ascending order even after the numbers have been masked. At the Japan Monkey Centre, a zoo next door to the Primate Research Institute, visitors can take their turn at the same test, but they are no match for Ayumu. Are chimpanzees smarter than us?
A Chef Who Comforts the Soul and Empowers the Spirit
DC241647

一滴の向こう側 「いのちの料理人」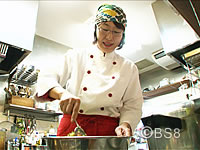 |Length : 25min |Year : 2016 |
Keiko Hondo is a catering chef who travels throughout Japan to prepare delectable meals. Her cooking comprises original menus that are made only with colorful vegetables. Many of her customers suffer from serious diseases. Whether healthy or ill, all her customers say they feel the joys of eating when they are served Hondo's dishes.She is described as "a chef of life". This is a human-interest documentary that shows the passion, the desires, and the dreams of people who continue to make challenges as they go after their dreams.
DC241648

銭湯店長 [NHK]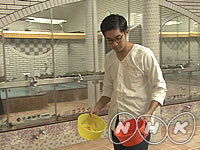 |Length : 24min |Year : 2016 |
25-year-old Yusuke Minato recently took over the management of an 80-year-old bathhouse in Kyoto. A love affair with Japan's public baths that began while he was at college has since seen him visit more than 600 nationwide. After graduation, his interest in fashion initially led to a job with a clothing firm. But he quit to take over the historic bathhouse in a bid to stop such sites from disappearing.
What Minato loves most is the communication between strangers that public baths encourages. But along with a wealth of history the bath he is in charge of has a lot of equipment that needs repairing! The daily cleaning and collection of firewood is a lot tougher than he expected. But Minato's fierce desire to protect these public spaces helps him overcome such problems as he continues in his efforts to revitalize Japan's public baths.
DC241649

鍛冶職人 [NHK]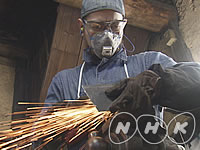 |Length : 24min |Year : 2016 |
Akiotacho is the least populous town in Hiroshima prefecture. Here, in his workshop along the local shopping arcade, 29-year-old Kazuyoshi Akita silently pounds metal. He moved to the town four years ago to open a smithy. Though he attended art college with the dream of becoming an artist, it was in one class that he realized how the most beautiful items must also have practical uses.
Having already decided to craft tools instead of artworks, Akita found an online article about a blacksmith who was looking for a successor before he went out of business. Picking up the mantle, he inherited tools, a workshop, and a client list, setting up his own business without investing any money at all. Every product, mostly consisting of farming equipment like hoes and machetes, is made to order. And despite concerns about his fluctuating income, Akita finds pleasure in working with his beloved metal.
20s Discovering Life | Working as a Tunnel Excavation Foreman
DC241650

トンネル工事 現場監督 [NHK]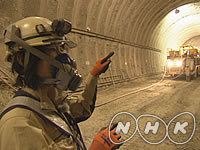 |Length : 24min |Year : 2016 |
26-year-old Chiaki Nagai is living her childhood dream of working on a construction site. A modern girl with a stylish bob and a love of nail art, she lives in an on-site dorm and leads a team of 40 men working on a major tunnel project. And away from the digging, there are always piles of paperwork waiting for her back in the office cabin.
Since becoming forewoman in late 2015, Nagai has worked hard to gain acceptance among her male colleagues, but has faced a unique set of hurdles. She has to direct industry veterans who are old enough to be her father, and in the hazardous construction environment, when her orders put staff in danger, Nagai faces some harsh criticism of her own. We follow Chiaki Nagai, balancing joy and anxiety as she works towards her eventual goal of running an entire site.