TV Station NBC
Vow of an Atomic Bomb Survivor
DC281352

誓い その時 私は14才 [NBC]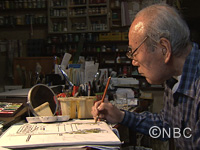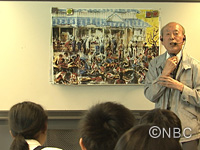 |Length : 24min. |Year : 2013 |
We asked young people in Nagasaki this question: Do you ever think about the atomic bomb?
"It's something from the past", they answered. It reminded us that over sixty years have passed since the atomic bomb dropped on Nagasaki. The event is a distant memory of the past. Even for young people who live in the city where it dropped, the memories are starting to fade.
Hiroshi Matsuzoe is an artist from Nagasaki City. When he was fourteen, he was exposed to the atomic bomb. After retiring from the fire department, he started to depict his memories of the atomic bomb through his paintings, which he made into a kamishibai (pictures on boards that are used for storytelling). Using the kamishibai, he spoke to school children about his experiences, the horrors of nuclear weapons and the value of peace.
When Matsuzoe turned eighty, he was diagnosed with throat cancer. He survived, but his vocal cords were removed and he lost his voice in the surgery. Now he relies on a hole made in his throat to breathe.
Matsuzoe relied on his voice to perform his lifework, recounting atomic bomb experiences. The loss of his voice was extremely unfortunate. After his surgery, he avoided meeting people and stayed home.
Matsuzoe started to paint another kamishibai while he stayed at home. He depicted the experiences of his classmates' who died from the atomic bomb. He wanted to ensure their lives would be honored and not forgotten. Matsuzoe wanted to read his new kamishibai to young people again. He battled his feelings of anxiousness to speak in front of people and started to train and rehabilitate his voice using an artificial larynx. As he worked on his project, another trace of cancer was detected in his lungs.
The average age of atomic bomb survivors is seventy-eight. Many have complicated health issues but are using the little time they have left to tell their atomic bomb experiences so that they won't be forgotten. We look at how these survivors live today by following Matsuzoe's experience.
Stonewalk – Walking for Peace with Hibakusha –
DC280642

ストーンウォーク ~ヒバクシャと歩む道~ [NBC]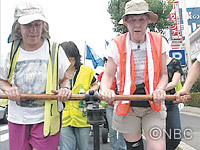 |Length : 53min. |Year : 2006 |
It has been 60 years since the atomic bombs were dropped on Japan.
In 2005, in a memorial to those who perished in those attacks, a peace march called "Stonewalk"was held. Two-ton gravestone was pulled from Nagasaki to Hiroshima-both cities that were destroyed by atomic bombs.
One of the organizers was a woman who had lost her husband in the terrorist attacks on America on September 11, 2001. When she learned that A-Bomb survivors had been giving talks about their experiences and appealing for peace, she decided to turn her pain into strength to fight for peace, and to carry out the Stonewalk.
The families of the victims of the 9.11 attacks and atomic bomb survivors both share "the sorrow of those who have lost a loved one"and a wish to"not allow anyone else to suffer the same painful experiences."
Realizing Potential with Computers
DC259209

諫早パソコンストーリー [NBC]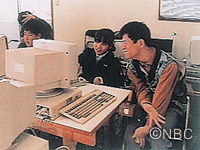 |Length : 12min. |Year : 1992 |
Disabled people have abilities, too. That's the message of this documentary, which takes as its subject disabled Japanese people who have become computer experts. In the documentary the disabled people talk about what it's like to teach "normal" people. There are interviews with their adult students as well. The computer teachers are also shown teaching a weekly computer class especially for children. "Realizing Potential with Computers" demonstrates that one of the best ways to deal with physical "disabilities" is to concentrate not on what can't be done - but on what can be done.
Living in the Nuclear Age
DC249510

核時代と人間 [NBC]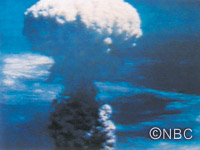 |Length : 59min. |Year : 1995 |
Could the atomic bombing of Nagasaki and Hiroshima have been part of a gigantic experiment? It seems so. This disturbing documentary was made using the American Freedom of Information Act to gain access to data never before made public. In addition, the program looks at the nuclear contamination near the Hanford nuclear weapons manufacturing facility in the U.S. where there are high rates of hypothyroidism, cancer, and other ailments associated with exposure to radiation.