Production Year 2001
CH060100

ざわざわ森のがんこちゃん [NHK]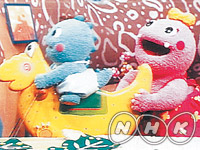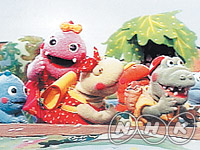 |Length : 15min. x20 |Year : 2001 |
Rockie and Her Friends is a puppet show featuring creatures such as a dinosaur, a snail, a hippopotamus and a crocodile. This drama is mainly directed to children around 7 years of age (the first grade in Japanese elementary school), but also appeals to a much wider audience. This 15 minute serial program deals with themes such as school life, human relationship and moral issue, etc. respectively. This program is very popular in Japan. Due to its universal themes, this program promises to prove popular with international audiences if it is successfully dubbed into the local language.


1. School is Great
2. Where's the Lavatory?
3. Kappa's Head-Plate
4. Let's Cook and Taste It
5. Queen of Mud
6. The Talkative Stone
7. Let's Go Camping
8. Two Rockies
9. Catch the Moon
10. After the Storm
11. Baby-sitting
12. A Musical of the Forest
13. Rockie is a baby
14. Everyone is Cross with Me
15. New Year's Coming Soon
16. Florrie's Specs
17. Forest Bazaar
18. Praying to a Shooting Star
19. Gampey's Birthday
20. Spring has Come
DC090109

ハローニッポン - われら地球人 - | サポートします 日本でのお産 [NHK]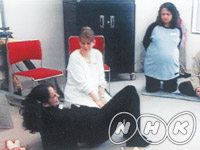 |Length : 20min. |Year : 2001 |
Brett Iimura and Kalli Matsuhashi are birth educators from the United States. Both women had their first baby in Japan. Based on their experiences, they have started a maternity class. In Europe and North America, anesthesia is commonly used for painless delivery, but in Japan natural delivery methods are the norm. As they explain, "We want to respect the women and value their decisions." "We'd like them to think and decide for themselves.
DC090110

ハローニッポン - われら地球人 - | 支えます!日本の養鶏業 [NHK]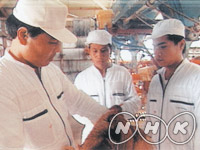 |Length : 20min. |Year : 2001 |
Jerr Quelnat Gerardo, "Gery", of the Philippines is an agricultural intern undergoing on-the-job training at a chicken farm in Chiba Prefecture. The owner of the farm, Suzuki Nobuyoshi, has no successor and is entrusting the future of the farm to Gery. He hopes to have Gery learn advanced Japanese chicken farming technology, so that in the future he can build a chicken farm in the Philippines and have Gery manage it. Gery's dreams for the future are supported by his fiancee, Irene Catura, who works as an intern at another farm.
DC090111

ハローニッポン - われら地球人 - | カンフーを日本に広めたい [NHK]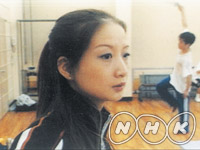 |Length : 20min. |Year : 2001 |
The Chinese martial art of Kung Fu is widely recognized. In Osaka, a Chinese woman who endured grueling training and fierce competitions to reach the top is teaching Kung Fu classes. Her name is Chen Jing. She came to Japan after marrying Toshiya Watanabe, the Taijiquan representative from Japan for the World Championships in Rome where they met. Her students range from children new to the sport, to top athletes aiming for the World Championships, and she teaches them by example.
DC090112

ハローニッポン - われら地球人 - | 私は団地の自治会役員 [NHK]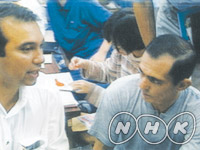 |Length : 20min. |Year : 2001 |
Many Brazilians live in Toyota City, Aichi Prefecture and are employed in the automotive factories. Recently, the number of Brazilians in this housing complex has increased, and they now make up one-third of the resident population, nearly one hundred households. Paulo Galvao works as a member of his housing complex association, while operating a private school for Brazilian children. He has a tough job, having the resident's newsletter translated in Portuguese, organizing a Japanese class and trying to convince the Brazilian residents not to park illegally.