Production Year 2005
CH090500

ざわざわ森のがんこちゃん 2005 [NHK]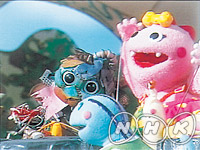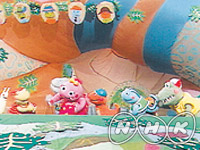 |Length : 15min. x10 |Year : 2005 |
Rockie and Her Friends is a puppet show featuring creatures such as a dinosaur, a snail, a hippopotamus and a crocodile. This drama is mainlydirected to children around 7 years of age (the first grade in Japanese elementary school), but also appeals to a much wider audience. This 15 minute serial program deals with themes such as school life, human relationship and moral issue, etc. respectively. This program is very popular in Japan. Due to its universal themes, this program promises to prove popular with international audiences if it is successfully dubbed into the local language.


1. The First Day at School
2. Rolly Bean Crisps
3. Who Did the Poo?
4. Barring-Way Rocks
5. The Mushroom Witch of Breezy Forest
6. A Seed of Dan-Dan Grass
7. The Giant Catfish of the Pond
8. What's the Matter, Benny?
9. Cactus Man Runs
10. Gampey is Sick
Small Town, Big Challenge – Six Years Face to Face with Dioxins –
DC220515

小さな町の大きな挑戦 [MBC]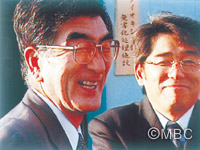 |Length : 51min. |Year : 2005 |
The Kawanabe Township, in Kagoshima Prefecture, had been throwing dioxin-contaminated ash in a valley behind the waste treatment facility for some 23 years. The town decided to dig up all the ash that had been dumped, to fully disclose information about their situation, and - in an effort shared by the local government and local residents-to re-evaluate their approach to environmental matters. The township's decision not to hide anything led to a convergence of people of the same mindset, people in Japan and abroad who then contributed their wisdom to an effort that culminated in the birth of an entirely new dehalogenation technology and all this in a town of only 15,000. Although this documentary looks at six years in the history of one small town in Japan, environmental problems have no borders.
[NHK Documentary] Bamboo Village
DC230527

NHKスペシャル 奥能登 風の絆 ~間垣の里の四季~ [NHK]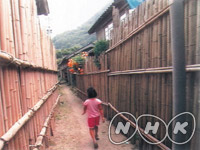 |Length : 43min. |Year : 2005 |
There is a small village on the Noto Peninsula surrounded by a 4m high bamboo fence, called a "magaki". This fence blocks out the strong winds that blow in from the Sea of Japan, and the occupants of this village have a very unique lifestyle. There are 70 people, who comprise 20 households, living in this "bamboo fort". This secluded lifestyle promotes a strong sense of support, which in turn keeps the village's old traditions and wisdom alive.The villagers have developed strong inter-personal bonds and a distinct identity due to their inherent separation from other villages because of their fence. These bonds have helped prevent people from leaving the village, and while the youth of the village may leave to work in cities, most return to carry on their family's name later in life. Strong bonds have helped keep this community's unique identity alive - a characteristic that seems to have been lost in today's bustling modern society.
[NHK Documentary]No Time to Spare
DC240526

トラック・列島3万キロ 時間を追う男たち [NHK]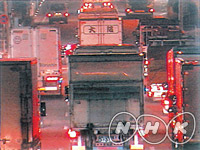 |Length : 51min. |Year : 2005 |
Trucks are compared to the blood of the economy. Transporting goods by truck comprises 90 percent of the whole distribution of goods in Japan.
Business and consumers require the truck industry to transfer goods more quickly at lower costs. To meet the demand, the industry is seeking to achieve a thoroughly efficient operation.This programme reflects modern society which demands speed and efficiency while losing something precious. This is the record of today's truck drivers and the ruthless days of their lives.
Calligraphy Girls – The path to the championship –
DC240527

書道ガールズ ~高校日本一への軌跡~ [RNB]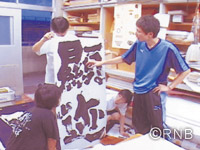 |Length : 25min. |Year : 2005 |
Teenage calligraphers energetically write out the lyrics of a Japanese pop song, using a 1-meter long brush on a huge 4-meter by 10-meter sheet of paper. This unique "calligraphy demonstration"is performed by Mishima High School calligraphy club members who won 1st prize in the 2003 National Calligraphy Competition. Calligraphy is not just a written form of communication but an ancient art reflecting the profound history and philosophy of the Orient. The girls' performance completely transforms the traditional perception of calligraphy, from a tranquil and reserved custom to a colorful and dynamic art from.