Documentary

Japan : The Inside Story | The Unsung Experts of Japan | Japan in Focus | Japan Sketches | Discover Asia | New Job! New Freedom! | Young People at Work | Hello Nippon - We Are Cosmopolitans | Special Lessons | We're the Professionals! | 2000 and Beyond : Visualizing a New Century - The Earth and Our Environment : The Boundaries of Plenty - |
Landslides and Deforestation -Moving Towards Future Forest Development
DC372220

テレメンタリー2021 土砂災害と森林伐採-民家に迫る危険 [KHB]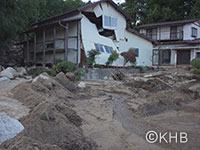 |Length : 25min |Year : 2022 |
Every year in Japan, typhoons and low-pressure fronts usher in heavy rains.
In October 2019, Typhoon Hagibis caused extensive damage in eastern Japan. In Marumori Town of Miyagi Prefecture alone, landslides occurred in 173 locations, leaving 12 people dead or missing. Why did the landslides occur one after another? An on-site investigation revealed that in some cases, the landslides were caused by "clearcutting," the complete removal of trees from large areas of forest. While the government is promoting a policy of subsidies to boost lumber productivity, experts on forest management and law have sounded the alarm, saying that large-scale logging is taking place on steep slopes and areas close to homes, triggering disasters.
Baton of Memories
DC372119

テレメンタリー「記憶のバトン」 [ABC]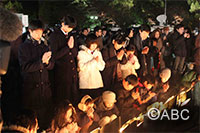 |Length : 27min |Year : 2021 |
Yoko Nakajima (68), painter and teacher at an art studio in the city of Kobe, brought cheer back into the lives of children there who had lost their smiles after the Great Hanshin-Awaji Earthquake of 1995 by having them paint pictures. When the Great East Japan Earthquake struck in 2011, unable to sit by doing nothing, she packed art supplies into her car and headed for the devastated area of Northeast Japan. Because school gymnasiums were being used as morgues and other buildings were unusable, she held art classes outdoors, on school campuses. For years thereafter, she continued to travel to the devastated area using art as a tool in her effort to rebuild the lives of the children and bring them cheer. One of the schools she visited was Hashikami Elementary School in the city of Kesennuma. Momoka Goto and Kaede Iwabuchi, who were first graders at the time of the disaster, still have clear memories of that day. In 2018, they participated in a memorial event for the Great Hanshin-Awaji Earthquake in Kobe. Seeing the children of Kobe attending the memorial and how the devastated city had bounced back, the two girls began to feel that they wanted to do something for Kesennuma, so they started storytelling activities that would talk to people about what had happened in 2011. 2021 marked the 10-year anniversary of the Great East Japan Earthquake. Many of the planned events had to be cancelled due to the COVID-19 pandemic, but in November 2020, Ms. Nakajima paid a visit to Kesennuma. She planned to pass on to Momoka and her classmates, now high school students, a figurative "baton" that embodied their hopes for the rebuilding of their town….
Battling a Radiation Emergency
DC372018

ETV特集 誰が命を救うのか~医師たちの原発事故 [NHK]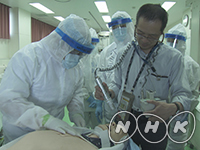 |Length : 59min |Year : 2020 |
Doctors break their silence on what happened at ground zero.
In the hours after Japan's 2011 Fukushima nuclear incident, medical specialists rushed to the scene. What they found was a region desperately ill equipped to handle an emergency of this magnitude. Local doctors initially hesitated, a result of the prevailing "Safety Myth." The national government was also blindsided, as confusion obfuscated the chain of command. Life and death decisions had to be made on the frontlines, from dealing with residents exposed to radiation, to treating injured members of Japan's Self-Defense Forces deployed to fight the explosion. The intense, overwhelming reality of medical care at ground zero is revealed through exclusive access to a vast, hitherto unseen collection of images and videos taken by the doctors themselves.

"Bring Happiness to the World" A Miracle Song Born in Kobe
DC372017

しあわせ運べるように阪神淡路大震災25年 ~神戸が生んだ奇跡の歌の物語~ [NHK]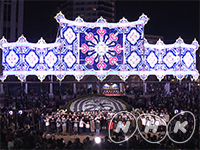 |Length : 50min |Year : 2020 |
"Bring Happiness to the World" was written after the 1995 Great Hanshin-Awaji Earthquake in Kobe. "Strength no earthquake can defeat... We'll restore our wounded Kobe to be as it was." A rallying cry for hope in areas hit by natural disasters, it has been sung across Japan and in many other countries. People encouraged by its message have hailed it as a 'miracle' song. The former Yamakoshi village still sings it at memorial services. A children's choir based out of temporary housing in Kumamoto performs the song for others. Discover the extraordinary power of this 25-year-old song as it brings together disaster survivors around the world.
Ise Bay Typhoon 1959 Color and Memory
DC372016

伊勢湾台風60年 色と記憶 [CBC]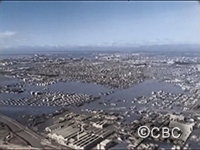 |Length : 50min |Year : 2020 |
Typhoon Ise Bay, which occurred on September 26, 1959, left 5,098 people dead or missing. Sixty years have passed since then.
In our coverage of the past, there is a common refrain among those who experienced the typhoon.
"The sky the next day was an abominable blue".
How did that blue sky look like?
This in mind led the journalist to make this documentary, a color version of the footage from that time.
What was that typhoon? What were the lessons to be learned from it?