Production Year 2010
A deep-sea tuna fisherman blown by the wind
DC211029

風に吹かれて 遠洋マグロ漁師になりたい [KHB]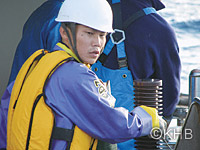 |Length : 27min. |Year : 2010 |
In February 2009, Hayato Imahara, 23, was laid off by a leading automaker due to worldwide economic depression. Born in an isolated island off Kyushu, he decided to become a crewmember of a deep-sea tuna fishing boat to realize his dream of working in the ocean. Luckily, he was accepted by a company in Kesennuma City, Miyagi Prefecture. Inexperienced Imahara made a mess of everything during training before departure. The novice fisherman started his 11-month voyage with expectation and anxiety about the unknown world.
"The Shodo Girls!!" The High School Girls' Koshien
DC241038

ザ・書道ガールズ!!涙の180日!女子高生たちの甲子園 [RNB]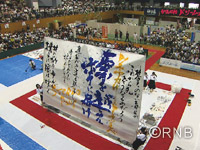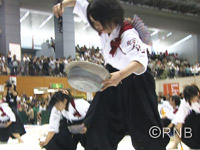 |Length : 45min. |Year : 2010 |
"Shodo Performance" -- a creative form of calligraphy in which high school girls draw characters on an oversized sheet of paper while performing routines to music. The "Shodo Performance Koshien" was first held in 2008 in the city of Shikokuchuo, Ehime Prefecture, which is known as the number one producer of paper in Japan. A group of local high school students decided to host this event in order to create publicity and revitalize their recession-hit hometown.
The movie was made based on this true story. The Shodo Girls and Shodo Performance became widely known throughout Japan by the time the third "Shodo Performance Koshien" took place on July 31st, 2010. In the first tournament only 3 schools participated and then 5 schools in the second; this time, 18 schools applied from all over the country.
The original Shodo Girls of Ehime Prefectural Mishima High School not only made their film debut in the movie but also put on a live Shodo Performance in Cannes, France where the International Film Festival was being held. The now popular Shodo Girls search for ways to make the best of the dynamic movements of calligraphy in its original form.
First-time contestant Kumamoto Prefectural Tamana High School applied in order to create one last memory with their beloved instructor, who will retire at the end of the academic year. But differences in opinion occur frequently between the 60-year old coach and the 17-year old students. The trouble continues up through the day before the tournament, when the coach instructs his students to cut a specific portion of the performance so that their presentation is completed within the time limit of 6 minutes. Team members gather in one room of the boarding house that evening, and decide to disobey him to perform the way they originally intended without telling him. They did this because they loved the coach, and wanted a chance to say 'thank you.'
3,000 spectators filled the site on the day of the tournament. The Shodo Girls are tense, feeling immense pressure. After completing the performance the Shodo Girls cry, relieved and recalling various hardships they had to overcome.
And finally, the presentation of the results. More tears fall at the tournament site -- for a variety of different reasons and sentiments.
His Scalpel Has Saved 10,000 Souls
DC251026

魂のメス ~1万人の命を救った小児外科医~ [MBS]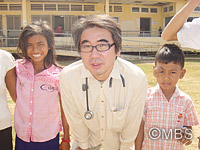 |Length : 50min. |Year : 2010 |
In Myanmar, where the infant mortality rate is extremely high, there is a Japanese pediatrician who has been performing very delicate surgeries, free of charge. His name is Hideto Yoshioka. He, along with his staff of over a hundred supporting doctors and nurses of the international medical volunteer organization, "Japan Heart," has been providing medical services to those in need, children and adults alike, from their base. In their operating room, where the temperatures rise above 40 degrees Celsius in summer, and when power failures occur, they have no other choice but to use flashlights to see by, they have performed 1000 surgeries a year, and have saved over 10,000 lives. When asked what motivates him the most to practice medicine, Yoshioka said, "In a word, I do it in order to reaffirm the value of my existence. I find the highest value of my existence here (in Myanmar)." He goes as far as to say, "Even if I cannot save someone's life, I want to save their soul, so that they'll feel glad to have been born."
Murone Shrine Grand Festival
DC271032

守り続けて1300年 みちのくの荒祭り [KHB]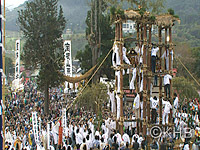 |Length : 30min. |Year : 2010 |
Murone Shrine was built in Mutsu Province (now Ichinoseki city in Iwate prefecture) when they re-enshrined a god, Kumano-no-kami, of the Kii Province during the Nara period, to pray for their success in conquering Ezo, or present day Hokkaido. This program captures the festival which is held to welcome the god. People who run the festival are called "Jin-yaku," and their role is passed down through the generations of families who can trace their lineage to the people who moved from the Province of Kii 1300 years ago. The highlight of this 3-day festival is the "Matsuriba event," held in the early morning on the third day. In complete darkness, two mikoshi, or portable shrines, are carried out and raced down the steep slope of a mountain. The race continues until the portable shrines are elevated and settled in their temporary location at the foot of the mountain. This program introduces the entire festival, while capturing the challenges of the people who face having to pass down these rituals to the next generation.
My homeland, and my mother's
DC281048

私の国 母の国 [NBN]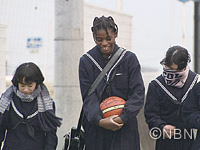 |Length : 46min. |Year : 2010 |
Mawuli Evelyn,she is 14years old junior high school student who lives in Aichi prefecture. Her parents are from Ghana. Evelyn was born and raised in Japan. She learned Japanese, culture and custom just like other Japanese children did. Even if she was born in Japan, under the Japanese law, her nationality was still Ghana.
She started basketball in elementary school. However, there was a big wall in front of her. The problem was her nationality. It was impossible to be a Japanese basketball player having Ghana's nationality. Evelyn was chosen as a delegate basketball player under 16years old team, and this made her parents to decide to naturalize as Japanese.
Is it possible for Evelyn to get Japanese nationality by her international match? We focused on her inner motion and her struggles in daily life.